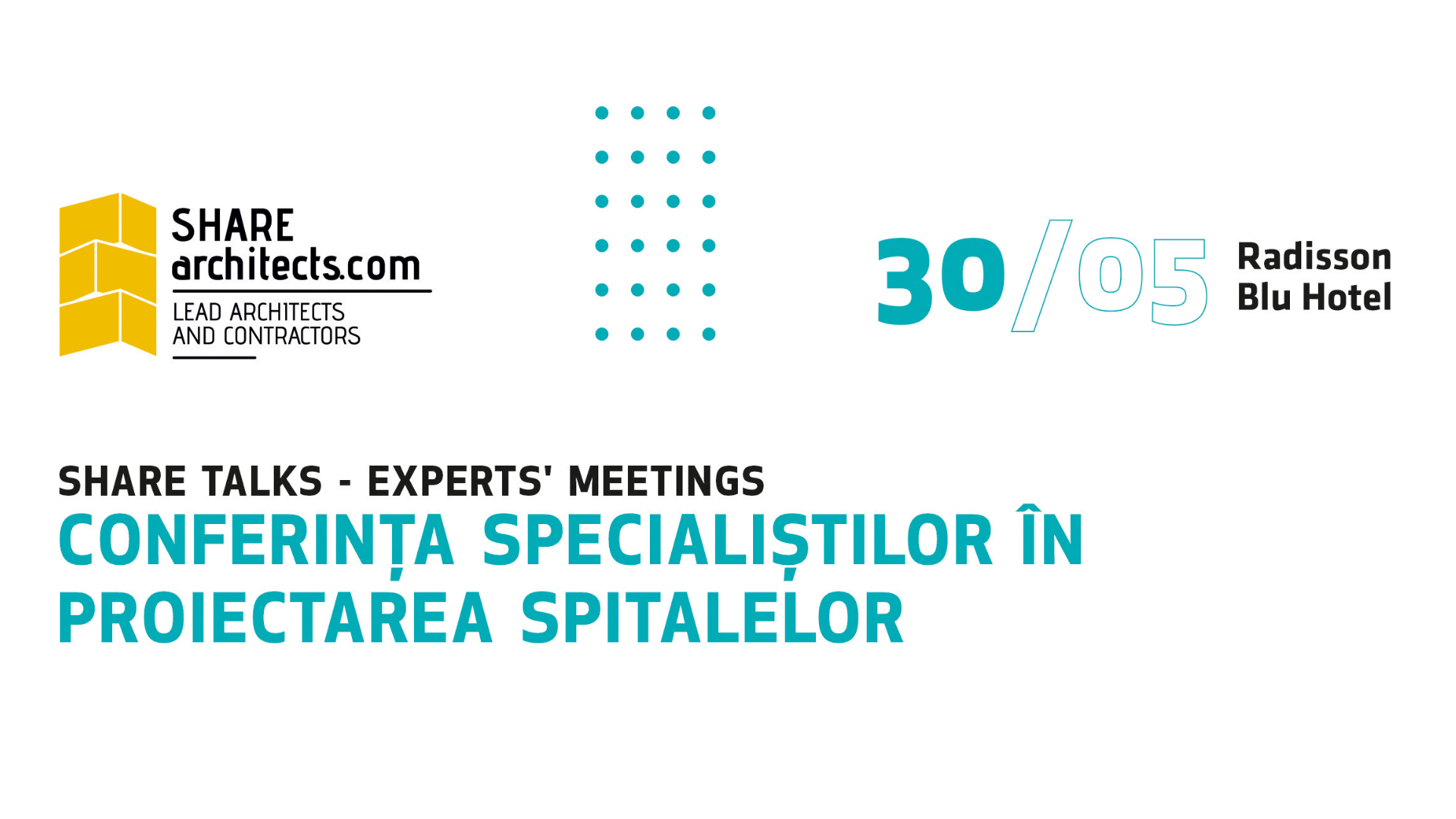 Profesioniști în proiectarea spitalelor, din țară și străinătate, se reunesc pe 30 mai la București
 Conferința specialiștilor în proiectarea spitalelor, inițiată de SHARE Architects, va reuni la București săptămâna viitoare peste 150 de specialiști din domeniul proiectării de infrastructură medicală atât din România, cât și din Franța, Turcia, Cipru și Italia, facilitând dialogul între părți.
Arhitecți, ingineri de instalații, ingineri de structuri, consultanți medicali și de tehnică medicală, consultanți MEP și directori de spitale vor aduce în fața unui public specializat studii de caz despre spitale din România, dar și din Europa. Evenimentul va începe de la ora 9.00 și se va desfășura la Radisson Blu Hotel București.
"În cadrul Conferinței specialiștilor în proiectarea spitalelor aducem soluții care s-au demonstrat a fi eficiente și prezentăm un tablou al investițiilor în diferite stadii de execuție în infrastructura de sănătate din România", a precizat Florin Mindirigiu, fondator SHARE Architects.
Studiile de caz pe proiecte de spitale sunt prezentate de echipe mixte de arhitecți, ingineri și consultanți medicali, fiecare panel de prezentări fiind urmat de o largă sesiune "Ask an Expert", parte a SHARE Talk – Expert's Meeting, destinat dialogului între experți din sală și de pe scenă.
Speakerii ediției din anul 2022 vor fi: Didier Houssin, Președinte al AP-HP Internațional, cel mai mare centru spitalicesc universitar din Europa, Arh. Giorgia Gunnella, Senior partner & technical director 3TI PROGETTI, Italia, Gabriel Georges Dumitrache – Expert internațional în domeniul arhitecturii de spitale în cadrul societăților franceze Conseil Sante și Sofrenco și al societății din România Innova-Integration SRL, Arh. Olivia Crișan -Tesseract Architecture, București, Arh. Silviu Popăescu, Fondator Popaescu & Co, București, Cristian Nicolae, Director Arhitect Studio CN, Arh. Șerban Țigănaș – co-fondator Dico&Tigănaș, Cluj – Napoca, Arh. Gabriela Tânjală – TDD Concept Studio, Iași, Dr. Alexandru Coman, Medic epidemiolog Institutul Inimii "Niculae Stăncoiu" Cluj-Napoca, Arh. Dragoș Bocan – Atelier CAAD SRL Timișoara, Ing. Ioan Silviu Doboși – Director General Dosetimpex, Timișoara, Ing. Marco Smiderle – Project Manager Studio Altieri, Italia, Arh. Mariano Efron – partner Architecture-Studio, Franța, Arh. Angela Kovacs, Președinte OAR Mureș, Ing. Zsolt Gogolak, Director SC Multinvest SRL, Arh. Raluca Soaita, fondatorTesseract Architecture, București, Arh. Christos Christodoulou. SIMPRAXIS Architects, Cipru, ing. Mehmet Okutan – Owner of Okutan Engineering, arh. Kerem Yazgan – Yazgan Design Architecture, ing. Serdar Binzet – engineering group president Rönesans Holding, dr.arh.Ionut Anton, ing. Mihnea Sandu, Jukka Vasara, Vice President of Granlund Group & Chairman of IHDA, Finlanda.
Și anul acesta vor fi aduse în atenție cele mai recente informații și detalii despre proiectele de actualitate și de interes major în domeniul medical, fie că vorbim despre România sau alte țări din Europa. Pe masa experților invitați vor fi proiectele a două Spitale Regionale de Urgență: din Cluj și Iași, Noul Spital Județean de Urgență Focșani și Spitalul Județean Călărași, Spitalul Mama și Copilul din cadrul Spitalului Județean Constanța, Institutul Regional De Medicină Cardiovasculară Iași, Centrul Integrat de Transplant de la Cluj, Extindere a secției de Urologie a Spitalului Clinic Județean Mureș. De asemenea, în cadrul conferinței se va dezbate tema "Arhitectura de urgență în România: Primele spitale modulare. Ce am învățat după pandemie și după conflictul din Ucraina?" și se vor purta discuții pe baza Normativului privind proiectarea și verificarea construcțiilor spitalicești și a instalațiilor aferente acestora (NP015 – 1997).
Problematica de modernizare a infrastructurii spitalicești și cea a investițiilor în sănătate se înscriu într-un context general aflat în evoluţie. Numai în ultimii doi ani, în spitalele din țară s-au produs 11 incendii, multe tragedii fiind provocate de infrastructura medicală învechită, de lipsa echipamentelor și a tehnologiilor noi. Până în anul 2025, cel puțin 25 de unități medicale/spitale publice vor fi construite și/sau dotate în țară prin finanțare parțială prin Programul Naţional de Redresare şi Rezilienţă (PNRR), unde România a obținut 2,5 miliarde de euro la capitolul Sănătate.
La conferința de la București se vor prezenta și proiecte internaționale de anvergură din domeniul medical. Se vor expune provocările și schimbările aduse de evoluțiile de mediu, inclusiv pandemia de Covid-19, în proiectarea spitalelor. Franța va fi reprezentată în cadrul evenimentului de către prof. Didier Houssin, președinte al AP-HP International (Assistance Publique – Hôpitaux de Paris), cel mai mare centru spitalicesc universitar din Europa. Didier Houssin va aborda tema "Creating new hospitals after Covid-19 pandemic". Totodată, arh. Mariano Efron, partener la prestigiosul Architecture-Studio din Paris va prezenta panelul "Environmental Challenges in Healthcare Architecture". Altieri Italia va prezenta spitalele din Salorno și Istanbul. Spitalul cu cea mai mare structură cu baza  izolată din lume, 1 milion de metri pătrați și care dispune de peste 2.000 de izolatori seismici – Başakşehir Pine și Sakura City Hospital – va fi prezentat în echipă mixtă: arhitectură – structură – instalații de către Yazgan Design Architecture, Rönesans Holding și Okutan Engineering.
Invitat special al conferinței
Invitatul special în cadrul conferinței, prof. Didier Houssin, Președinte al AP-HP International încă de la înființarea sa în decembrie 2016, este profesor universitar de chirurgie și fost șef al departamentului de chirurgie digestivă al spitalului Cochin din cadrul AP-HP (1998-2003). Prof. Didier Houssin a fost, în special, director general al Instituției franceze de transplant (1994-2003), director al departamentului de politică medicală al AP-HP (2003-2005), director general al Ministerului Sănătății (2005-2011) și președinte al Agenției de evaluare a cercetării și învățământului superior (2011-2015). Din 2011 este, de asemenea, consilier pentru securitate sanitară la OMS. În această calitate, a prezidat comitetul de evaluare a rolului Regulamentului sanitar internațional în epidemia de virus Ebola din Africa de Vest în 2014 și comitetul de urgență privind epidemia de coronavirus din 2020.
AP-HP International este cel mai mare centru spitalicesc universitar din Europa, cunoscut în întreaga lume. Suprafața construită a spitalului este de 3.700.000 m², cele 39 de spitale ale sale primind peste 8 milioane de pacienți în fiecare an: pentru consultații, urgențe, spitalizări programate sau spitalizări la domiciliu. AP-HP este cel mai mare angajator din regiunea pariziană: aproape 100.000 de persoane – inclusiv medici, cercetători, paramedici, personal administrativ și muncitori lucrează la AP-HP. Centrul dispune de 20.098 de paturi pentru toate disciplinele, 54 de secții de chirurgie sau 315 săli de operație, 50% din cercetarea clinică franceză.
Conferința este parte a seriei SHARE Talks – Experts'meetings, inițiată de SHARE Architects în parteneriat cu Ordinul Arhitecților din România și Asociația Inginerilor de Instalații din România și este susținută de Dacorum Grup, Kadra access engineering, Proventuss, Schneider Electric.
Informații suplimentare pot fi găsite pe pagina evenimentului https://share-architects.com/conferinta-specialistilor-in-proiectarea-spitalelor/