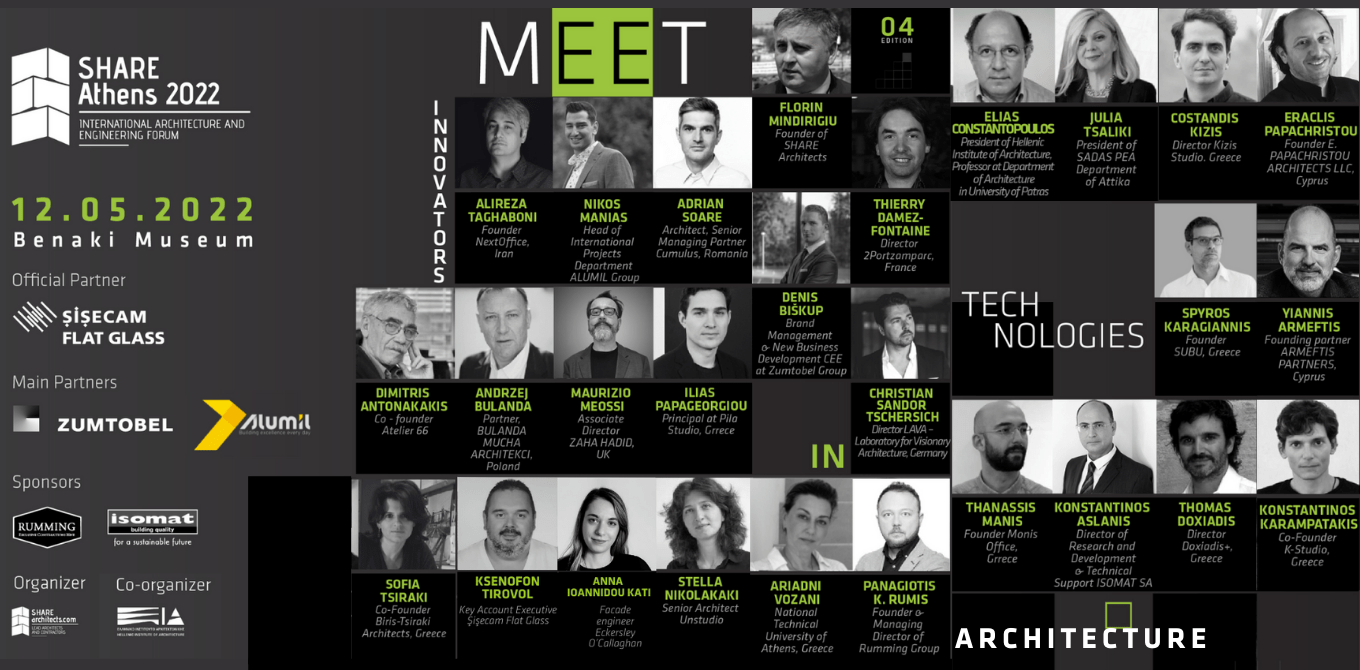 Last days to register for SHARE Athens 2022 Forum
The fourth edition of the international architecture forum SHARE Athens 2022 that will take place at the Benaki Museum – PIREOS 138 on May 12th will welcome international guests and leading Greek architecture personalities. As it always does, the SHARE Forum becomes the scene of excellence in architecture and offers great opportunities to gain insight into the vision of outstanding architects and high-level professional networking.
Lectures will be held in Greek and English, with simultaneous translation into Greek.
Highlights
SHARE Opera Omnia Award Ceremony
The work of architect Dimitris Antonakakis, Atelier 66, will be celebrated with the award ceremony of the SHARE OMNIA distinction for noteworthy accomplishments in the fields of architecture.
ZAHA Hadid Architects – UK, UNStudio – The Netherlands and 2portzamparc – France will give keynote lectures.
German Pavilion Expo 2020 Dubai presented by LAVA – Laboratory for Visionary Architecture
NextOffice representative of contemporary Iranian architecture, awarded at World architecture festival
Special networking opportunities with leading architects from Romania, Poland, Cyprus.
Distinguished Greek architectural personalities take the stage at SHARE Athens 2022 Forum:
Ilias Papageorgiou, Principal At Pila Studio, Thomas Doxiadis, Director Doxiadis+, Sofia Tsiraki, Co-Founder Biris-Tsiraki Architects, Thanassis Manis, Founder Manis Office, Vaggelis Stylianidis, Founder Stylianidis Architects, Ariadni Vozani, Founder Av Architects, Konstantinos Karampatakisco-Founder K-Studio, Costandis Kizis, Director Kizis Studio,Thanasis Polyzoidis, Topio 7, Spyros Karagiannis, Founder Subu, Anna Ioannidou Kati, Facade engineer Eckersley O'Callaghan, Julia Tsaliki, President of Sadas Pea Department Of Attika
Chairman and moderators
Elias Constantopoulos, Chairman SHARE Forum, President Of Hellenic Institute Of Architecture
Costandis Kizis, Director Kizis Studio, Vaggelis Stylianidis, Founder Stylianidis Architects
Register here:
https://membership.share-architects.com/Events/Home/Details/b5b3bc33-318a-4730-8cfe-9c5331574a4e