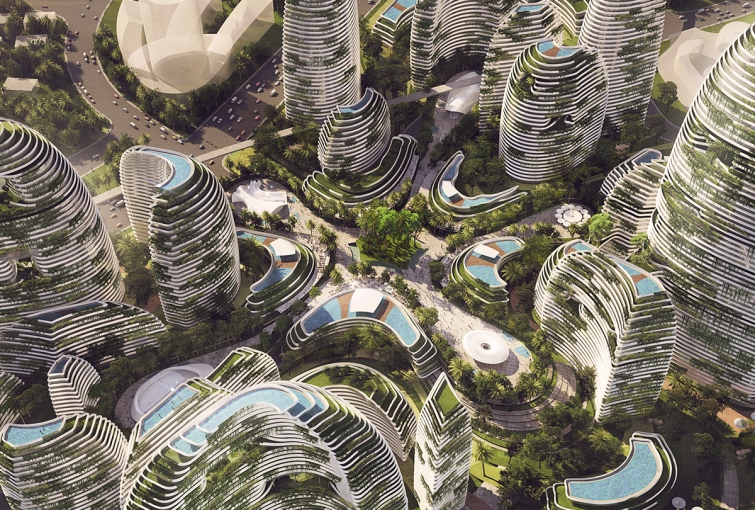 Keynote Speaker at SHARE X – Christian Sandor TSCHERSICH | LAVA – Laboratory for Visionary Architecture
The future of architecture is inevitably linked to advanced technologies, innovation, and design. The 21st edition of SHARE in Bucharest, on November 14, SHARE X – Conference for Advanced Architecture, will dig deeper into some of the perks of these tech stacks.
Disruptive technologies, innovative materials, and Advanced Building Skins – this is SHARE X; a different type of conference where technology meets architecture!
---
Nature as the metaphor for the city
From the old times, nature has been the source of great and unique inspiration. If zooming in, we observe all the processes that are taking place in nature, we can see the similarities as systems, as processes, as lives. Nature can give birth to shapes that human hands cannot do without the help of technology. Nature reflects freedom and freedom is what humankind is looking for. Through spaces and forms, architecture can give that feeling of freedom that we are all so in need. The natural system of development is a metaphor for the city life and growth. 
The vision of architecture office LAVA – Laboratory for Visionary Architecture
The combination of humankind, nature principles and latest technology is the main vision of architecture office LAVA – Laboratory for Visionary Architecture. The office was established in 2007 and is a network of multi-disciplinary professionals that work together from different locations at the same time: Sydney, Berlin, Stuttgart, Dubai and Ho Chi Minh. They aim to work and act globally, adding a contribution to society as a whole. 
The office approach to architecture is focused on parametric design, an inspiration that comes directly from nature itself. While everything is changing, cycles are completed, and nothing ever stops in the environment, so do societies – change, adapt and redefine the definitions of living. With this in mind, LAVA designs architecture that expresses the current state of society with the present technology. One of their aims is to create more living spaces with less material and less cost, transforming the existing space, rather than building a new one. 
More with less  – The UTS Tower 
Reskinning an existing building is the method they applied for the UTS Tower. This award-winning project of "Tower skin" is a smart, "simple, cost-effective and easily constructed building skin that transforms the identity, sustainability and interior comfort of tired icons, repurposing inefficient buildings." The new "skin" can generate energy, collect rainwater, power ventilation and can improve the distribution of natural light. Due to the technology that made this structure possible, redesigning an existing building structure, leads to a new typology in architecture and sustainability, as well as an aesthetic and economical approach to what architecture might mean in the 21st century.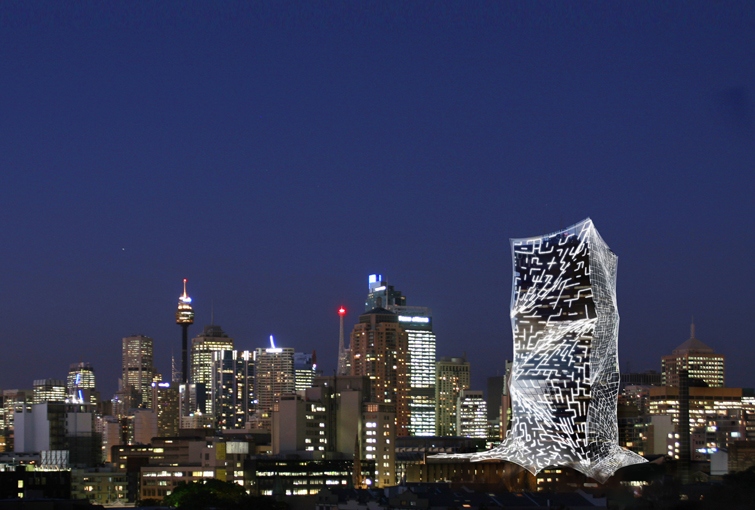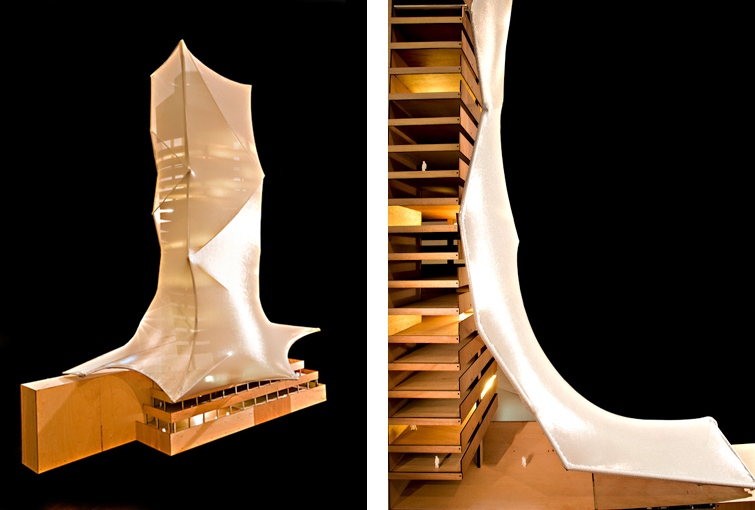 The "Green Void" project
Designing more efficient – achieving more (architecture) with less (material/ energy/ time) is the vision they applied for the "Green void" project. The aim was to create a structure that would highlight the main spots of the interior, in a way that it will connect them. The result was a fabric structure that linked points in space with minimal surface connections between the rings.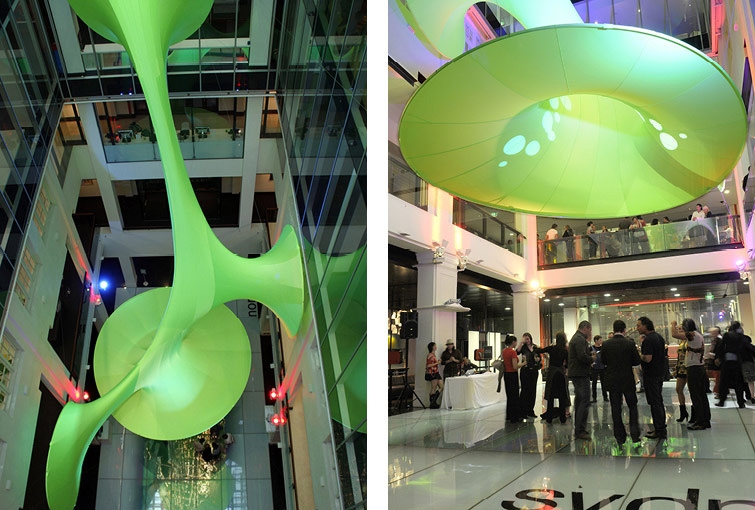 The installation was comprised of 3000 cubic meters of space enclosed within a minimum surface area of 300 square meters and used only 40 kg of lightweight material. The computer calculated the fabric divisions, as well as the most efficient way to connect them. 
Public space – the icon of the new city
One of their latest projects where bio inspiration and parametric design were the leading forces is "Forest City Green LAVA skyline", which won the 2nd prize in an international competition to design a new city in Malaysia. As it can be understood from the title, the concept was an architectural interpretation of the rainforest, where the icon becomes the public space instead of buildings.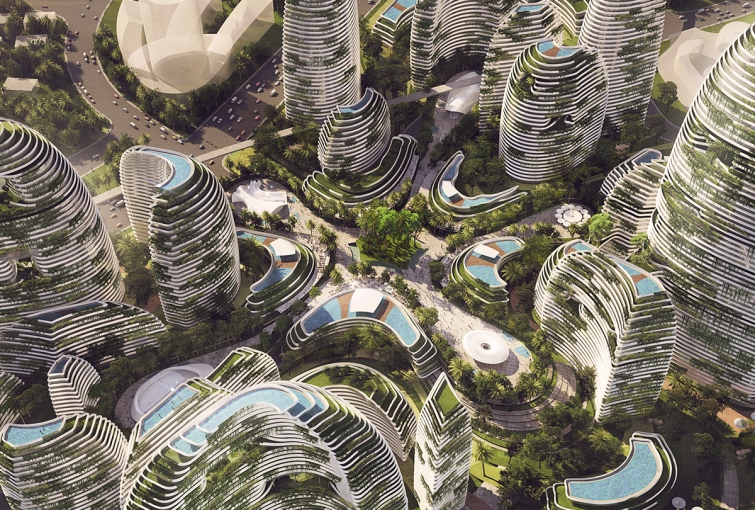 "Future city notions are embedded into LAVA's overall concept – a 'public city', a central open space surrounded by buildings; a 'layered city', where people, railways and traffic are separated with vehicles underground; a 'loop city', a closed-loop system reusing it's resources and controlling the out-flow; and a 'sponge city', with recycling processes hidden underground."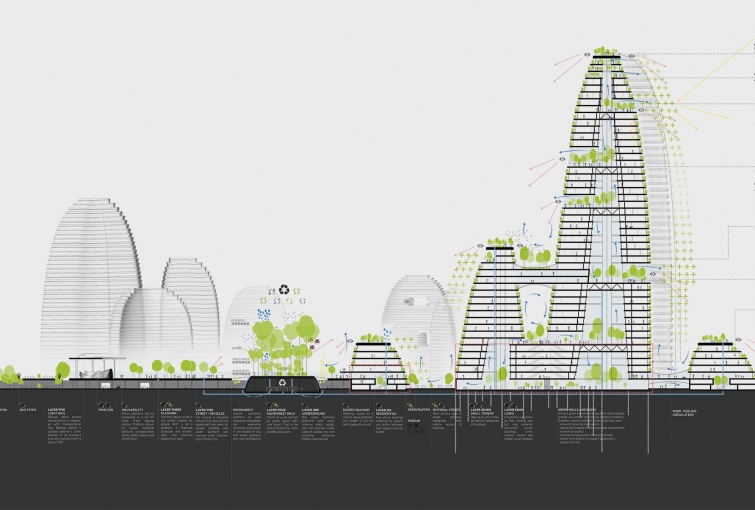 Introducing Keynote Speaker at SHARE X – Architect Christian Sandor TSCHERSICH – GERMANY
Christian Sandor TSCHERSICH, senior associate of LAVA and Keynote Speaker of SHARE X in Bucharest, will present more about the philosophy and vision of LAVA office. The architect graduated from the Karlsruhe Institute of Technology (KIT), and he is the Head of projects at LAVA Berlin. Since 2011, Tschersich holds a position as Senior Lecturer at KIT Department for Building Lífecycle Management (BLM).
He believes that cities' architecture design is the force that constitutes societies, providing identity and quality of life. A community has to grow based on communication and design should integrate all the systems that allow people to integrate, develop and live in balance, on both big and small scales.