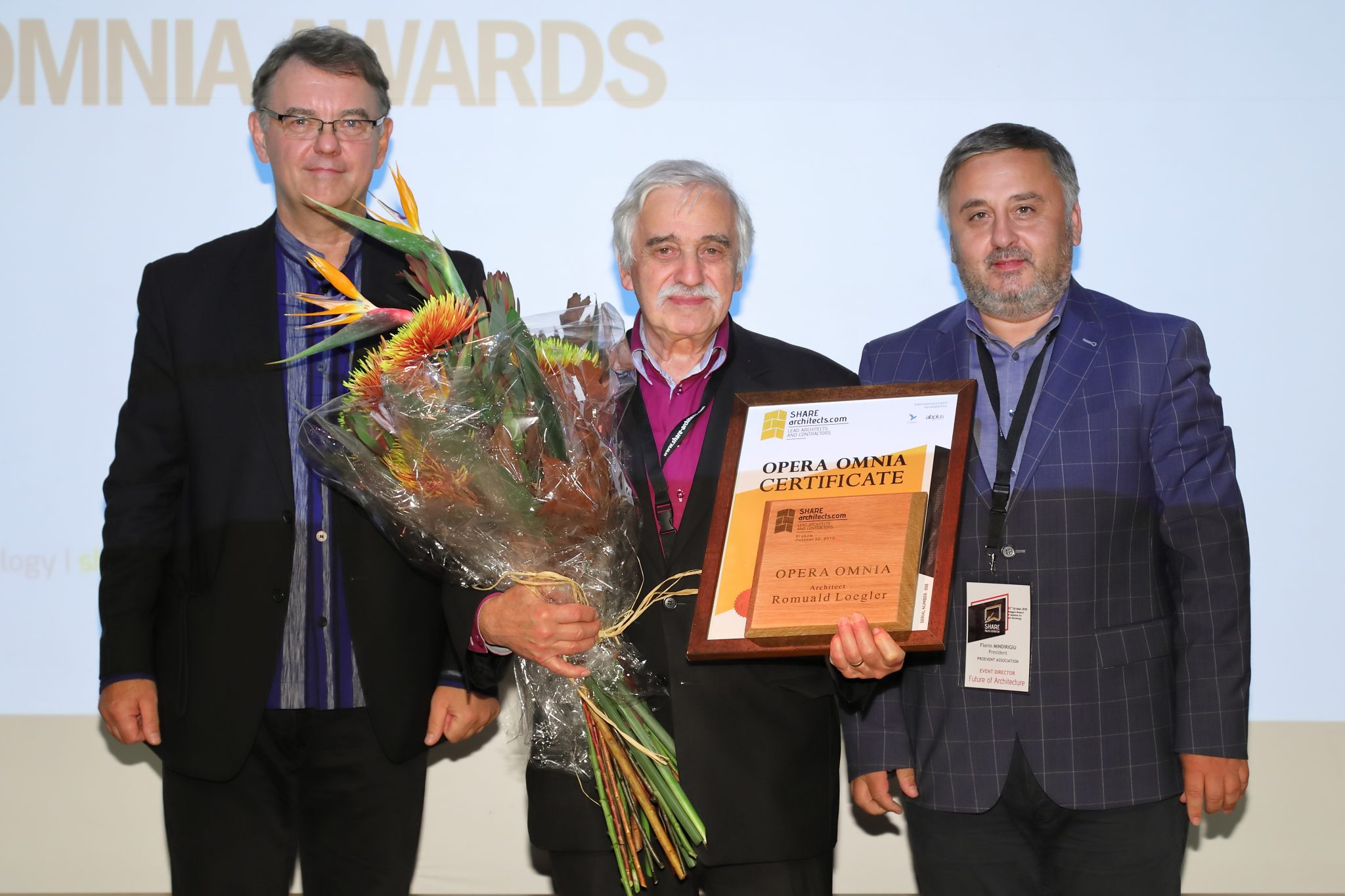 Professor Romuald LOEGLER Receives the SHARE Opera Omnia Distinction at SHARE Krakow 2019
Honorable Laureates, Ladies and Gentlemen!
It is a great honor and a real pleasure for me to present the laudation of the SHARE OPERA OMNIA distinction to honor an architect of such a class as Professor Romuald Loegler! He is one of the best-known Polish architects, the laureate of the Polish Architectural Association Honorary Award (1994), numerous other awards, but also a publisher of an "A&B"architectural magazine, author of many books on architecture, long-time president of the Krakow Branch of Association of Polish Architects, the member of the Saxonian Academy of Art in Dresden, initiator of The Krakow Biennale of Architecture, as well as an academic teacher. To make the long list of his achievements short I would like to say: Romuald, you are an architectural giant!.
Professor Konrad Kucza-Kuczynski, analyzing Loeggler's works, pointed to the "search for the order of an architectural event" as your main design principle. You had described your creative credo, in the book "A Form freed from Order" – you stated that:
Architecture should rely on:  adoption of geometric rules of architecture with a view to creating space as an element of an artificial environment whilst freeing one's creativity by the arrangement of scale and proportion which not only fulfil the requirements of the brief, but also create a visual form worthy of being a measure of beauty. 
These principles were carried on by you and your team in so many of your projects, starting from the Blessed Hedwig's Church in Kraków (with Jacek Czekaj, 1990); funeral home "Gateway into the World of Deceased" in Krakow-Batowice (1998); Jagiellonian Library Annex (1998), Opus Film office building in Lodz, new complex of the University of Economy in Krakow (1998),  the Artur Rubinstein Philharmonic Hall in Lodz (2004) and numerous other projects.
Your works are at the same as rational as poetic, their geometry is often contrasted with light forms articulated by delicate curves. It's amazing how, to put it in your own words contained in the next creed "Creating architecture – from free thought to a consolidated form", you manage to prove that "Above the functionality of a building lies its beauty as a result of its shape and forms, in relation with the surroundings. With the beauty of the building, something that is encoded […] is revealed above the world around us, which is one of the conditions of our humanity – an aesthetic experience. "
Rita Capezzutto, a well-known Italian art historian, called your buildings "drastically innovative". Their meaning is not only about boldness, scale, and radicalism. Strength lies in the clarity of ideas, the logical certainty of design, where technology serves architectural expression.  Your architectural message to all of us becomes very clear:
"By engaging in harmony of FORMS AND SPACE, ARCHITECTURE becomes a witness of CULTURE!"
Romuald at the age of 79 still remains inexhaustibly creative, this year he won a very important competition for a new musical theater in Poznan, we wish him another great achievement, both in form and its free spirit.
-Krzysztof Ingarden