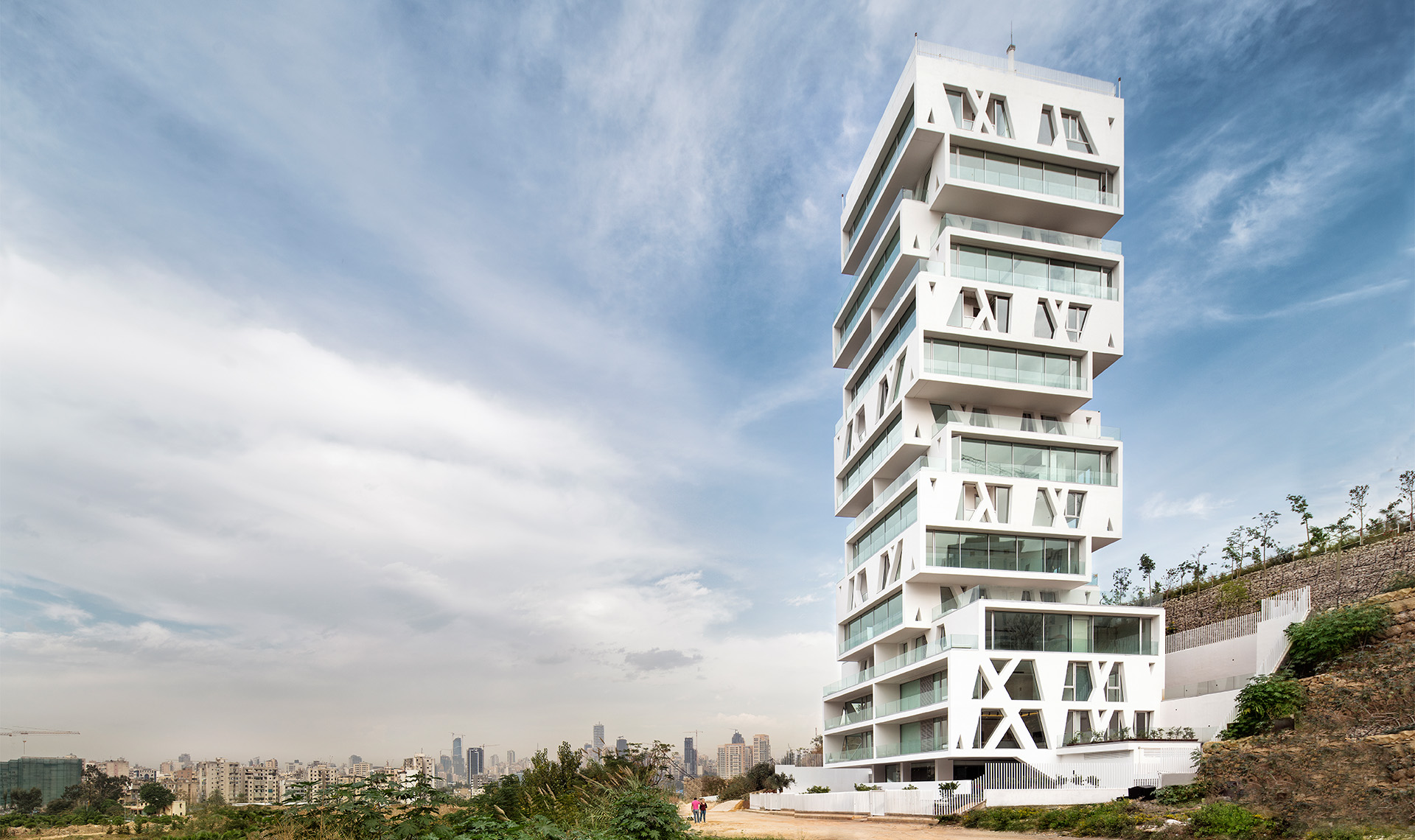 Introducing "The Cube" | Jeroen SCHIPPER, Guest Speaker at SHARE Belgrade 2019
Well-known Dutch Architecture Office, ORANGE Architects had been present at SHARE Forums through the presence of Patrick Meijers, one of the office co-founders. This year, SHARE Belgrade 2019 will have Jeoren Schipper, co-founder of Orange Architects as one of the Guest Speakers.
The Architect & The Office
Jeroen Schipper is a graduate Architect of the Eindhoven University of Technology, Faculty of Architecture and Urbanism. A year after his graduation in 1990, his project was nominated for the Archiprix, as best graduation project. Archiprix is a biennial event which showcases the best graduation projects of students from all over the globe in Architecture, Urban Design and Landscape.
After only three years working for Mecanoo, in 1994, Jeroen was awarded a grant by the Foundation for Visual Arts, Design and Architecture in Amsterdam. In 1995 Jeroen founded JSA (Jeroen Schipper Architecten) in Rotterdam, working on a variety of projects since. Urban planner Stijnie Lohof joined JSA as a partner in 2006. In 2010 Jeroen founded Orange architects, together with Michiel Hofman (until 2016) and Patrick Meijers.
Orange Architects' first realised project – the Cube in Beirut – was awarded in 2016 with the CTBUH Award for best high rise in the Middle East and Africa region. Jeroen was a member of local Committees for Buildings and Monuments; in Rotterdam (2004-2010) and as a chairman in Amsterdam (2012-2016). Since 1990, he has taught at different architecture schools in the Netherlands and gave numerous lectures both in the Netherlands and abroad.
Focus on Human, World & Value
Orange Architects was established in 2010 and is led by Patrick Meijers and Jeroen Schipper. The office is a multidisciplinary design firm, working internationally in the fields of architecture, interior design and urban planning. The goal is to guide clients on a successful path towards inspiring, powerful and rich environments in every design-scale. From urban (re)development to product design; from collective housing to luxurious villa; from office planning to private interior.
We want to design spaces in such a way that it stimulates social interaction between different users of the building and its neighbours by making communal spaces. Socialization can be encouraged by making inviting spaces, creating the right atmosphere and using the right materials.
Jeroen Schipper and his partners developed projects in many countries, starting from The Netherlands, Belgium, Russia, Serbia, Cyprus and continuing with the Middle East. The designs draw great inspiration from both local culture and cutting-edge design techniques. The projects display Orange's prime merit: the ability to embrace local traditions – and fuse them with new, innovative ideas and forms – creating synergy between present and future, between what is happening today and what will be tomorrow.
People are constantly in the focus on their design approach. They have defined a special requirement they pursue to meet in every project they are participating in, and they called it: The human pillar. In the Human pillar they address the positive influence of the building and its surrounding on the health and well-being of the users. The office stimulates to create spaces for interaction with healthy and comfortable indoor climates, as well as making buildings for active users with the integration of sustainable transport.
"The Cube" – awarded at the CTBUH Awards
Orange Architects have been awarded in 2016 by the Council of Tall Buildings and Urban Habitat (CTBUH), for the Cube.
The Cube, employs a residential design concept that is simple yet extraordinarily effective, rotating and displacing volumes on each floor to offer residents unique outdoor areas and panoramic views of Beirut. The design stacks 14 rotated floor plans on top of a lobby, generating 21 apartments with fluid spaces, large balconies, and wall-to-wall window frames. The structure is unique for utilizing Self-Consolidating Concrete, allowing loads to be directed to four areas of rotated girders on every floor, with no additional structural slabs added to the façades.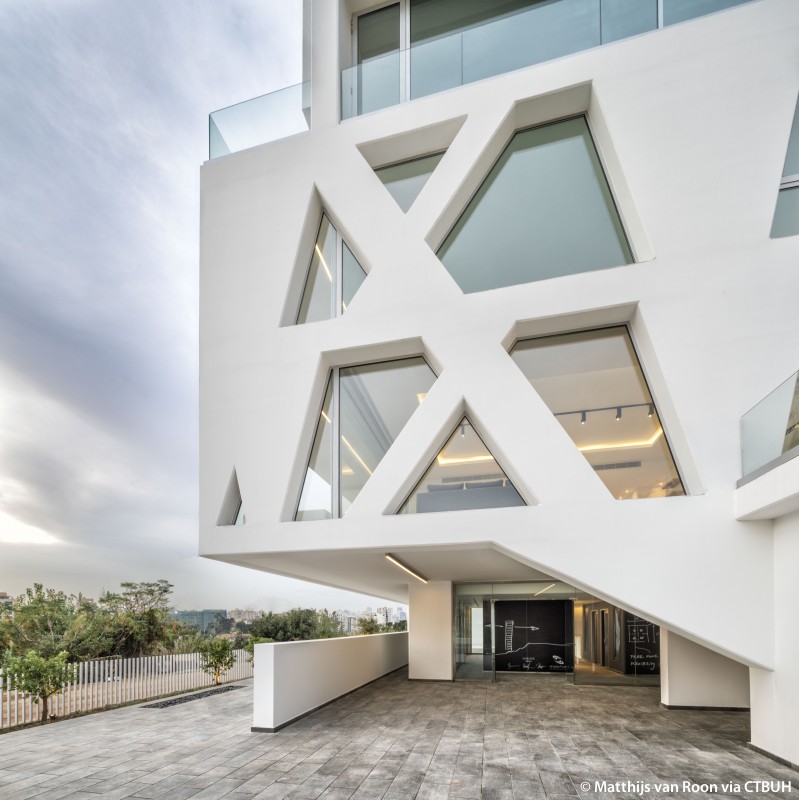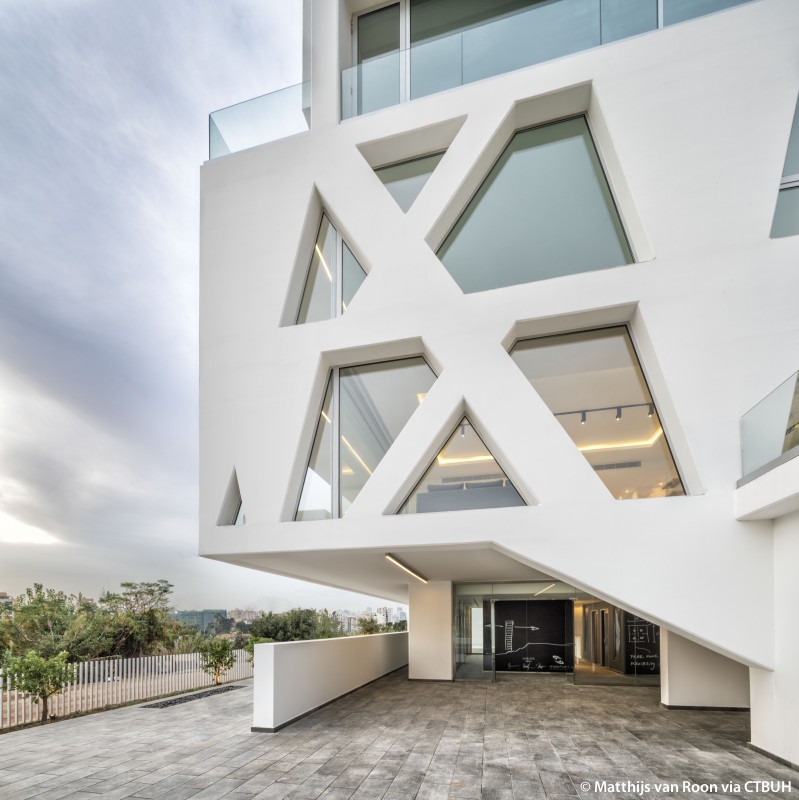 The Cube indicates a clear alternative to the extruded box typology that defines the majority of residential high-rises around the world, instead comprising a stack of completely unique villas in the sky. The tower is particularly successful in its structural design, which features a system of elegantly framed girder walls that add visual flair and allow for completely unobstructed floor plans. (From the Jury report of CTBUH)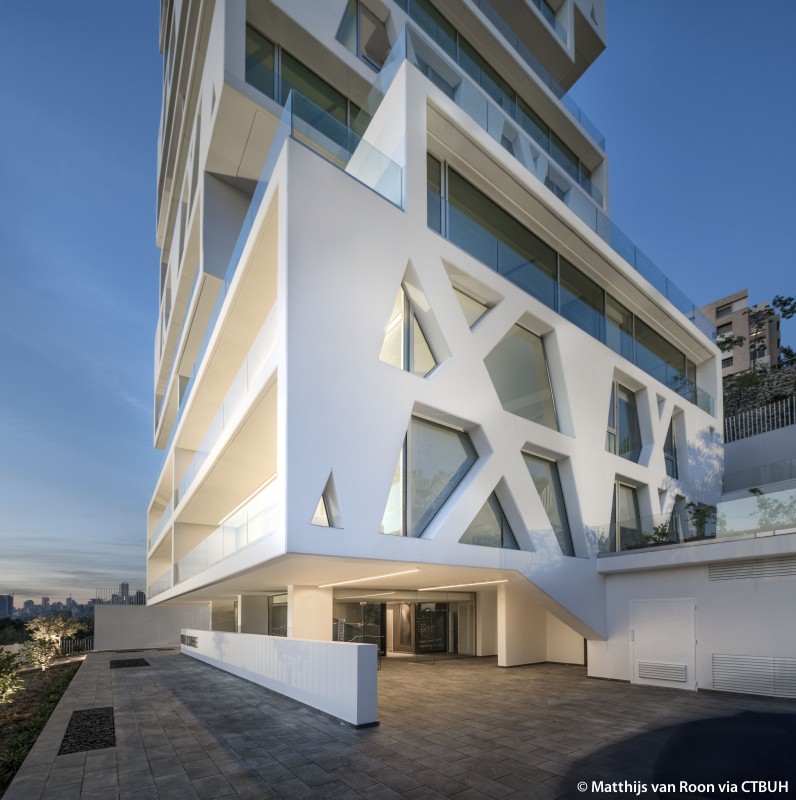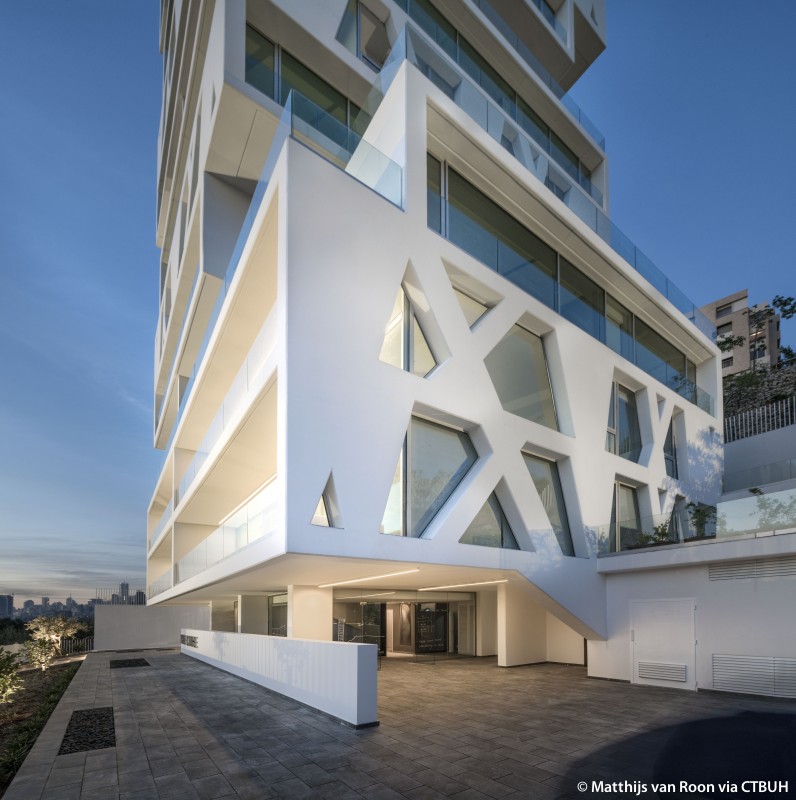 With its sculptural appearance of stacked boxes, The Cube is presenting a whole new level to the concept of high rise and the architecture of towers. No extrusion of a singular floor plan, but a unique and iconic structure of individual villas. The rotation and displacement of the volumes on each level offers residents magnificent outdoor areas on the roof of the apartment below, as well as panoramic windows up to 12 meters wide. Each level consists of one or two apartments. The single apartments have the fabulous opportunity to enjoy Beirut from a 360 panorama.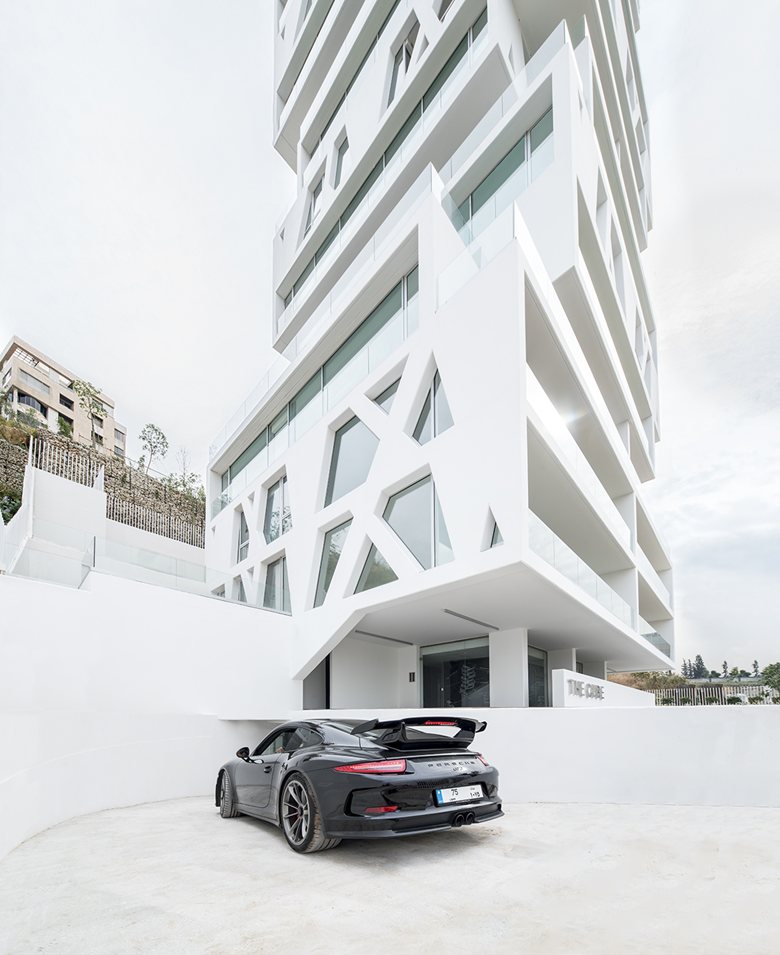 SHARE Belgrade 2019, 2nd edition
SHARE Forum is one of the essential networking platforms for the construction-related fields in Central and Eastern Europe that brings together principal and senior architects from leading practices to discuss about their recently awarded projects from the greatest architectural competitions worldwide.
ABplus events, PROEVENT Association and the Union of Architects of Serbia are organizing on 9th of May the 2nd edition of SHARE Belgrade International Architecture and Engineering Forum.
Follow us on:
Instagram: https://www.instagram.com/sharearchitects/
Facebook: https://www.facebook.com/abplus/
Twitter: https://twitter.com/ArchTradeEvents
Or visit our website: http://share-architects.com