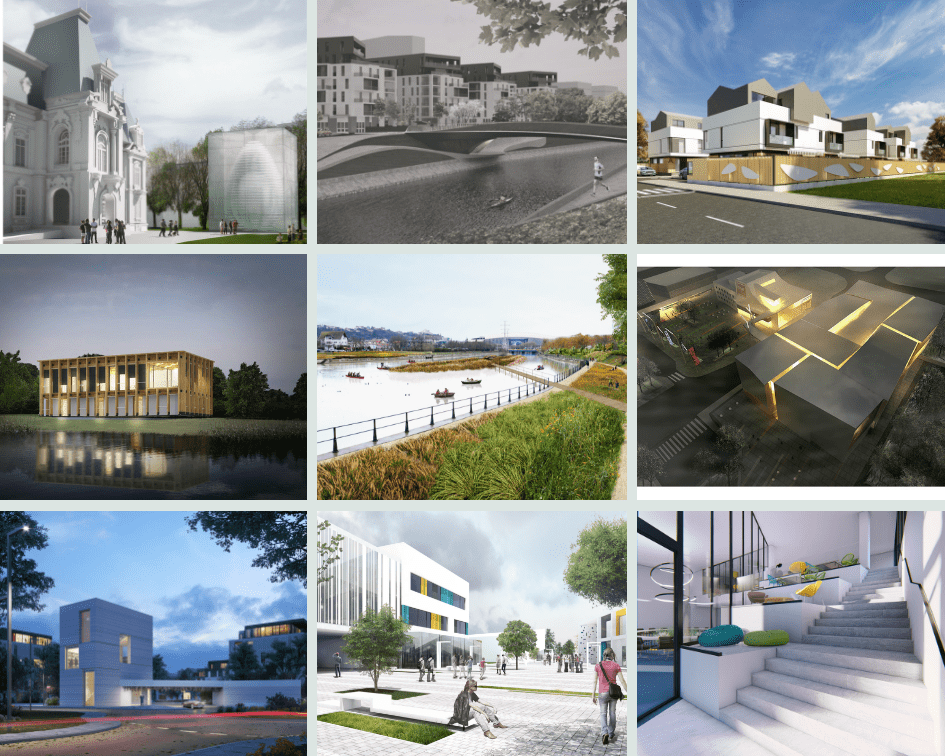 Introducing the 12 Finalists at The Romanian Building Awards | SHARE Bucharest 2019
Following an in-depth analysis of all 60 architectural projects signed up in the Romanian Building Awards competition, RBA board members – made up of presidents of the Constitutive Council of Architects in Central Europe (CCA-CEE) – have selected the 12 finalists that will present their projects publicly at SHARE Bucharest 2019 in front of an international jury.
On the topic of evaluation criteria, Florin Mindirigiu, President of PRO Event Association and event organizer, mentioned:
The 12 finalists were chosen based on votes from each RBA board member part of the evaluation process. Each member had 12 marks, from 12 to 1 to communicate their favorite project hierarchy. Throughout the process, we've maintained a continuous and dynamic evaluation up until the last vot. We will also have 3 special mentions, courtesy of the board, which we will announce during the RBA Gala, namely for research & development, interior design, and public spaces.
The members of the CCA-CEE board also highlighted that:
In our evaluation, we've taken into account basic judging principles, including the project's capacity to improve lifestyle quality of citizens, nature of the concepts guiding the project, innovation and sustainability degree, but also technical and aesthetic qualities.
Introducing members of CCA-CEE part of the RBA board that helped select the 12 winning projects:
Borislav Ignatov — President, Chamber of Architects, Bulgaria

Martin Panovski — President of the Association of Architects of Macedonia

Alexandru Găvozdea — President at Romanian Order of Architects

Milan Djuric — President of the Union of Architects of Serbia

Tomaž Krištof — President at Chamber of Architecture and Spatial Planning of Slovenia

Blerta Vula – Executive Director, Association of Architects Kosovo

Armand Vokshi – President of the Association of Architects Albania

Florin Mindirigiu — President of PRO Event Association
By announcing the list with the 12 nominated architectural projects joining the final race at the Romanian Building Awards competition, the first judging step has ended.
A warm welcome to the international RBA grand jury:
Șerban ȚIGĂNAȘ – General Secretary UIA, Founder at Dico & Țigănaș (Romania)

Fernando MENIS, Founder & Chief Architect at Menis Arquitectos (Spain)

Cinzia FERRARA, Founder  at Ferrara Paladino Lighting (Italy)

Andreas VARDAS, Founder at Vardas Studio (Cyprus)

Bruno ANDREȘOIU, Architect, Editor-in-Chief at Igloo (Romania).
The 12 finalists entering the final stage of the RBA competition are (in alphabetical order):
AVALON ESTATE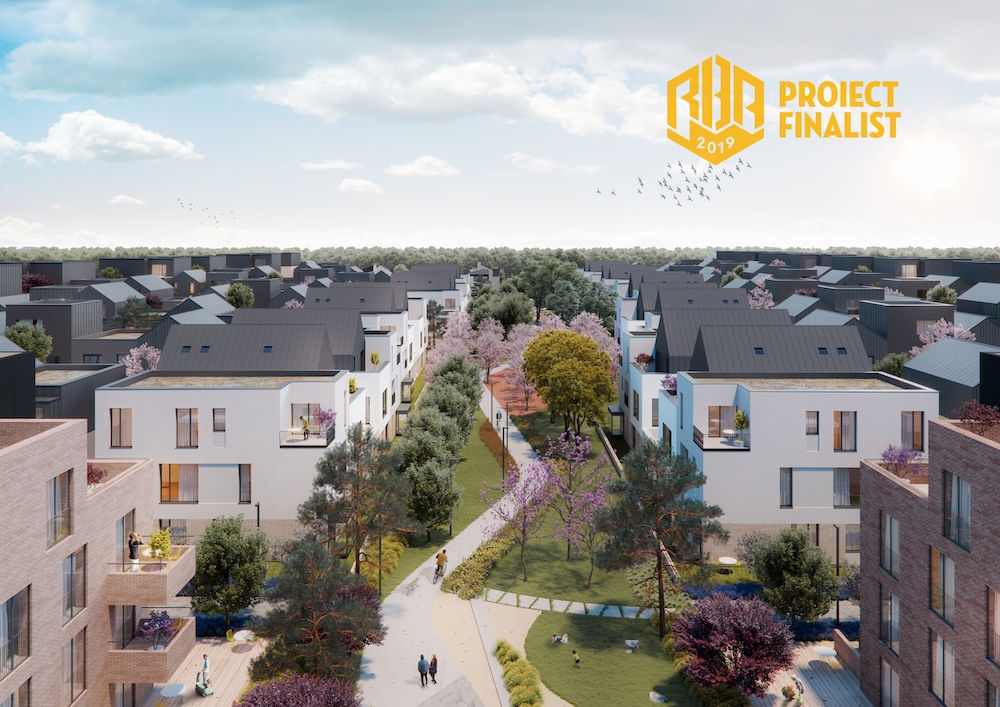 Category: Residential – collective housing
Team: arch. Adrian Untaru, arch. Bogdan Brădățeanu, arch. Andrei Șerbescu, arch. Ioana Tănăsie, arch. Esenghiul Abdul, arch. Andreea Ștefania Precup, arch. Constantin Stanciu, arch. Ana Simionescu, arch. Laura Oniga, arch. Traian Iacob, arch. Theodor Dinu, arch. Mihaela Bâcu.
Other collaborators:
Arch. Radu Stanescu – 3 D Renderings: ARendering

Eng. Luana Sandu – Mechanical, Water supply, electricity: S.C. ALMA INSTAL PRO S.R.L.

Eng. Mihai Dima – Structure: S.C. EDIT Structural S.R.L.

Arch. Esenghiul Abdul – Pedestrian landscape design: S.C. BEROS ABDUL ARHITECTI ASOCIATI S.R.L.

Arch. Christian Beros – Pedestrian landscape design: S.C. BEROS ABDUL ARHITECTI ASOCIATI S.R.L.

Eng. Mihai Preda – Facade Design: S.C. ALU GLASS TECHNIK S.R.L
The project: The site is large enough to accommodate a mix of housing types across private and affordable tenure and for all generations, whether it be together as families, or as individuals and everywhere in between. Type A – Apartments, Type B – Townhouses, Type C – Detached Houses, Type H – Villas, Type S – The Club House. In total, we have 793 units, 5 categories, 44 layouts. By developing a parking system that manages to mask the cars without affecting the efficiency of entry/exit maneuvers the design focuses on the natural and built environment that has a valuable impact on day-to-day living.
Collection 10 residences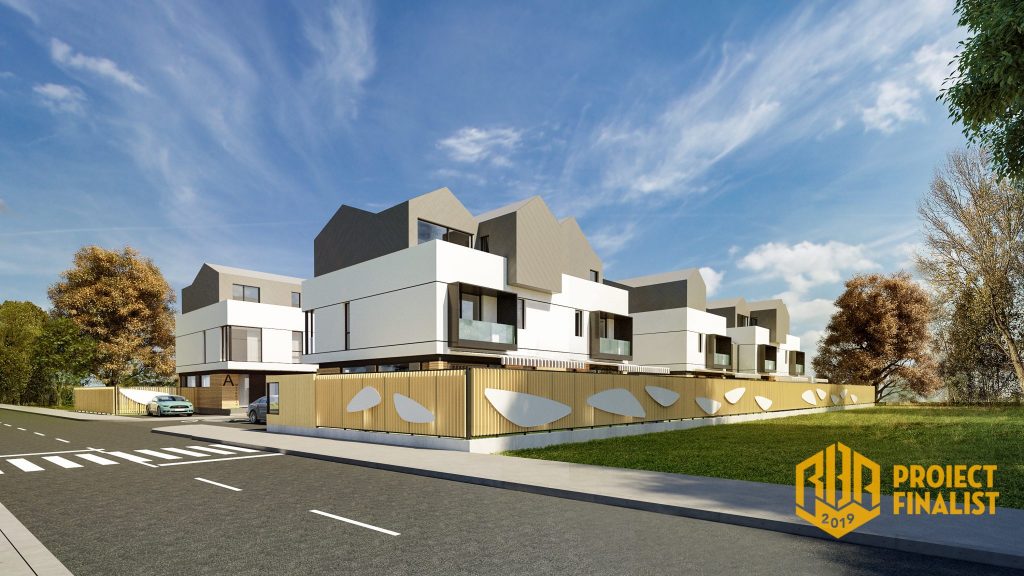 Category: residential – collective housing
Team: arch. Bogdan Neagu
Radu Draghici 

Dana Stanciucu 

Alexandru Dumitrescu 
The project: These new 10 residences is quite spaced with 8-9 meters between houses. Each level is designed as a separate volume so that the mass objects have been designed with the ground withdrawn, withdrawal of the floor from the floor 1 generates an access area being protected . The second level appear as a barn house lifted on top witch generate a particular and iconic image. 
DOBRUN SQUARE CENTER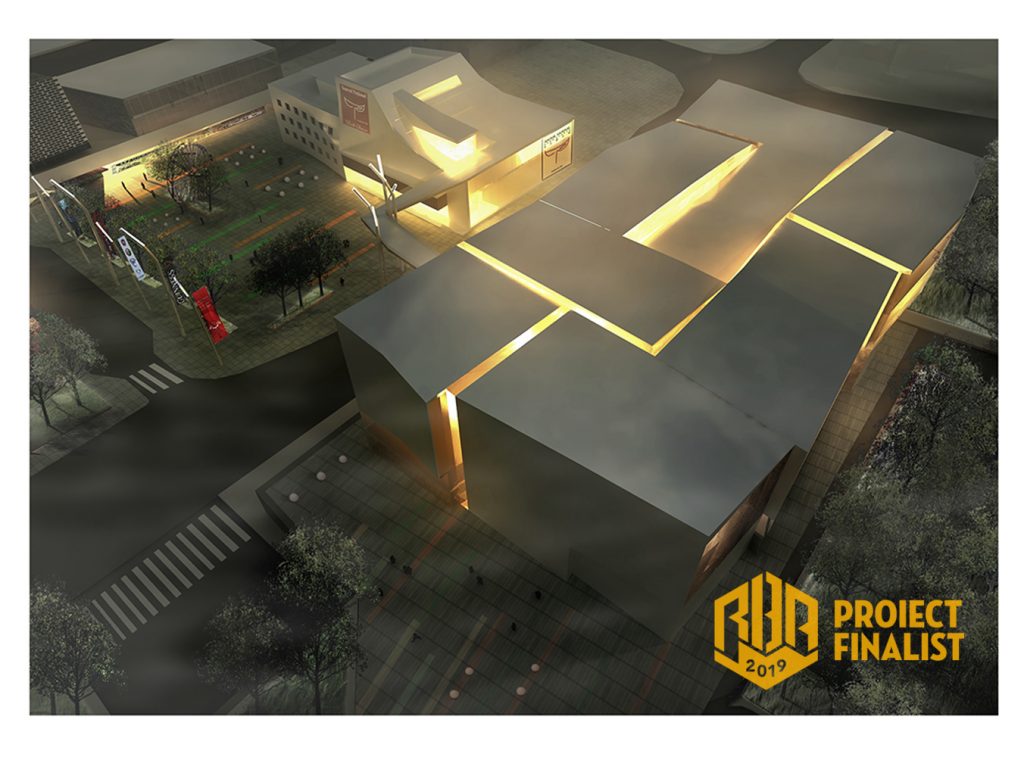 Category: Commercial centre
Team: arch. MIHAI RADU, arch. PAUL LUPU, arch. CODRUTA COTARLEA, arch. TEHODHORAQ STOJANI, arch. AMELIA POP, arch. TEHODHORAQ STOJANI, arch. AMELIA POP, arch. CRISAN OANA, arch. ALBERTO RODRIGUEZ, arch. LORENA BULUMAC, arch. KIRBY DAVIS, arch. JOSHUA VIZZI
Other collaborators:
HORIA MIHNEA – Structure/foundation 
The project: Following the analysis of the neighbourhoods and architectural style specific to the city of Sibiu, a concept for the new complex was set out to raise the potential of the area. The existing built-up area, the immediate vicinity of the Historic Center, the street tram and the proposed building destination, are elements which were considered in the implementation of the Center. The new complex consists of a theater, hotel, commercial center and cinema, commercial spaces and offices, the info point for tourists with coffee shop, exhibition and conference center and also 470 parking places in a 4-storey underground garage.
DSBU – New School Campus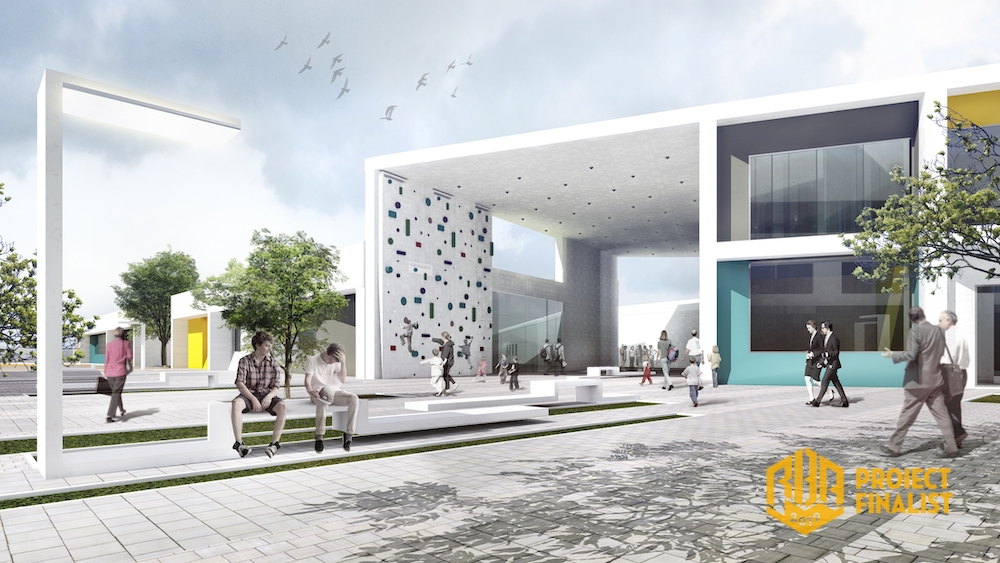 Category: Education
Team: arch. Sergiu – Cătălin Petrea, arch. Cristina Petrea, arch. Sabrina Ene – Butnariu, arch. Tania – Victoria Băncilă, arch. Sebastian – Ștefan Apostol
Asociația pentru înființarea și sprijinirea Școlii Germane din București
Other collaborators:
Dan – Alexandru Roșu – architect

Cosmina Doncu – architect

Sebastian Burcoveanu – architect

Ionel Badea – resistance  

Ruxandra Ciacoi – installation
The project: The buildings' layout on the site is meant to create a central core, a Plaza that is easily accessible from all directions. Due to its wideness and conformation, the site can't be crossed quickly, especially by young children. Therefore, we proposed a building layout that opens the Plaza to opposite sides, making it easily accessible and connecting all major areas. Thus, the Plaza is like a living organism that extends and fills every empty space between buildings through a single floor, creating a coherent urban composition that answers both to functional connectivity and aesthetic purposes.
EXTENSION OF "TITU MAIORESCU" UNIVERSITY HEADQUARTERS – BUCHAREST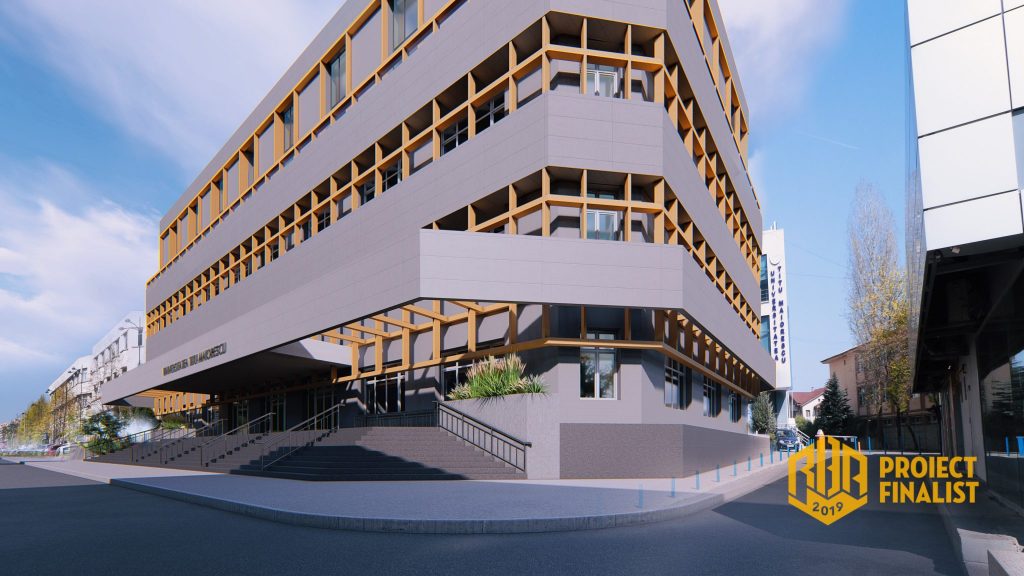 Category: Education
Team: arch. Razvan Mosneag, arch. Iustin Popescu, arch. Octavia Floria Popeea, arch. Oana Cretu, arch. Alexandru Ivanciu, arch. Olga Morar, arch. Carmen Ivan, arch. Andrei Vasilief, arch. Tekla Berecki, arch. Razvan Starca
SC EUROALFA CONSTRUCT SRL
"TITU MAIORESCU" UNIVERSITY
Gabriel Maier – Structural design
The project: Titu Maiorescu Building V Head Quarter, located on Calea Vacaresti Blvd, 4TH District, Bucharest, is a key building extension, for one of the most well-known, popular, dynamic and high-level private universities in Romania. Supplementary amphitheaters, study laboratories, classrooms and meeting rooms, have been designed and finished with top-quality materials. A metallic structure similar to a container framework, was designed for the extension, placed and hanged over the existing concrete building. The exterior facades and volumes have been designed to be covered with Equitone panels and high energy efficiency glass walls. The interior design was created as a high-tech industrial space combined with interrelated organic spaces. Natural light has been one important detail for the extension's design, as well as the main building facades' positioning towards east, south, and west in order to properly sunlight all premises.
House in Corbeanca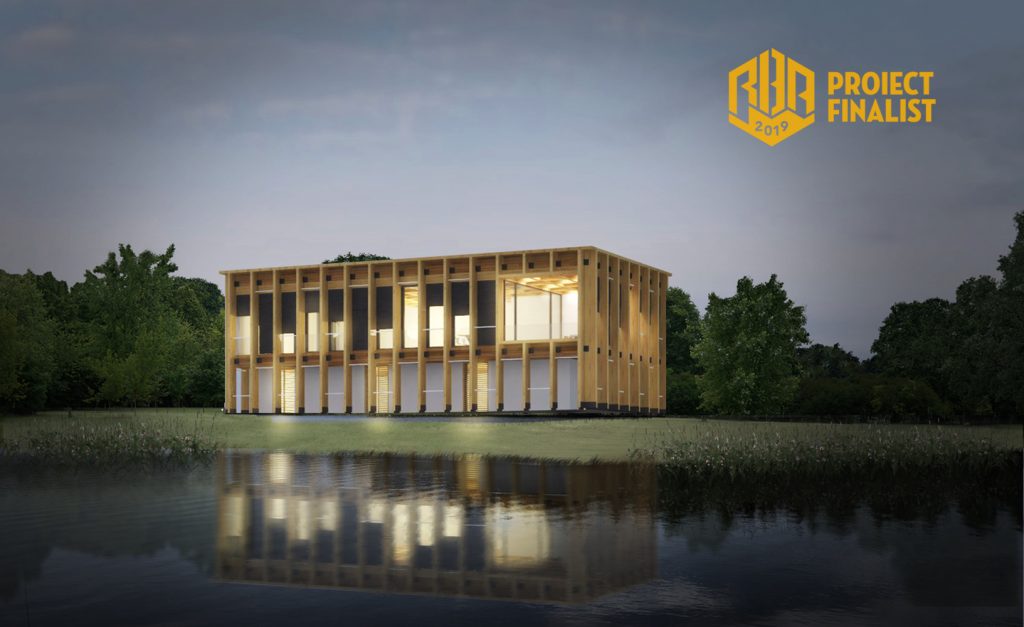 Category: residential – collective housing
Team: arch. Radu Teacă
Corina Nicola – Architect

Cristian Năstase – Concept structure, resistance
The project: A two-leveled house comprised of two levels. The ground floor contains the bedrooms and the technical space, while the first floor contains the kitchen, the living room, the dining room, the master bedroom and a generous terrace oriented towards the lake. I applied this inversion of the common functional distribution between the levels so that the dwellers can have a more spectacular view over the lake than the view from the level of the ground. The structure of the house is made of glued laminated timber, with the columns disposed on the perimeter. The columns have also a shading role, and through their regulated rhythm they define a geometric, rationalist architecture, in contrast with the irregular shape of terrain and of the shore.
International Center Constantin Brancusi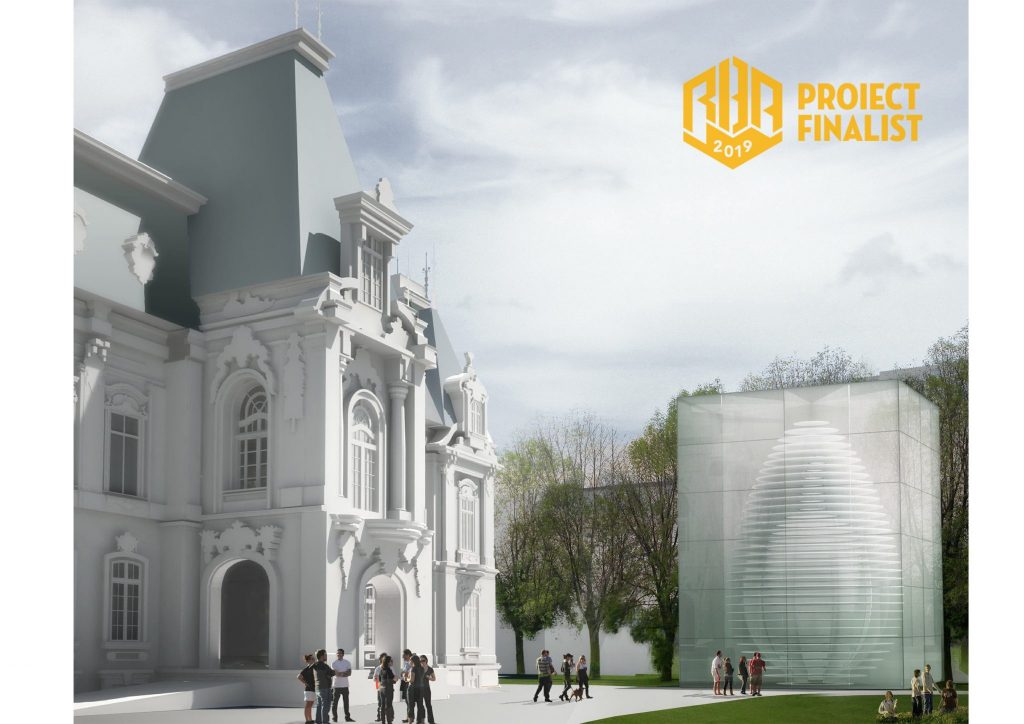 Category: Cultural
Team: arch. Dorin Stefan
Bogdan Chipara – architect

Adrian Arendt – architect

Ana-Maria Banciu – architect

Stefan Burciu – structure/foundation
The project: The proposal refers to the story of the Indore Temple that was commissioned by the Yeshwanr Rao Holkar Maharajah from India to Brancusi and has never been built. The entrance is set up to be underground: on the eastern side of the Mihail Palace it was proposed an underground space as an exhibition space for meetings and the access in the glass prism that is above. This will be in itself a big structural performance, being made of glass panels of 12 m high. Brâncuşi Pavilion develops a special relationship with the Mihail Palace counting on a mutual architectural support. The pavilion can be regarded as pop-art while the "Măiastra" is only suggested as a negative space inside the Ovoid, to avoid generating a heavy, oppressive structure.
ISHO Real Estate development Timisoara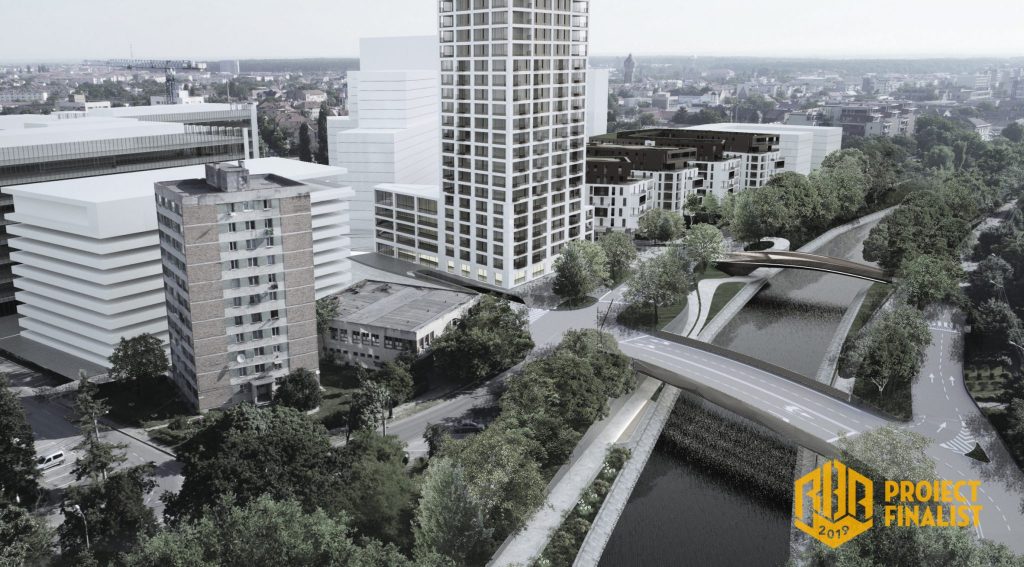 Category: Urban infrastructure
Team: arch. Vlad Gaivoronschi, arch. Ioan Andreescu, arch. Adina Szitar, arch. Dan Munteanu, A and B residential S.C. ADNBA srl – arch. Adrian Untaru, Bogdan Bradateanu, Andrei Serbescu, arch. Mihai Danciu, arch. Bogdan Zaha, arch. Catalin Gavrilescu, arch. Ovidiu Micsa, arch. Simina Cuc. Principals: arch. Rodica Dina, arch. Cristina Lupu, Horia Munteanu, Chan-Woo Park, Alexandru Barbu, Anca Teslevici, Romina Pasculovici, Mihaela Bacu, Roxana Durdun. 
Take Project, Mulberry Development, Take Hotel – ph.d. Ovidiu Șandor
Eugen Panescu – urban planning consultancy

Lavinia Popa – urban planning consultancy

Paul Buchert – urban planning consultancy

Alexandru Malaescu – urban planning consultancy

Iulia Fratila – urban planning consultancy

Victor Rill – road design

Eduard Petzek – bridge structure design

Christian Lannert – design resistance structure

Adrian Smadu – installation design

Catalin Jescu – sanitary installation design, thermal, HVAC

Emilian Zmeu – electrical installation design

Alexandru Ciobota – landscape design

Alina Floca – landscape design

Marius Birsete – project management  

Paul Pufu – project management

Anamaria Giurgiu – project management
The project: ISHO is a complex mix of functions, a hub of multiple connections which will accommodate: – a segment of the second ring of the city together with a new strategic bridge over Bega. – a second pedestrian bridge which will continue an important pedestrian road connecting ISHO with another historic district in the east of the city with a powerful NW-SE visual direction, oriented towards the massive Millennium Church, a landmark in one of the historic plazzas of the old Fabric district; – ample exposure to the riverfront; – an eastern-western connection, through an old tramway remise (to be converted into a Transport Museum and Cultural Centre).
Loft Green Apartments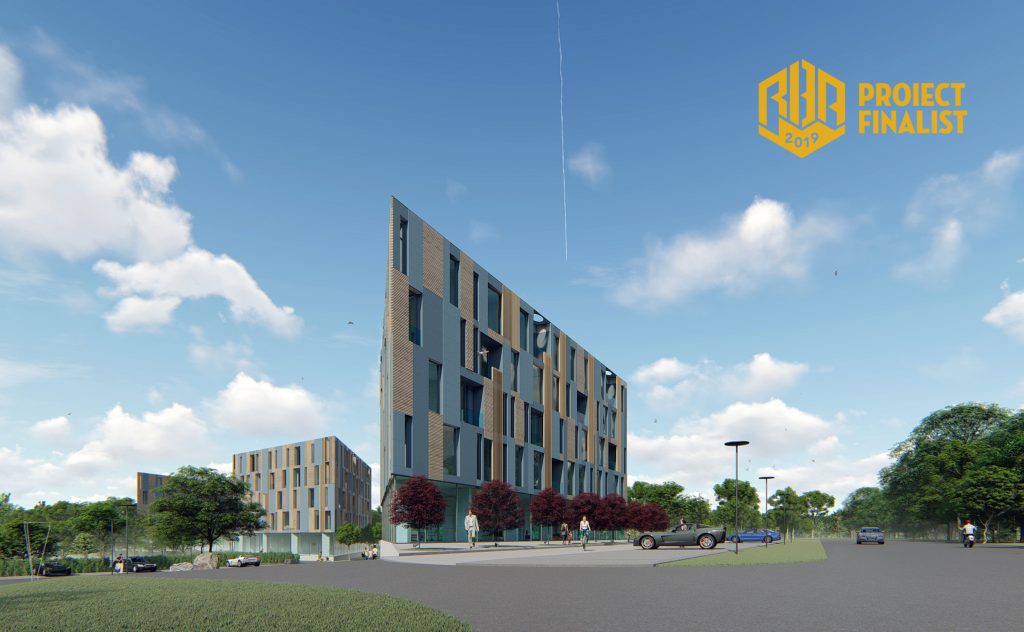 Category: residential – collective housing
Team: arch. Maxim Calujac, arch. Maxim Calujac
SDH Architecture SRL & Maxim Calujac
Other collaborators: –
The project: The Housing Complex is a unique concept in Romania and promotes a green living model, being 100% ecofriendly. The three four floors buildings have one-, two- and three-rooms apartments, with a total of 154 apartments. It's located in the best area of the North of Bucharest, in Mogoşoaia, surrounded by green spaces, between two forests. Each home is unique either by interior design or by partitioning of living space. They are soft-loft-style apartments. The architecture of the buildings is modern, each building has the shape of a diamond and is positioned taking into account the brightness, intimacy and the view. They are designed to bring natural light to the home regardless of the time of day or season. This can be done thanks to the high windows from floor to ceiling (2.9 meters).
Someş River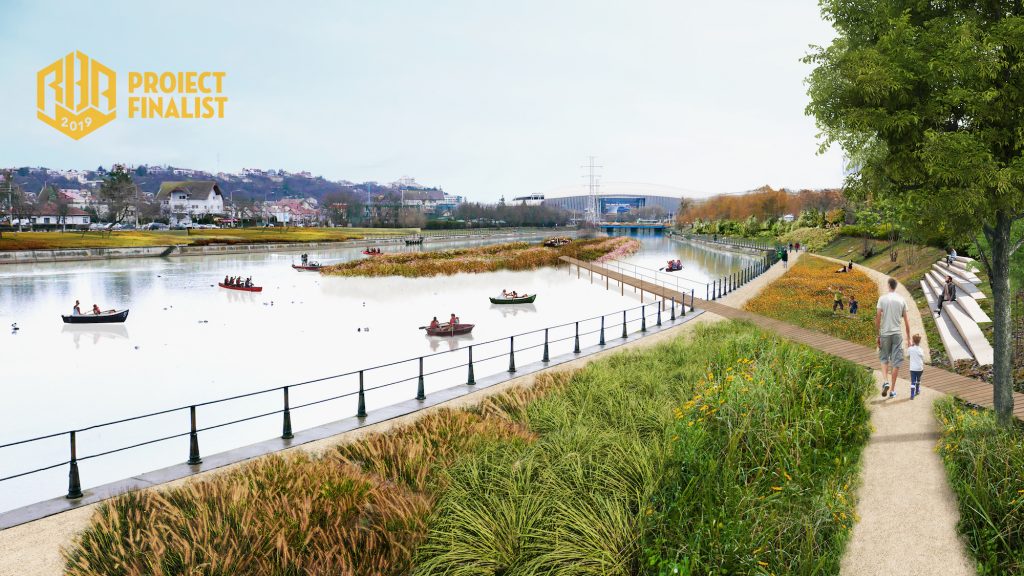 Category: landscape architecture
Team: arch. Daroca Jaime , arch. Mayoral José, arch. Sierra José Ramón
Primăria și consiliul local CLUJ-NAPOCA
–
Planwerk – local consulting architect

Aqua Prociv – consulting engineer

Landlab – consulting landscape architect

Ciont Nicolae – traffic engineer

EuROBB Energy – electric engineer consultant
The project: Producing a diverse range of solutions to the varied conditions of the river Somes, this proposal reimagines the role of the river as it crosses through Cluj-Napoca for over 15 kilometers. The Somes River is no longer understood as a thin line that divides the city in half but rather as a thick band that is part of Cluj-Napoca, incorporating distinct ecological systems and integrating public space. The Somes is envisioned as an urban connector of public spaces and green areas as well as the primary circulation path for pedestrians and bicycles. Thus, this proposal aims to bridge that gap between the river and the city.
The Center of Electronic Industry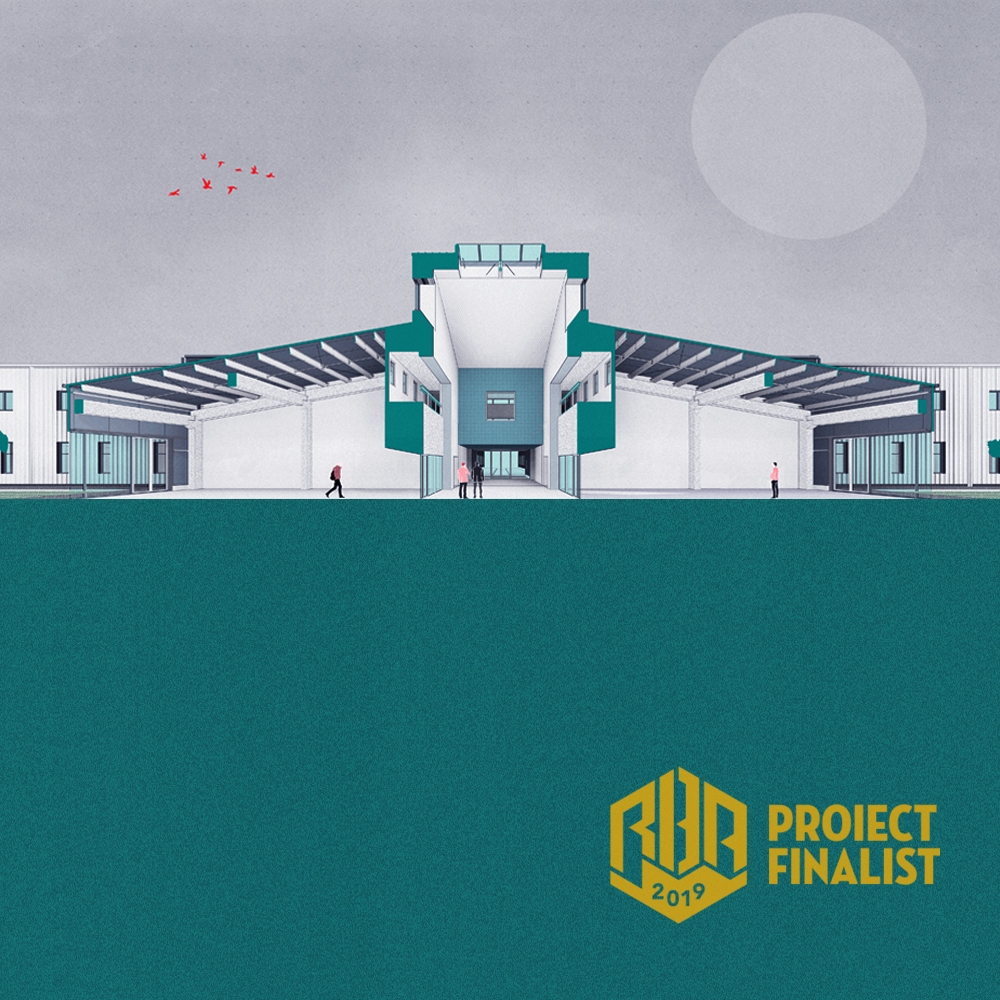 Category: Industrial construction
Team: arch. Alexandra Berdan, arch. Ancuța Costandache
Daniel Poleac – Detail architecture

Daniel Miroțoi – Detail architecture, photography, execution

Alexandru Șteopoaie – Structure design

Bela Mocsary – Structure design

Constantin Iacomi – thermal installation design &  HVAC

Liviu Covaliu – sanitary installation design, electrical, și fire security

Tiberiu Teodor-Stanciu – 3D modelling, Detail architecture

Mihai Ungureanu – Site supervisor, execution management, technical consulting
The project: Unlike the traditional industrial hall, a large rectangular box, the Center has a square footprint, occupying the maximum constructible plot on one direction, freeing the ground for further expansion, in the other direction. Including production, office, presentation and social spaces, the assembly of buildings fit into a 100 / 100m square, with a total built area of approximately 10000 sqm. The client/investor is a group of three companies that produce parts, assemblies and equipment for the electronic industry. The companies currently employ around 100 people and the new facilities will have to accommodate around 200 highly skilled employees. The project covers the need for doubling the production capacity while expanding the client's vision for a more transparent, adaptable and streamlined working environment.
THE PALACE OF THE POLITECHNICAL SOCIETY 118, CALEA VICTORIEI , BUCHAREST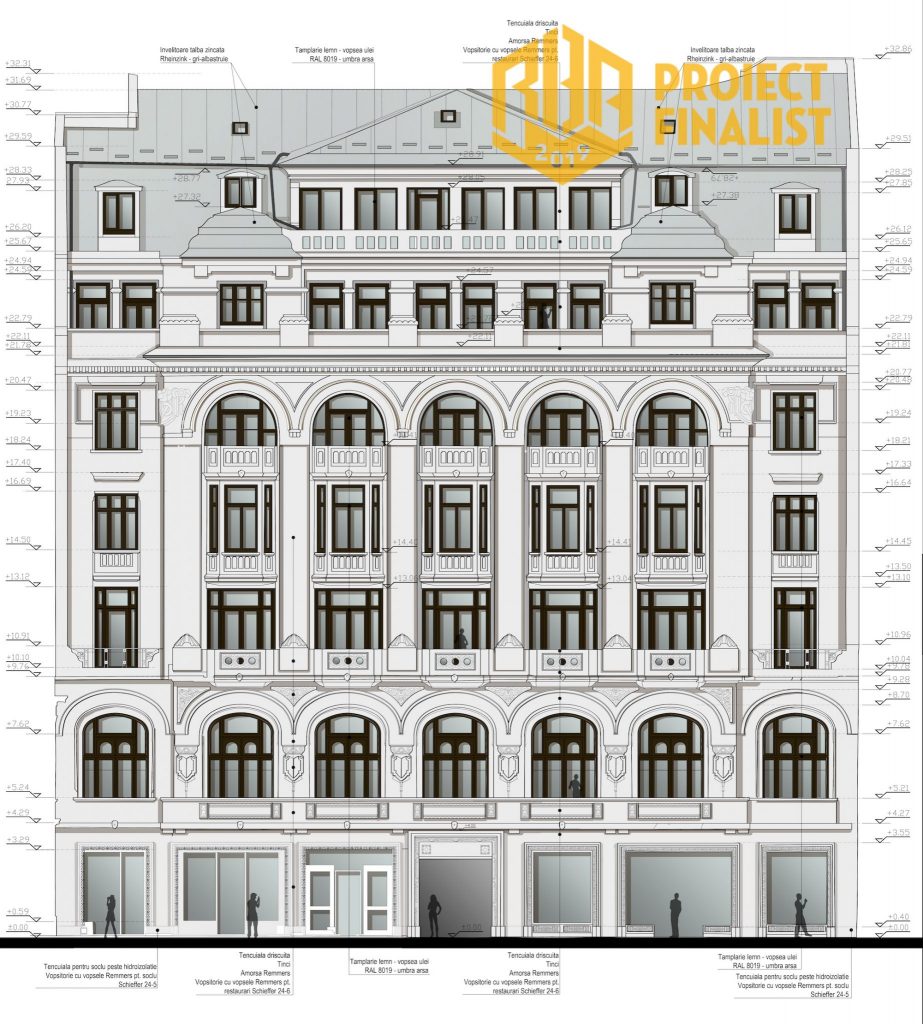 Category: Office buildings
Team: arch. Georgeta Gabrea, arch. Remus Pencea, arch. Bianca Breban, arch. Ovidiu Sava
Traian POP – Dr. Engineer – structure/foundation  

Florin Paune – Engineer

Alin Ungureanu – Engineer, sanitary installation & HVAC

Serban Lazar – Prof. Dr. Engineer – electrical installation

Corneliu Beldiman – Engineer – electricity installation & fire detection

Josef Covacs – Verification – proiect conform legea 422/2001

Ioan Vale – Dr. Engineer – strict verification "C" – construction & installation

Dan Ilie Turcu – Verification – proiect exigente "B, D, E, F" – architecture

Vlad Osiac – Architect – interior design – underground

Mihai Vlad – CES Consulting S.R.L. – underground installation

Catalin Stefan – CES Consulting S.R.L. – underground installation
The project: The aim of the project is to reinforce and restore the building and to give it back to Calea Victoriei in order to help it regain its fame of elegance and beauty. The building is one of the most important presences on Calea Victoriei . It is a patrimony building. It has an underground floor, a ground floor, a mezzanine , 5 floors and the 6 th level is retired from the main plan of the facade of Calea Victoriei. It has a total area of 4300 sqm.and a generous attic. The structure has to be reinforced.The facades are for the moment in a bad shape and need to be restored.The roof, too. The reinforcement of the building means the reinforcement of the walls of the main staircase The existing two elevators will be changed with an elevator with contemporary technology and glass walls. The missing ornaments of the facades will be remade of the same material and geometry as the original ones. The damaged ones will be restored.
Congratulations to all of our participants! All 60 projects signed up in the competition will be presented at this year's special edition of SHARE Bucharest 2019.
Our dear finalists, see you on April 18, at the Romanian Building Awards Gala where the final stage of the competition will unfold!
A big thank you to our collaborators, spatiulconstruit.ro and igloo, as well as to our official partner, Saint-Gobain.