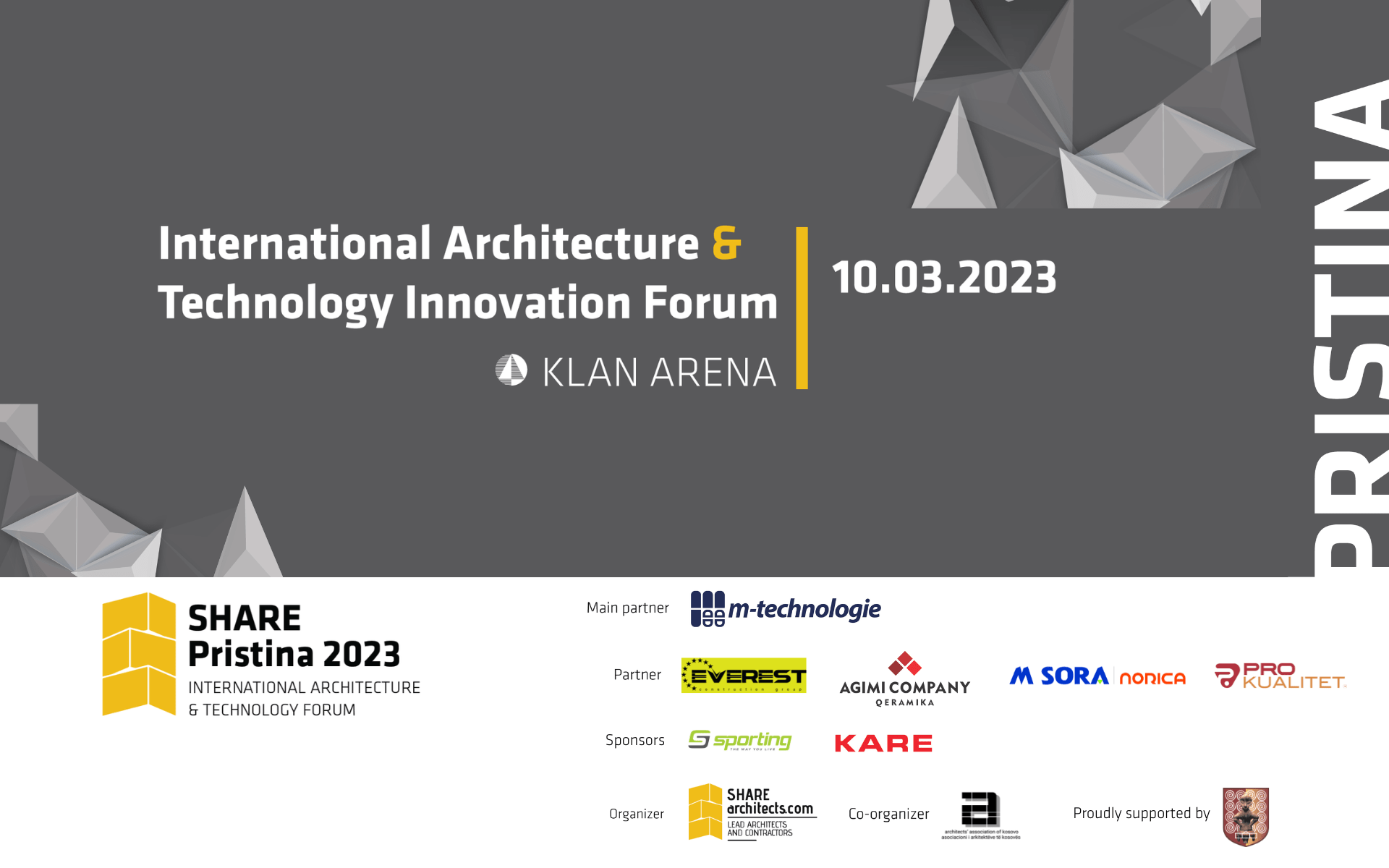 International guests from 8 countries will lecture at SHARE Pristina 2023
SHARE Architects return in Kosovo with a second event: International Architecture and Technology Innovation Forum SHARE Pristina 2023. On the 10th of March, at the Klan Arena, the focus will be on the main themes of "Living and working architecture" and "Sustainable facades: Design and technology".
SHARE Pristina 2023 will provide attendees with access to knowledge and new opportunities for collaboration, bringing together  national and internationally renowned speakers, innovators in architecture and building technologies. The event is organized by SHARE Architects, one of the most active events network in the region,  in partnership with Architects' Association in Kosovo, with the support of the Municipality of Pristina.
SHARE Pristina 2023 has as guests internationally recognized personalities in the field of architecture: Bernard Khoury, Founder Bernard Khoury / DW5, Lebanon; Ian Ritchie, Founder Ritchie Studio, UK; Simonetta Cenci, Partner Ateliers Alfonso Femia, Italy, Gokhan Avcioglu, Founder GAD Architecture, Turkey; Diogo Burnay, Founder CVDB Arquitectos, Portugal; Martin Panovski, Founder RADiUs architects, North Macedonia, Matilda Pando, Founder MA Architects, Albania.
On the stage of the SHARE Pristina 2023 forum are invited representatives of Kosovo's architecture such as Fisnik Dresha, Co-Founder Froject architecture and Ardit Jedrashi, CEO, Co-Founder DIARKO.
At the second edition of the SHARE Pristina International Forum, SHARE Architects Society will honor the entire career and remarkable and admirable achievements of the architect Lulzim Nixha with the SHARE OPERA OMNIA AWARD. This is an extremely special moment for SHARE Architects Society, representing the appreciation and recognition for outstanding achievements in the fields of architecture, as well as for the role played in the development of significant architectural projects throughout the career. The gallery of laureates includes Trajko Dimitrov (North Macedonia), Petraq Kolevica (Albania), Mimoza Nestorova Tomić (North Macedonia), Maks Velo (Albania), Špela Videćnik (Slovenia), Katalin Csillag and Zsolt Gunther (Hungary), Alexandru Beldiman (Romania), Aleksandar Stjepanovic (Serbia), Atanas Panov (Bulgaria), Romuald Loegler (Poland), Nicos Valsamakis (Greece), Csaba Nagy & Károly Pólus (Hungary), Sali Spahiu (Kosovo), Atelier 4 Founded by Tamara Eftimi (Albania), Vedina Babahmetović (Bosnia and Herzegovina), Dimitris Antonakakis (Greece), Ivo Petrov (Bulgaria), Gheorghe Hereș (Romania), Martin Guleski (North Macedonia), Branislav Mitrovic (Serbia).
The event will host two interactive debates on the topics of "Urban Development of Pristina" and "Good living architecture". The invited panelists are representative figures for architecture in Kosovo such as Ardita Byci, Partner of Urban Plus, Arbër Sadiki, Director of Urban Planning Department in the Municipality of Pristina, Adelina Tahiri Nela, Architect & Co-founder of LOCUS, Fitim Muçaj, Director of 4M Group.
Registration started
Contact event organiser share@share-architects.com
Brief introduction to the invited speakers
Bernard Khoury, Founder BERNARD KHOURY / DW5, Lebanon
Bernard Khoury studied architecture at the Rhode Island school of Design and Harvard University. He was awarded by the municipality of Rome, the Borromini Prize honorable mention given to architects under 40 years of age (2001), the Architecture + Award (2004), the CNBC Award (2008) and nominated for several awards including the Aga Khan award (2002 / 2004/ 2021), the Chernikov prize (2010) and the Mies van der Rohe Award (2021). He co-founded the Arab Center for Architecture (2008), was a visiting professor in several universities including the Ecole Polytechnique Fédérale de Lausanne and L'Ecole Spéciale d'Architecture in Paris.  He was the architect and co-curator of the Kingdom of Bahrain's national pavilion at the Venice Architecture Biennale (2014). Bernard Khoury was nominated by the French Ministry of Culture Chevalier des Arts et des Lettres (2020)
Ian Ritchie, Founder Ritchie Studio, UK
Ian is a Royal Academician and elected member of the Akademie der Künste. He is Honorary Visiting Professor of Architecture Liverpool University; Fellow of the Society of Façade Engineering; and advises Backstage Trust. He has chaired many international juries including RIBA Stirling Prize, the RIAS Doolan Award, Berlin Art Prize, Czech Architecture Grand Prix Jury and the French government's 'Nouveaux Jeunes Albums'. His practice has received more than 100 major national and international awards. His projects has been shortlisted for the RIBA Stirling Prize on four occasions, and twice for the European Mies van der Rohe Prize. The project of  the Royal Academy of Music's Susie Sainsbury Theatre and Angela Burgess Recital Hall which has won 20 national and international awards in 2018 and 2019 including: The Chicago Athenaeum/The European Centre: International Architecture Award Royal Academy of Music, World Architecture Community Award,  RIBA National Award and London Building of the Year, British Construction Industry Award – Cultural Building of the Year, USA Architecture Masterprize.
Gokhan Avcioglu, Founder GAD Architecture, Turkey
Gokhan Avcioglu's projects include office buildings, public and commercial spaces, hotels and residences in Istanbul, Bodrum, New Jersey, Washington DC, Virginia, Philadelphia, Connecticut, Libya, Beirut, Riyadh, and Kiev. Gokhan has also designed various stores in Manhattan, New York, and restaurants in Istanbul Washington DC. Gokhan Avcioğlu and GAD's projects have been exhibited at Galerist Istanbul, the Minima Art gallery in Philadelphia, Miami Bienal, the Musuem of Architecture in Rotterdam, and at the Royal Art Academy in London. He is a member of AIA New Tork Chapter, the Royal Institude of British Architects (RIBA) and Chamber of Architects Turkey (TMMOB).
Simonetta Cenci, Partner Ateliers Alfonso Femia, Italy
Simonetta Cenci is a partner and the general Managing Director of the Ateliers Alfonso Femia, international architecture studio in Genoa, Milan and Paris. She is responsible for the coordination of the various project activities and competitions. For the last five years, she has been the Deputy of the city of Genoa (Italy) for the town planning.  Within SHARE Pristina 2023, Simionetta will present her outstanding projects of Urbagreen, housing in Romainville, France, awared with INTERNATIONAL AWARD "GRAND PRIX" CASALGRANDE PADANA in 2022 and  with a mention at THE PLAN AWARD in 2020, Vimar headquarters and logistics pole in Marostica, Italy and The Corner in Milan, Italy, winner of an  honorable mention  at BLT BUILT DESIGN AWARDS in 202.
Diogo Burnay, Founder CVDB Arquitectos, Portugal
Diogo Burnay founded CVDB Arquitectos with Cristina Veríssimo in 1999.  The office's srojects have been exhibited and published worldwide and have received national and international awards and prizes such as WAN 2013 education building 1st prize and Archdaily Best Education building of the year 2014, Architectural Review 2015, highly commended for education buildings. Together with Cristina Verissimo, he was the chief curator of the 2022 Lisbon Architecture Triennale. At SHARE Pristina 2023 he will present the projects of Cartaxo Cultural Centre Portugal,  Mora Megalithic Museum, Portugal and Supreme Court, Mozambique, showing  how spaces can be experienced, how the façades composition, technologies and materiality play an important role in connecting the broader public to architecture, and how the projects have made a significant contribution to the revitalisation of the central public spaces.
SHARE Architects Network – Connecting architects and contractors in Central and South Eastern Europe
Over the past 25 years, SHARE Architects forums have become a key networking platform for architects and constructors in Central and South Eastern Europe. SHARE provides a useful framework for knowledge and understanding of the diversity of modern architectural phenomena. Currently, SHARE Architects events are held in 16 countries and have developed a community of over 50,000 professionals around them.