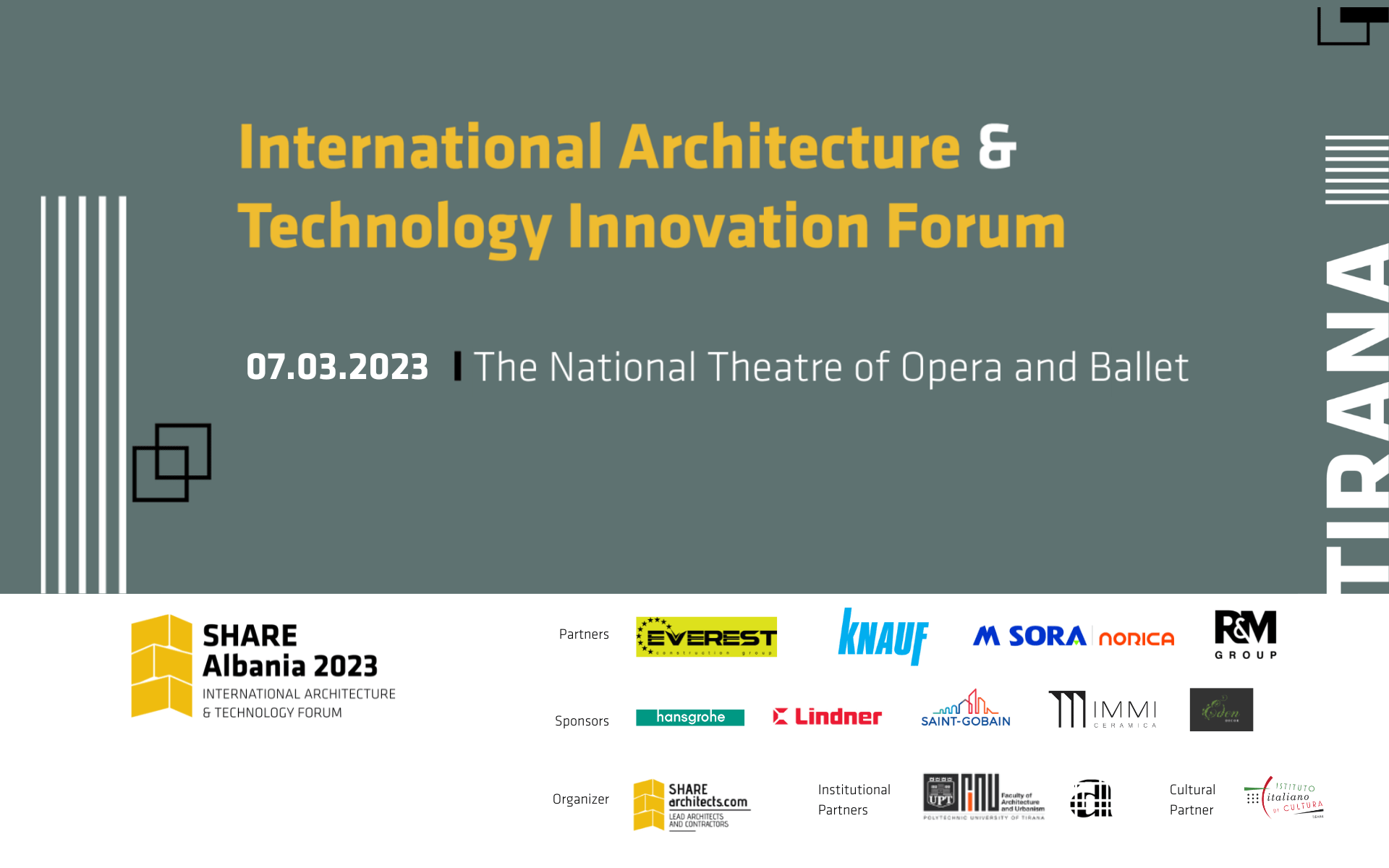 International guests from 10 countries will lecture at SHARE Albania 2023
The fifth edition of the SHARE Forum will take place in Tirana on the 7th of March at the The National Theatre of Opera and Ballet.
SHARE Albania 2023 will bring together national and international renowned architects, innovators in architecture and building technologies, great personalities in architecture and will offer access to information and new opportunities of cooperation.
The main themes of the event are "Sustainable Facades: Design and Technology", "Living and Working Architecture", "Large Scale Development Projects". Architecture leaders from renowned offices around the world will present their most recent projects, describing the techniques used and providing inspirational insights to the audience.
The event is organized by SHARE Architects, one of the most active events network in the region,  in partnership with the Albanian Architects' Associaton and the Faculty of Architecture and Urbanism, the Polytechnic University of Tirana, with the support of the Municipality of Tirana.
SHARE Albania 2023 has as guests internationally recognized personalities in the field of architecture: Emre Arolat, Founder & Design Partner Emre Arolat Architecture, Turkey, Martin Josst, Partner Delugan Meissl Associated Architects, Austria, Andrea D'Antrassi, Associate Partner MAD architects, China,  Bernard Storch, Partner PLP/Architecture, UK, Marco Petreschi, Founder Petreschi Architects, Italy, Ilias Papageorgiou, Principal PILA, Greece, Christos Christodoulou, Founder Simpraxis Studio, Cyprus, Dean Lah, Founder Enota, Slovenia, Arbër Shala, Founder Arbër Shala Architects, Kosovo, Vladan Stevovic, Chief State Architect Ministry of Ecology Spatial planning and Urbanism, Montenegro, Masar Dushi, President of Architects Association of Kosovo.
On the stage of the SHARE Albania 2023 forum are invited representatives of Albanian architecture such as Kostandin Jano, Co-Founder, UDV architects and Jurgen Memisha, Project Director X-Plan Studio.
At the fifth edition of the SHARE Albania International Forum, SHARE Architects Society will honor the entire career and remarkable and admirable achievements of the architect Maksim Mitrojorgji with the SHARE OPERA OMNIA AWARD. This is an extremely special moment for SHARE Architects Society, representing the appreciation and recognition for outstanding achievements in the fields of architecture, as well as for the role played in the development of significant architectural projects throughout the career. The gallery of laureates includes Trajko Dimitrov (North Macedonia), Petraq Kolevica (Albania), Mimoza Nestorova Tomić (North Macedonia), Maks Velo (Albania), Špela Videćnik (Slovenia), Katalin Csillag and Zsolt Gunther (Hungary), Alexandru Beldiman (Romania), Aleksandar Stjepanovic (Serbia), Atanas Panov (Bulgaria), Romuald Loegler (Poland), Nicos Valsamakis (Greece), Csaba Nagy & Károly Pólus (Hungary), Sali Spahiu (Kosovo), Atelier 4 Founded by Tamara Eftimi (Albania), Vedina Babahmetović (Bosnia and Herzegovina), Dimitris Antonakakis (Greece), Ivo Petrov (Bulgaria), Gheorghe Hereș (Romania), Martin Guleski (North Macedonia), Branislav Mitrovic (Serbia) and Gheorghe Telipiz (Republic of Moldova).
The event will host two interactive debates moderated by Ani Tola, Vice-Dean at the Faculty of Architecture and Urbanism, Polytechnic University of Tirana, Technical Director And Co-founder Asarchitects Studio. The first one will focus on the topic of "Albanian heritage and sustainable urban transformation"" and will be attendeed by  Armand Vokshi, Dean Faculty of Architecture and Urbanism, Matilda Pando, President Albanian Architects' Association, Ditjon Baboçi, General Director of Urban Planning Tirana, Albania, Frida Pashako, General Director of the Directorate of Territorial Development Control, Municipality of Tirana, Masar Dushi, President, Kosovo Architects Association, Florin Mindirigiu, Founder of SHARE Architects.  "Good living architecture" is the topic of the SHARE Society Debate,  wich will gather  as guests Ervin Taci, co-founder MA Studio, Albania, Ideal Vejsa, co-founder Maden Group studio, Kosovo, Florian Nepravishta, Faculty of Architecture and Urbanism, UPT, Adhurim Qehajaj, founder Adhurim Qehajaj ark,  Klodiana Musta, Branch and sales manager of Lindner Albania.
Brief presentation of the guests
Emre Arolat, Founder & Design Partner of Emre Arolat Architecture, Turkey
The founding partner and Lead Designer, Emre Arolat has held a professorship at the International Academy of Architecture and is frequently invited to serve on high-profile juries, and to visiting professorships at various prominent universities and academic institutions worldwide such as the Center for Architecture, the Architecture League of New York, Pratt Institute, Cooper Union, RIBA London. Recently, he was the Norman R. Foster Visiting Professor at the Yale School of Architecture in 2017 Fall Semester.

Martin Josst, Partner  DMAA – Delugan Meissl Associated Architects, Austria
By creating architecture with sharp edges, which amplifies inherent features via innovative spatial choreographies, Delugan Meissl Associated Architects (DMAA) enhances contemporary environments.  The office's recent project, Taiyuan Botanical Garden Domes, is the winner of the Institution of Structural Engineers 2021 Structural Awards and received the Gold Medal for Outstanding Design, 2021. Martin Josst oversaw one of the most renowned DMAA projects,  multi-awarded Porsche Museum project in Stuttgart. The Porsche Museum is conceived as a dynamically formed monolithic structure, seemingly detached from the folded topography of the entrance level. Its reflective soffit absorbs the architectural landscape below and atmospherically enlarges the space between the base and the exhibition area. The Porsche Museum was nominated for the Mies van der Rohe Award, the Austrian State Award "Most Beautiful Book 2009" and received the Wallpaper* Design Awards in association with Jaguar for the best construction site.
Andrea D'Antrassi, Associate Partner MAD architects, China
With solid experiences gained from overseas projects in US, Italy, Australia and China, Andrea adds a valuable global vision to MAD. Since he joined MAD in 2010, he has been involved with Boncompagni Residential Development in Rome Italy, Huangshan Mountain Village Development, Nanjing Zendai Himalayas Center, and recent Lucas Museum of Narrative Art. He also plays a key role in MAD's conceptual design competitions. On the stage of SHARE Albania 2023 Forum Andrea D'Antrassi will present "MAD Architects | MAD Works", focusing on three of the most iconic projects of the office: FENIX Museum of Migration, Rotterdam, Netherlands, UNIC, Paris, France and 71 Via Boncompagni, Rome, Italy. Andrea D'Antrassi will emphasize the conceivement's method from the first sketches to the completion, innovative materials, sustainability, human & nature relationship, high technological approches on construction.
Bernard Storch, Partner PLP/Architecture, UK
Bernard Storch is one of the key members of PLP Architecture, which has extensive experience and expertise, completing numerous projects in UK, Europe, India, and the Middle East. At SHARE Albania 2023, he will present two of the PLP's recent projects: 22 Bishopsgate, the tallest tower in London's financial district shaped in twenty-three-sided faceted with glass and World Trade Center in Amsterdam, with the innovative shaped curved glass roof.
Architect and Full Professor of Architecture and Town Planning at the Sapienza University of Rome. Author of several books and critical essays. Founder of the Interior Design course at the Faculty of Architecture in Rome. Marco Petreschi has won prizes in many national and international competitions. His built works include the new extension and restoration of the Bank of Albania and the former Dajti Hotel in Tirana.  In Rome, the Great Jubilee 2000 – XV World Youth Day, the churches of St. Theresa of Calcutta and St. Thomas the Apostle, the district headquarters of the Ministry of Defence in Rome, Italy and the new theatre and archaeological museum in Pomezia.
Ilias Papageorgiou, Principal  PILA, Greece
Dean Lah, Principal  Enota, Slovenia
For his work in Enota he received many architectural awards, his work has been presented on numerous exhibitions and published in professional and broad interest publications all over the world. Dean lectures at architectural schools, conferences and symposiums in Slovenia and abroad. Since 2016 he is teaching at Architectural Department of University of Maribor. With intention to promote the importance of architectural quality, he has been active as the member of several architectural award and architectural competitions juries, member of executive board of Chamber of Architecture and Spatial Planning of Slovenia, member of European Forum for Architectural policies, member of executive board of Architects Association of Ljubljana and some other formal and informal networks and events on architecture.
SHARE Architects Network – Connecting architects and contractors in Central and South Eastern Europe
Over the past 25 years, SHARE Architects forums have become a key networking platform for architects and constructors in Central and South Eastern Europe. SHARE provides a useful framework for knowledge and understanding of the diversity of modern architectural phenomena. Currently, SHARE Architects events are held in 16 countries and have developed a community of over 50,000 professionals around them.