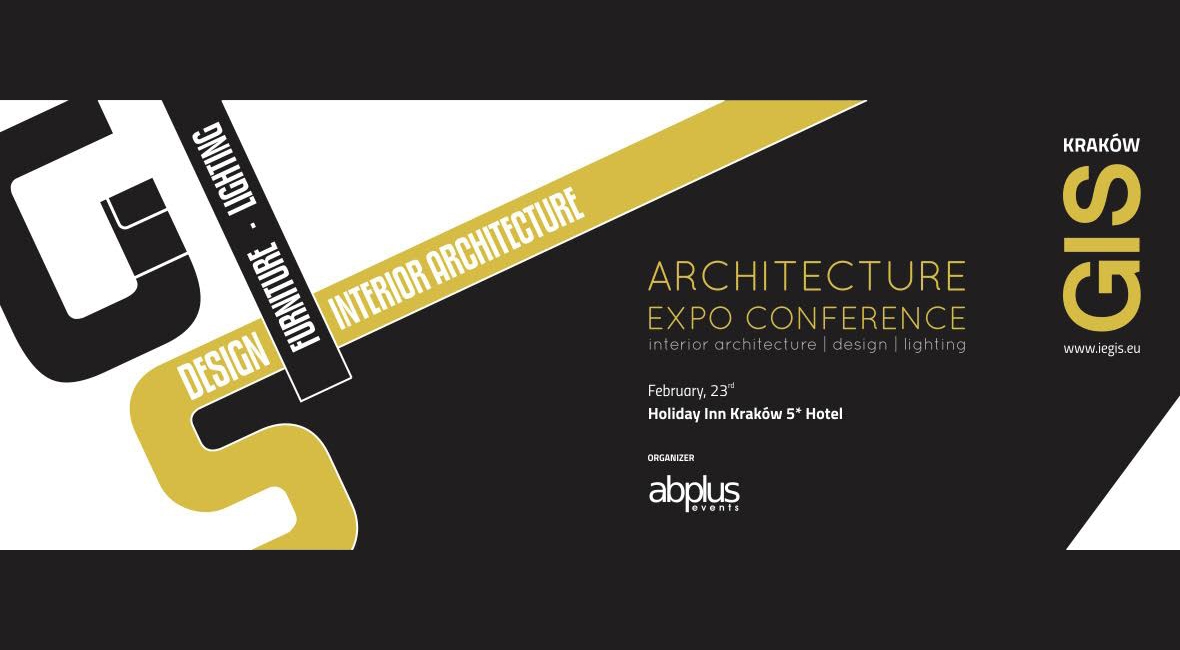 GIS Kraków 2016 – the absolute best in international architecture in one day of conferences and debates
This year's GIS Kraków – International Interior Architecture and Interior Design Expo Conference, one of the most important events dedicated to recent best practice examples of Polish and European architecture, of the awarded projects, of the architects with outstanding results, will take place on February 23 in the Congress Hall of the Holiday Inn Hotel 5*.
GIS Kraków is organised by professional event organiser ABplus Events, under the patronage of the National Chamber of Polish Architects (IARP) and the Association of Polish Architects (SARP Krakόw).
The guest speakers invited at GIS Krakόw international expo conference are the industry's most inventive multi-disciplinary minds, winners of the latest editions of international interior architecture and interior design competitions. The event offers a full day of presentations, networking and inspiration, and lectures held by architects and designers from Japan, Thailand, UK, France, Italy, Spain and Poland.
Highly-awarded architects and designers, from the world's best practice, share their experience and knowledge through lectures dedicated to the continous education and training of the Polish professionals in the audience.
The event will bring together over 250 architects, designers, lighting specialists, project owners and beneficiaries, companies with solutions for interiors. GIS Krakόw 2015 had a participation of 175 architects, 72 company representatives, 15 media partners and 19 speakers.
GIS Krakόw (thematic interior architecture and interior design) is part of the series of thematic international expo conferences organized in 2016 by ABplus Events in Poland, Hungary and Romania, alongside INGLASS (thematic glass architecture and engineering), LAUD (landscape architecture and infrastructure projects), RIFF (facades and roofs projects).
ABplus Events has a 20 years experience in the organization of architecture trade events for architects and contractors and is active on the Polish market of the international architectural trade events since 2014, through events that have reunited so far more than 900 architects from all over the Poland in the audience, together with architect speakers from Poland and 30 other countries.
Selected features of this year's event:
Borys CZARAKCZIEW, President Gpp Grupa Projektowa sp. z o.o. PROJECT: "11 points design". Member of the Board and Plenipotentiary for international matters, National Chamber of Polish Architects, Chairman GIS 2016
ING. ARCH. Romuald LOEGER, President Atelier Loegler Architekci. PROJECT: "Transformation and metamorphosis". Honorary Award of the Association of Polish Architects
Oscar ZIETA, Main designer and CEO Zieta Prozessdesign. PROJECT: "Barbara – new design – friendly space, project for the European Capital of Culture Wrocław 2016". 2009 German Design Council Prize
KEYNOTE ARCH. Makoto NAKAYAMA, Managing Partner Nakayama Architects, Japan. PROJECT: "Higo" 2015. World Architecture Festival – Office, Winner
Stanislaw DENKO, Founder Biuro Aechitektoniczne Wizja Sp. z o. o. PROJECT: "Cricoteka. Museum of Tadeusz Kantor". 2015 International Biennale of Architecture Krakow – Special Prize by the Regional Chamber of Architects of Malopolska / 2015 SARP Award of the Year for the best architectural object completed in Poland in 2014 / 2014 Mies van der Rohe Award – Nomination
Neil KNOWLES, Director Elektra Lighting Desing, UK. PROJECT: "Hospitality lighting design principles and methods". 2014 Lighting Design Awards – Best Workplace, Finalist / 2013 Lighting Design Awards – Lighting for Leisure, Finalist / 2012 World Luxury Hotel Awards – Best Luxury Golf Resort, Winner 2010 Hospitality Design Awards / Best Luxury Public Space, Winner
Bolesław STELMACH, General Designer – Stelmach I Partnerzy Biuro Architektoniczne, PRESENTATION: "The touch of silence. Restoration of the park monument in the birthplace of Frederic Chopin – Zelazowa Wola". 2015 Order of Polonia Restituta, President of the Republic of Poland / 2012 Bronze Medal Gloria Artis, Ministry of Culture and National Heritage
KEYNOTE ARCH. Nunthanut AMORNPUN, Interior designer Hypothesis Design Agency, Thailand. PROJECT: "Vivarium". 2015 Inside World Festival of Interiors – Bars and restaurants, Winner
Carlo BERARDUCCI, Principal Berarducci Architecture, Italy. PROJECT: "Zen Sushi Restaurant". 2015 Bar-Ristoranti-Hotel D'Autore Award, Winner / 2015 Inside World Festival of Interiors – Restaurant, Finalist / 2015 Leaf Awards – Restaurant, Finalist / 2013 Wolrd Architecture Festival Awards – Hotel and Leisure, Finalist
INTERNATIONAL DEBATE – "INTERIOR ARCHITECT AS A REGULATED PROFESSION?" Moderated by Arch. Borys CZARAKCZIEW and with the participation of ING. ARCH. Ruth SCHAGEMANN, Coordinator of ENACA, Chair SOS (Scope of services) Working Group in ACE | Chamber of Architects in Baden-Wittenberg, GERMANY.
The event will also be preceded by SHARE, a Motivational Meeting with four architects (Borys CZARAKCZIEW, Nunthanut AMORNPUN, Makoto NAKAYAMA, Colin BALL) at The Academy of Fine Arts in Krakόw. This meeting, bringing together students and internationally awarded architects, has an educational and training role, helping young visionaries to choose a path in the field of architecture.
Full program of GIS Kraków 2016.