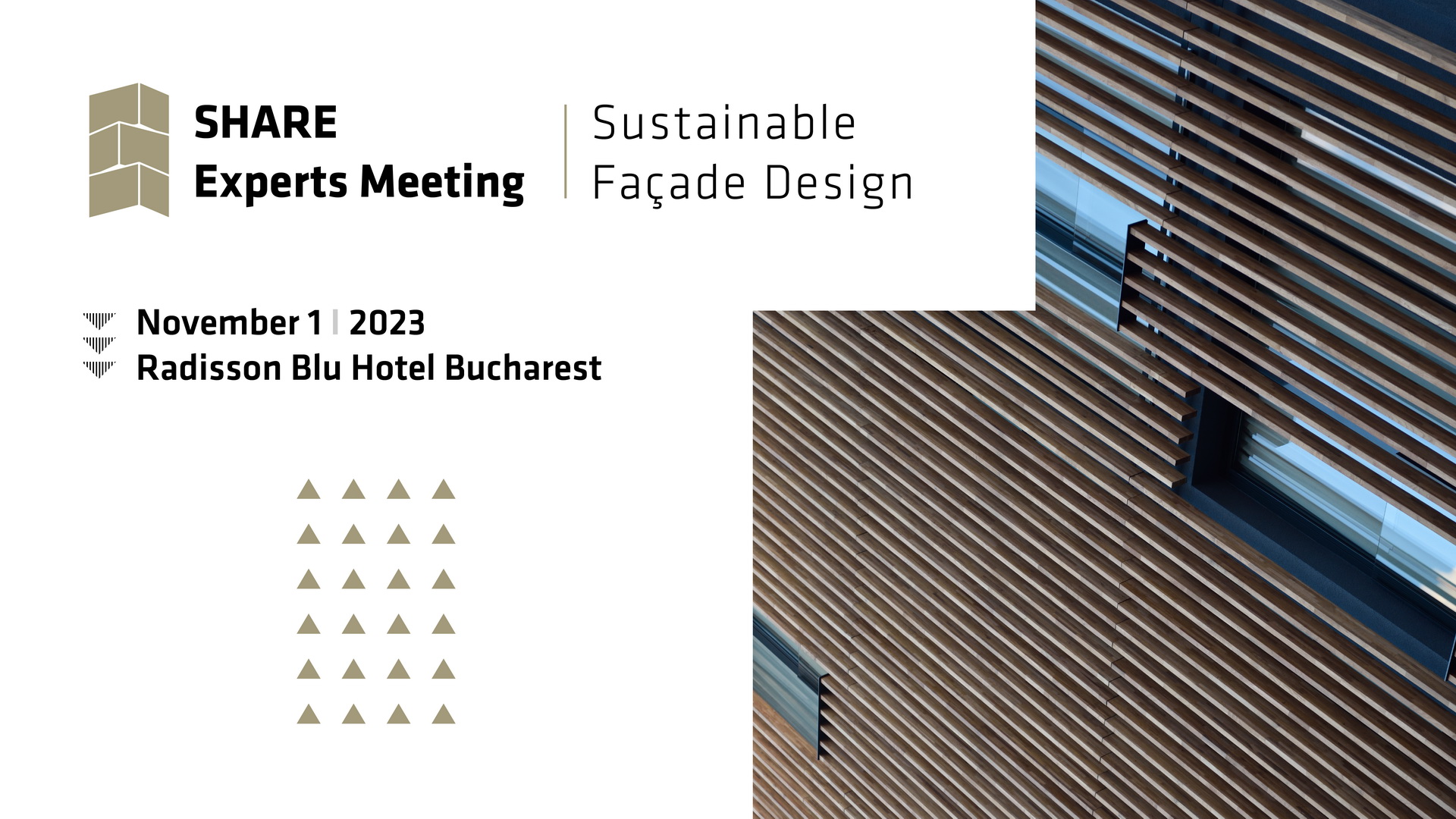 Exploring Sustainable Façade Design: Welcome to the SHARE Experts Meeting
Join the SHARE Experts Meeting: an immersive journey into sustainable façade design. Discover innovative materials, technologies and connect with leading industry professionals.
Façade design plays a vital role in modern architecture, and with sustainability and energy efficiency becoming increasingly essential, it's more critical than ever to explore the latest materials and technologies in this area. That's why we're thrilled to invite architects, engineers, façade experts, developers, building material suppliers and everyone interested in sustainable façade design to SHARE Experts Meeting on Sustainable Façade Design. This event offers an excellent opportunity to connect with forward-thinking minds, learn about cutting-edge materials and technologies, and share best practices in sustainable façade design.
Embracing Sustainable Façade Design
In light of climate change, it's crucial that sustainable façade design becomes a top priority in shaping the built environment. The SHARE Experts Meeting aims to shed light on emerging trends, materials and technologies that support sustainable building construction. The conference will offer case studies that demonstrate real-world applications and their transformative potential. Additionally, the conference will discuss how new advances in sustainable materials and technologies can be integrated into façade design while considering the environmental impact of these solutions.
High Thermal Performance Glass
One of the topics to be covered in the conference is high thermal performance glass, which minimizes energy loss. High-performance glass is an excellent solution for façade design, as it significantly reduces the energy costs of building owners and maintains comfortable indoor temperatures throughout the year. Furthermore, thermal insulating composite materials that improve building efficiency will be discussed. These composites provide an excellent solution for cladding system, façade systems and external insulation, contributing to reduced energy consumption in buildings.
Integrated Solar Panels for Energy Efficiency
Integrated solar panels also form part of the conference's agenda. Integrating solar panels into façade systems can help reduce energy consumption, which is a critical element of sustainable building design. This is a growing trend embraced by both designers and architects. This design concept is more than the typical solar panels one might imagine. Developers can now purchase transparenfilms to coat the building walls to reduce glare, and to generate power.
Enhancing Indoor Air Quality with Natural Ventilation
Another focus area at the conference will be on natural ventilation materials that improve indoor air quality while reducing energy demand. This can be accomplished through the use of organic-based façade materials such as living walls, which use plant life as the exterior decoration of a building. The plant life can work to clean the air and reduce noise pollution, which not only contributes to a more productive environment but also one that is cost-efficient in the long run.
Responsive and Adaptive Facades
Finally, the conference will discuss responsive and adaptive facades and how they interact dynamically with their environment. New technology empowers architects in sustainable design, considering energy efficiency, durability, and aesthetics. Solutions such as shading systems that adjust based on sunlight and wind, using intelligent motion sensors present in the façade of a construction project, can contribute to the reduction in passive solar gain, ultimately increasing the level of energy conservation.
A Roadmap to Successful Sustainable Façade Design
Whether you're an architect or an industry professional, attending the SHARE Experts Meeting provides an opportunity to take part in an influential conference in the built environment industry. Gain a roadmap for successful sustainable façade design through innovative discussions and informative case studies.
Interested parties can find more information on the event's webpage and register to participate.