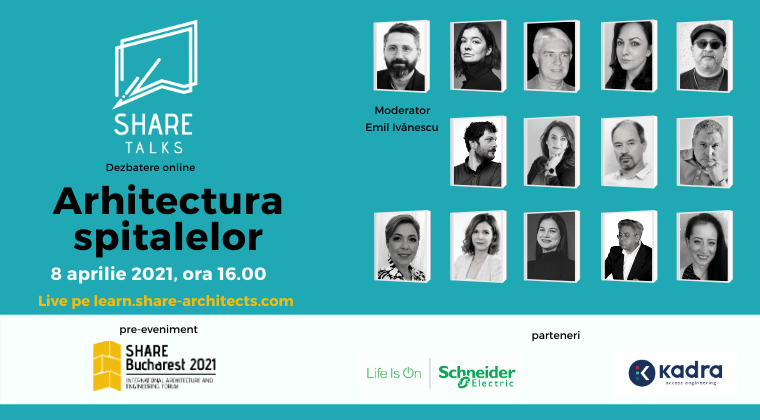 Dezbatere cu specialiști în arhitectura medicală despre restructurarea și construcția spitalelor în România
SHARE Talk-ul "Arhitectura spitalelor" aduce, la masa de discuții, 15 specialiști în infrastructura spitalicească pentru a identifica aspectele critice din procesele de proiectare ale construcțiilor noi sau reabilitate ale spitalelor din România.
SHARE Architects deschide seria de pre-evenimente a Forumului Internațional de Architectura și Inginerie, SHARE Bucharest 2021, programat pe data de 4 noiembrie, cu o primă dezbatere care va fi transmisă, în direct, pe data de 8 aprilie, ora 16.00, pe platforma de conținut digital personalizat learn.share-architects.com.
Evenimentul va fi moderat de Emil Ivănescu, președintele Ordinului Arhitecților București și are ca invitați arhitecți specializați pe sectorul medical, consultanți și reprezentanți ai Ministerului Sănătății:
Redin Abduraman, Arhitect, OM Birou de arhitectură
Jenică Craiu, Arhitect, PINEARQ
Gheorghe Pop, Arhitect, ASIX Design
Andreea Strugaru, Cofondator Kadra
Raluca Șoaită, Arhitect, Tesseract Architecture
Mihaela Gusa, Building Market Segment Manager
Europe Operations Schneider Electric
Christian Tanascaux, Arhitect, AACT
Andreea Tănase, Consilier OAR pentru concursuri cu tema spitale
Cristina Gafton, Director al Direcției Monitorizare Implementare Spitale Regionale Ministerul Sănătății
Adela Lile, Arhitect, consilier personal al ministrului sănătății
Șerban Țigănaș, Fondator Dico&Țigănaș
Gabriela Tânjală, Arhitect, TDD Concept Studio
Matei Săndulescu, Arhitect, Agenția de proiectare ARCO
Istvan Besenyeai, Director dezvoltare zona spitale UTI Facility Managemement.
Dezbaterea își propune să aducă în discuție aspectele critice ale proceselor de proiectare și construcție ale spitalelor din România, prin prisma experiențelor și expertizelor specialiștilor invitați, și să deschidă un program de întâlniri care va culmina pe 4 noiembrie, în cadrul SHARE Bucharest 2021, cu o conferință specializată pe arhitectura medicală în care se vor prezenta studii de caz și exemple de bună practică la nivel național și internațional, precum și procese și tehnologii inovatoare în arhitectura spitalelor.
Evenimentul este organizat cu sprijinul companiei KADRA, singura companie din România care oferă soluții tehnice integrate de inginerie și management al căilor de access și SCHNEIDER ELECTRIC și EcoStruxure™ pentru sectorul medical, soluția IoT, digitală, concepută special pentru spitale, cu rolul de a crește siguranța, satisfacția pacienților și eficiența operațională.
Dezbaterea SHARE TALK: Arhitectura spitalelor va fi transmisă, exclusiv, pe platforma de conținut digital a SHARE Architects – learn.share-architects.com. Costul taxei de înregistrare este 30 de euro. Membrii comunității SHARE, beneficiază de o taxă redusă la 20 de euro.Codul de reducere poate fi obținut de pe spațiul virtual al platformei membership.share-architects.
REGISTER NOW
---
SHARE Bucharest 2021
SHARE Architects și Ordinul Arhitecților din România anunță cea de a 29-a ediție a Forumului Internațional de Arhitectură și Inginerie – SHARE în data de 4 noiembrie, la București.
Centrul de evenimente al hotelului Radisson Blu București va găzdui 40 de prezentări în conferințe tematice și 6 ateliere de lucru cu focus pe calitatea, siguranța și securitatea spațiilor destinate locuirii, muncii, educației și culturii, sănătății, ospitalității, infrastructurii publice și orașelor.
Dezbaterile "learning the lesson of unpredictability" invită 70 speakeri români și internaționali să identifice noi moduri de a privi activitatea de zi cu zi și să propună soluții tehnologice și arhitecturale adecvate viitorului construirii.
În preambulul celui mai amplu forum de arhitectură și inginerie al toamnei, invităm specialiști și beneficiari la o serie de mese rotunde virtuale pe teme specializate.Dezbaterile SHARE Talk sunt întâlniri de networking și de business și pregătesc conferințele tematice din cadrul forumului.
Solicitările de informații privind participare la evenimente, în calitate de speakeri sau parteneri, se pot transmite la adresa share@abplusevents.com.
Biletele de participare la forum pot fi achiziționate de pe site-ul share-architects.com.
---
Despre SHARE
Forumul SHARE a devenit în ultimii 20 de ani o rețea esențială de networking pentru profesioniștii din industria construcțiilor și arhitecturii din Europa Centrală și de Sud Est. Forumurile creează o platformă eficientă de cunoaștere și de înțelegere a diversității fenomenului arhitectural contemporan. În prezent, evenimentele SHARE au loc în Albania, Bulgaria, Bosnia & Herzegovina, Cyprus, The Czech Republic, Greece, Hungary, North Macedonia, Poland, Slovakia, Slovenia, Serbia, România, iar Comunitatea SHARE cuprinde peste 50.000 de membri din întreaga lume.