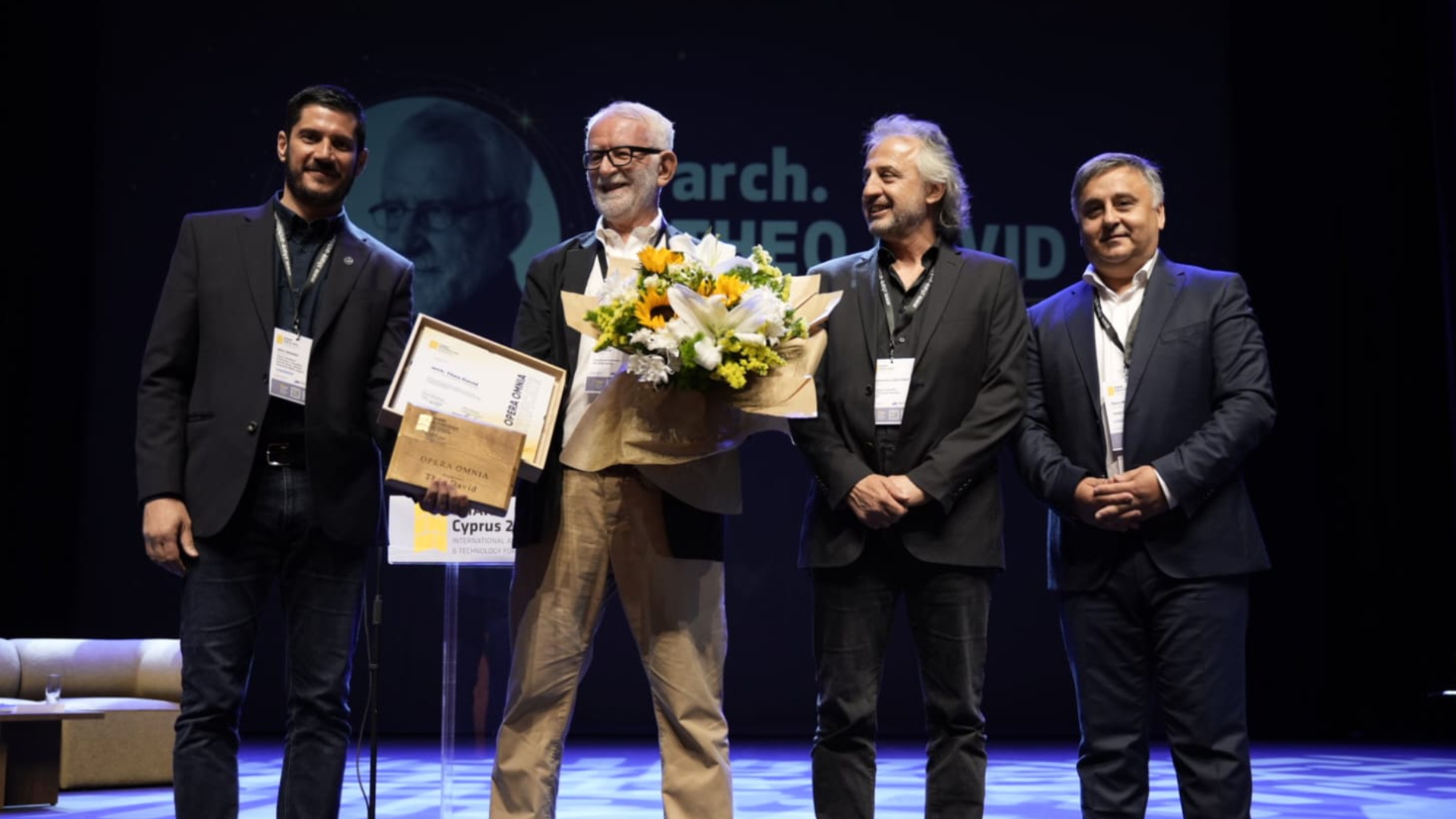 Celebrating the remarkable achievements: Theo David, FAIA Emeritus, was awarded with SHARE OPERA OMNIA Award.
Theo David's outstanding contributions to architecture and urban planning, his dedication to architectural research, and his remarkable achievements were recognized and celebrated with the prestigious SHARE OPERA OMNIA AWARD.
The award ceremony took place on the 16th of May, during the International Architecture and Technology Innovation Forum – SHARE Cyprus 2023, an event organized by SHARE Architects, the leading network of events for architects in Central and South-Eastern Europe, in partnership with the Cyprus Architects Association and The Cyprus Scientific and Technical  Chamber (ΕΤΕΚ).
The award was handed out by Alkis Dikaios, President of The Cyprus Architects Association, Chairman of SHARE Cyprus 2023, Constantinos Constanti, President of The Cyprus Scientific and Technical Chamber (ETEK) and Florin Mindirigiu, Founder SHARE Architects, Romania.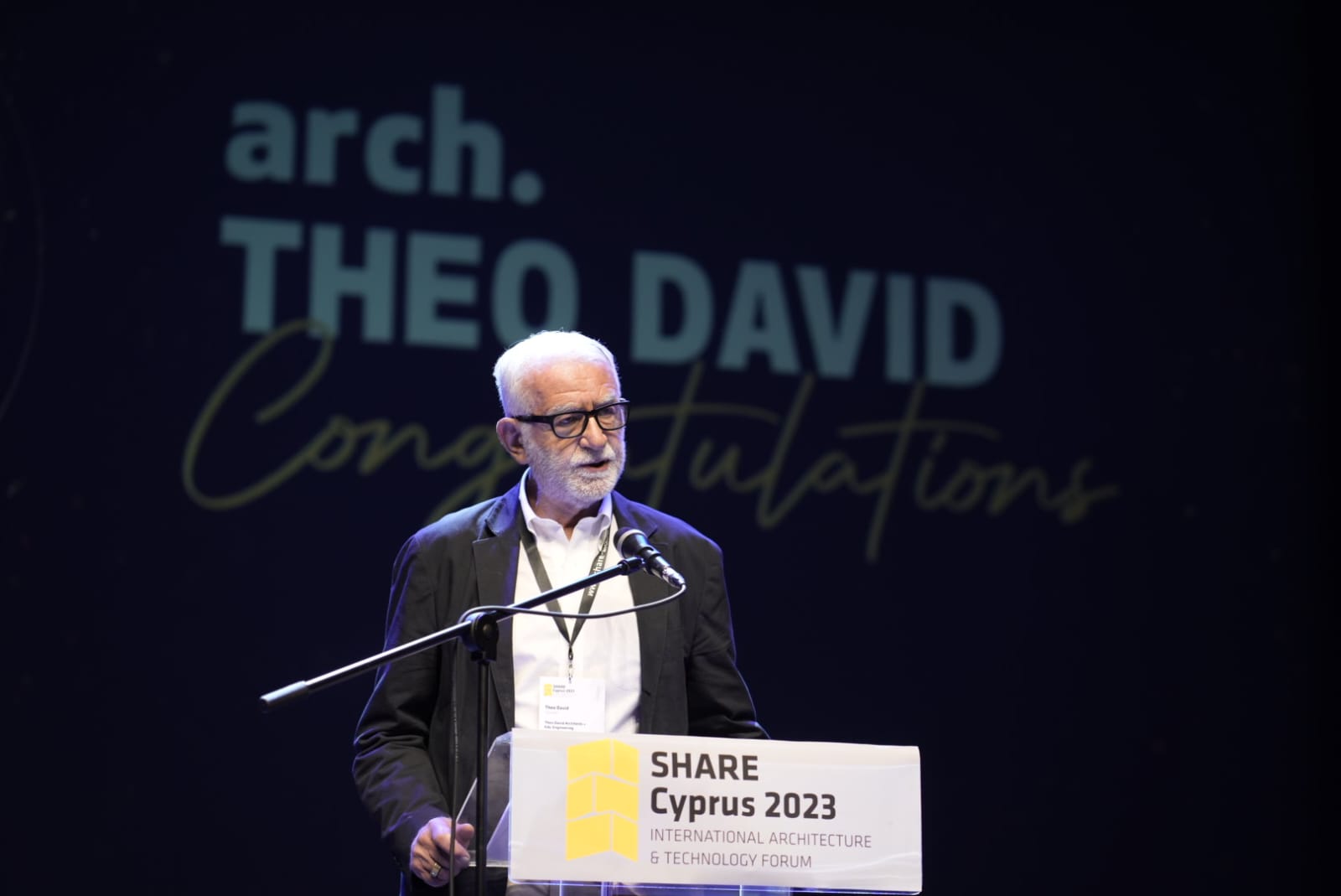 Through his unwavering commitment, innovative research, and notable accomplishments, he has left an indelible mark on the field of architecture and urban planning. This prestigious recognition further solidifies his position as a respected figure and an inspiration to aspiring architects worldwide.
The world of architecture has been greatly influenced by the expertise and dedication of Theo David FAIA Emeritus, an American-born architect and educator of Cypriot descent. With a thriving practice in both New York City and Nicosia, Cyprus, David has made significant contributions to the field through his extensive teaching career, architectural achievements, and involvement in various prestigious organizations.
Theo's impressive career in academia spans over several decades. He is a tenured Professor of Architecture and the former Faculty President at Pratt Institute, where he has been teaching architectural design at both the Graduate and Undergraduate levels since 1969. As the Chairman of Graduate Architecture, he has played a vital role in shaping the next generation of architects. In recognition of his exceptional teaching abilities, David was awarded the esteemed Distinguished Teacher Award in 2013-2014, and he currently holds the title of Institute Professor at Pratt Institute.
Education has always been a cornerstone of Theo's journey. He holds degrees from Pratt Institute and Yale University, where he had the privilege of studying under renowned architectural visionaries. Under the mentorship of Serge Chermayeff and Paul Rudolph FAIA, he honed his skills and developed a unique architectural perspective. These formative experiences have had a lasting impact on his approach to design.
As a founding principal of Theo David Architects TDA+KAL, Theo has successfully translated his architectural vision into realized projects. His work has been honored with numerous awards, including the New York City Bard Honor Award, the Cyprus State Award for Architecture, and the CAA Prize. His projects have also been recognized internationally, with nominations for the European Union Mies van der Rohe Award and shortlisting at the World Architecture Festival.
Beyond his architectural practice, Theo David has taken on various advisory and leadership roles. He has served as an advisor and visiting professor at the University of Cyprus, a nominator for the Aga Khan Awards, and Chair of the Distinguished Architecture Awards of the New York Chapter of the AIA. His contributions extend to organizations such as the Cyprus-US Chamber of Commerce, the Cyprus Cultural Foundation, and Pratt Institute, where he served on the boards.
Theo David's expertise and insights have been widely sought after. He has been invited to lecture and share his knowledge in prominent cities around the world, including Athens, Shanghai, London, Barcelona, and Rome. Additionally, he has served as a guest critic at leading American and European Schools of Architecture, nurturing the talents of aspiring architects.
His influential contributions have earned him esteemed honors, including being named a "Great Cypriot" and his work being voted as a "Pratt 125 Year Icon." Furthermore, he has been recognized for his services to the University of Cyprus and nominated by NYC/AIA for the ACSA/AIA Topaz Medallion for Excellence in Teaching. His architectural legacy is preserved in the archives of the Pratt Institute Library and the New Benaki Museum of Athens.
The SHARE OPERA OMNIA AWARD is a prestigious award given by the SHARE Architects Society for outstanding achievements in the fields of architecture, as well as for the role played in the development of significant architectural projects throughout the career.
The gallery of laureates includes Trajko Dimitrov (North Macedonia), Petraq Kolevica (Albania), Mimoza Nestorova Tomić (North Macedonia), Maks Velo (Albania), Špela Videćnik (Slovenia), Katalin Csillag and Zsolt Gunther (Hungary), Alexandru Beldiman (Romania), Aleksandar Stjepanovic (Serbia), Atanas Panov (Bulgaria), Romuald Loegler (Poland), Nicos Valsamakis (Greece), Csaba Nagy & Károly Pólus (Hungary), Sali Spahiu (Kosovo), Atelier 4 Founded by Eftimi (Albania), Vedina Babahmetović (Bosnia and Herzegovina), Dimitris Antonakakis (Greece), Ivo Petrov (Bulgaria), Gheorghe Hereș (Romania), Martin Guleski (North Macedonia), Branislav Mitrovic (Serbia), arh. Gheorghe Telipiz (Republic of Moldova), arh. Maksim Mitrojorgji (Albania), arh. Lulzim Nixha (Kosovo), arh. Majda Kregar (Slovenia).
SHARE Architects Network – Connecting architects and contractors in Central and South Eastern Europe
SHARE Architects Forums have become, over the past 25 years, an essential networking platform for architects and contractors in Central and South Eastern Europe. SHARE creates an effective platform for knowledge and understanding of the diversity of the architectural phenomenon of contemporary architecture. Currently, the SHARE Architects community counts more than 50,000 members from all over the world.