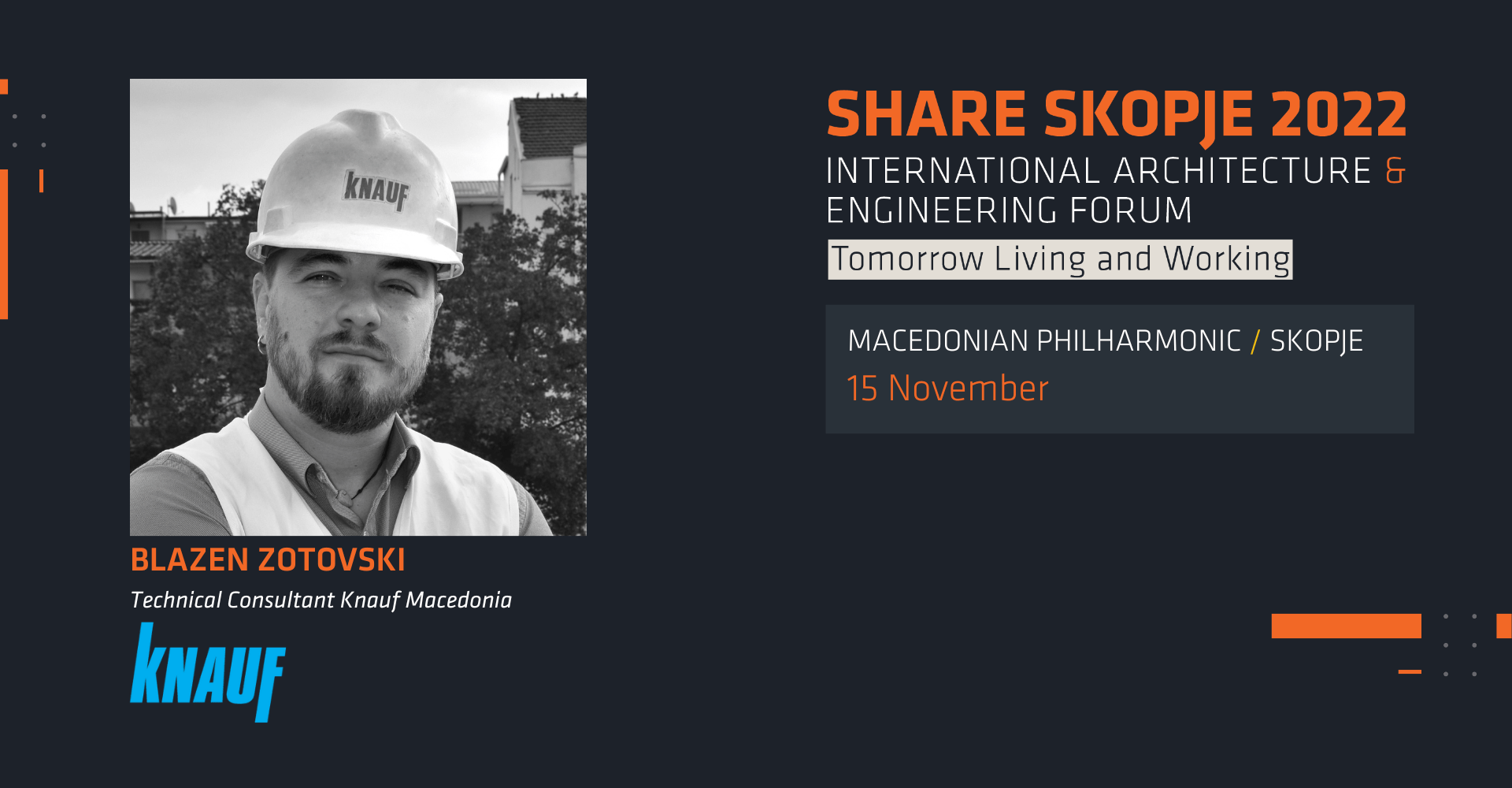 Blazen Zotovski, technical consultant Knauf Macedonia will present at the SHARE Skopje 2022 Forum "Today's materials and digital tools for the objects of tomorrow"
Founded in 1932, Knauf is one of the world's leading manufacturers of construction materials for interior design, building insulation, and design ceilings. Knauf plants across the globe produce state-of-the-art drywall systems, plasters, and insulating materials as well as external thermal insulation composite systems. Moreover, paints, flowing screeds and flooring-systems, as well as machines and tools for the application of these products round off our portfolio. The Knauf Group invests substantially each year in the development and modernisation of manufacturing plants, and the training and further education of its employees.
Innovation and the integration of technological innovations are the cornerstones of our business strategy. With high quality products, Knauf continuously sets new standards to make the construction and modernisation of buildings better, more efficient, and more sustainable. Coordinated systems impress with their cost-effectiveness, high levels of fire resistance and sound insulation, as well as the highest energy efficiency, and a diverse range of design choices.
About the Speaker:
Blazen Zotovski is an architect, working at the Technical Department in Knauf Macedonia for almost 14 years. During this time he was actively engaged with the Macedonian architects in detailing and materialization of many projects, starting from family houses and villas, to capital projects, hospitals, schools, business building, governmental buildings, etc. Continuing the worldwide strategy of Knauf and the technical approach to Sales, he is proud to serve as the right hand for the Macedonian architects.