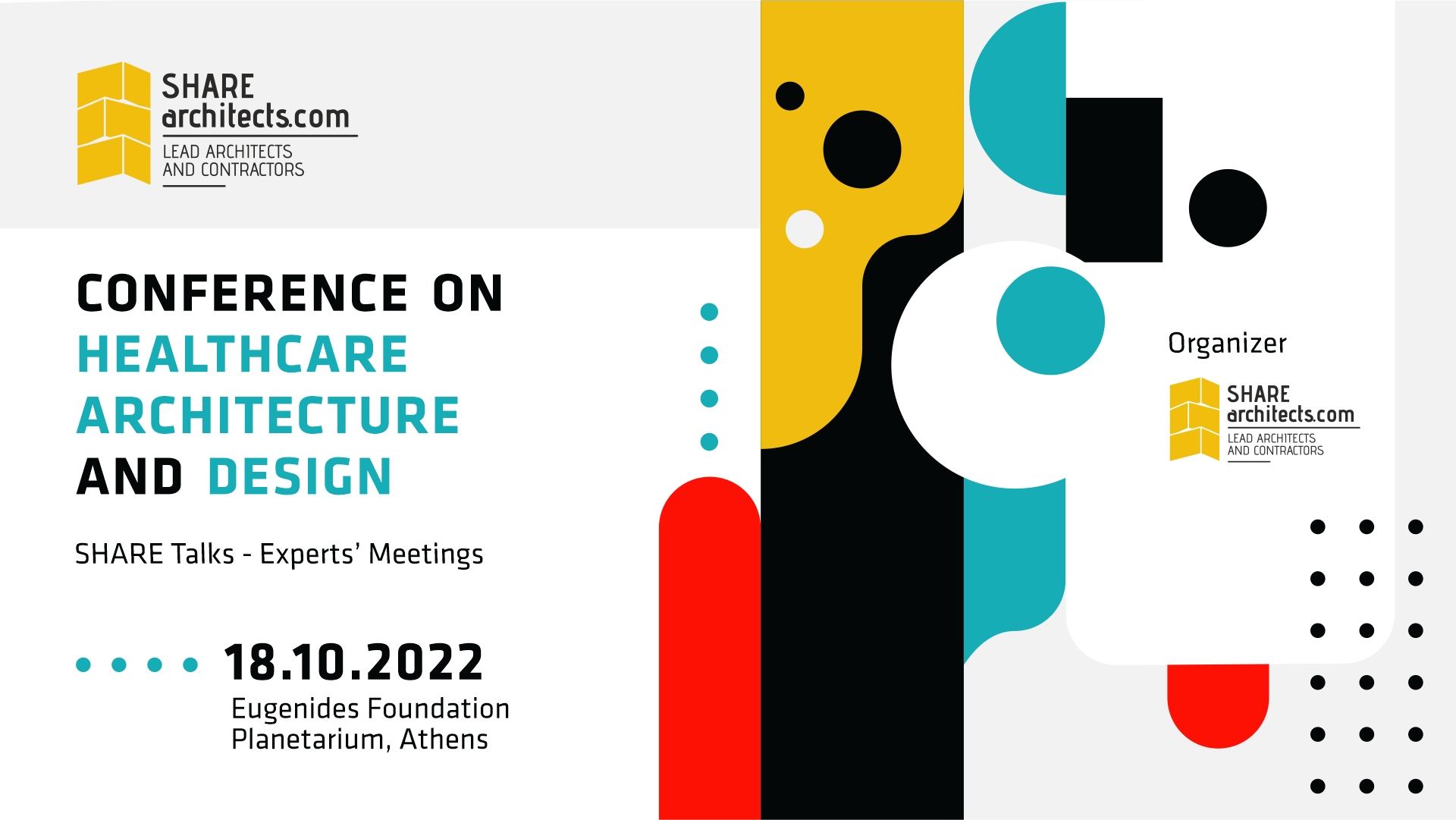 [Athens] SHARE Experts' Meeting: Conference on Healthcare Architecture and Design
SHARE Architects organizes the Conference on Healthcare Architecture and Design on October 18th at the Eugenides Foundation Planetarium.
The conference on Healthcare Architecture and Design aims to provide architects, engineers, healthcare executives and other interested professionals with the latest available information which will assist them in planning, designing, constructing, and maintaining health facilities.
The conference brings together stakeholders and decision-makers from all fields related to the construction and healthcare sector, to share transdisciplinary experiences based on the case studies of hospital projects. The event promotes best practices, knowledge, innovation and thought leadership across the built environment.
Florin Mindirigiu, Co-founder of SHARE Architects, about the conference:
The SHARE Talk – Experts' Meeting on Hospital Architecture will be addressed to an audience of specialists only and will bring together multidisciplinary experts in the field of healthcare architecture and design. The event program alternates between case studies on Greek and international hospitals presented by mixed teams of specialists (architects, engineers, physicians) and extensive ''Ask an expert'' sessions with invited experts.
The participant's backgrounds are as follows: Leaders of all disciplines surrounding planning and building in the health care sector; Political decision makers and leading public officials from building and health departments; Decision makers and visionaries of the health care sector; Representatives of industry and technology of the building and healthcare sector; Students and postgraduates of the disciplines architecture, urban development, medicine and health sciences.
First announced speakers
Charry C. Bougadellis, Founder AETER Architects, Greece (New General Hospital of Chalkida); Marina Georgiou Dionisiou Founder MDG Architects, Cyprus (Nicosia Hospital and Rehabilitation Center (NHRC) – Saint Loucas); Raluca Șoaită, Founder TESSERACT Architecture, Romania (Hospital Marie Curie); Anna Assana, Principal A&S Architects, Greece (Onassis National Transplant Center); Constantinos Constanti, Founder Constanti Architects – Ena Pros Ekato, Cyprus (Hadassah Health Park in Lakatamia); Panagiotis Tavaniotis, Co-Founder BETAPLAN, Greece (Stavros Niarchos Foundation Hospitals); Christian Karlsson, Karlsson Architects , Denmark (New psychiatric hospital in Kristiansand); Kerem Yazgan, Co-Founder Yazgan Design Studio, Turkey (Sakura City Hospital).
The event is curated and organized by SHARE Architects, the leading networking platform for architecture professionals in Central and South-Eastern Europe and is part of the SHARE Talk series of expert meetings initiated in 2021. Previous meetings on healthcare architecture have brought together a top-class plenary of speakers from both the medical and architecture-planning spectrums, including internationally renowned speakers such as: Didier Houssin, President of AP-HP International, university professor of surgery, Director General of Health at the Ministry of Health France (2005-2011); Kerem Yazgan, Co-founder Yazgan Studio Design; Mariano Efron, Partner Architecture Studio, France.
SHARE Architects – main figures in Greece
Since 2018, SHARE Architects has welcomed 1182 attendees and 96 speakers throughout the four editions of the International Architecture Forum SHARE in Athens, organized together with the Hellenic Institute of Architecture. 27 Greek architectural personalities are members of the SHARE Architects Society, an exclusive group within SHARE Architects network that brings together 603 international architectural leaders from 42 countries.
Registration
https://membership.share-architects.com/Events/Home/Details/5e4993ea-b910-46da-8302-d640978b1133
Ticket for specialists – 75 euro
Tickets valid for architects, health facility planners, installation engineers, MEP consultants, physicians, hospital managers, and project management consultants.
Ticket for suppliers – 200 euro
Tickets for representatives of companies supplying building materials, building management systems, and medical technology for hospitals.
SHARE Architects Network – Connecting architects and contractors in Central and South Eastern Europe
SHARE Architects Forums have become, over the past 25 years, an essential networking platform for architects and contractors in Central and Southeastern Europe. SHARE creates an effective platform for knowledge and understanding of the diversity of the architectural phenomenon of the contemporary architecture. Currently, SHARE Architects events take place in 16 countries in Central and Eastern Europe, and the SHARE Architects community counts more than 50,000 members from all over the world.