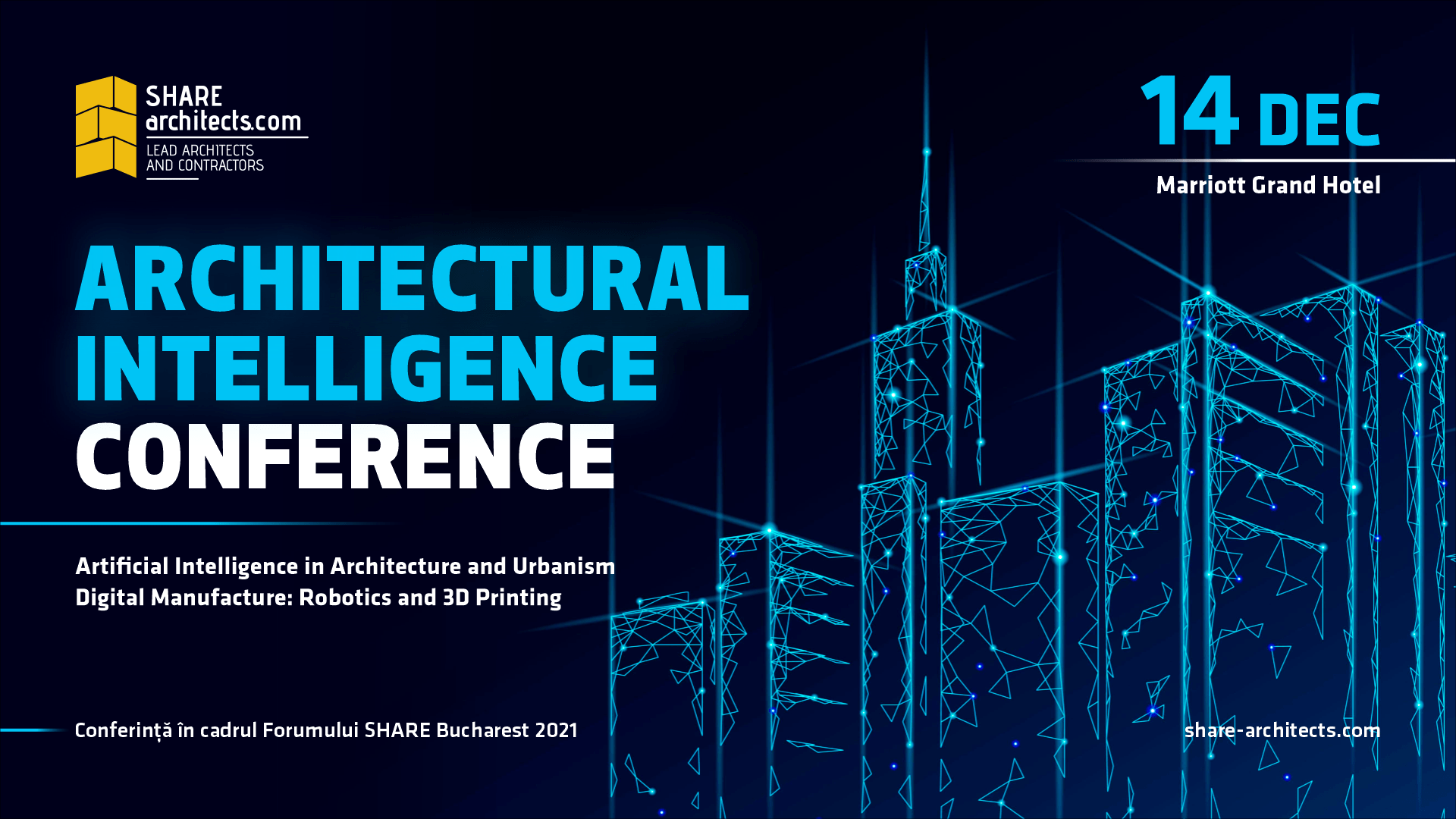 ARCHITECTURAL INTELLIGENCE | The second digital turn: Artificial Intelligence in Architecture
"A new movement is emerging. It is amovement that operates at the interface between advanced digital technologies and the built environment. It is a movement that involves some of the most talented and inspiring designers, fabricators, and theorists to have emerged in recent years. We call this new movement "architectural intelligence." (N. Leach, P. F. Yuan)
Seria de conferințe ARCHITECTURAL INTELLIGENCE dorește să urmărească mutațiile din cadrul procesului  de creație arhitecturală în contextul noilor tehnologii din spectrul ,,inteligenței artificiale" care marchează ceea ce Mario Carpo denumea "the second digital turn" sau ,,the second machine age" (Brynjolfson și McAfee)- respectiv etapa în care intuiția umană este invitată că colaboreze cu cogniția computerizată pentru a IN-FORMA decizii complexe de proiectare. Devine din ce în ce mai clar că mai puțin FORMELE spectaculoase și mai mult INFORMAȚIA este cea care va transforma orașele viitorului.
Această nouă perspectivă de trecere de la ,,Computer Aided Design" la ,,Computer Generated Design" determină un salt paradigmatic cu toate caracteristicile unei revoluții științifice așa cum le descria Thomas Kuhn. Aplicațiile sau tehnologiile bazate pe algoritmi de inteligență artificială –  sunt omniprezente astăzi : în buzunarele noastre, în casele noastre, în orașele noastre iar relația devine din ce în ce mai intimă de vreme ce oferim la schimb datele noastre foarte personale. În domeniile creative, piesa care a schimbat fundamental jocul în direcția algoritmilor ,,creative" a venit odată cu descoperirea GAN-urilor (Generative Adversial Networks) de Ian Goodfellow în 2014 când s-a deschis poarta către o proliferare generoasă de algoritmi în spectrul design-lui generativ. Odată cu acestea s-a făcut trecerea de la instrumentele analitice spre instrumentele generative care se pliază foarte bine pe specificul domeniilor creative ca Arta sau Arhitectura. Noțiunea de Architectural Intelligence, o umbrela largă pentru multe categorii –  a fost creioant pentru prima dată de Makato Șei Watanabe care a manifestat astfel de procupari încă din 1994 până ca noțiunea să fie făcută populară de Molly Wright Steenson.
Atât procesul cât și însuși rolul arhitectului în cadrul procesului de proiectare au fost în ultimul secol puse încontinuu sub imperativul reinventării, iar acest parcurs a fost documentat și de SHARE împreună cu cei 100 de arhitecți invitați la discuție prin volumul ,,Designing The Profile of the Future Architect". Interesul nostru în dinamica profesiei  este în acord și cu ceea ce Antoine Picon exprimă că ,,From a humanist perspective on architecture, the main problem raised by the introduction of artificial intelligence în the design process has to do with the roles that the humans will play in a few decades from now in this process."
Aceeași întrebare care se rostogolește timid în toate discuțiile din domeniile AEC, despre interferența tehnologiilor de Inteligență Artificială în Arhitectură: vorbim de un pericol sau o oportunitate sau de o natural augmentare a capacităților umane, atât în zona de concepție cât și de execuție? Este clar că relația om mașină devine din ce în ce mai organică, de altfel după Andy Clark suntem deja cu toții ,,cyborgs" de vreme ce depindem de toate aceste device-uri tehnologice și care au devenit parte a corpului nostru, chiar a minții noastre- ,,extended mind".
Despre toate acestea vom vorbi cu invitații noștri în cadrul Architectural Intelligence Conference care se va desfășura pe 14 decembrie, în cadrul forumului SHARE Bucharest 2021. Programul  preliminar poate fi consultat pe site-ul www.share-architects.com.
Accesul la eveniment se face in baza taxei de participare la forumul SHARE Bucharest 2021 care poate fi achiziționată de pe același site. Pentru mai multe informații privind participarea la conferință puteți scrie la adresa share@share-architects.com.