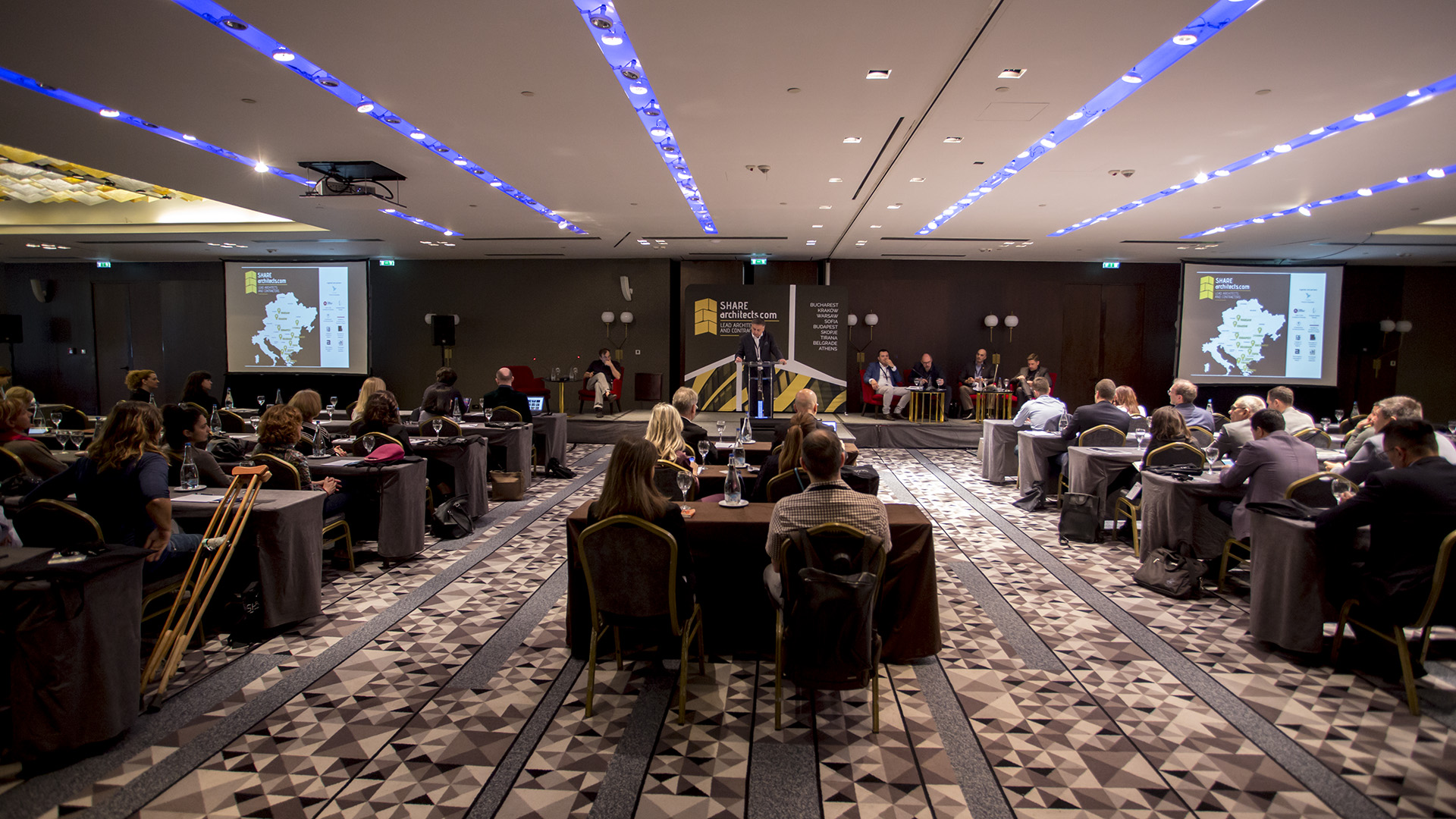 ARCHITECTURAL EXCELLENCE AND THE MOST RECENT INTERNATIONAL AWARDED PROJECTS AT SHARE INTERNATIONAL ARCHITECTURE AND ENGINEERING FORUM 2018 IN BELGRADE
Globally renowned architects together at one of the most effective networking platform in Central and Eastern Europe
The most appreciated Forum of Architecture and Engineering in Central and Eastern Europe took place for the first time in the Serbian Capital on April 24th at the Metropol Palace Sheraton Hotel and brought together specialists from leading practices to discuss and gain inspiration from each other. SHARE Belgrade 2018 International Architecture and Engineering FORUM is an event organized by ProEvent Association in collaboration with The Union of Architects of Serbia and the Association of Architects in Montenegro and chaired by the President of UAS, arch. Milan ĐURIĆ.
Each year, SHARE Forum has been in pursuit of excellence in the fields of architecture and construction, improving the quality and the complexity of its dynamic events with every edition. This couldn't have happened without having by our side some of the most relevant figures for the built environment – hundreds of practicing architects and contractors from Europe, Asia and the United States of America – turning SHARE Forum into one of the most important networking platforms for the construction-related fields in Central and Eastern Europe.
This year we expanded in three more European locations, so that we are delighted to be now present in Warsaw and Krakow (Poland), Budapest (Hungary), Bucharest (Romania), Sofia (Bulgaria), Belgrade (Serbia), Athens (Greece) and Skopje (Macedonia). In each location we always focus on creating the premises of a dialogue between local practices and associations and the regional/international context, so that SHARE becomes the perfect occasion to discuss common and specific issues regarding the built environment in Central and Eastern Europe.
Highlights
SHARE BELGRADE 2018 focused on current issues of built space and its contemporary qualities, highlighting common concerns and conditions that professionals in the fields of construction in Central and Eastern Europe face in practice. Being a one-day event, it featured two series of presentations by an internationally renowned panel of speakers and a series of collateral events that addressed a different types of professionals.
We think diversity is a quality of our events, so SHARE Belgrade 2018 will feature architects and specialists coming from 13 countries as a result of our focus on allowing local professional communities to network and meet opportunities: Ian Ritchie (founder of Ian Ritchie Architects, UK),  Maurizio MEOSSI (Senior Associate at ZAHA HADID ARCHITECTS), Colin BALL (the London Lighting Director of the Building Design Partnership, UK), Kerem YAZGAN (Managing Partner of Yazgan Design Architecture in Turkey), Rainer SCHMIDT (Founder of Rainer Schmidt Landschaftsarchitekten in Germany), Anouk LEGENDRE (Founder and Partner at X-TU Architectes in France), Dean LAH (Managing Partner at the Slovenian architecture office Enota), Angel ZAHARIEV (Founder of A&A Architects in Bulgaria), Habibeh MADJDABADI (Founder and Principal Architect at Habibeh Madjdabadi Architecture Office, Iran), Vlad GAIVORONSCHI (Founder of the Romanian architectural office Andreescu & Gaivoronschi), Martin PANOVSKI (The President of the Association of Architects in Macedonia), Sanja and Igor GROZDANIC (co-founders at Studio Non-Stop in Bosnia and Herzegovina), Sonja RADOVIC JELOVAC (principal architect at Studio Synthesis in Montenegro), Vesna CAGIC MILOSEVIC (the President of the Association of Architects in Belgrade), Predrag MILUTINOVIC (Founder of MAPA Architects, Serbia), Marja and Petar SIMOVIC (co-founders of Studio Simovic, Serbia), Jelena and Goran VOJVODIC (co-founders at BiroVIA, Serbia), Dijana and Vladimir ANDJELKOVIC (co-founders at a2arhitektura, Serbia), Miroljub STANKOVIC (partner at Kontra Studio, Serbia).
… We want to mention them all as members of our continuously evolving professional community: all of us are part of SHARE Forum and we hope that together we make a difference towards a better future of our built environment.
THE FIRST OFFICIAL MEETING OF THE CONSULTATIVE COUNCIL OF ARCHITECTS IN CENTRAL AND EASTERN EUROPE DURING SHARE BELGRADE 2018
A SHARED MANIFESTO
The last edition of SHARE Bucharest 2017 set the premises of a regional organization of architects members of the architects national chambers and the most representative professional associations  in the region, which later became the Consultative Council of Architects in Central and Eastern Europe. After meeting on two occasion earlier this year, in Tirana in February, and Bucharest, in March, the CCA – CEE met officially during the first Serbian edition of the SHARE International Architecture and Engineering Forum in Belgrade, on April 23rd, at the headquarters of the Union of Architects of Serbia.  The founding members of this council are Armand VOKSHI, President of the Albanian Architects' Association, Borislav IGNATOV, President of the Chamber of Architects in Bulgaria, Evangelos LYROUDIAS, Representative Member of the President of the Technical Chamber of Greece, Astrit NIXHA, President of the Association of Architects of Kosovo, Martin PANOVSKI, President of the Association of Architects of Macedonia FYROM, Filip ALEKSIC, President of the Association of Architects of Montenegro, Șerban ȚIGĂNAȘ, President of the Order of Architects in Romania, Milan ĐURIĆ, President of the Union of Architects of Serbia, Dean LAH, Representative Member of the President of The Chamber of Architecture and Spatial Planning of Slovenia, and Florin MINDIRIGIU, President of PRO event Association.
As such, SHARE becomes a meeting point above all, where the members of CCA – CEE have the opportunity to debate around the most pressing problems which architects face in the Central and Eastern European countries aiming to find specific and effective ways to address them in order to give more representativeness to this profession on a national, regional and even European level. First and foremost, this first official meeting wanted to give voice to its beliefs in the form of a collective manifesto.
When SHARE happens, dialogue is coming first!
Part of  SHARE Belgrade 2018 was a new editorial project discussing the future of the profession…Designing the Profile of the Future Architect. Over 100 contributions. One year. One book.
SHARE Events facilitate discussions and international meetings where experiences, ideas and excellence are shared – this initiative picturing , therefore, a legitimate endeavour to take further our renowned guests' relevant contributions. As such, a debate on the profile of the future architect is an important project for the profession, for our schools, our educators, and for ourselves as well, taking under scrutiny that our world is a place of fantastic changes. What remains constant over time and what is variable today in the architect's profile?
This international project is the result of the collaboration between PRO Event Association, AB Plus Events and the Chamber of Architects of Romania. It is set out to collect contributions on this topic from all the SHARE speakers in the 10 locations where the Forum takes place in 2018. This content will be published in volume at the end of this year and will be released at the last SHARE Forum 2018 edition in Bucharest. We like to think that SHARE Belgrade 2018 was be a milestone in this year-long journey. Interviews with our guest speakers, both local and international, were conducted by our publisher in parallel with the official plenary sessions of presentations during the whole day of the event.

SHARE Forum Junior Sessions
Because we consider young aspiring architects to be the most important asset that this field has, we prepared a Young SHARE Session in the form of a Student Motivational Conference which was held by our special guest, arch. Ian RITCHIE, founder of Ian Ritchie Architects LTD, London, at the library of the Faculty of Architecture, University of Belgrade on 24th April. The conference was preceded by a meeting between the Dean of the Faculty, Prof. Dr. Vladan Djokić, arch. Ian Ritchie, mr. Florin Mindirigiu, the President of the PRO event Association and some of the faculty staff for a short discussion about the architecture educational system in Serbia.
Names such as Anders SAELAN (Henning Larsen Architects), Sheila SRI PRAKASH (Shilpa Architects Planners Designers, India), Gerard REINMUTH (Terroir, Australia), John FIELD (Chartered Institution of Building Services Engineers – CIBSE), Rainer MAHLAMAKI (Lahdelma&Mahlamaki Architects), Kathryn MOORE (Federation of Landscape Architects IFLA), or Niek ROOZEN (Niek Roozen BV Garden and Landscape Architects) were brought in front of the students audience at our previous SHARE Forum editions – all this in collaboration with the local architecture universities with the aim of creating bridges of communication and encouraging the exchange of knowledge and views.
Let's Bring Architecture to a Night Out!
Last but not least, we wanted to celebrate architecture as long as we are in Belgrade in a guided tour in the evening before the day of the event! SHARE teamed up for an "Architecture Night Tour – Belgrade Tales of Modernization" – which began at 7.30pm from Hotel Metropol, our SHARE Belgrade 2018 location, ending the evening with a Cocktails and Drinks informal, casual meeting at Informbiro Pub in Belgrade.
SHARE Belgrade 2018 – International Architecture and Engineering Forum was supported by Şişecam Flat Glass as Main Partner and GUARDIAN Glass as Partner and as a Sponsor of the event, VELUX company.
The next SHARE event will take place in Sofia on June 7th, at Sheraton Sofia Balkan Hotel. Join us for SHARE Sofia 2018 because we have much more surprises left for the rest of the  year!
For registration and other details about the event (click)
For more details about SHARE Belgrade 2018 and our events follow us on:  
Facebook:  https://www.facebook.com/abplus/
Twitter: https://twitter.com/ArchTradeEvents
LinkedIn: https://www.linkedin.com/company/abplus-events/
Or visit our website: http://share-architects.com/
For Customer service, Bookings and Sponsorship opportunities please contact: