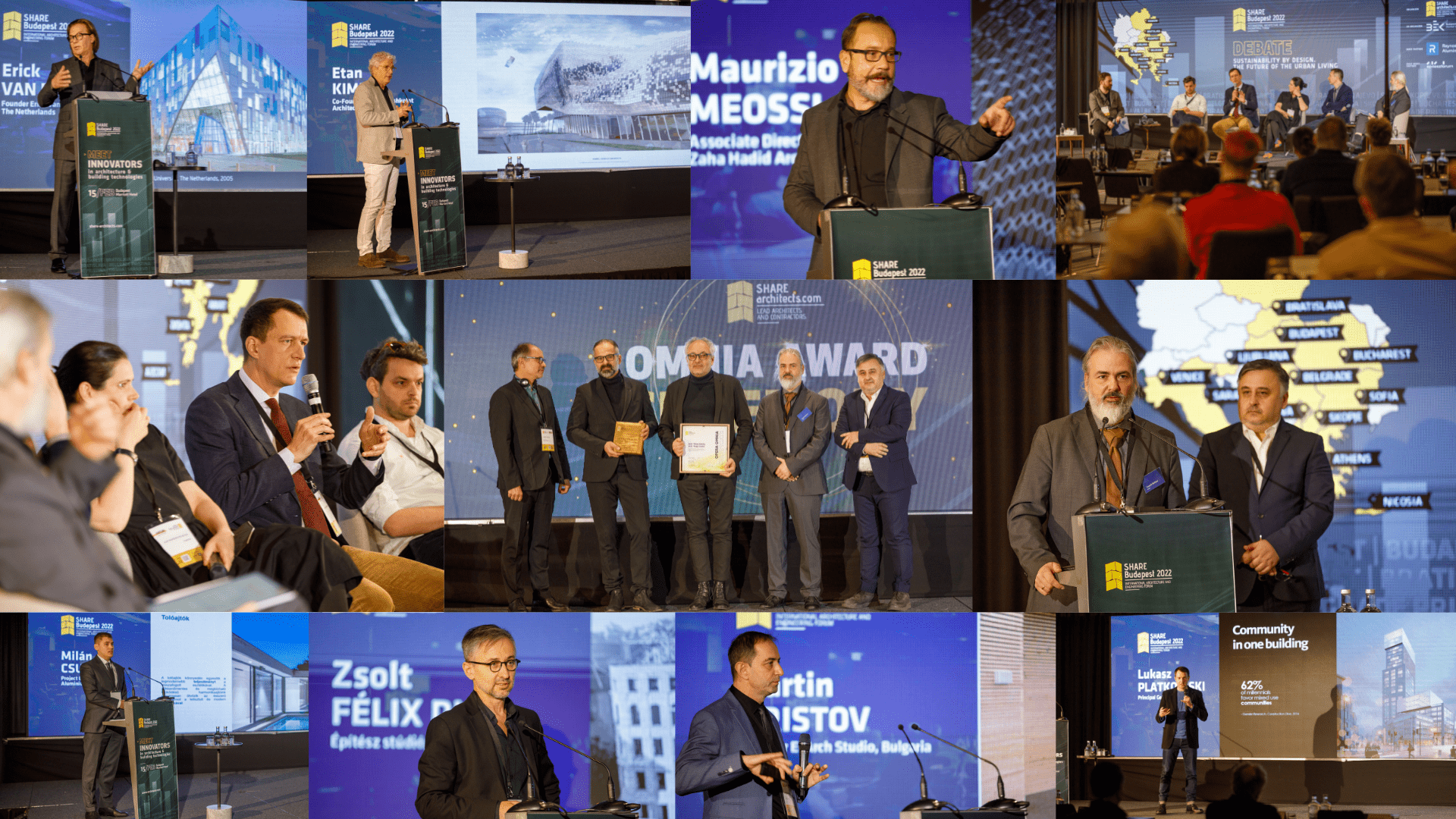 Remembering SHARE Budapest 2022 Forum
The 6th edition of SHARE Budapest 2022 Forum welcomed over 150 participants, 21+ speakers, and guests from 9 countries. All the attendees helped us build momentum in architecture with incredible speeches and insightful projects and presentations. Let us take a look back at all the amazing things that happened at SHARE Budapest 2022 Forum.
The event was organized in partnership with the Budapest Chamber of Architects and with the support of Reynaers Aluminum (Main Partner) and Aluprof (Sponsor).
Official Opening
The conference started with a welcoming message from our organizers and guests:
Florin MINDIRIGIU, Founder of SHARE Architects
Balázs CSAPÓ, President Chamber of Architects of Budapest
Şerban ȚIGĂNAȘ , Preşedinte al SHARE Society
Lectures & Presentations
Following the official opening session, the conference kicked off with presentations held by:
Erick van Egeraat – Founder Erick van Egeraat, The Netherlands "Creating sustainable value"
In the present environmental debate, the perspective should be redirected from a debate about energy to a debate about values. How to create sustainable value? In that sense, resilience and sustainability are not about technologies, but about aesthetics. If that is the case, the following questions become crucial: Who designs our world? What defines resilience and sustainability? How do we add value to the world?
In this presentation, Erick van Egeraat discusses the need for a fundamental rethinking in our definition of Sustainability and our understanding of what creates value. Through an array of wide-ranging projects across Europe, the Architect shows how he aspires to create sustainable value through his work.
ETAN KIMMEL – Founder Kimmel-Eshkolot Architects, Israel "Between Space, Materiality and Technology"
LUKASZ PLATKOWSKI – Partner GENSLER, UK "Embracing the BLUR: The merge of work styles and lifestyles"
KRZYSZTOF INGARDEN – Co-Founder Ingarden & Ewy Architects, Poland "Architecture for Music & Arts"
BELA BANATI & LAJOS HARTVIG – Co-Owners Bánáti + Hartvig Architects, Hungary "Iconic needs and sustainability, Ikonikus igények és a fenntarthatóság"
MAURIZIO MEOSSI – Associate Director ZAHA HADID, UK "ZHA: Masterplanning – Designing Cities"
Project presented: Zugló-Városközpont Masterplan, Budapest.
Zugló City Centre embeds future-proof solutions within its design to reduce energy consumption and emissions while enhancing the quality of life for the local community. Incorporating insulating green roofs as well as the collection, storage and reuse of 90,000 cubic meters of rainwater per year, and the orientation and composition of its buildings contribute to naturally regulate temperatures within the centre; decreasing summer peaks by up to 6°C compared to average temperatures in downtown Budapest.
SERBAN TIGANAS – Co-Founder Dico & Tiganas, Romania "The steps of the architect. A well-planned hazard."
Opera Omnia Distinction for Arch. Csaba Nagy and Arch. Károly Pólus
At SHARE BUDAPEST 2022, Csaba Nagy and Károly Pólus, the leaders of the ARCHIKON architectural firm have been awarded for their architectural oeuvre. Archikon Architects is one of the most significant studios in Hungary, which has built an outstanding portfolio regarding both quantity and quality since its foundation in 1989. They always consider the architectural task in terms of the uniqueness of the given program and the complexity of the relevant aspects. Their works include revitalization work with historical monuments, residential, cultural and industrial buildings.
Their works include revitalization work with historical monuments, residential, cultural and industrial buildings, a few of which we are going to mention now.
ARCHIKON's work has won numerous national and international awards, most recently Vizafogó Tagóvoda was shortlisted for the 2022 MIES VAN DER ROHE AWARD. Due to the significance and richness of their work, Csaba Nagy and Károly Pólus are worthy winners of the SHARE OPERA OMNIA AWARD this year.
The distinction was handed by Florin Mindirigiu – founder SHARE Architects, Serban Tiganas – president of the SHARE Society, and Balazs Csapo – president Budapest Chamber of Architects.
DEBATE "Sustainability by design. The future of the urban living"
The debate was moderated by Balázs Csapó, President, Chamber of Architects of Budapest and Máté Hulesch, Journalist, editor Epiteszforum with the participation of Dr. András Reith PhD // ABUD, Péter Hámori // GUBAHÁMORI and Katalin Fazekas DLA // kettőpera; Sándor Mohácsi // s73;
Our appreciation also goes towards the main partner of SHARE Budapest 2022 – International Architecture and Engineering Forum – Reynaers Aluminium Kft.
We thank Reynaers Aluminium Kft. for the involvement and support.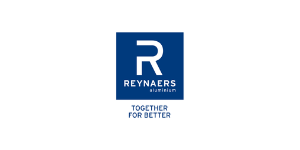 Reynaers Aluminium is a leading European specialist in developing and marketing aluminium architectural solutions. The company provided façade solutions for outstanding projects in the Hungarian market, like MOL Headquarter, MVM Dome, Agora HUB and others. Reynaers' main strength is the unique combination of exceptional performance, high quality and excellent customer support.
The quality of the event and the speeches were outstanding. It was a perfect opportunity for us to get in touch with other members and organizations of the industry. It is always a pleasure when we can see other colleagues' point of view about the architectural trends and projects. Thank you for the professional organizing!
Milán Csuka, Project Developer – Civil engineer Reynaers Aluminium Kft.