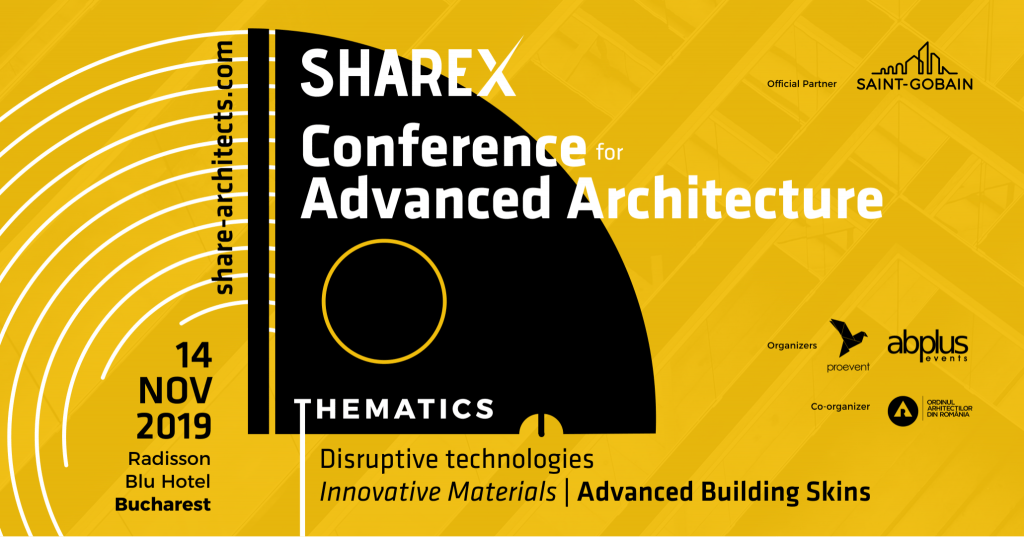 Check SHARE X 2019 Report
SHARE X, a special edition of the SHARE forum, dedicated to innovative materials, disruptive technologies
SHARE X, "Conference for Advanced Architecture", that will take place on the 14th of November will be hosted by the Radisson Blu Hotel. The event, traditionally organised by ABplus events alongside The Romanian order of Architects (OAR) and The University of Architecture "Ion Mincu" UAIUM Bucharest, is built on 3 sections: innovative materials, disruptive technologies and advanced building skins.
This event will reunite researchers and practitioners alike, well known for their innovation in architecture worldwide:
Great Speakers
Arch. SANJAY PURI – Principal Architect of Sanjay Puri Architects, winner of the World's Best Housing project at the World Architecture Festival 2018, Amsterdam and the World's Best Residential Project of 2017 at the LEAF Awards, London.  Sanjay Puri Architects have now won 134 international architecture awards.
Arch. SPELA VIDECNIK – Founder of the Slovenian practice OFIS Architects and associate professor at the Harvard University, well known for her expertise in creating unrepeatable experiences in extreme environments: Glass House, in the Goraffe desert, Spain or the Winter Cabin din the Kanin Mountains.
Keynote Speakers
Arch. HELMUT KINZLER – Head of Virtual Reality at Zaha Hadid Virtual Reality Group (ZHVR), well known for the development and the realization of high-end residential projects, architectural design in immersive VR technology, including real-time modeling and visualization tools.
Prof. MARCOS CRUZ – Professor at the department of "Innovative Environment" at the Bartlett School of Architecture and director of Bio-ID, he won numerous prizes, commissions and exhibited widely, with work in the permanent collection of the FRAC.
Speakers
Arch. CHRISTIAN SANDOR TSCHERSICH – Senior architect at Labotary for visionary architecture (LAVA), the architect graduated at Karslruhe Institute of Technology (KIT) and he is the Head of projects at LAVA Berlin. Since 2011 Christian Sandor Tschersich holds a position as Senior Lecturer at KIT Department for Building Lífecycle Management (BLM).
Arch. Engr. ANNA WENDT – Director at BuroHappold Engineering in UK, created the façade for the project signed by Jean Nouvel – Louvre Abu Dhabi, Tottenham Hotspur Stadium project signed by Populous, One Angel Square project signed by 3DReid. Anna Wendt is the winner of the Engineer of the Year at the Women in Construction Awards.
Arch. PEPE GASCON – Principal and Lead Architect at Pepe Gascón Arquitectura, winner of the Europe 40 under 40 Award, The International Architecture Award, The International Design Award, shortlisted in The LEAF Awards and shortlisted in The FAD Awards between many others). Pepe Gascon is increasingly being covered national and internationally by numerous publications and specialized websites.
LD NATALIE REDFORD – Associate Director of KSLD | EFLA Lighting Design, appointed to the ILP Education Committee for 2019/20, winner of Lighting Design Awards, 40under40 class of 2019; Best Presented Paper Award, Young Lighter of the Year, SLL 2009; Best Lighting Journal Article, 'Lighting and the Perception of Safety', ILE 2009.
Arch. MARIANO EFRON – Partner at the prestigious Architecture Studio, winner of Arabian Property Awards 2017-2018, Best Mixed-Use Development Jordan, Prix Chaptal du Comité Construction et Beaux-arts, Green Building & City Solutions Awards.The new Caisse d'Epargne headquarters of Aquitaine Poitou-Charentes in Bordeaux (France), the Novancia Business School in Paris (France), and the development of a 3D simulator of the sustainable city for Santiago (Chile) stand among his most notable achievements.
Arch. LARA ZUREIKAT – Landscape architect at Palestinian Museum and associate director of Amman's Center for the Study of the Built Environment (CSBE). Her most famous work is the landscaping for the Palestinian Museum.
Moderators
Arch. BOGDAN ZAHA – Lead Architect at Zaha Hadid Architects, known for his work on a significant number of projects such as Alai Residential complex in Mexico, Beijing New Airport, Central Business District in Prague and projects around the world including; a tower in New York, a Business District in Frankfurt and the Heathrow Terminal 6 in London. Bogdan Zaha has worked on many project stages with a focus on parametric modelling and advanced geometrical design methodologies.
Arch. VLAD TENU – Lead Architect at AHMM, winner of an MSc. award in Adaptive Architecture & Computation, certificated in Advanced Architectural Research. His architectural experience includes working with award winning practices such as Surface Architects and currently with the Sterling Prize Winner practice Allford Hall Monaghan Morris.
Honorary guests
Arch. ARMAND VOKSHI – President at Albanian Architects' Association (AAA), Founder / Lead Architect of office "Avatelier" Tirana in Albania. With a large portfolio of publications, Armand Vokshi is the Head of Department of Urban Planning, in Faculty of Architecture and Planning, Polytechnic University of Tirana.
Arch. JURAJ HERMANN –President of the Association of Architects of Slovakia, Managing Director of P – T spol. Ltd. in Bratislava, winner of many architectural awards, with a large portfolio in the construction projects for companies as Carrefour, Polus Eurotel, T. A. P. International, Trigranit Development Slovakia, IMMOEAST, J&T REAL ESTATE.
Board of the Event
Arch. ALEXANDRU GAVOZDEA – President at Romanian Order of Architects, Founder of the A.Plan architecture office, the main local partner of TNRS on OAR behalf for organizing demarches for the construction of the New Theater in Sibiu.
Arch. Prof. MARIAN MOICEANU – Rector at Ion Mincu University of Architecture and Urbanism, PhD Professor, earned his PhD in architecture with a thorough research on the Romanian modern architecture in the international modern architecture context – Syntesis of Architectural Design chair.
Arch. SERBAN TIGANAS – SHARE Society President, General Secretary at the International Union of Architects, with a large portfolio of awards, Serban Tiganas, practitioner, professor and activist, is the winner of Breeam Awards, shortlist / Architizer A+ Award (2016).
FLORIN MINDIRIGIU – President and founder at PRO EVENT Association, an NPO at the forefront of the cultural and creative festivals and events industry. Event producer of over 400 events in the fields of education, culture, architecture.
The event is addressed to architects, engineers, lightning designers, landscape architects and interior designers. The program of the conference is completed by exhibitions and workshops as well as the book launch "Designing the Profile of the Future Architect", that highlights 100 international contributions – texts and interviews collected from SHARE guest speakers in 2018-2019.
The event has the support of the official partner Saint Gobain, main partners Şişecam Flat Glass, Etem Building Systems, ZUMTOBEL Group and TeraSteel, the software partner GRAPHISOFT, the partner EQUITONE and the sponsors Adeplast, ALUPROF, Urban Landscapes Romania, Villeroy & Boch.
The main media partners are Igloo, SpațiulConstruit, Humans of Architecture and the Consultative Council of Architects in Central and Eastern Europe.
Registration for SHARE X:
Registration for the event is open and the prices are different according to the age groups: under 30 and over 30. Tickets for the event can be bought online at www.share-architects.com.
We invite you to meet our speakers and register for SHARE X 2019!
REGISTER