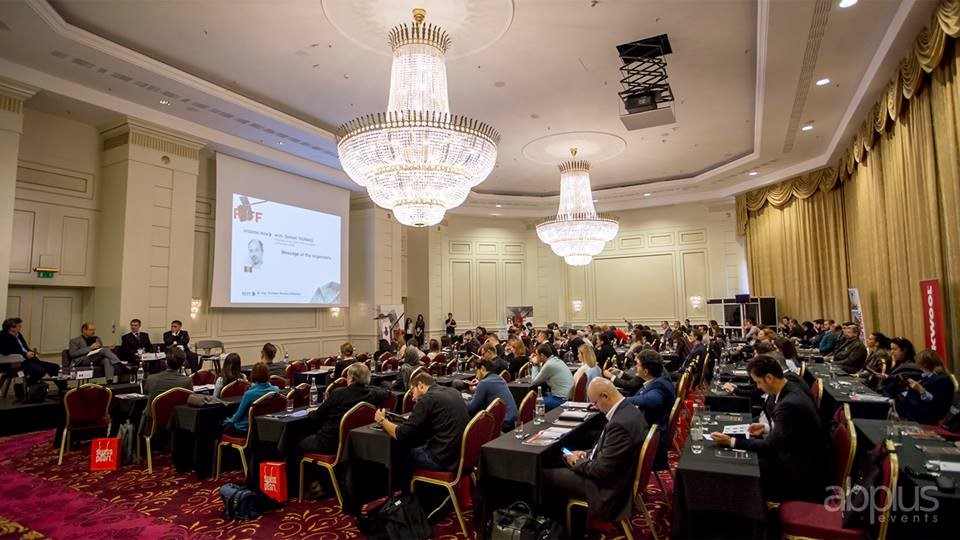 RIFF Bucharest events and Romanian Building Awards 2016 edition, an outstanding meeting with renowned architects, about the culture of architecture
The 2016 edition of the international conference RIFF Bucharest and Romanian Building Awards Gala organized in the preview of RIFF lectures brought together over 250 architects, designers, project owners and beneficiaries, leaders in the construction market, companies with solutions for façades, roofs, insulations and floors, on the 31st of October and 1st of November, at Marriott Grand Hotel. The event is considered a continuous training program for architects, is organized by ProEvent cultural association and ABplus Events in cooperation with the Romanian Order of Architects and is chaired by arch. Serban Tiganas, the President of the Romanian Order of Architects.
The keynote speakers of this forum dedicated to recent best practice examples in architecture were arch. Maurizio Meossi, Senior Associate Zaha Hadid Architects, UK, and arch. Robert Konieczny, founder KMK Promes in Poland, joint-winner of the 2016 edition of the European Prize for Urban Public Space in Barcelona.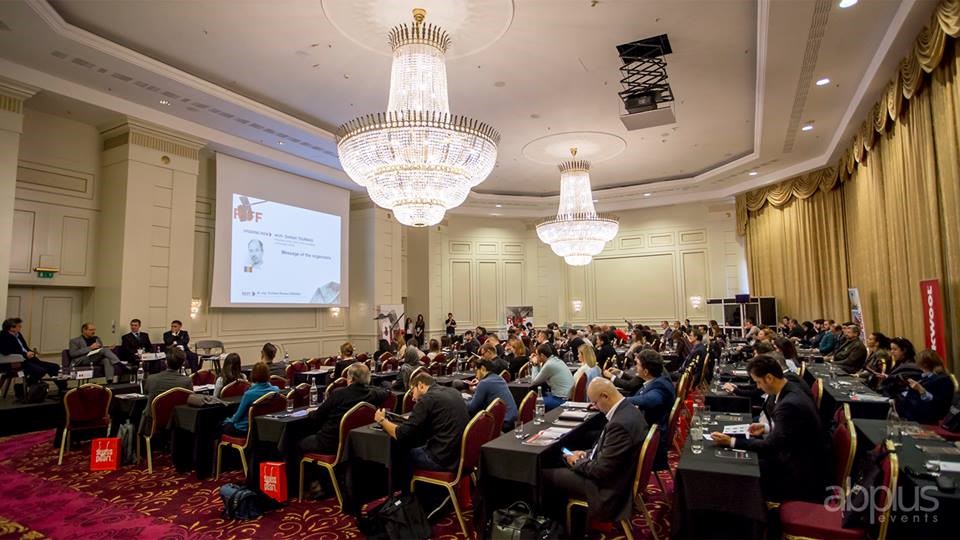 Arch. Maurizio Meossi, Keynote Speaker, Senior Associate Zaha Hadid Architects, UK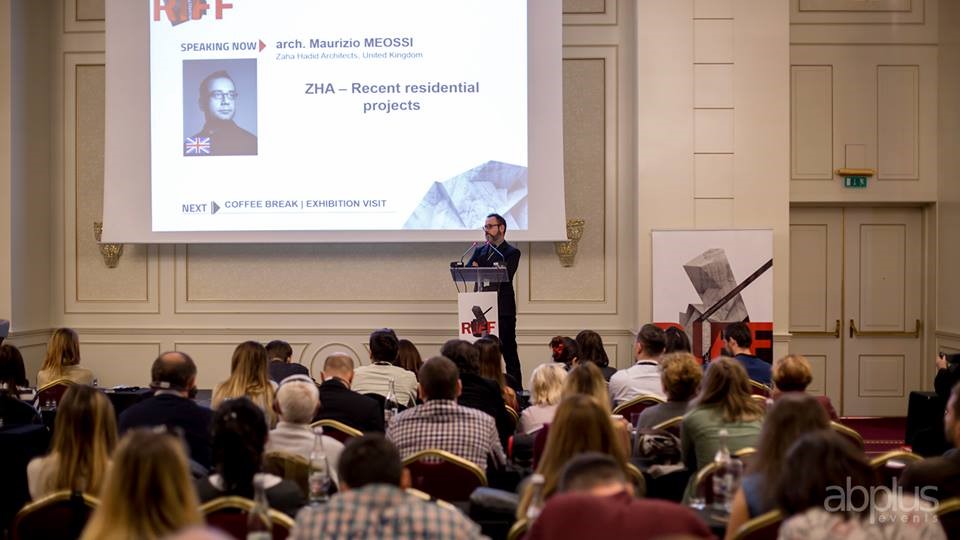 Maurizio Meossi has held an academic faculty position at the Universita' di Firenze and has widely lectured and attended critics in different Italian and American universities since 2004. In the last years, Maurizio Meossi has been leading several big scale residential projects from Australia to Mexico, improving his experience in mixed-use developments and residential.
Maurizio Meossi was present at the RIFF 2016 proceedings with a short presentation and an incredibly engaging masterclass on the ZHA Residential Projects in Milano Citylife Housing and its Architectural Concepts. The housing complex includes seven linear buildings and develops in two areas of the estate separated by a wide public pedestrian boulevard which visually and physically connects to the Citylife Park and the forthcoming Hadid Tower.
"This kind of platform that RIFF created is a network where I have the chance to see very interesting projects, to exchange ideas, is always a beautiful moment to have a different experience. This kind of platform pushes a lot to create interaction, to get in touch with local offices, to make partnership with people you can create something together", said arch. Maurizio Meossi. "What I really hope is that we keep seducing people as she did, keeping alive the heritage and her spirit through architecture", completed the architect, speaking about the recent unfortunate passing of Zaha Hadid.
Arch. Robert Konieczny, founder at KWK Promes from Poland, was present at RIFF Conference presenting the audience with one of his practice's most acclaimed project – Dialogue Centre "Przełomy" at Solidarność Square Szczecin. Furthermore, he developed the philosophy of his practice during an engaging masterclass, offering a dynamic description of a series of both built and unbuilt projects which brought the idea that "architecture as a process" refers also to a continuous conceptual and personal development that instills a trade-mark attitude in every project of an architect. His own way of thinking architecture reached his audience by being very motivational in itself, even without having this particular goal.
The Przelomy Dialogue Center received this year a honorable mention in the Society of Polish Urbanists Competition for the Best Public Space category and was joint-winner of the European Prize for Urban Public Space in Barcelona. Konieczny was a nominee of the European Award of Mies van der Rohe Foundation eight times and in was awarded by the Minister of Culture in Poland for his outstanding achievements in the field of architecture as a second architect ever winning this kind of prize.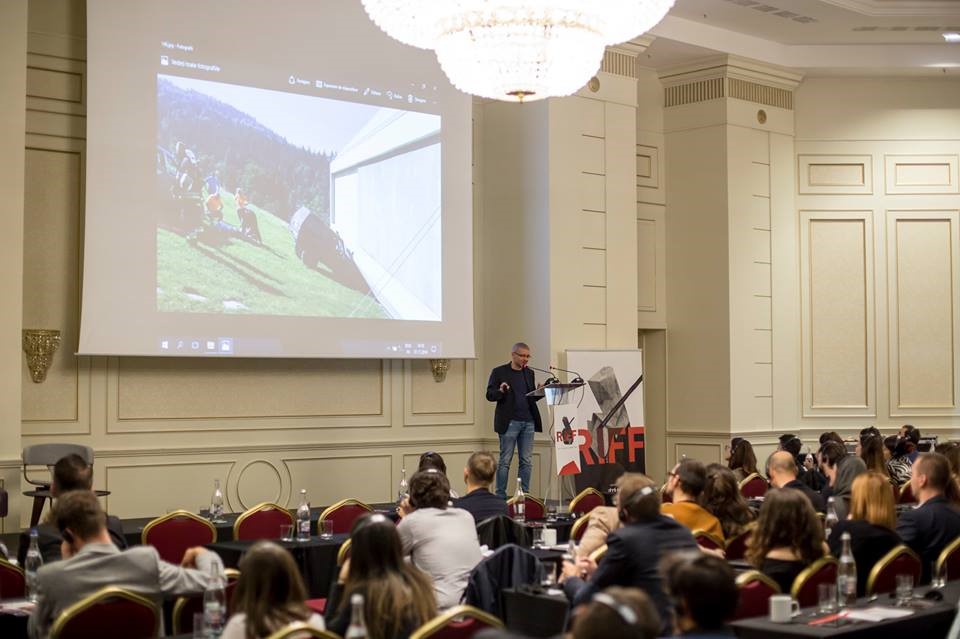 Among the guest speakers that held presentations at RIFF are the architects Giuseppe Farris, Ewa P. Porębska, Erika Katalina Pasztor, Gerard Reinmuth, Habibeh Madjdabadi, Dorin Stefan and Marian Moiceanu.
Arch. Giuseppe Farris, Guest Speaker RIFF and member of the Romanian Building Awards Jury, founder Studio Farris, Belgium
"I enjoyed very much being part of the jury, it was interesting to meet new people and to see a lot of projects from Romania. It was a good occasion to understand more about the local culture.", said the Italian arch. Giuseppe Farris.
Architect Giuseppe Farris was part or the jury of Romanian Building Awards. He held a presentation at RIFF about the project "Park Tower". The Park Tower was finished in February 2015 and is situated in Antwerp (Belgium) in a unique location within walking distance from the new MAS museum, the harbour district, the waterfront beside the river Scheldt and the historic city center. To make a connection with the city, the architects wanted to create a design that would bring residents outside to be part of the theatre of city life. Most high-rise buildings don't show many human-scale elements in their façades, they have a rather introverted character, due to the necessity of protecting inhabitants from excessive sunlight and high wind. The architects developed a second skin to create a comfort zone which would encourage residents to go outside and use their terraces. The result is a playful, layered façade, with a fascinating dynamic of continuously changing people, activities, light and shadow.
With a total height of 78 meters, the Park Tower is now one of the highest buildings in Antwerp and acts as a gateway when entering the city.
Giuseppe Farris got his master in architecture at the Istituto Universitario di Architettura di Venezia (IUAV) in Venice, with professors like Aldo Rossi, Bernardo Secchi, and Manfredo Tafuri. In 2001 he moved to Belgium, where he collaborated with several different architectural offices. In the year 2008 he founded Studio Farris Architects in Antwerp.
Arch. Gerard Reinmuth, Guest Speaker at RIFF 2016 Bucharest, Director of TERROIR, Australia
Gerard Reinmuth is a Director of TERROIR and Professor in Practice at the University of Technology (UTS) Sydney where he is the Masters Course Coordinator. Gerard Reinmuth was a juror in the Romanian Building Awards. Furthermore, he held a motivational lecture attended by over 200 students at "Ion Mincu" University of Architecture and Urbanism Bucharest, speaking about the condition of the contemporary architect and how young aspiring talents can manage between the constraints of the profession and their personal goals and views on architecture today.
He also offered us a "tour de force" through the projects of his established practice, including their recent accomplishment in Malmo. "The United Nations affiliated World Maritime University (WMU) in Malmo, Sweden has been completed. In collaboration with Kim Utzon Arkitekter we won the project in 2011 after a 3-stage international competition. This collaboration continued throughout all stages of the project to completion.", said arch. Gerard Reinmuth. The project won several awards: 2015 Malmo City Building Prize- Stadsbyggnadspris, 2015 Best Building in the Southern Swedish region in the National Swedish Architecture Award and was Shortlist in the category Higher Education and Research for Tornhuset at 2016 World Architecture Festival -WAF 2016
.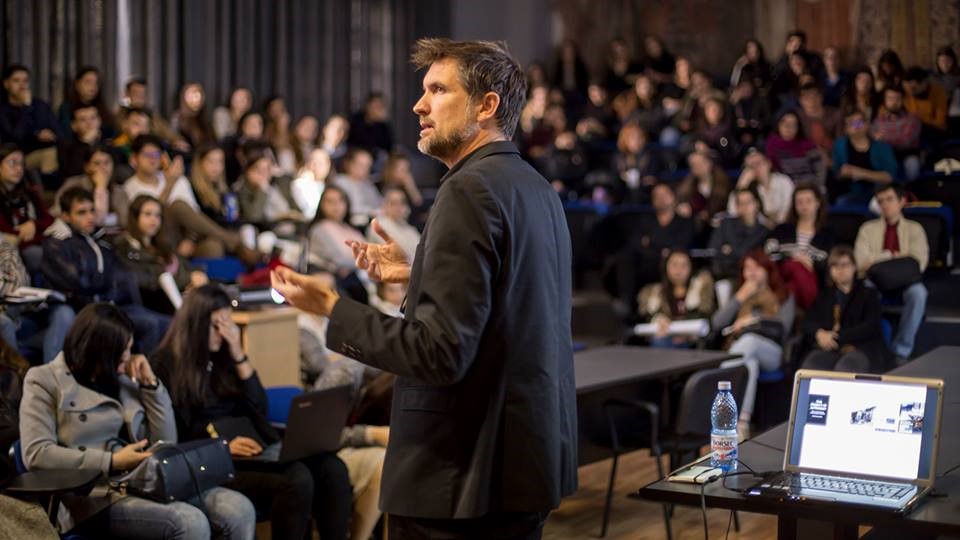 Arch. Habibeh Madjdabadi, Guest Speaker, Principal Architect Habibeh Madjdabadi Architecture Office, Iran
Her presentation at RIFF was about Poetics of Shadow and Light, (Building Skin in Iranian Architecture) with a focus on the project 40 Knots House short-listed at the Aga Khan Award 2014.
"Beside the fact that I always like to communicate ideas with other people, with the architects from around the world, I believe the RIFF Conference is a network where is important to give people the kind of information that they would remember, to light up something in their mind, to show them some relevant ideas, images and subjects.", said arch. Habibeh Madjdabadi.
The contemporary façade of 40 Knots House that appears as a collection of intricately interwoven modules is inspired by Persian carpets techniques where two people work together to make a carpet – one reads the instructions while the other sits behind the scaffold and makes the braids. Due to this technique, there is no need for phase drawings and the construction sequence can be performed through a series of simple, localized labors.
"When I am out of the context of Iran, I want to show the difference – not the similarities – the culture, the people. Now the young generation does a good job and I want to show the audience the potential of Iranian architecture," said the Iranian architect Habibeh Madjdabadi.
Habibeh Madjdabadi is one of the outstanding architects of younger generation in Iran with almost 15 years of professional experience. She established her design office in 2000 after winning first prize in a design competition for restoring historical buildings in Iran. She has received several awards and recognitions among which shortlisted at "Aga Khan Award 2016 and "Worldwide Brick Award 2014" and "MEMAR Award 2014" for "House of 40 knots" and "Chicago Award 2014" for "MELLAT Bank's" cooper façade.
Arch. Dorin Stefan, Guest Speaker at RIFF Bucharest 2016 edition, Founder of Dorin Stefan Birou de Arhitectura, Romania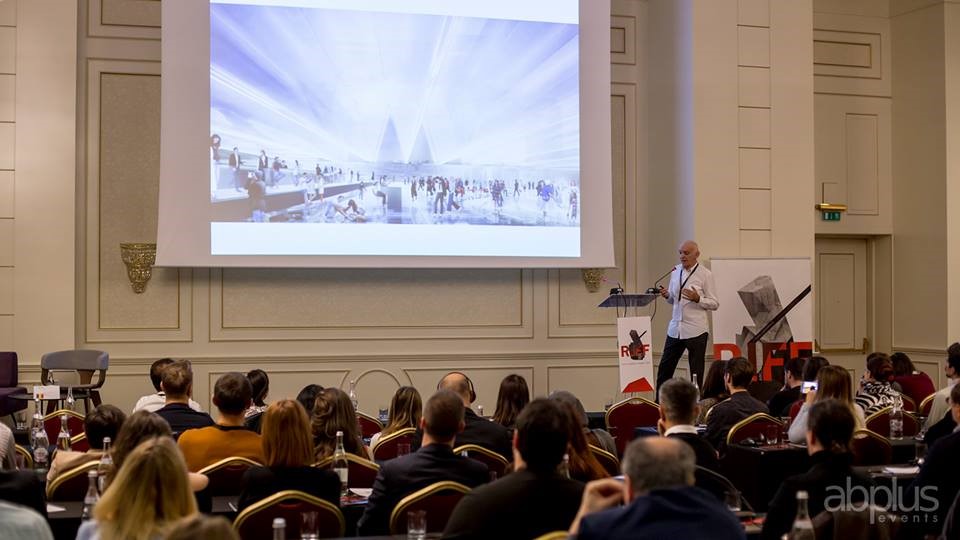 As a guest speaker, Dorin Stefan presented DSBA's latest competition entry for the National Museum of History extension and restructuring. He envisioned this contribution by describing it as a "recovery of Gothic style in Romanian architecture", given DSBA's unconventional use of glass.
"It would be wonderful if we wouldn't stop with the shallow glass box like it is happening right now in Pipera business center. My fascination for glass started even since my student years, when learning about the Tugendhat House designed by Mies van der Rohe in 1928-1930, or about Philip Johnson's glass house from 1949. So… yes, we can speak of cultural gestures. Given the technical possibilities the glass offers nowadays, it constantly poses challenges for architects. I am challenged to find other meanings beside it being "just a window". In Craiova, we now build the extension of the Art Museum, which is a glass cube, a conceptual nest… and in Victoriei Square here in Bucharest, we are now finishing a double curved glass façade.", said arch. Dorin Stefan.
When asked about the importance of RIFF proceedings in the context of the Romanian Building Awards events, Dorin Stefan added that "we need this kind of encounters where we can talk about architectural culture. Architecture is a cultural gesture that still has to be nurtured in order to achieve its full power. We have to learn to filter our work through artistic thought so that the artificial built environment turns to be much more than a physical shell – a mental fertile environment."
The Romanian Building Awards, the first project competition that highlights the creative trio architect-constructor-beneficiary, for the edification of a culture of the built environment in Romania, have been awarded on the 31st of October, at the Romanian Building Awards Gala.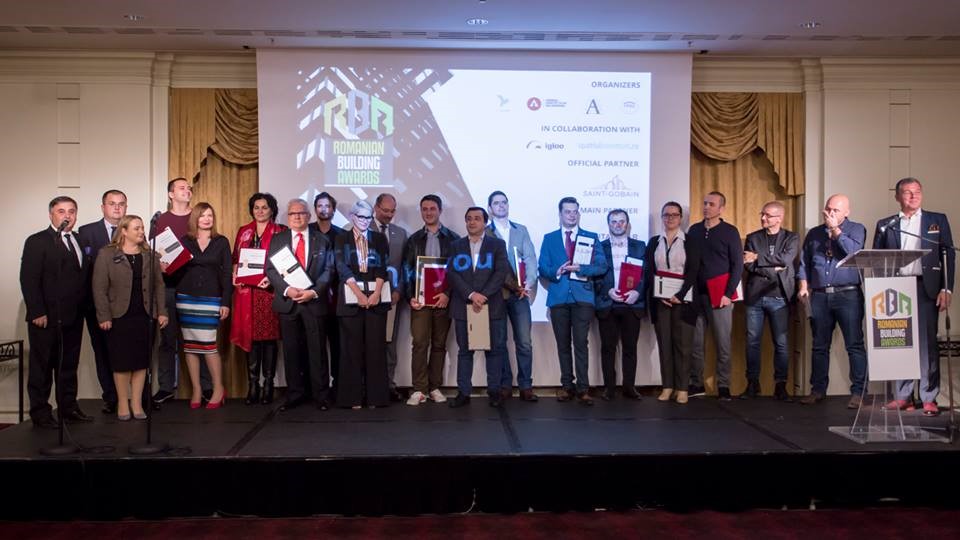 Arch. Șerban ȚIGĂNAȘ, Chairman Board Romanian Building Awards 2016 edition, President of the Order of Romanian Architects
Being involved in this series of events complementary to the Romanian Building Awards competition, Serban Tiganas is able to draw a wide perspective upon the Romanian architectural stage. "Romania is a country where we have too much confusion stemming from the fractures of history. Even though enough time has passed, almost a generation, the effects of the communist period are not yet understood and metabolized. To offer awards for what is built in Romania, or everywhere else for that matter, is nothing new – architects are awarded by architects, engineers offer awards to engineers, and so on. In fact, progress comes from the integration of all the segments that are part of this business and that is what we are trying to do with RBA and all its satellite events – to put everyone together and create a dialogue," said arch. Serban Tiganas.
The RIFF 2016 Bucharest Conference and Romanian Building Awards 2016 edition presented some of the top architectural practices and figures in the world, offering a relevant input on architectural thought nowadays. The issues discussed here participate to a constantly evolving debate on the Romanian architectural scene raising key aspects and facilitating a growing network of concerned professionals with a focus on interdisciplinarity and dialogue as means to develop architecture as a cultural practice.