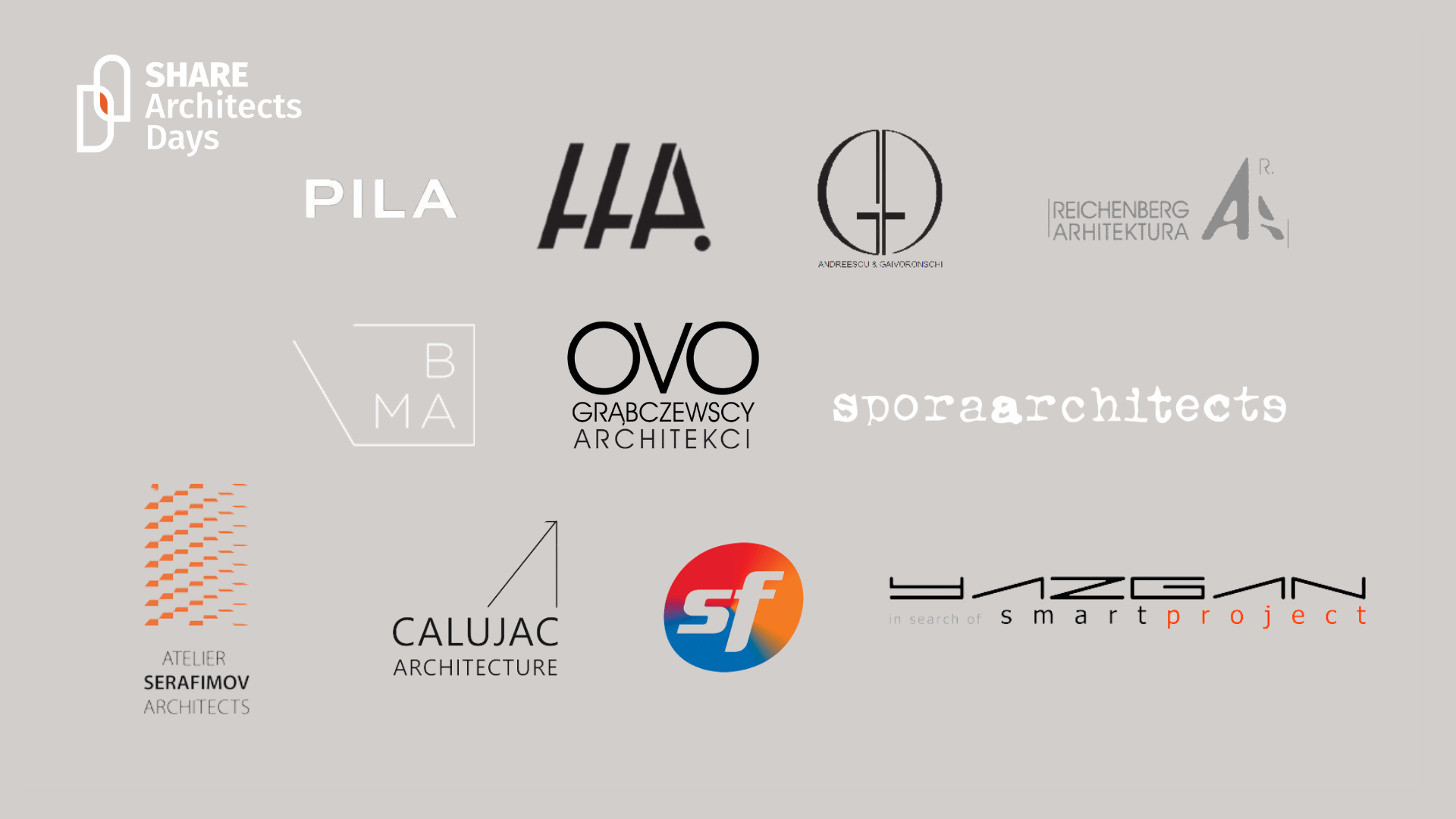 New exhibitors are announced at SHARE Architects Days
Exhibitor's registration will be open until the first of April.
B2B networking, live presentations and one-on-one meetings.
SHARE Architects Days is addressed to the following countries: Albania, Bulgaria, Bosnia – Herzegovina, Cyprus, Checz Republic, Greece, Hungary, Montenegro, North Macedonia, Poland, Republic of Moldova, Slovakia, Slovenia, Serbia, Romania
SHARE Architects DAYS is received with great response: Notorious architecture practices have registered to offer live presentations and one-on-one meetings at the digital event held from April 13th to 16th, 2021. Exhibitor's registration will be open until the first of April. The conference program—curated by SHARE Architects and CCA- CEE —will offer further valuable insights.
New Exhibitors at SHARE Architects Days
A&A ARCHITECTS OOD – BULGARIA
The professional competency of the company includes: design of office, commercial, industrial and residential buildings, as well as urban planning, master planning, and consulting.
ANDREESCU & GAIVORONSCHI – ROMANIA
Today, one of the prestigious reference points in Romanian contemporary architecture, the office mainly manages workplace, commercial, and hospitality architecture.
ATELIER SERAFIMOV ARCHITECTS – BULGARIA
An architectural, engineering, urban planning, and design company, ASA has worked on a wide variety of designs such as cultural & educational, healthcare & hospitality, commercial & industrial, and many others.
BMA – NORTH MACEDONIA
BMA is a creative hub open to young and devoted architects. The spectrum of work touches fields of architecture, design, and urbanism. They design public and residential buildings, commercial and public spaces, cultural and educational facilities, urban plans and interiors, furniture, and products.
CAPITEL AVANGARDE – ROMANIA
The studio's projects are in the field of architecture and restoration.
CALUJAC ARCHITECTURE – REPUBLIC OF MOLDOVA
The office is one of the prestigious reference points in contemporary architecture of Moldova, with works focused on workplace & residential architecture.
MIODESIGN – BULGARIA
The portfolio of the studio includes residential, hospitality, and workplace projects.
Null Design – SERBIA
The office manages full-phase building design and execution – cultural, institutional, residential, commercial, hospitality and healthcare.
OVO GRABCZEWSCY ARCHITEKCI – POLAND
The office works on all scales – from urban planning, large buildings to individual houses, interiors, and furniture.
PILA – GREECE
PILA is an architecture studio that creates environments for culture, working, and living around the world. The services of the office include architectural, interior & retail design, and master planning.
RE-ACT NOW STUDIO – ROMANIA
The studio's projects are in the field of office, public, cultural&education, residential, interiors, and leisure & sports architecture.
Reichenberg arhitektura – SLOVENIA
The office is working mainly in the field of low budget, social, residential architecture, but also in recreational, industrial, private housing, public spaces, and public furniture areas.
SPORA ARCHITECTS – HUNGARY
An open-minded architectural firm where architects, designers, and thinkers from other fields have created a common creative platform in the fields of architecture, urban development, research, and development. Among the most important works of the office integrate civic architecture.
Superform – SLOVENIA
The office is distinguished by its recognizable and unique custom-made and customer-centric architecture. The projects of the office range from interior design to urban development.
YAZGAN DESIGN ARCHITECTURE – TURKEY
With an experienced staff of 45 architects and landscape designers, the company portfolio includes mixed-use buildings, retail, hotel, residential, office, educational buildings, hospitals, cultural centers, airports, and sports complexes.
---
Discover more architecture offices – exhibitors at SHARE Architects Days
DISCOVER
---
Registration
Tickets and the packages for the virtual booth can be acquired at days.share-architects.com.
SHARE community members benefit from a 20% discount on certain packages.
REGISTER NOW