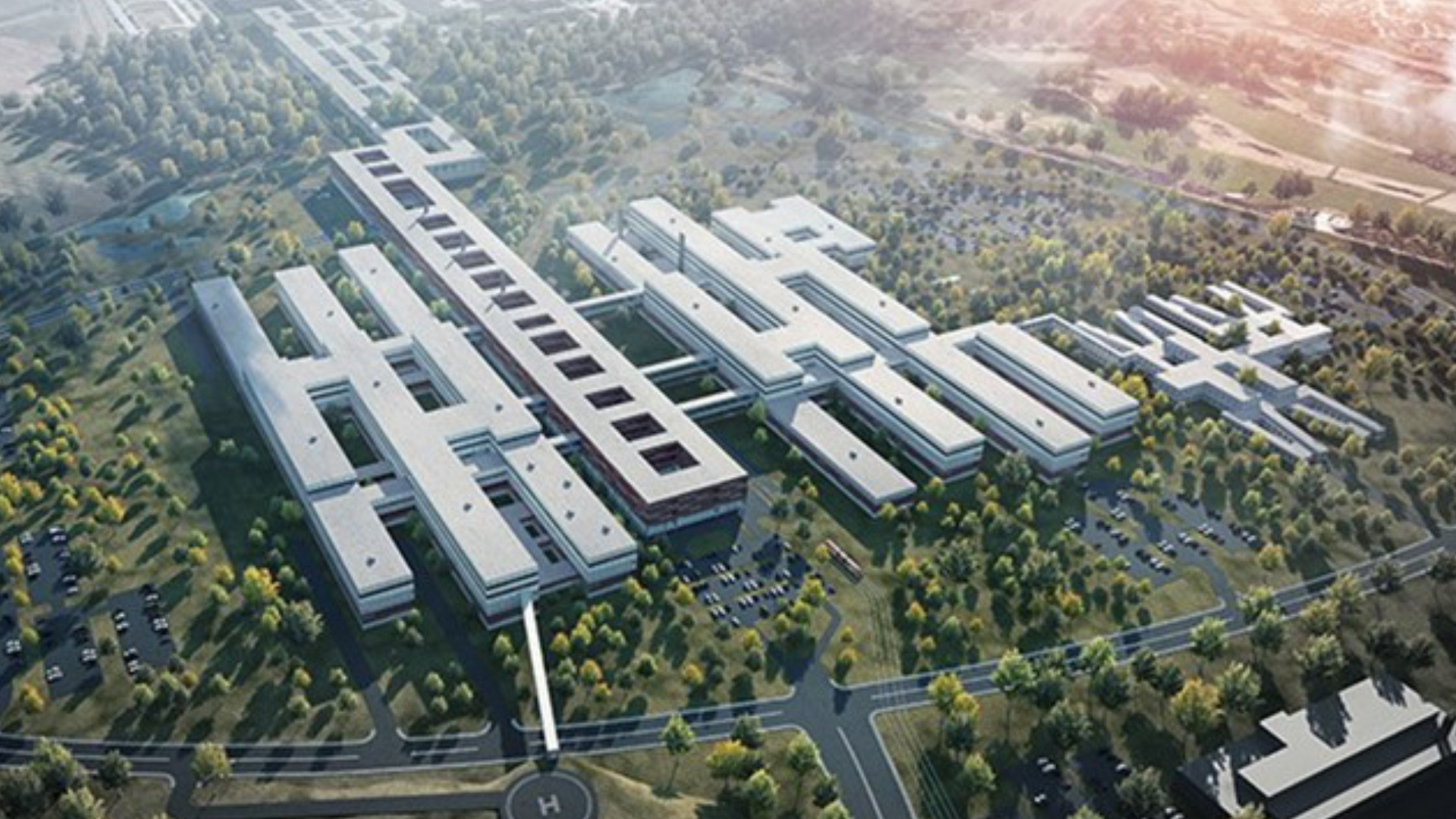 More than 20 hospitals built with Tecnostrutture NPS® beams and columns
Construction speed and the company's know-how in the healthcare sector are increasing the demand for the NPS® building system in Italy and abroad.
Tecnostrutture proves to be a reference partner for the construction of works regarding the healthcare sector, such as hospitals, clinics or nursing homes. The company has in fact participated in the expansion of the Mangiagalli Clinic and the Sacco Hospital in Milan, the Køge University Hospital in Denmark, and the Menotti RSA in Laveno Mombello. But there are many other structures where the NPS® beam and column construction system has been employed. Here are some examples of their use and the advantages they bring.
BEATO GIOVANNI XXIII HOSPITAL, BERGAMO 
Designed by architect Aymeric Zublena, it consists of a central plan, seven inpatient buildings and three branches of the hospital street. As a public interest building, the construction priority was to keep construction time as short as possible, set at 42 months.
HOSPITAL IN VIMERCATE 
Based on Mario Botta's architectural concept, the hospital has 538 beds and consists of approximately 116,000 square metres of decking built in six months.
SUPERELEVATION OF THE HOSPITAL IN TREVIGLIO CARAVAGGIO 
A single-level elevation of 28 x 16 m, placed above a part of the existing building, at a height of approximately 15 m above ground level. The work was carried out without interrupting the activities of the hospital spaces below.
MEDICAL SCHOOL IN GOZO, MALTA 
For the medical school of the prestigious Queen Mary University of London, Tecnostrutture ha designed, supplied, and installed the whole structure only in four months, consisting of PDTI® columns, NPS® BASIC beams and Airfloor® slab. An 8,100 sqm building with five storeys above ground, including the roof.
UNIVERSITY HOSPITAL IN ODENSE, DENMARK 
With a total area of 250,000 square metres, the Odense Hospital is the largest in Denmark. Only an industrialised system such as NPS® can guarantee the high-quality standards required, construction speed and assembly reliability despite the harsh winter climate and snowfall.
NURSING HOME "VIGILIO DE SILVESTRO" IN DOMEGGE DI CADORE, BELLUNO 
A four-storey building with a surface area of 450 m2 will be able to accommodate 80 guests in single and double rooms, equipped with state-of-the-art facilities. The structures have been built with NPS® columns and beams combined with Airfloor™ slabs.
NURSING HOME "EX CASA DI CURA LA BERTALAZONA" IN SAN MAURIZIO CANAVESE, TURIN
A 6,000 square metre building with three floors above ground and one underground. Each of these has been built with PTC® NPS® columns in centrifuged concrete, combined with NPS® beams. The structure is almost ready to open and accommodate 140 guests.
Why use the NPS® system for healthcare facilities?
The "time" factor is decisive. The client demands that healthcare facilities should be built as quickly as possible, and above all safely. Traditionally, a possible solution is to carry out the work on site by casting a concrete slab. In other words, each storey must be decked out, the necessary support equipment such as wooden formwork and metal props must be rented, and the 28-day curing period must be observed.
A quicker answer may be precast concrete structures which, however, pose limitations in terms of building geometry and the installation of plants. In this context, Tecnostrutture's NPS® steel-concrete mixed structures are the preferred solution thanks to their competitive advantage in terms of time and reduced dimensions.
NPS® beams and columns are produced in the factory, in a protected environment. Then, on site, a team of just three people assembles the structures. The concrete casting follows.
As the structures are self-supporting, the area underneath the assembled deck is immediately available, without having to wait 28 days for the concrete to cure. This has several benefits:
Installers can start their work immediately.
Less waste is produced and there is generally no temporary material on site.
The assembly of structures is smooth, regardless of weather conditions.
Increased site safety.
Increased health safety for workers and employees.
Questi vantaggi si traducono in velocità costruttiva, con un risparmio di tempo del 40% rispetto ai sistemi tradizionali.
La gestione controllata del fattore tempo ha reso Tecnostrutture un partner affidabile e di comprovata esperienza per la costruzione di strutture sanitarie.
These advantages translate into construction speed, with a 40% time saving compared to traditional systems. 
The controlled management of the time factor has made Tecnostrutture a reliable partner with proven experience in the construction of healthcare structures.
NPS®: a solution for managing construction sites at the time of COVID-19
n order to safeguard the priority objective of health and safety on the construction site, it is necessary to become aware of the rules and new distancing procedures. The NPS® system, consisting of beam and column, is the engineering solution that allows construction with a team of only three workers. This reduces the amount of manpower on site by more than 80% compared to traditional systems, safeguarding the workers' health in terms of both occupational safety and health safety. Together with these measures, NPS® guarantees an increase of at least 40% in productivity on site compared to the onsite casting solution.
In this emergency period due to COVID-19, ensuring that workers on site are at a safe distance from other workers is a crucial issue in preventing the spread of the virus. This is done without impacting on site productivity, which with NPS® is at least 40% higher than with traditional systems," says Franco Daniele, CEO of Tecnostrutture. He adds, "The registry of unfinished public works published by the MIT lists 24 works of purely health-related interest. These include hospitals, laboratories, health centres, RSAs and polyclinics where works have never been completed and whose fate is in many cases unknown. The list of these unfinished works seems to be a mockery in this phase of the COVID-19 emergency and makes it a priority to resume these projects as soon as possible and to finally complete them in the shortest time possible.