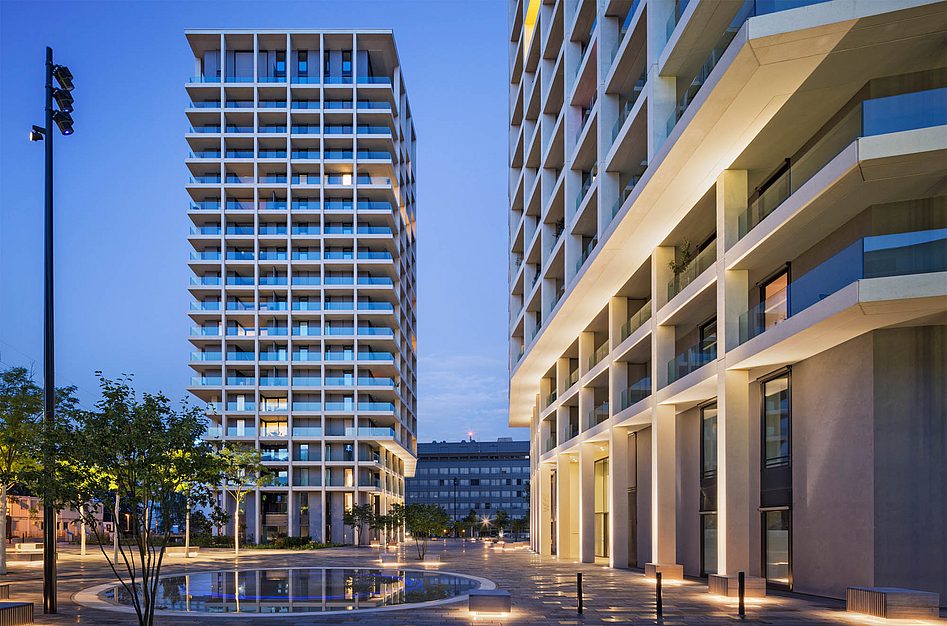 Keynote Speaker at SHARE Athens 2019 – Dietmar EBERLE | Partner of Baumschlarger Eberle Architects, AUSTRIA
With over 3,000 attendees, 225+ speakers from 25+ countries, and 9 successful conferences already completed in 2019, SHARE Architects continues its mission to bring excellence in architecture with a 2nd edition of SHARE Athens, on November 26 at Benaki Museum, 138 PIREOS ST. A widespread community of seniors architects, urban planners, constructors, and designers will attend the conference to discuss and debate over a series of interesting topics in architecture and beyond. From their most recently awarded projects to upcoming trends and projections for the future, SHARE Athens will be all about building momentum and connecting people through architecture.
Get your delegate pass at the conference and benefit from our SPECIAL OFFER of 2 + 1 FREE conference pass. 
"To create the future is to create in time" – architect Dietmar Eberle
 "We are used to speaking about space and architecture, but we are not speaking about time. To create the future for our society the key is to talk about time." says Dietmar Eberle, during one of his public lectures. The 20th-century values are no more strongly anchored in nowadays life. The spaces that were created in the past have to be adapted, changed and adjusted to the 21st century`s fast and dramatic change of values. As buildings are the ones that shape and influence our working and resting environments, the architects are the ones responsible for speaking and thinking in terms of time. 
Eberle sees architecture as five different technical overlapping systems related to five very different timeframes. He tends to believe that these are important layers to take into consideration when designing architecture. Thinking in terms of time means thinking about sustainability from different perspectives of what this can mean. The layers that are overlapping are also factors that can influence and reduce the impact of buildings on climate change. 
One of the layers that are the main generator of spatial qualities and influence them the most is the contribution to the public space and has a lifetime of more than 100 years. When thinking about structure, we have to think about quality for 100 years. A layer that becomes more and more expensive is building envelope that serves the building for about 50 years. During the previous construction era, an important layer to focus on was the function of the building. Eberle points out that now, the function is a phenomenon of one generation, which means about 20 years. Architects have to think more on "How can they do buildings when the program of the building is so short term?" The last of the layers is the surface that defines and keeps direct contact with the user. 
A lot more about all these five overlapping systems, time in architecture and architecture in time, Dietmar Eberle, Professor and Architect of Baumschlager Eberle Architects, Austria will explore during the SHARE Athens 2019 session. He strongly believes that a building should be multifunctional and adaptive, should maintain the relation of the inside with the outside, the user and the observer.
I`m not interested anymore in how a building is used, I`m more interested in the question which areas of the building should be public which area should be private and how much they are divided.
About the architect
Dietmar Eberle is a graduate of Technical University in Vienna and the founder of Baumschlager Eberle Architects, which is run together with eleven partners. Their philosophy is that "buildings have to be authentic by virtue of their sensitivity to their local environments and their enduring relevance; they have to be both responsive to and representative of the settings in which they are located. They have to be also sustainable in the broadest sense of the term. Going far beyond energy and environmental issues, their notion of sustainability encompasses cultural, social and aesthetic values." As architects, they "think in centuries, not just in decades."
Eberle enrolled at the Technische Universität Wien as a student of architecture in 1973 and graduated under Anton Schweighofer in 1978. Having completed his studies, he spent years working in Teheran where he was involved in a town planning study and new town planning. One of a group of young architects who studied in Vienna in the 1970s, Eberle returned to Vorarlberg in the 1980s to carry out building projects there. He is one of the founding members of the Vorarlberg Architects. While still an undergraduate he teamed up with Markus Koch, Norbert Mittersteiner and Wolfgang Juen in 1979 to find the Cooperative Bau- und Planungsgesellschaft (1979-1982). The Im Fang project was the sign of 'a new, alternative building philosophy' and sent out an important signal at this time. Eberle has taught regularly at various universities since the 1980s. He has been a visiting professor inter alia in Hanover, Vienna, Linz, Syracuse (NY) and Darmstadt. In addition, he has taught in Madrid, Jerusalem, Hong Kong, and Barcelona.
Since 1999 Eberle has been a full professor for Architecture and Design at the ETH Zurich and oversaw the ETH Wohnforum up to 2015. He was head of the Department of Architecture from 2003 to 2006. The architectural practice Baumschlager Eberle is a network of international offices run by Dietmar Eberle together with eleven partners. The offices, located at twelve sites in eight different countries in Europe and Asia, have completed well over 400 buildings.