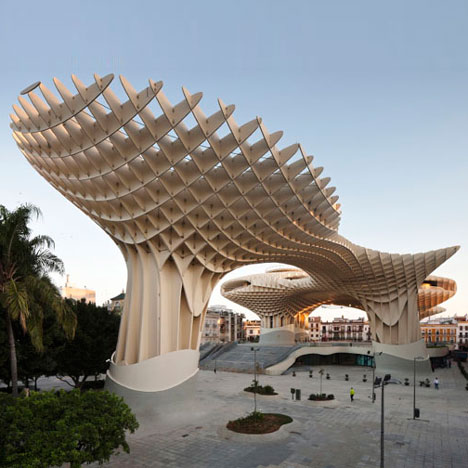 Jürgen Mayer H. – The Dynamic Of Public Spaces
Jürgen Mayer H. is best known for his innovative work approach, treated as an intersection of art, sculpture, architecture, communication and new technologies. His way of perceiving "space" as a platform for social activities and human interactions has led his projects to a comprehensive level of understanding architecture, as an important factor which influences human life and perceptions.
Living in medieval or renaissance cities nowadays can be a curse and a blessing. Establishing a balance between residents' needs and tourists' interests can be a tremendous challenge. The urban structure and regulations are hardly permitting any major intervention and the implant of a new public space is nearly impossible. However, people's demands are always changing and the historical cities have to keep up with the evolving character of modern times and the most important aspect, to see architecture as a participatory phenomenon.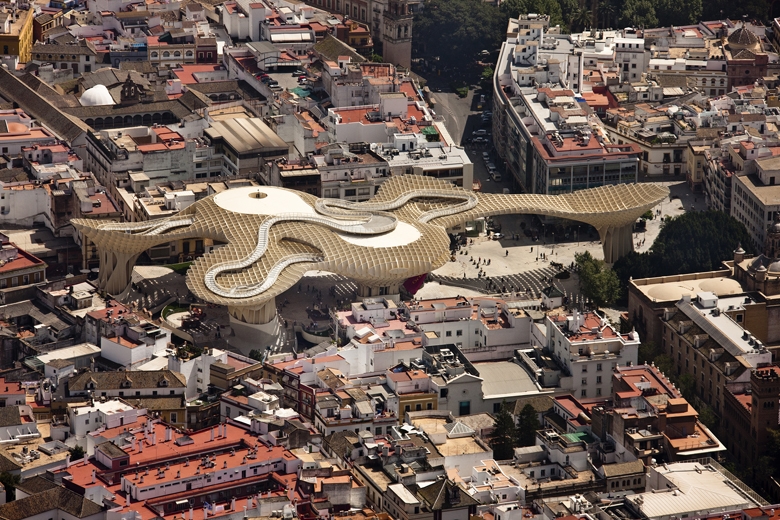 As arch. Jürgen Mayer H. said,
Architecture should work as an activator to move people from a passive mode of expectation to an involved level of participation and attention.
The fantastic responsive architecture has emerged as a way of combating spatial segregation while straightening human connections with the surrounding context. "I see my projects as lenses through which surrounding context is looked to see something new. Architecture is a catalyst, which is not a background to an everyday life, but something that provokes you to rethink spatial conditions.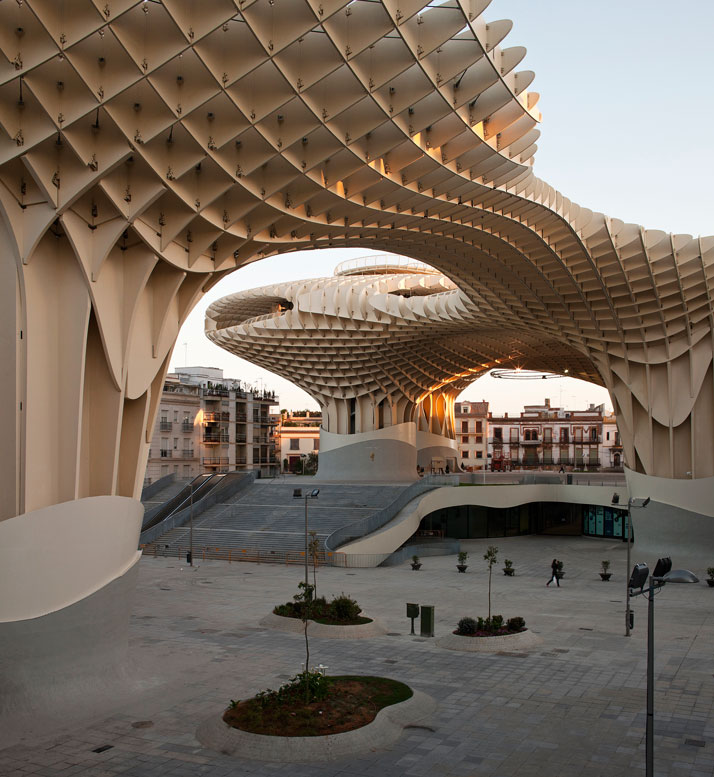 Metropol Parasol
Designed by J. MAYER H. Architects, "Metropol Parasol"- the Redevelopment of the Plaza de la Encarnacíon in Seville – has became the new icon for Seville – a place of identification and to articulate Seville's role as one of the world´s most fascinating cultural destinations. Its role as a unique urban space within the dense fabric of the medieval inner city of Seville allows for a great variety of activities such as cultural, leisure and commerce. A highly developed infrastructure helps to activate the square, making it an attractive destination for tourists and locals alike, providing at the same time valuable shade for the hot climate of Seville.
The "Metropol Parasol" scheme with its impressive timber structures offers an archaeological museum, a farmers market, an elevated plaza, multiple bars and restaurants underneath and inside the parasols, as well as a panorama terrace on the very top of the parasols.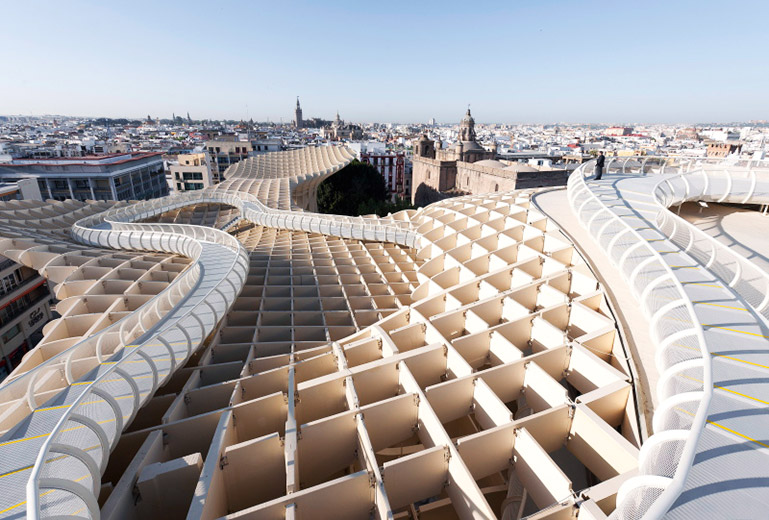 The urban intervention has established a distinctive relationship between the historical medieval city and the contemporary city beat. Respecting the presence of Roman ruins the architectural planning was dealt in such a manner as to leave the ruins undisturbed, while still obtaining a lively urban space. The exceedingly developed infrastructure aids in triggering the movement to the square and boosts the social life of Seville.
Realized as one of the largest and most innovative bonded timber-constructions with a polyurethane coating, the parasols grow out of the archaeological excavation site into a contemporary landmark, defining a unique relationship between the historical and the contemporary city.
"A good building redefines a place."
MAYER H. rethinks every program and tries to extract something that is special to the specific location, while including a pinch of unexpected.
A good building redefines a place. A good building brings a new vision. It also offers comfort but, at the same time, it challenges our expectations. And it is a kind of building that can be adapted, transformed, or entirely changed in the future without losing its very own characteristics.
The ancient massive pieces o architecture have been seen as a static architecture, which hosts the human activities, while the modern times require a participatory architecture that activates the context where is inserted, and gives room for interpretation and flexibility.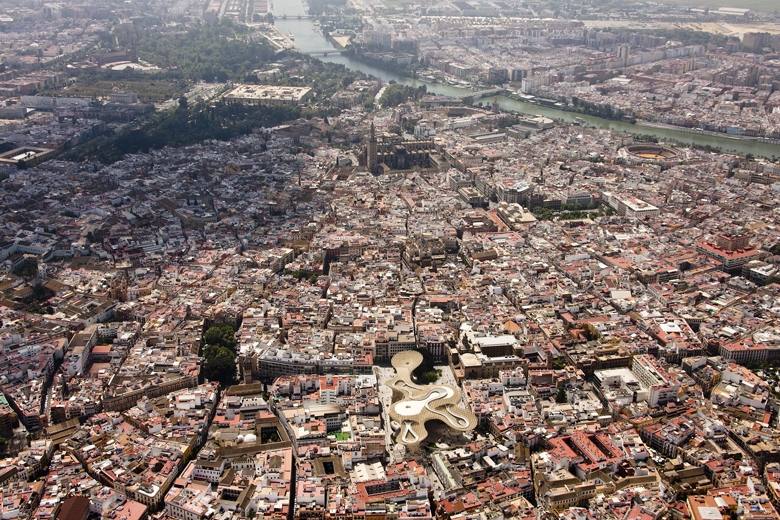 About the architect
Jürgen Mayer H. is a Berlin based German architect and founder of J.MAYER.H und Partner who studied at Universität Stuttgart, The Cooper Union in New York and Princeton University. His work has been published and exhibited worldwide and is part of numerous collections including MoMA New York, SF MoMA, Kunstbibliothek Berlin, State of Berlin Museum Prussian Cultural Heritage Foundation, Architekturmuseum der TU München as well as numerous private collections.
National and international awards include the Mies van der Rohe Award, emerging architect, special mention 2003; Holcim Award, winner Europe bronze 2005 and Audi Urban Future Award, winner 2010. Jürgen Mayer H. has taught at Princeton University, University of the Arts Berlin, Harvard University, Kunsthochschule Berlin, the Architectural Association in London, the Columbia University, New York and at the University of Toronto, Canada. He is member of the advisory boards at Princeton University Architecture School, The Bauhaus Stiftung Dessau, Flussbad Berlin e.V. and Make Shift Architecture Festival Berlin 2015. Juergen Mayer H. has been invited as a visiting critic at numerous institutions around the world, including Harvard University, Princeton University, Cornell University, University of Michigan, UCLA, UIC, T.U. Berlin, ETH Zurich, Rice University, TU Darmstadt, Delft University, Architectural Association and the Royal Academy in London.
Arch. Jürgen Mayer H. will be a great speaker at SHARE Budapest 2019. International speakers from countries like Norway, Germany, Serbia, Hungary, Netherlands, Romania, France, Denmark and UK confirmed their presence. This edition of SHARE Budapest 2019 will have 3 panels: Budapest Tomorrow – Large Scale Projects, Facades, and Special Guest lecture.