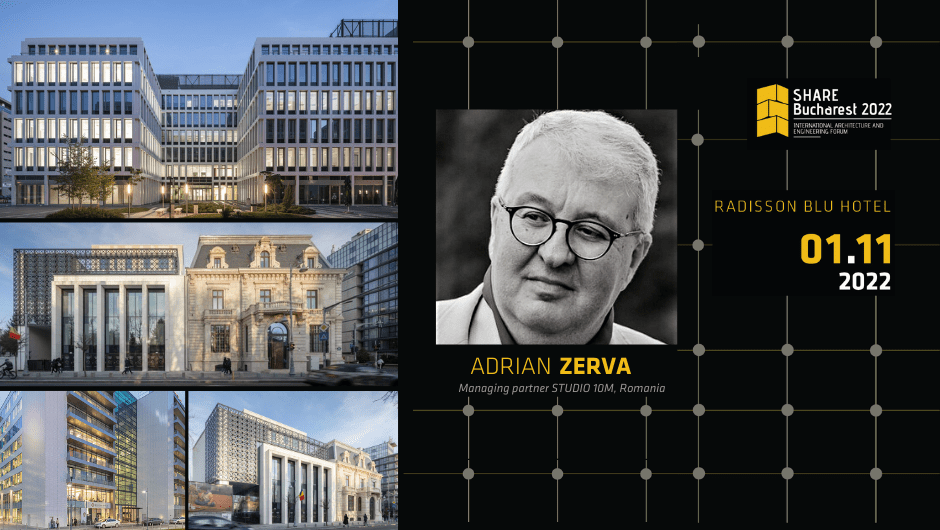 Adrian Zerva, speaker at the SHARE Bucharest 2022 Forum
Adrian ZERVA graduated from the Ion Mincu Institute of Architecture in 1980, a diplomat of Professor Victor Aslan. He participated in the team of architects Dorin Ștefan, Dinu Patriciu, Viorel Simion, Zoltan Tacacs, in the competition for the new library in Tehran, 1978. He participated in Dorin Ștefan's team in the competition for the revitalization of the Parisian district Les Halles in 1980. He also participated together with the architects Vlad Simionescu, Andrei Florian and the team, at a housing competition in the Netherlands, in 1986.
He worked as an architect at ISLG/Prodomus Bucharest 1982-1995. In 1991 he founded, together with architect Florin Medvedovici, the architecture and design office STUDIO 10 M Zerva, Croitoru, Medvedovici arhitecti asociati SRL. He is a member of the UAR since 1980 and a founding member of the OAR. Volunteer at the Architecture Institute – workshop Victor Aslan, Dorin Ștefan 1980-1982; associate university assistant 1995-1998 – Victor Ivaneș workshop; associate university professor UAUIM 2014-2016. Member of judging committees for architecture competitions initiated by private investors / investment groups. Participant in the National Architecture Biennale competitions, nominated projects. He obtained the UAR award for a housing project carried out within the ISLG.