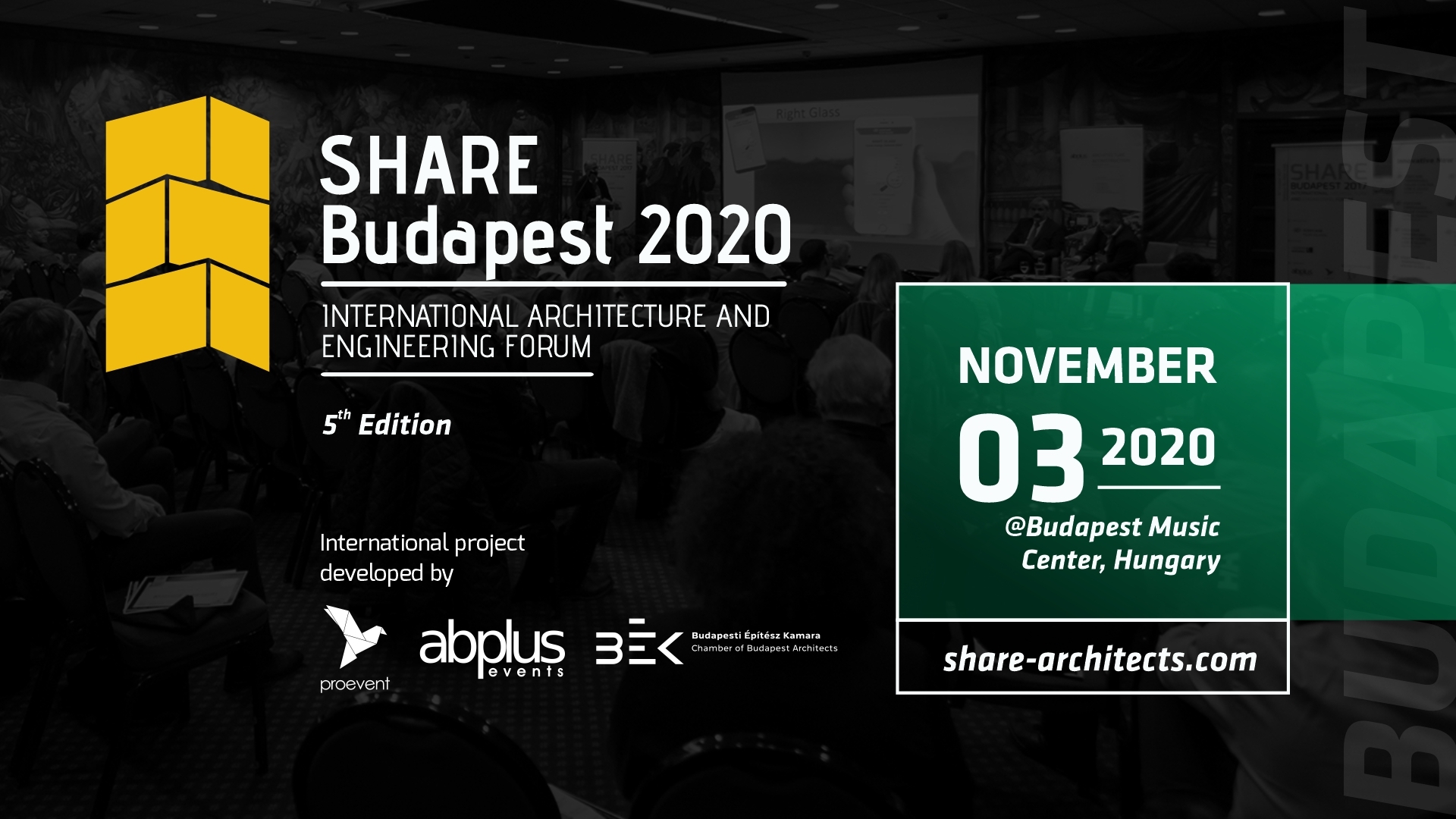 WELCOME to SHARE Budapest 2020 (V Edition)
SHARE Forum is one of the essential networking platforms for the construction-related fields in Central and Eastern Europe. We bring together principal and senior architects from leading practices to discuss about their recently awarded projects from the greatest architectural competitions worldwide.
The 5th edition of the International Forum of Architecture and Engineering, SHARE Budapest 2020 will be held ON 03rd of November at the Budapest Music Center. SHARE Budapest 2020 will be an exciting day of award-winning project presentations, debates, and workshops on all things architecture-related and beyond.
Organized by Pro Event Cultural Association in partnership with the Chamber of Architects of Budapest, SHARE Budapest 2020 looks ahead to bringing together delegated architects, municipality officials, students, engineers, urbanists and other professionals related to architecture field.
Chairman of the conference Mr.Csapó BALÁZS, President of the Chamber of Architects of Budapest and Mr. Florin Mindrigiu, Event Director and Founder of Pro Event Association will open this year's edition.
Location: Budapest Music Center (Budapest, Mátyás u. 8, 1093 Hungary)
Date & Time: 03rd November from 09:00 – 19:00
Audience: Everyone from the architectural field is welcome to attend our event. Tickets are already available on our website (see the link on the right).
About: International speakers from countries like Spain, Luxembourg, The Netherlands, UK, Israel, Greece, Poland, Albania confirmed their presence at SHARE Budapest 2020.
The event will feature lectures from international speakers, debates moderated by national and international architects from the SHARE network and workshops and the live jury evaluation of the projects registered for the "SHARE Future Projects Awards".
"SHARE Future Projects Awards" are at their first edition initiated by SHARE architects and were created to bring forward and promote the accomplishments in the field of constructions in Central and Eastern Europe. SHARE Future Project Awards aims to shed light on unfinished projects. SHARE Future Projects Awards will highlight what has not been released yet, but will be – architectural ideas that find themselves in the most joyful stage for those who built up the future, labeled as the "project". The winners announced after the jury evaluation during SHARE Budapest 2020, will reach the final of the competition which will take place during SHARE Bucharest European Festival.
The Budapest Music Center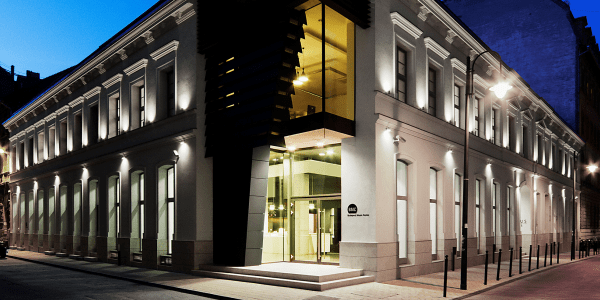 The Budapest Music Center is situated right next to Kálvin Square. Its primary objective is to establish an information center that collects and makes the data of Hungarian classic and jazz musicians, and Hungarian contemporary music available to the public. The center's concert hall has exceptional acoustic properties, and has been designed specifically for chamber music performances. The complex is also home to the International Eötvös Institute, which deals with the further training of young conductors and composers with the help of world-renowned artists. Furthermore, jazz lovers can listen to live performances at the BMC – Opus Jazz Club, which is able to house 120 people at once.
We invite you to meet our speakers and register for SHARE Budapest 2020!

Arch. Haim DOTAN / Founder of Haim DOTAN – ISRAEL
Published in the Guinness World Records 2019 edition, the Zhangjiajie Glass Bridge sets a new world record as the highest footbridge in the world
Designer of the world renown Chinese Zhangjiajie Grand Canyon Glass Bridge, the Israel pavilion in the World Expo 2010 in Shanghai, and institutional and commercial projects in Israel and worldwide, he is director of the award-winning international firm, Haim Dotan Architects and Urban Designers, with offices in Tel Aviv and Shanghai and focusing on innovative ecological architecture, urban design and planning.
Prof. Haim Dotan is a professor at Fudan University, Shanghai. He is the Director of the Ecological Architectural Design Institute at the DeTao Masters Academy, affiliated with the Shanghai Institute of Visual Arts (SIVA).
He is an architectural pioneer in developing construction techniques for tourism, educational, institutional, commercial and industrial projects and creates a new language in the global architectural landscape.

Arch. Fernando MENIS / Founder of Menis Architects – SPAIN
Best Performing Arts Project from Spain – BUILD Architecture Awards
Fernando Menis is an architect, PhD in Architecture, Associated Professor at the University of Hong Kong (HKU), the European University of Canarias (UEC) and Chairman of the Laboratory for Innovation in Architecture, Design and Advanced Tourism of Tenerife.
Winner on several occasions of the Regional Architecture Award of the Canary Islands, nationally and internationally, he is a finalist of the FAD and WAF Awards, of the Spanish Architecture Biennale, and is invited to participate consistently in the Venice Biennale or other exhibitions at the MOMA NY (2006), Aedes Berlin (2006), GA Tokyo (2009) and the recent addition (2013) to the permanent collection of MoMa NY with its Church of the Blessed Redeemer
In 2004, Menis founded the Menis Arquitectos studio with offices in Tenerife and Valencia. Independently or in co-authorship, Menis signs projects, already built as: Insular Athletics Stadium (2007), Magma Arte & Congresos (2005), Pool on the Spree River in Berlin (2004), Presidency of the Canary Islands Government (1999) as well as new projects in progress: Jordanki Auditorium in Poland, Fuerteventura Congress Center, Aurum House in Taiwan, Housing Tower in Taipei, Church in La Laguna.

Arch. Jim HEVERIN / Director at Zaha Hadid Architects – UK

Arch. Francois VALENTINY / Founder of hvp architects – LUXEMBOURG

Nomination for the Mies van der Rohe Award 2017 for the Ecology Center "Haff Remich", Biodiversum in Remerschen, Luxembourg
From 2003 to 2007 Valentiny was a member of the administration committee of the Fondation de l´Architecture et de l´Ingénierie à Luxembourg (today LUCA, Luxembourg Center for Architecture) which's president he became from 2006 to 2007. From 2004 until 2006 François Valentiny was Luxembourg's commissioner for the Venice Architecture Biennale.
In 2006 the opera building, das Kleinen Festspielhaus "Haus für Mozart"in Salzburg was inaugurated.
In 2010 Valentiny hvp architects & partners designed the "green heart of Europe" pavilion for the World Expo in Shanghai. Since 2011 François Valentiny has been a professor for "Community Planning and Green Architectural Design" at the DeTao Masters Academy (DTMA) and the Shanghai Visual Arts Institute (SIVA) in China. In the same year Francois Valentiny founded together with Sabine and Carlo Lovatelli, Dominique and Reinold Geiger the "Musica em in Trancoso – MeT" festival in Bahia (Brazil). Three years later the building of the "Teatro l'Occitane"that should from now on house the festival was inaugurated.
In 2014 the Studio Valentiny hvp architects & partners was founded in Shanghai, China. In the same year the Valentiny Foundation in Remerschen opened its doors to the public.

Arch. Dorte KRISTENSEN / Director at Atelier PRO – THE NETHERLANDS

Winner of WAN Healthcare Award
To affect social dynamics, Dorte Kristensen (Aarhus 1963) loves to play with threshold areas between public and private domain, where urban space meets building, thus creating opportunities for flexible interpretation.
Exemplary projects are the much-awarded Meander Medical Centre, Admiraal de Ruyter Hospital, Scheldehof Residential Care Centre and Willibrord Care Centre. She advocates multiple use that are demonstrated in multifunctional buildings, schools, town halls and cultural centres.
The Klinker Culture Centre and the Deventer Town Hall interior demonstrate the balance between functionality and social icon value.
Dorte frequently performs as keynote speaker at trade conferences on architecture of cure and care, education, culture and interior, national and internationally.

Arch. Lukasz PLATKOWSKI / Principal at GENSLER – UK

Gensler wins 2019 AIA Award for Interior Architecture with Hyundai Capital Convention Hall
To his role as a Tall Buildings Leader, Lukasz brings a wide range of experience designing large-scale commercial, residential and public spaces.
Since joining Gensler in 2004, Lukasz has participated in a variety of international and multicultural projects, where he's become known for his focus on challenging the boundaries of design.
He is a visiting tutor at the University of Nottingham's Department of Architecture and Built Environment and a past jury panel participant for the World Architectural News commercial awards program.

Arch. Tilemachos ANDRIANOPOULOS / Founder of Tense Architecture Network – GREECE

 1st Prize Winner in the Competition for the Regeneration of the Athens City Centre 
Founder of Tense Architecture Network_TAN (2004). The practice's work includes several first prize competition proposals as well as awarded residences: 'Residence in Megara' and 'Residence in Heraklion' were nominated for the Mies van der Rohe award (2015-2017) and 'Residence in Sikamino' was shortlisted for the same award (2013), while TAN participated in the Architecture Biennale of Venice twice (2012 and 2014).

Arch. Andrzej BULANDA / Co-Founder of Bulanda & Mucha Architects – POLAND

Winner of SARP Honorary Award
Andrzej Bulanda is a Polish architect, designer and partner at Bulanda & Mucha Architects. He is the co-creator with Włodzimierz Mucha of many award-winning competition projects and completed works such as the BRE Bank building in Bydgoszcz, the Old Paper Mill in Konstancin-Jeziorna, the Sports Hall in Konstancin-Jeziorna, the Cameratta complex at Eko-Park in Warsaw, the expansion of the Public Library building in Warsaw, the Prudential in Warsaw, the Kazimierz Pułaski Museum in Warka, the Koneser complex in Warsaw, Rother's Mills in Bydgoszcz, sports club "Deski", Piękna Nova in Warsaw and Chmielna 25 in Warsaw.

Arch. Armand VOKSHI / Founder of Avatelier – ALBANIA
Armand Vokshi is the founder of the company AVATELIER, after his experience as planner and as university professor, and then the acquired experience with the collaborations with important architectural European firms.
He has collaborated with other internationally renowned architectural firms such as Archea and Coop Himmelb (l) au for the competitions held in Tirana. He has taught since 2009 Study and Theory of Architecture at the Engineering Faculty of Tirana and Polis University. He has written for AND magazine and other newspapers
Armand Vokshi coordinates a teamwork that for many years participated in numerous contests of architecture in Albania, Italy and foreign countries getting recognitions and prizes and developing his own professional activity on the themes of the architectural and urban planning.
Why SHARE Budapest 2020?
● A leading conference programme with outstanding architects who present their recent international awarded projects;
● Thematics: Interior Architecture / Design & Furniture / Lighting Design/Facades/Roofs/ Insulation/ Landscape;International debate 'Transforming the world through architecture";
● SHARE Future Projects Awards on four categories:
1. Residential;
2. Offices and working spaces;
3. Hotel – SPA – Restaurants,
4. Public Spaces and Urban Development
● An exhibition of innovative architectural solutions, products, and services;
● Networking and social events like architectural tours, practices visits, and cocktails & conversation meetings;