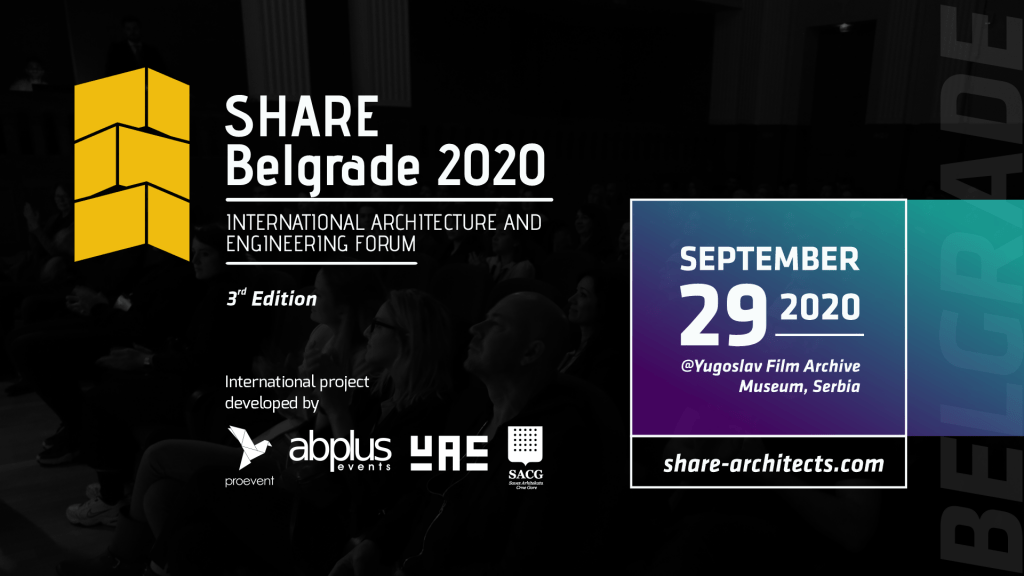 WELCOME to SHARE BELGRADE 2020 (III Edition)
SHARE Forum is one of the essential networking platforms for the construction-related fields in Central and Eastern Europe. We bring together principal and senior architects from leading practices to discuss about their recently awarded projects from the greatest architectural competitions worldwide.
The 3rd edition of the International Forum of Architecture and Engineering, SHARE Belgrade 2020 will be held on the 29th of September at the Yugoslav Film Archive Museum. SHARE Belgrade 2020 will be an exciting day of award-winning project presentations, debates, and workshops on all things architecture-related and beyond.
Organized by Pro Event Cultural Association in partnership with the Union of Architects of Serbia, SHARE Belgrade 2020 looks ahead to bringing together delegated architects, municipality officials, students, engineers, urbanists and other professionals related to architecture field.
Chairman of the conference Mr. Milan Duric, President of the Union of Architects of Serbia and Mr.
Florin Mindrigiu, Event Director and Founder of Pro Event Association will open this year's edition.
Location: Yugoslav Film Archive Museum
Date & Time: 29th of September from 09:00 – 19:00
Audience: Everyone from the architectural field is welcome to attend our event. Tickets are already available on our website (see the link on the right).
About: International speakers from countries like Spain, Israel, The Netherlands, Germany, UK, Greece, Poland, Slovakia, Bulgaria confirmed their presence at SHARE Belgrade 2020.
The event will feature lectures from international speakers, debates moderated by national and international architects from the SHARE network and workshops and the live jury evaluation of the projects registered for the "SHARE Future Projects Awards".
"SHARE Future Projects Awards" are at their first edition initiated by SHARE architects and were created to bring forward and promote the accomplishments in the field of constructions in Central and Eastern Europe. SHARE Future Project Awards aims to shed light on unfinished projects. SHARE Future Projects Awards will highlight what has not been released yet, but will be – architectural ideas that find themselves in the most joyful stage for those who built up the future, labeled as the "project". The winners announced after the jury evaluation during SHARE Belgrade 2020, will reach the final of the competition which will take place during SHARE Belgrade European Festival.
Yugoslav Film Archive Museum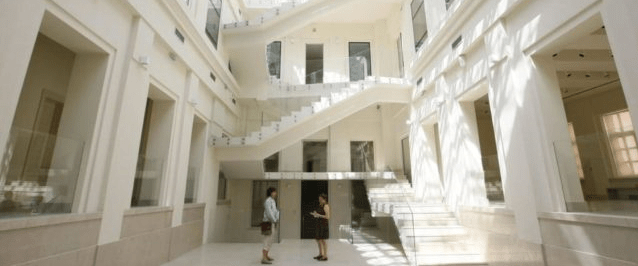 The Yugoslav Film Archive is a film archive located in Belgrade, the capital of Serbia. Founded in 1949, it is a founding member of the International Federation of Film Archives and was the national film library of the Yugoslavia and currently of the Republic of Serbia. The film collection contains over 95,000 film prints of various national productions, of all genres, silent and sound, black & white and color, both nitrate and acetate. Around 85% of the entire film collection consists of foreign film material, including some previously considered lost, which makes the archive particularly interesting for film archivists and researchers from all over the world.
We invite you to meet our speakers and
register for SHARE Belgrade 2020!

Arch. Tobias Wallisser – co-founder of L-A-V-A – Germany
Tobias Wallisser is Professor of Innovative Construction and Spatial Concepts and Vice-President at the State Academy of Fine Arts in Stuttgart. As Associate Architect at UN-Studio in Amsterdam for 10 years he was responsible for many projects including the Mercedes-Benz Museum, Germany. In 1997 he received a post-graduate degree from Columbia University (NY). He worked for Asymptote Architecture on the Virtual New York Stock Exchange in 1997 and for German firm KTP on an award-winning low-energy office project in Germany. He lectures at universities throughout Europe and has won many awards.

Arch. Arjan DINGSTE – director at UNstudio – The Netherlands
Arjan Dingste is Director and Senior Architect at UNStudio, responsible for the managerial, technical and aesthetic aspects of projects from concept to construction. He defines design strategies and manages external relations with clients and consultants in conjunction with internal project coordination. Having worked on several key projects of the office, such as the Mercedes-Benz Museum in Stuttgart, the Arnhem Central multimodal station, the Booking.com campus and several other complex projects, like mixed-use, hotel, commercial, public and large-scale infrastructure projects, Arjan has developed an integrated approach to design management and process management and buildability aspects of complex architectural geometries. Currently, Arjan is also responsible for the design process of the Cable Car in Gothenburg.

Arch. Michael SETTER – founder of Setter Architects – Israel
Architect Michael Setter is the sole owner of Setter Architects – which is considered one of the most appreciated Interior Design offices in Israel. Michael has participated in numerous events, conferences and competitions in Israel and around the globus.
Though he has a very tight schedule, he finds the time to be a guest speaker in Israeli faculties of Interior design in order to inspire the young generation and empower their motivation.

Arch. Franch BATLLORI – founder of EMF landscape architecture – Spain
Martí Franch Batllori, Landscape Architect by the University of Greenwich and Horticulturalist by ESAB in Barcelona, is the founder & principal of 'EMF landscape architecture'. EMF is an interdisciplinary practice of independent experts in the field of urban and environmental design, exercising internationally. EMF was settled in 1999 after professional and academic training in London, Amsterdam and Berlin. Ever since, Franch explorers hybrid ways between ecological systems & cultural constructs to inform projects and build up new realities.
His work has been internationally published and awarded with a LILA landezine international landscape award 2016, ASLA American Society of Landscape Architects Honor Award 2012, European Landscape Biennal – Rosa Barba Prize 2012, as well as selected finalist in FAD 2012, Rosa Barba Prize 2010, CCCB European Prize of Public Space 2012 among others.

Arch. Ilias PAPAGEORGIOU – founder of PILA – Greece
lias Papageorgiou is a Greek architect and founder of PILA. He brings extensive experience from Europe and America, having led the design and realization of high profile cultural, commercial and residential projects around the world. Prior to founding PILA, Ilias was a partner at SO-IL in New York, collaborating with clients including MINI/BMW, Versace, Google, AirBnB, Frieze Art Fair, Manetti Shrem Museum at UC Davis, the Guggenheim Museum, and the New Museum in New York.
Ilias's work has been internationally recognized, having been awarded as a Curbed Groundbreaker, Architects under 50, Domes International Review of Architecture Awards, and the Young Greek Architects Awards. His work has been widely published and exhibited in institutions such as the Venice Architecture Biennale in Italy, the Museum of Modern Art in New York, the Cooper-Hewitt Design Museum in New York and the Benaki Museum in Athens.

Arch. Juraj HERMAN – managing director at P – T spol. Ltd – Slovakia
President of the Association of Architects of Slovakia, Managing Director of P – T spol. Ltd. in Bratislava, winner of many architectural awards, with a large portfolio in the construction projects for companies as Carrefour, Polus Eurotel, T. A. P. International, Trigranit Development Slovakia, IMMOEAST, J&T REAL ESTATE.

Arch. Oskar GRĄBCZEWSCY – co-founder of OVO Grąbczewscy Architekci – POLAND
OVO Grąbczewscy Architekci is an award-winning architectural practice based in Katowice. Our goal is to provide the best solutions for our clients while creating individual architecture without compromising on space and material quality. We work on all scales – from urban planning, large buildings to individual houses, interiors and furniture. We have won over 50 awards and distinctions at international and national competitions and architectural reviews since 2002.

Arch. Martin HRISTOV – founder of E-arch Studio – Bulgaria
Why SHARE Belgrade 2020?
● A leading conference programme with outstanding architects who present their recent international awarded projects;
● Thematics: Interior Architecture / Design & Furniture / Lighting Design/Facades/Roofs/ Insulation/ Landscape;International debate 'Transforming the world through architecture";
● SHARE Future Projects Awards on four categories:
1. Residential;
2. Offices and working spaces;
3. Hotel – SPA – Restaurants,
4. Public Spaces and Urban Development
● An exhibition of innovative architectural solutions, products, and services;
● Networking and social events like architectural tours, practices visits, and cocktails & conversation meetings;