Check SHARE Athens 2019 Report
WELCOME to SHARE ATHENS 2019, 2nd Edition
Following a year of 11 incredible events, we're closing the sequence of SHARE conferences with SHARE Athens 2019. The event will bring together over 300 delegates from all over Greece, as well as 24 international speakers who will delight all delegates with insightful architectural projects, presentations, and workshops.
This year's 2nd edition is organized by the PROEVENT Cultural Association in collaboration with the Hellenic Institute of Architecture and The Consultative Council of Architects in Central and Eastern Europe (CCA-CEE). A warm welcome to the speakers on stage and honorary guests:
– Arch. Elias CONSTANTOPOULOS, President at the Hellenic Institute of Architecture – GREECE
– Arch. Șerban ȚIGĂNAȘ, UIA General Secretary and SHARE Society President
– Arch. Vassilis SGOUTAS, UIA Past President
– Arch. Tomaž KRIŠTOF, president at the SLOVENIAN Chamber of Architecture and Spatial Planning
– Arch. Christos CHRISTODOULOU, President at Cyprus Architects Association
– Arch. Wassim NAGHI, President at the Union of Mediterranean Architects – LEBANON
– Arch. Evangelos LYROUDIAS, Past President SADAS.
SHARE Opera Omnia Distinction:
Architect Nicos VALSAMAKIS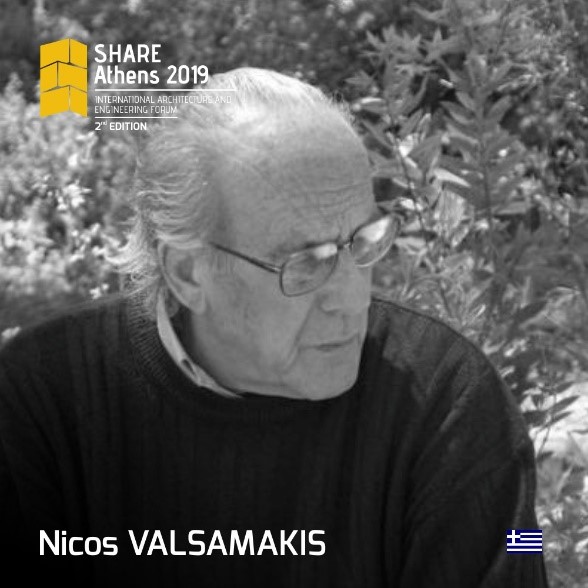 For noteworthy accomplishments in the field of architecture, as well as for the role played in developing significant architectural projects throughout his career, the SHARE Opera Omnia Distinction goes to architect Nicos VALSAMAKIS – GREECE. The distinction will be handed by Șerban ȚIGĂNAȘ – UIA General Secretary and SHARE Society President, Elias CONSTANTOPOULOS – president at the Hellenic Institute of Architecture – GREECE and SHARE Fellow, Vassilis SGOUTAS – co-founder at Sgoutas Architects
Chairman SHARE Athens 2019
Architect Elias CONSTANTOPOULOS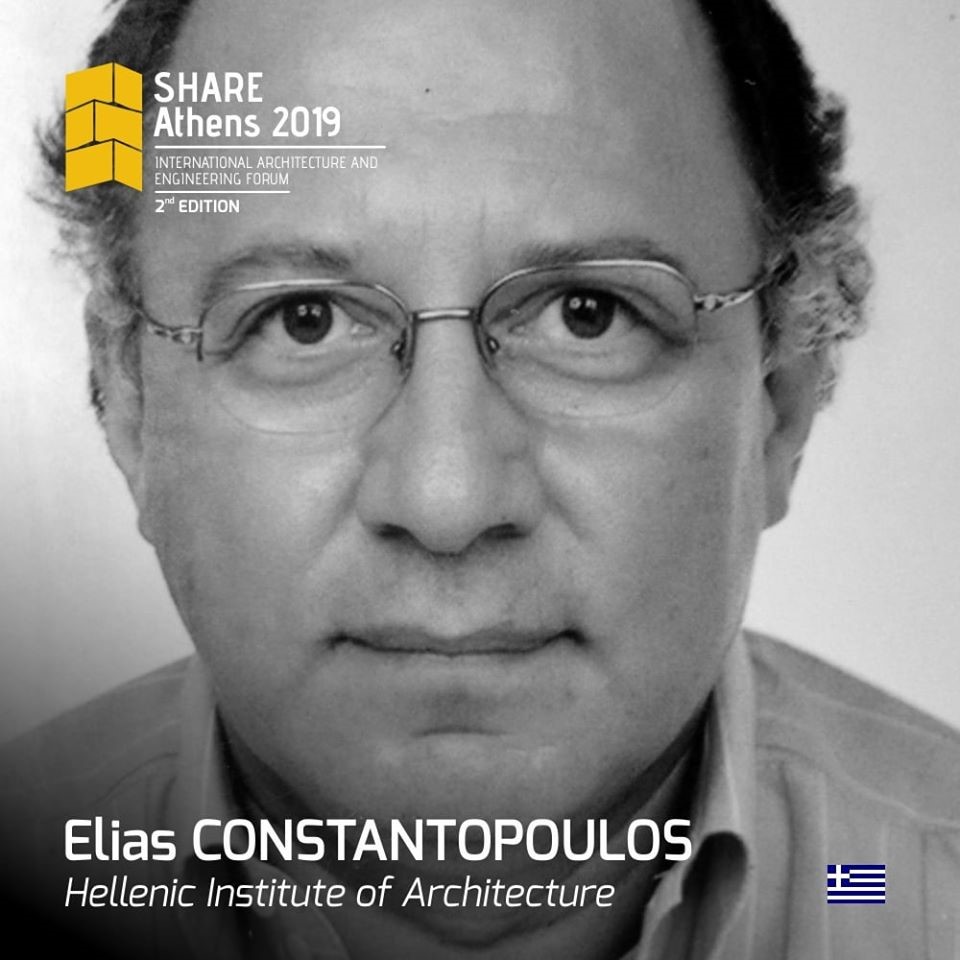 President of Hellenic Institute of Architecture, Constantopoulos is a Professor in the Department of Architecture of University of Patras, Greece and Vice-President of Hellenic Society of Aesthetics in Athens, Greece.
Great Speakers
Arch. FRANCISCO MANGADO – Born in Navarre in 1957, Francisco Mangado earned his architecture degree from the University of Navarre School of Architecture in 1982, and has since made this institution the center of a teaching career that has seen him serve as Guest Professor at Harvard's Graduate School of Design (1996-97/1997-98/2000-01/2007-08), Eero Saarinen Visiting Professor at Yale's School of Architecture (2008-09), Guest Professor at l'École Polytechnique Fédérale de Lausanne (2010-11/2011-12), Baird/Gensler Visiting Professor at Cornell University (2013-14/2014-15) and Guest Professor at Milan Polytechnic (2015/2016). In August 2014, the Congreso University of Ciudad de Mendoza-Argentina named him Honorary Professor. He is a Professor of Projects at his alma mater besides Professor Extraordinaire of Projects in its Master of Architectural Design program.
In June 2008 he set up the Architecture and Society Foundation, which aims to help increase architecture's interaction with other fields of creation, thought, and action.
In July 2015 the Spain's Governing Council for Biennials appoints Francisco Mangado General Coordinator of Spanish Biennials. Under his coordination the Spain Pavilion in Venice was awarded with the Golden Lion of the Bienal in May 2016.
Notable among Mangado's works are the Congress Center and Auditorium of Pamplona, the Place Pey Berland in Bordeaux, the Place Dali in Madrid, the Municipal Exhibition and Congress Center of Ávila, the Archaeology Museum of Vitoria, the Football Stadium of Palencia, the Spanish Pavilion at Expo Zaragoza 2008, and the Auditorium of Teulada. More recent projects include the Fine Arts Museum of Asturias in Oviedo, the Congress Center of Palma de Mallorca and the building of the New Headquarters of Norvento Enerxia in Lugo.
Keynote Speakers
Prof. Arch. DIETMAR EBERLE– Partner at Baumschlager Eberle Architects – AUSTRIA and Keynote Speaker at SHARE Athens Eberle has taught regularly at various universities since the 1980s. He has been a visiting professor inter alia in Hanover, Vienna, Linz, Syracuse (NY) and Darmstadt. In addition, he has taught in Madrid, Jerusalem, Hong Kong, and Barcelona. Since 1999 Eberle has been a full professor for Architecture and Design at the ETH Zurich and was in charge of the ETH Wohnforum up to 2015, where he was head of the Department of Architecture from 2003 to 2006.
Arch. CHRISTOS PASSAS –  Associate Director at ZAHA HADID – UK and Keynote Speaker at SHARE Athens 2019. He has worked at ZHA as a Senior Designer since February 1998 and has subsequently worked as Project Director on numerous projects and winning competitions. He received his Graduate Design Diploma in 1998 in Advanced Architectural Design at the Architectural Association, London. He teaches Parametric Design and Urbanism at the Architectural Association in London and is Guest DAAD Professor in the Dessau Institute of Architecture (HA) at Bauhaus, Dessau.
JAN KNIKKER– Partner at MVRDV where he leads the Contracts, Business Development and Public Relations Department of the office. In his work, Knikker is focused on strategic development and diversification. He leads MVRDV's branding efforts and has overseen the practice's rapid expansion into new markets, focusing on solutions for global issues through its architecture and urbanism. Their highly collaborative, research-based design method involves clients, stakeholders, and experts from a wide range of fields from early on in the creative process.
Guest Speakers
Arch. COLIN BALL – lighting director at BDP – UK and guest speaker at SHARE Athens 2019. His current work includes the Palace of Westminster, UCL and the University of Cambridge. Colin has a particular interest in developing innovative techniques for lighting within World Heritage venues plus Carbon Exemplary projects for cutting edge science institutes. From a background education in architecture, the architect has worked as a Lighting Designer for 19 years with 10 years of experience at Speirs. 
Arch. MELIKE ALTINISIK – Founder and Design Principal of Melike Altınışık Architects – MAA – TURKEY. Melike is an award-winning architect, designer, and educator dedicated to developing an innovative approach towards architecture, urbanism, and design. Her work includes prize-winning projects such as Istanbul Çamlıca TV and Radio Tower (Istanbul, Turkey – Underconstruction). Prior to forming her practice in Istanbul, she has worked in London as a Lead Architect with Zaha Hadid Architects (2006 – 2013).
Arch. ANDREAS VARDAS – Founder of Vardas Studio, Andreas Vardas graduated from the Bartlett School of Architecture, UCL, in 1993 and gained his working experience in London. He is a member of the RIBA, as well as ETEK. The studio's work includes a number of individual houses, housing development as well as public buildings and a healthy number of competitions. The practice has earned many awards in competitions as well as the Republic of Cyprus President's award. It has also represented Cyprus in the European Mies Van Der Rohe award.
Arch. ALEXANDROS VAITSOS – founder of DECA architecture – GREECE, an internationally recognized architecture practice that seeks insight within context to make buildings, landscapes, and objects. The work of the office amplifies the senses, engages with interdisciplinary intelligence, subverts convention and strives to create experiences with value beyond expectation. Based in Athens, DECA Architecture has engaged in projects across Greece and Europe.
Arch. STEPHAN BUERGER – Co-founder and Partner of Buerger Katsota Architects, Stephan has served as independent expert of the Mies van der Rohe Award European Union Prize for Contemporary Architecture as well as member of various architectural committees and competition juries, including the Hellenic Institute of Architecture Awards. As editor of ΔΟΜΕΣ International Review of Architecture, Stephan edited 59 issues, 2 Greek Architecture Yearbooks, curated 5 exhibitions and organised 3 European architectural competitions and their respective publications.
Arch. ILIAS PAPAGEORGIOU – Founder of PILA, Ilias's work has been internationally recognized, having been awarded as a Curbed Groundbreaker, Architects under 50, Domes International Review of Architecture Awards, and the Young Greek Architects Awards. His work has been widely published and exhibited in institutions such as the Venice Architecture Biennale in Italy, the Museum of Modern Art in New York, the Cooper-Hewitt Design Museum in New York and the Benaki Museum in Athens.