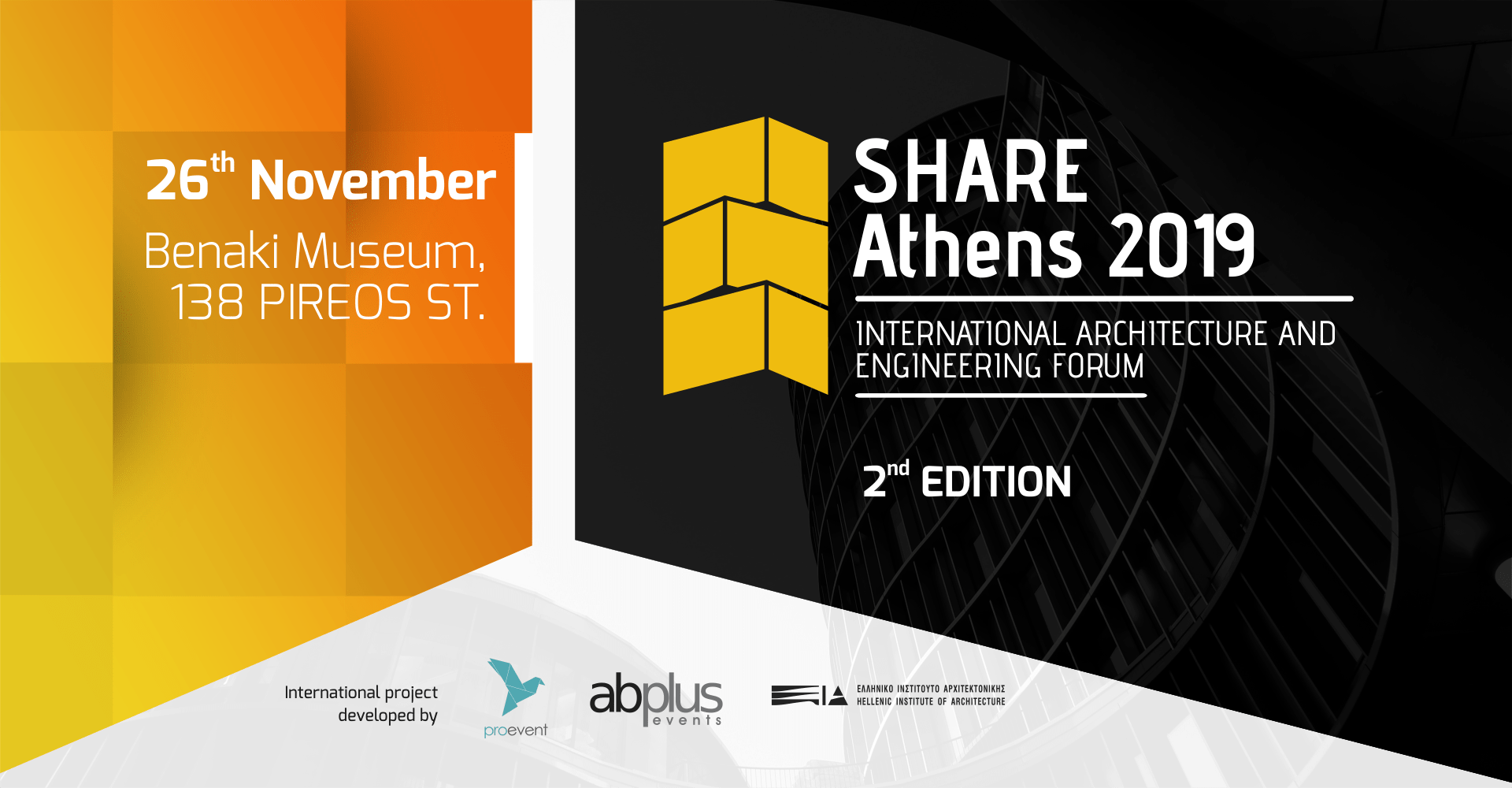 WELCOME to SHARE ATHENS 2019 (II Edition)
Following a year of insightful and exciting conferences spread across Eastern Europe, SHARE Architects continues its mission to bring excellence in architecture with the 2nd edition of SHARE in Athens. Join us on November 26th, at Benaki Museum for a full day of interactive talks on all things architecture-related. It's time to put creative ideas in the right context. At SHARE Athens you'll have the opportunity to learn, interact with like-minded people, and find inspiration for your next big project.
SHARE Forum is one of the essential networking platforms for the construction-related fields in Central and Eastern Europe. We bring together principal and senior architects from leading practices to discuss their recently awarded projects from the greatest architectural competitions worldwide.
Location: Benaki Museum, 138 PIREOS ST.
Date & Time: 26th November at 9:00 – 18:00
Audience: Everyone from the architectural field is welcome to attend our event.
SHARE Athens 2019, International Architecture and Engineering Forum will take place at the Benaki Museum Athens and will gather over 250 architects, landscape architects, designers, lighting designers, engineers, urbanists, real estate developers and from public institutions, architecture, and design students, companies with innovative solutions in the construction field, other professionals related to architecture field.
The International Architecture and Engineering Forum is organized by PROEVENT Cultural Association and the Hellenic Institut of Architects. The 2nd edition of SHARE Sofia will have 3 panels: Large scale projects, Facades + Architecture, and Special Guest Presentation. Great Speaker Eduardo Souto de Moura/ Pritzker Prize Laureate – Portugal will hold a special presentation and debate.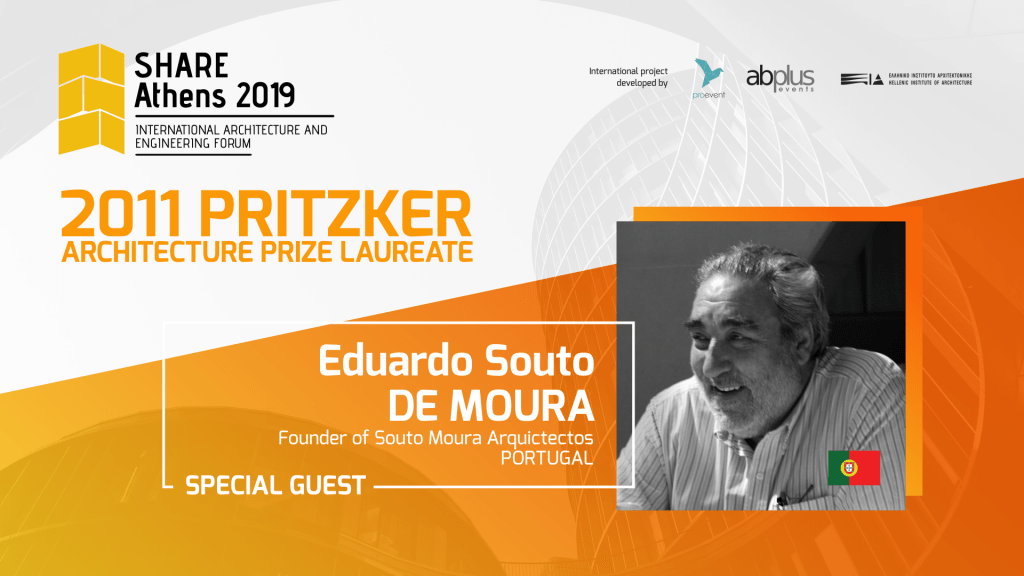 Special guest: Arch. EDUARDO SOUTO DE MOURA – PORTUGAL
Eduardo Souto de Moura (born 25 July 1952), is known for designs that are formally simple yet serious and at times, dramatic, created through his thoughtful use of colors and materials. He is frequently invited as a guest professor to Lausanne and Zurich in Switzerland as well as Harvard in the United States. Along with his architecture practice, Souto de Moura is a professor at the University of Oporto, and is a visiting professor at Geneva, Paris-Belleville, Harvard, Dublin and the ETH Zurich and Lausanne. In 2011, he was awarded the Pritzker Prize; the jury praised Souto de Moura for "his unique capacity to embrace reality while employing abstraction," noting that Souto de Moura's architectural language "transforms physicality into the metaphysical." In 2013 he was also rewarded the Wolf Prize in Arts.
Keynote speaker: prof.arch. Dietmar EBERLE/ Partner at Baumschlager Eberle Architects – GERMANY
Eberle enrolled at the Technische Universität Wien as a student of architecture in 1973 and graduated under Anton Schweighofer in 1978. Having completed his studies, he spent years working in Teheran where he was involved in a town planning study and new town planning.
One of a group of young architects who studied in Vienna in the 1970s, Eberle returned to Vorarlberg in the 1980s to carry out building projects there. He is one of the founding members of the Vorarlberg Architects. While still an undergraduate he teamed up with Markus Koch, Norbert Mittersteiner and Wolfgang Juen in 1979 to found the Cooperative Bau- und Planungsgesellschaft (1979-1982). 1982 saw the founding of the architectural practice of Eberle Egger.
Eberle has taught regularly at various universities since the 1980s. He has been a visiting professor inter alia in Hanover, Vienna, Linz, Syracuse (NY) and Darmstadt. In addition he has taught in Madrid, Jerusalem, Hong Kong and Barcelona. Since 1999 Eberle has been a full professor for Architecture and Design at the ETH Zurich and was in charge of the ETH Wohnforum up to 2015. He was head of the Department of Architecture from 2003 to 2006.

© Anh Viet Nguyen / Concerto House/ Baumschlager Eberle Architects
Keynote speaker: arch. Robert KONIECZNY/ Founder at KWK Promes – POLAND
Robert Konieczny graduated from the Silesian University of Technology in Gliwice and continued his studies at the New Jersey Institute of Technology in 1996. He is the founder of KWK Promes, established in 1999.
Konieczny is also a ten-time nominee for the Mies van der Rohe Award and won the House of the Year award organised by World Architecture News in 2006. In 2009, his Safe House was shortlisted at the World Architecture Festival and the OUTrial House was a finalist for the LEAF Awards.
In 2016, the practice's Dialogue Centre in Szczecin was named the Best Public Space in Europe by the CCCB. The same project was also named the World Building of the Year in 2016 at the World Architecture Festival; the first time this award has been given to a Polish project.
Recently, Konieczny's Ark, another private house by the practice, was also named the best new private house by Wallpaper.
In addition to this, Konieczny is also one of the most published Polish architects. His texts have found their way into prominent magazines and have caught the interest of established publishers such as Taschen and Phaidon. Konieczny was also included in Hans Ibeling's European Architecture since 1890, making KWK Promes the only studio founded after 1989 that is mentioned in the book.

© Juliusz Sokołowski / National Museum in Szczecin Dialogue Centre Przelomy / KWK Promes
Guest speaker: ARCH. COLIN BALL / LIGHTING DIRECTOR AT BDP – UK
Colin Ball leads the London office of BDP's award winning Lighting Team. His current work includes the Palace of Westminster, UCL and the University of Cambridge. He has a particular interest in developing innovative techniques for lighting within World Heritage venues plus Carbon Exemplary projects for cutting edge science institutes. From a background education in architecture Colin has worked as a Lighting Designer for 19 years with 10 years experience at Speirs . As an organiser of a London Light & Film Festival Colin also delivers talks on parallels of Lighting between Films, Theatre & Architecture.He won many awards for the UK Pavilion Milan Expo 2015, the Best Lighting, Best Landscape Lighting, the A.L Architectural Lighting Award: 2015 Commendable Achievement.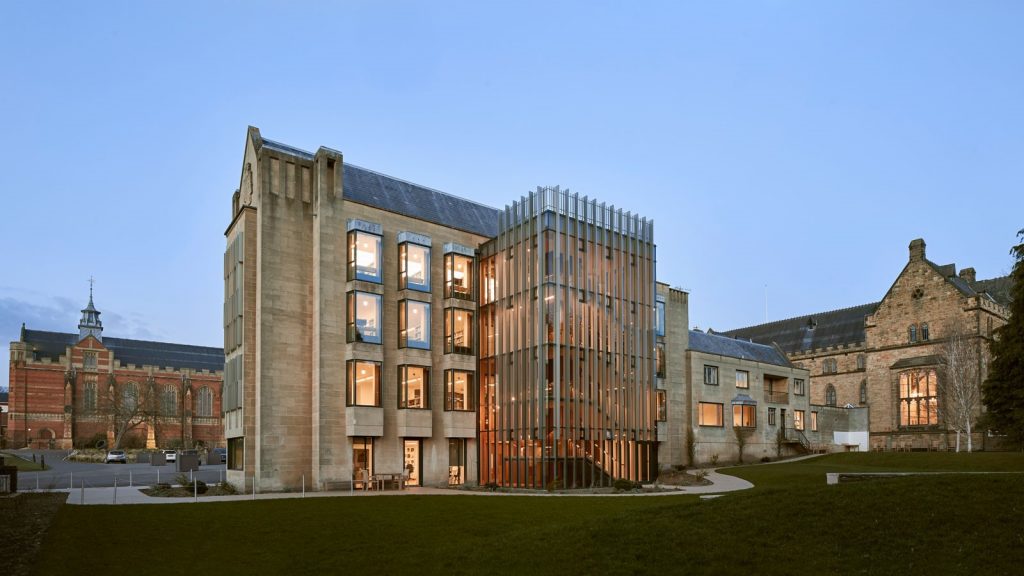 Guest speaker: MELIKE ALTINISIK/ Founder and Design Principal of Melike Altınısık Architects – MAA – TURKEY
She is an award-winning architect, designer and educator, who is dedicated to develop an innovative approach towards architecture, urbanism and design. Her design work received a number of prestigious design awards including EUROPE 40 under 40, FEIDAD Design Award 07' and Swiss Art Award. Her work includes prize winning projects such as Istanbul Çamlıca TV and Radio Tower (Istanbul, Turkey – Underconstruction). Prior to forming her practice in Istanbul, she has worked in London as a Lead Architect with Zaha Hadid Architects (2006 – 2013).
Guest speaker: Arch. KEN MACKAY / SENIOR PARTNER AND FOUNDER AT MACKAY+ PARTNERS – UK
Ken leads the firm and has been involved in major architectural and interior projects in the UK and across the world. Many of the projects he has overseen have won international awards, including those for architectural design effectiveness, interiors, lighting and product, and space management. He went on to work as design director on London's Royal Opera House redesign with celebrated architects Jeremy Dixon and Ed Jones before setting up architectural firm Harper Mackay / MAK with David Harper in 1987 and then Mackay + Partners in 2004.
His project "Minories Hotel" has been awarded many prizes such as German Design Awards Excellent Communications Design Architecture (2018), Architecture Masterprize Awards Gold in Architectural Design / Hospitality Architecture (2016), Build Architecture Awards, UK & Recognised Leader in New Facade Technology (2016).
Guest speaker: Arch. Andreas VARDAS / Founder of Vardas Studio – CYPRUS
Vardastudio is located in Paphos and was established by Andreas Vardas in 1997. Andreas Vardas graduated from the Bartlett School of Architecture, UCL, in 1993 and gained his working experience in London. He is a member of the RIBA, as well as ETEK. The studio's work includes a number of individual houses, housing development as well as public buildings and a healthy number of competitions. The practice has earned many awards in competitions as well as the Republic of Cyprus President's award. It has also represented Cyprus in the European Mies Van Der Rohe award.
The studio's design agenda is focused on two points: a clear architectural response to the site and the client's brief, and simplicity in form. Each project is tackled in a unique way, and becomes a direct response to its environmental conditions, an integral part of the landscape. Built and natural environment must interact as closely as possible to provide the best spatial experience to the end user. The built form is simple and functional, with different functional elements expressed and accentuated. Detailing is kept simple and beautiful. Ornamentation has no place in the design process. Instead, materials are used in imaginative ways to provide texture and atmosphere.