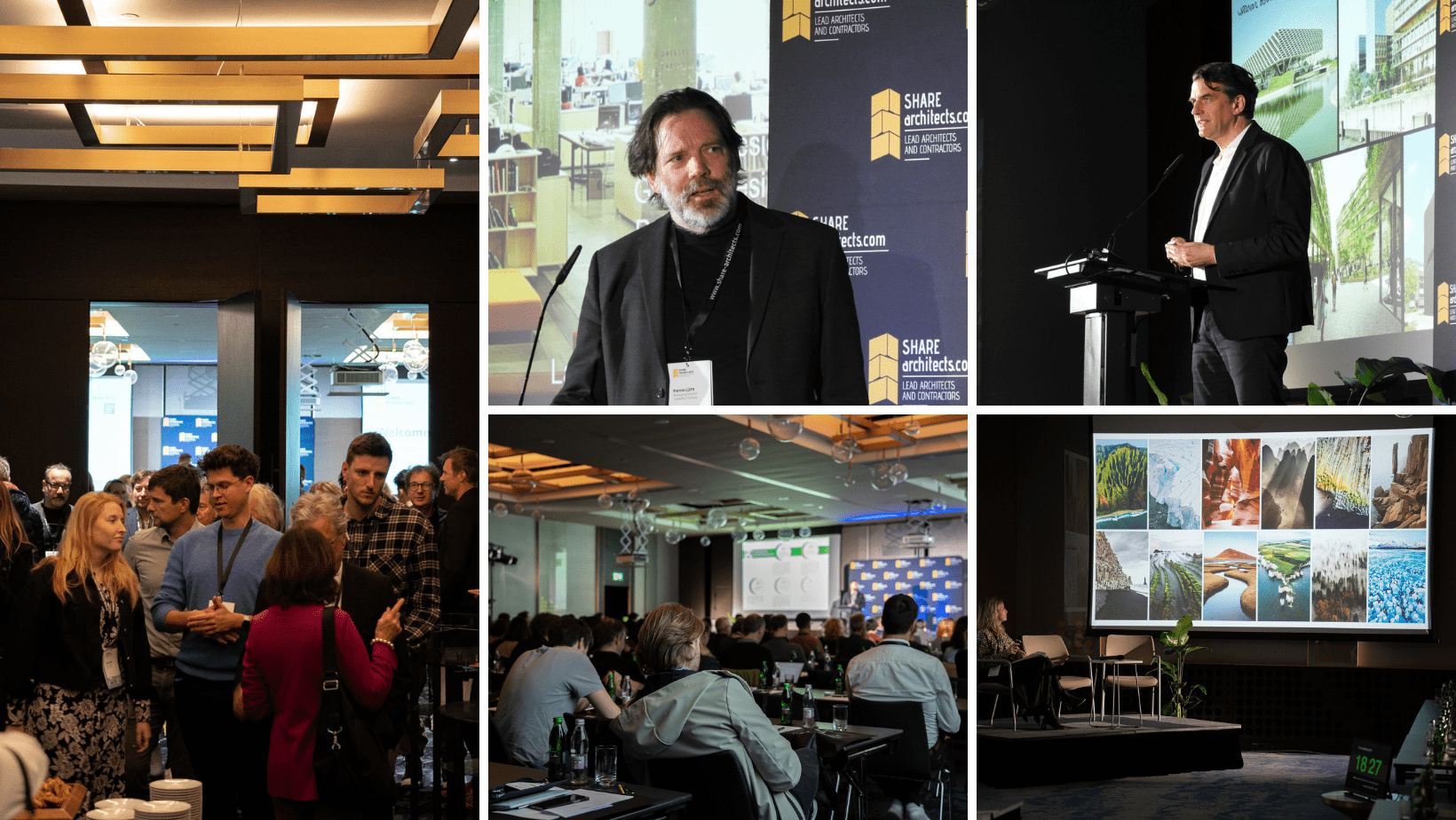 SEE HOW IT WAS // SHARE Slovenia 2023: A Conference Fostering Innovation and Collaboration
On April 25th, SHARE Forum took place at the Intercontinental Ljubljana Hotel in Ljubljana, Slovenia. The great event gathered over 200 participants. Attendees had access to knowledge and new opportunities for collaboration through the various sessions and discussions.
SHARE Slovenia 2023 was organized by SHARE Architects, the leading networking platform for architects in Central and South Eastern Europe. The event was held in partnership with the Chamber of Architecture and Spatial Planning of Slovenia, with support from companies including Everest (partner), Delight, Saint Gobain (sponsors), and Proud Partner of SHARE Community Zumtobel.
Official Opening
SHARE Slovenia 2023 started with a warm welcoming message offered by our event organizers and distinguished guests. We were honored by the presence of Tomaž Krištof, President of the Chamber of Architecture and Spatial Planning of Slovenia, the chairman of the event who passed his enthusiasm on to the participants.
New members of SHARE Architects Society
SHARE Architects Society was pleased to welcome new honorary members to its prestigious community, such as Patrick Lüth, Managing Director Snohetta, Norway, Aljoša Dekleva, Co-founder Dekleva Gregorič Architects, Slovenia, Ernst Giselbrecht, Founder Ernst Giselbrecht + Partner, Austria, Gregor Turnsek, Partner JKMM, Finland, Roman Kristesiashvili, Senior Architect / Associate Unstudio, The Netherlands, Roland Bechmann, Director Werner Sobek, Germany, Andraž Keršič, Co-Founder a2o2 arhitekti, Slovenia, Marko Dabrović, Founder 3LHD, Croatia, Nina Granda, Chief Editor Outsider Magazine, Slovenia, Ana Kosi, Founder Kosi In Partnerji, Slovenia.
SHARE Architects Society is an exclusive group within SHARE Architects framework through which architects can confront ideas and conceptions, acting as a catalyst for debates and actions, closed community access based on recognized membership granted by excellency.
Plenary Session #1
Great Speaker Presentations
GREGOR REICHENBERG, Deputy Mayor, City of Maribor
Gregor Reichenberg's presence was of great importance as it provided attendees with insight into Maribor's rich cultural heritage and how it can be integrated into contemporary architecture and urban planning. Reichenberg's presentation focused on the city's cultural landmarks and the role they play in shaping Maribor's identity. He also discussed the city's efforts to preserve and promote its cultural heritage through various initiatives and projects.
ANDRAŽ KERŠIČ, Co-Founder a2o2 arhitekti, Slovenia | "Next generation for renovation"
Case studies: House M21, House MM, Renovation of the Bled Island
Keršič's presentation focused on the possibilities for renovating existing structures, regardless of their heritage status. The audience gained insight into the complex process of renovating existing buildings, with a focus on uncovering potential in even the most benign existing condition. Keršič also highlighted the importance of preservation as a method of architectural practice. Throughout the presentation, Keršič demonstrated an innovative approach to combining new technologies with traditional crafts and heritage in an inclusive dialogue. The use of durable, long-lasting natural materials was also emphasized as a key factor in providing persistent, agelessly pleasing living conditions.
ROLAND BECHMANN, Partner Werner Sobek, Germany | "Circular and Climate-Neutral: The Transformation of the Building Sector"
Case Studies: Train Station Stuttgart 21, Calwer Passage Stuttgart, Urban Mining and Recycling Unit
His presentation focused on strategies to minimize the carbon footprint of complex projects. He presented innovative solutions for material optimization, circular design, and sustainable facades, and discussed their potential for reducing the impact of the building sector on the environment. The case studies showcased the practical application of these strategies, highlighting the ways in which they can be implemented in real-world projects. Attendees gained valuable insights into the possibilities for reducing the environmental impact of the building sector and the importance of prioritizing sustainable design in all stages of the construction process.
ROMAN KRISTESIASHVILI, Senior Architect / Associate UNStudio, The Netherlands  |  "Versatile User-Oriented Business Model"
Case Studies: Kutaisi International Airport, Georgia;  TBC Bank HQ
Roman Kristesiashvili, Senior Architect/Associate at UNStudio presented case studies of successful business models that utilized a user-oriented design philosophy, which prioritized well-being, journey, and curiosity. The Kutaisi International Airport in Georgia and the TBC Bank HQ were among the selected projects that showcased this philosophy and its ability to transcend existing typologies.
Technical presentations in the first session
MERLIN VALTERI, Sales Manager EVEREST Aluminium | "Everest – Build a better world with quality aluminum profiles"
Plenary Session #2
ALJOŠA DEKLEVA, Co-founder Dekleva Gregorič Architects, Slovenia | "SUSTAINABLE ATTITUDE"
Case Studies: Sunken Design Studio, Campus Livade, Science Centre Ljubljana
Aljoša Dekleva, co-founder of Dekleva Gregorič Architects from Slovenia, presented a lecture titled "SUSTAINABLE ATTITUDE" where he highlighted the importance of designing buildings with a sustainable attitude. Through case studies such as the Sunken Design Studio, Campus Livade, and Science Centre Ljubljana, he demonstrated the value of building with a focus on material context, social responsibility, and programmatic adaptability. By prioritizing these aspects, he argued that sustainable design can outperform over-engineered technology.
MARKO DABROVIĆ, Partner 3LHD, Croatia | "Collaborative spaces and urban development"
Case Studies: Grand Park Hotel Rovinj, Campus Infobip, Rimac Campus
The Rimac Campus project was officially presented in April last year. Integrally conceived as a park with a production facility and an office building maximally integrated into the landscape, the campus has been one of the most frequently mentioned architectural projects in Croatian and world media since its presentation. The main element of the concept is the central axis of the campus around which public spaces are located – a lake with a square and a restaurant as a central meeting place for employees with visitors and guests of the campus. The Campus Infobip building is shaped by stacking – different functions are placed on top of each other: a parking lot on the ground floor, three floors of office spaces, a public floor with a restaurant and a conference room, and finally three floors with accommodation units. Unlike the usual placement of public spaces on the ground floor of office buildings, all public spaces on the Campus are located on the fourth floor. Both projects were conceived in cooperation with investors, campuses fully adapted to users, spaces for interaction and collaboration. Another large-scale project that has a great impact on the urban development of the City of Rovinj is Grand Park Hotel Rovinj. One of the important challenges when working on the GPHR was to provide a solution for the seaside promenade and traffic around the hotel. This project is not just another hotel, but also a new pedestrian area/plaza – space for social gatherings, a square with diverse amenities. The ground floor of the new hotel is in direct contact with the new promenade/plaza, intended for all of Rovinj's citizens and visitors, not just the hotel guests.
DEAN LAH, Principal Enota, Slovenia | "ENOTA / Natural Systems"
Case Studies: Hotel Maestoso and Češča Vas Pool Complex
Dean Lah the principal of Enota, Slovenia, presented his outstandin project on "ENOTA/Natural Systems" at SHARE Slovenia 2023. During the presentation, he showcased case studies of his company's work, including the Hotel Maestoso and Češča Vas Pool Complex. Dean Lah explained how his team had incorporated natural elements into the architecture of both buildings, creating a harmonious blend between human-made structures and the surrounding environment.
GREGOR TURNSEK, Partner JKMM, Finland |  "Infrastructure for Happiness"
Case Studies: Hospital Nova, Central Finland;  Kirkkonummi Library;  Amos Rex Art Museum
Gregor Turnsek  presented "Infrastructure for Happiness" which included case studies of Hospital Nova in Central Finland, Kirkkonummi Library, and Amos Rex Art Museum. Hospital Nova was designed with a holistic approach that put the patient at the center, creating a completely new functional concept and building type for hospitals in Finland. The 113,000m2 hospital opened its doors in Jyväskylä in January 2021, after being designed to be the next generation hospital, in close collaboration with the client and staff. Kirkkonummi Library was transformed by JKMM Architects to create a new civic center in the small town near Helsinki. The 4,700m2 library doubled in size and represents a new generation of Finnish libraries that are not solely about books but also about sharing knowledge and experiences through multiple channels. Amos Rex Art Museum was redefined as a space for exhibitions and social interaction, setting a new standard for what an art museum can be. The 13,000m2 project opened its doors in 2018 and consisted of a new subterranean museum and the renovation of a 1930's listed building: Lasipalatsi. JKMM Architects managed to revitalize adjacent squares into the museum, while creating opportunities to manage all kinds of art.
MAURIZIO MEOSSI, Associate Director Zaha Hadid Architects, UK |  "Zaha Hadid Architects – Recent Projects"
Case Study: New Science Centre in Singapore
Maurizio Meossi's presentation emphasized the importance of public projects, innovation, and sustainability in contemporary architecture. Maurizio highlighted the innovative design of the New Science Centre, which integrates sustainability principles to create a modern and functional public space. Appearing to float above the surrounding parkland, the architectural configuration comprises five interlocking rectangular volumes integrated with the natural landscape of Singapore's Jurong Lake Gardens. The design defines a series of courtyards and gardens offering a strategic view of the lake and leading from the adjacent metro station toward the pagoda within the Chinese Garden. The new Science Centre will feature a new observatory for budding astronomers to learn about the universe, as well as a Digital Fabrication Lab with incubator programs to nurture entrepreneurial aspirations and a Makerspace for young inventors to explore and test. Moreover, the complex will house a variety of exhibition galleries, interactive labs, and event spaces in addition to facilities for visitors, administrative offices, archives, and service areas.
Technical Presentation
ION WASZKIEWICZ, CEO Dr. Soil Gmbh | "Customizable lightweight structures for landscape architecture"
Plenary Session #3

ROK ŽNIDARŠIČ, Deputy Mayor, City of Ljubljana
Rok Žnidaršič, the Deputy Mayor of the City of Ljubljana, was a notable speaker at the SHARE Slovenia 2023 conference. His presence was highly significant for the architects in attendance due to the cultural importance of the city he represents. He spoke about the city's commitment to preserving its cultural heritage while also pushing forward with contemporary development.
SHARE OPERA OMNIA AWARD

Majda Kregar, Founder Ambient,  was honored with the SHARE OPERA OMNIA AWARD for her lifelong commitment to architecture and urban planning, her unwavering pursuit of architectural research, and her remarkable accomplishments in advancing and evolving architecture in Slovenia.
The award was handed out by the chairman of SHARE Slovenia 2023, Tomaž Krištof, President of the Chamber of Architecture and Spatial Planning of Slovenia, in the presence of  Florin Mindirigiu, Fondator SHARE Architects, Romania.
Architect Majda Kregar is a prominent figure in the Slovenian architectural community, having contributed extensively to the field through various projects ranging from small-scale residential projects to larger ones such as the bus station in Zagreb and the business and residential complex Bežigrajski dvor in Ljubljana. Majda has dedicated decades of her career to the restoration and revitalization of the Ljubljana Castle, which is considered the crown of the city of Ljubljana. Despite changes in ownership, political circumstances, and architectural values and styles, the restoration project has remained consistent in its author's idea and execution. The use of modern materials such as corten and stainless steel has created a new symbiosis between the historical and the contemporary, resulting in the creation of unexpected new spaces that enrich the spatial experience of the castle. Kregar and her team's remarkable achievements in restoring the Ljubljana Castle have earned them the prestigious Plečnik Award, a recognition of their perseverance, consistency, and virtuosity in details and execution that have contributed to the castle's Piranesi appearance.
MAJDA KREGAR, Founder Ambient, Slovenia | "Revitalization of Ljubljana Castle"
During her presentation, Majda Kregar Kregar showcased the extensive renovation project of Ljubljana Castle and emphasized the challenges faced during the process. She highlighted the importance of preserving the historical and cultural value of the castle while incorporating modern design elements. Majda demonstrated how the revitalization project successfully transformed the castle into a vibrant cultural and tourist destination.
ERNST GISELBRECHT, Founder Ernst Giselbrecht + Partner, Austria | "Dynamic Facades"
Case Studies: HTBLA Kaindorf; Energie Steiermark Headquarters; Kiefertechnic Showroom
During the presentation by Ernst Giselbrecht, Founder of Ernst Giselbrecht + Partner from Austria, he discussed the topic of "Dynamic Facades" and presented case studies such as HTBLA Kaindorf, Energie Steiermark Headquarters, and Kiefertechnic Showroom. Giselbrecht talked about the innovative technologies used in the construction of dynamic facades, emphasizing their sustainability and energy-saving potentials. He also highlighted the new design qualities that dynamic facades can offer. Throughout the presentation, Giselbrecht showcased how dynamic facades can serve as a transmitter of the users' needs and external conditions. Overall, the presentation was informative and gave an insightful overview of the potential of dynamic facades.
PATRICK LÜTH, Managing  Director Snøhetta, Norway | "Changing Conditions"
Case Studies: Office Building for ASI Reisen, Swarovski Manufaktur, Powerhouse Telemark
In his presentation, Patrick Lüth, Managing Director of Snøhetta from Norway, spoke about the topic of "Changing Conditions" and presented case studies such as the office building for ASI Reisen, Swarovski Manufaktur, and Powerhouse Telemark. Lüth emphasized Snøhetta's commitment to social and ecological sustainability in their architectural projects. He showcased how Snøhetta addresses current challenges through their diverse portfolio of buildings and projects. Lüth's presentation demonstrated that sustainable architecture does not have to sacrifice quality, and that Snøhetta's projects effectively combine sustainability and design.
We want to thank and to give a special round of applause to the amazing moderators of the SHARE Slovenia 2023 Forum, Nina Granda, Architect, Chief Editor Of Outsider Magazine, Ana Kosi, Architect, Founder Of Kosi In Partnerji.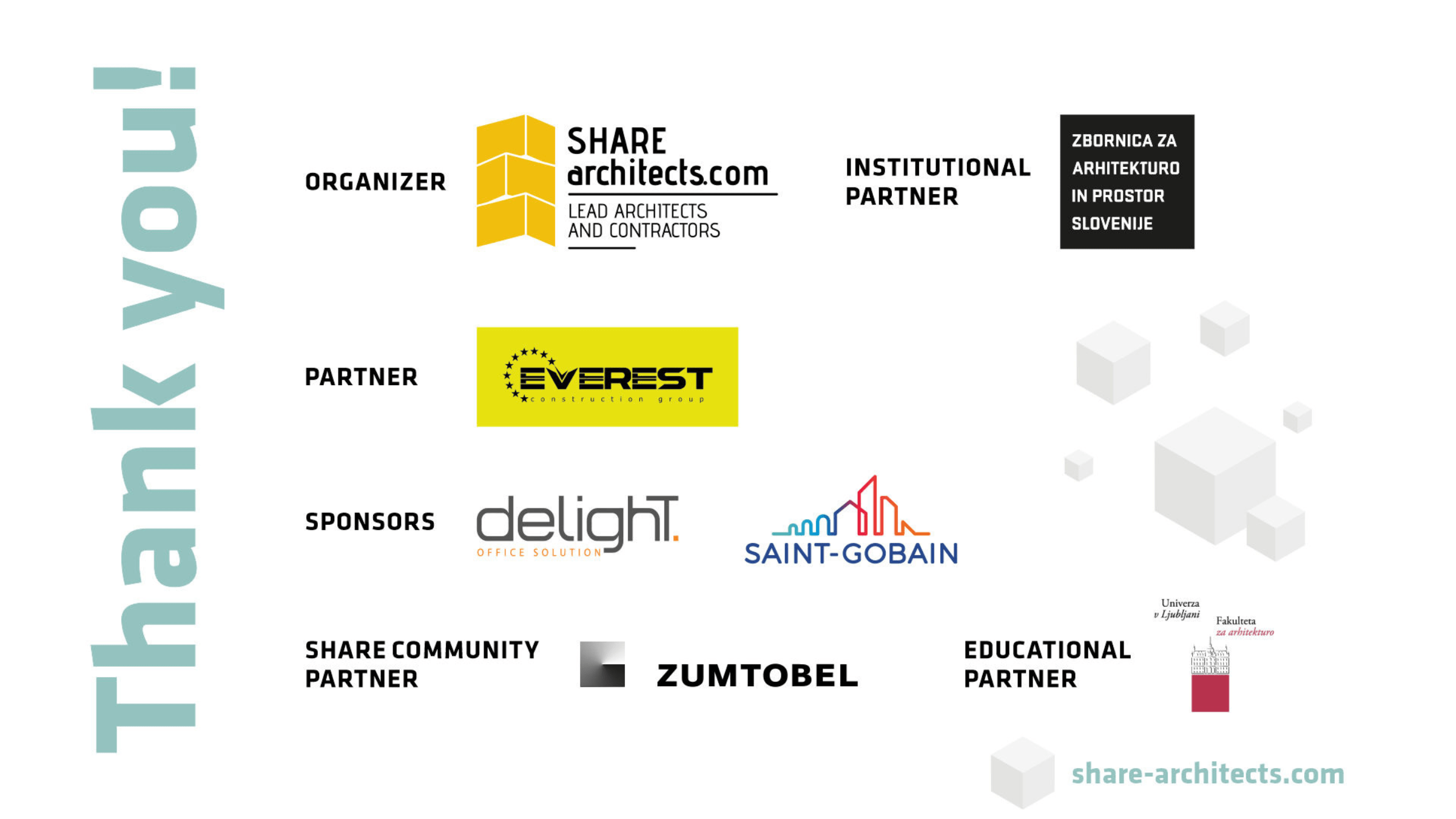 SHARE Architects Network – Connecting architects and contractors in Central and South Eastern Europe
SHARE Architects Forums have become, over the past 25 years, an essential networking platform for architects and contractors in Central and South Eastern Europe. SHARE creates an effective platform for knowledge and understanding of the diversity of the architectural phenomenon of the contemporary architecture. Currently, SHARE Architects events take place in 16 countries in Central and Eastern Europe, and the SHARE Architects community counts more than 50,000 members from all over the world.
For additional information, please contact us via:
share@share-architects.com
+40 740 117 599