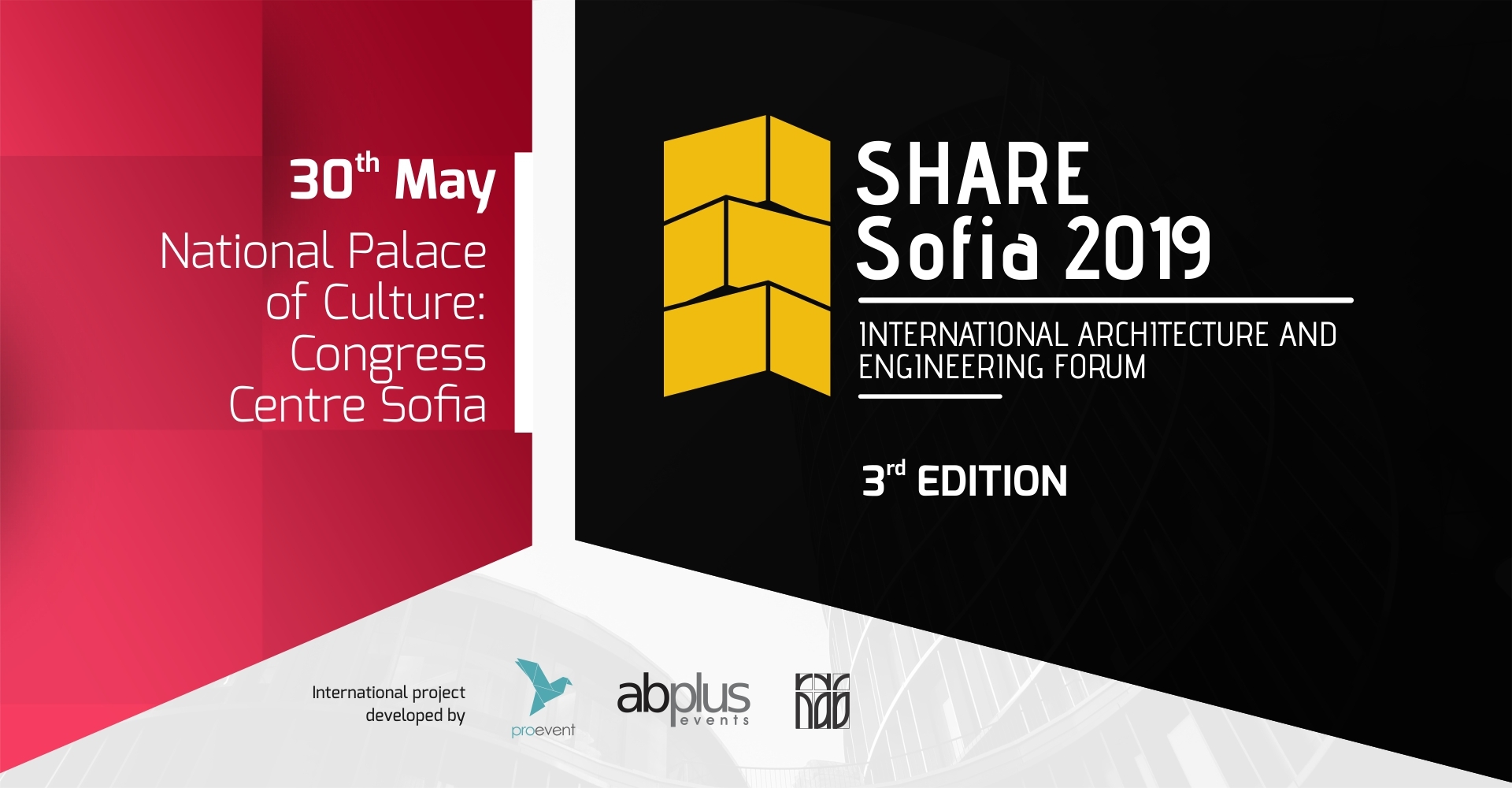 Check SHARE Sofia 2019 Report
WELCOME to SHARE Sofia 2019 (III Edition)
Following a year of insightful and exciting conferences spread across Eastern Europe, SHARE Architects continues its mission to bring excellence in architecture with the 3rd edition of SHARE in Sofia, Bulgaria. Join us on May 30th, at National Palace of Culture – Congress Centre Sofia for a full day of interactive talks on all things architecture-related. It's time to put creative ideas in the right context. At SHARE Sofia you'll have the opportunity to learn, interact with like-minded people, and find inspiration for your next big project.
SHARE Forum is one of the essential networking platforms for the construction-related fields in Central and Eastern Europe. We bring together principal and senior architects from leading practices to discuss their recently awarded projects from the greatest architectural competitions worldwide.
Location: National Palace of Culture – Congress Centre Sofia
Date & Time: 30th May at 9:00 – 18:00
Audience: Everyone from the architectural field is welcome to attend our event. Tickets are already available on our website (see the link on the right).
SHARE Sofia 2019, International Architecture and Engineering Forum will take place at the National Palace of Culture – Congress Centre Sofia and will gather over 350 architects, landscape architects, designers, lighting designers, engineers, urbanists, real estate developers and from public institutions, architecture, and design students, companies with innovative solutions in the construction field, other professionals related to architecture field.
The International Architecture and Engineering Forum is organized by PROEVENT Cultural Association and the Bulgarian Chamber of Architects. Mr. Arch. Borislav IGNATOV, President of the Bulgarian Chamber of Architects, will lead the forum conference. The 3rd edition of SHARE Sofia will have 3 panels: Sofia Tomorrow, Official Plenary Session, and Special Guest Presentation. Great Speaker Carol Ross BARNEY / Ross Barney Architects – U.S.A., and Great Speaker – arch. Sanjay PURI / Sanjay Puri Architects / INDIA will hold a special presentation and debate.
We invite you to meet our speakers and register for SHARE Sofia 2019!


Great Speaker – Carol Ross BARNEY (U.S.A.) – Founder at Ross Barney Architects
Ross Barney is a graduate of the University of Illinois. Following graduation, she served as a U.S. Peace Corps volunteer in Costa Rica planning national parks. She teaches an advanced Design Studio at IIT and serves on their College Board of Overseers. Carol's work has been honored with over 100 major design awards, including six national American Institute of Architects Institute Honor Awards, over 40 AIA Chicago Awards, two AIA Committee on the Environment (COTE) Top Ten Project Awards, and the AIA Chicago Lifetime Achievement Award, the AIA Thomas Jefferson Award for Public Architecture and the AIA Illinois Gold Medal, all for a distinguished body of work. She was named as a "Game changer" by Metropolis magazine in 2018. For nearly two decades, Carol's studio has been working along Chicago's Rivers. These efforts include the design of the Chicago Riverwalk and studies on all one-hundred-and-fifty-miles of riverfront across the city. The goal: reconnect people with the dynamic and changing life of the City's natural resources.


Great Speaker – Sanjay PURI (INDIA) – Founder at Sanjay Puri Architects
Principal Architect of Sanjay Puri Architects, India has been a speaker and a judge at numerous international architecture events including the Leading European Architects Forum, The World Architecture Festival & The Perspective PLAN events held in London, Amsterdam, Bologna, Milan, Venice, Barcelona, Singapore, Berlin & Belgrade. Winning the World's Best Residential Building of 2017 at the LEAF Awards, London and the World's Best Future Infrastructure Project of 2017 at the World Architecture Festival, Berlin, Sanjay Puri Architects have now won over 114 international architecture awards.


Keynote Speaker – Kerem ERGINOGLU (TURKEY) – Partner at Erginoğlu & Çalışlar
Erginoğlu & Çalışlar Architects have won many prizes and awards for their innovative projects. These include; "The New&Old Award" for the "Salt Repository-Medina Turgul DDB Head Quarters" in the World Architecture Festival 2010", 'The Building Award' for the "Turkcell Teknoloji Research and Development Building" in the National Architecture Awards of 2010, 'The Preservation-Revitalisation Award' for "Salt Repository – Medina Turgul DDB" in the National Architecture Awards of 2010, 'The Design Award' for "Tarsus Sev Elementary School Campus Project" in the National Architecture Awards of 2010 and 1st prize in the invited competition for Tarsus Sev Elementary School Campus in 2009, 4th prize in the international competition for the Turkish Embassy in Berlin in 2007, an AMV Young Architects Award in 2004, 'The Building Award' for the "Military School Swimming Pool Complex" in the National Architecture Awards of 2000, the 'Art of Building Conservation Award' for the "Tuncel House" in the National Architecture Awards of 1996 and the 'Graphic Presentation Achievement Award' in the National Architecture Awards of 1992.


Guest Speaker – Julian WEYER (DENMARK) – Partner at C.F. Møller Architects
Julian Weyer was born in Berlin, and has lived in Denmark since 1975, where he finished his studies at the Aarhus School of Architecture in 1994. Since then, he has lectured at the School of Architecture, and worked professionally as an architect and at C.F. Møller Architects, before becoming a partner of C.F. Møller Architects in 2007. Julian Weyer has extensive experience in the field of architecture, landscape architecture and urban design, including numerous competition wins and award-winning designs. He is working on projects in Denmark, Germany and the UK as well as worldwide. He is also a frequent lecturer worldwide and author of articles and book publications.


Guest Speaker – Stanislaw DENKO (POLAND) – Director & Founder at Wizja Sp. z o.o.
Stanisław Deńko was born in 1943 in Dobczyce to a judge father and his school teacher wife. Mr. Deńko's wife, Iwona Deńko, is also an architect, similarly to their younger daughter, Małgorzata, who also acts as the office's partner. He had the opportunity to design (main projects): Embassy of the Republic of Poland in New Delhi, India (1973-78), Own house in Lubomierz (1975), Krakow-Balice John Paul II International Airport Terminal I (1989-94) and later extension (1999-2001), Sinsen Panorama residential building in Oslo, Norway (2000-04).


Guest Speaker – Dean LAH (SLOVENIA) – Owner at Enota
Dean Lah was born in 1971 in Maribor, Slovenia and graduated from the Ljubljana Faculty of Architecture in 1998. In the same year he cofounded the architectural office Enota where he works as partner architect ever since. For his work in Enota he received many architectural awards, his work has been presented on numerous exhibitions and published in professional and broad interest publications all over the world.


Guest Speaker – Dorte KRISTENSEN (THE NETHERLANDS) – Architect director Atelier PRO
To affect social dynamics, Dorte Kristensen (Aarhus 1963) loves to play with threshold areas between public and private domian, where urban space meets building, thus creating opportunities for flexible interpretation. Exemplary projects are the much awarded Meander Medical Centre, Admiraal de Ruyter Hospital, Scheldehof Residential Care Centre and Willibrord Care Centre. She advocates multiple use that are demonstrated in multifunctional buildings, schools, town halls and cultural centres. The Klinker Culture Centre and the Deventer Town Hall interior demonstrate the balance between functionality and social icon value. Dorte frequently performs as keynote speaker at trade conferences on architecture of cure and care, education, culture and interior, national and internationally.
Lighting Speaker – Eleftheria Deko (Greece) – Founder Eleftheria Deko Lighting Design
Eleftheria Deco, is a well-known lighting designer in the entertainment industry. Since 1990 she has designed the lighting of more than 450 plays, music and dance performances, operas and art installations for which she has received great reviews and awards, including the "Woman Artist of the Year 2009" for her contribution to the arts and performances as a lighting designer in Greece.
Guest Speaker – Matej Blenkuš (SLOVENIA) – CEO, chief architect at Studio ABIRO ltd
Matej Blenkuš is an associate professor and dean at the Faculty of Architecture, the University of Ljubljana where he teaches subject Structures and Design Studio. He graduated and received his PhD at the Faculty of Architecture, University of Ljubljana. He gave lectures on the Days of Oris in Zagreb and the Piran Days of Architecture, but also at the faculties and conferences in Graz, Zagreb, Split and Frankfurt. The works of abiro were exhibited in 2002 and 2008 in the Cankarjev dom in Ljubljana and published in a monograph in 2015 by the Museum of architecture and design Slovenia.
Guest Speaker – Angel Zahariev (BULGARIA) – Founder & Manager at A&A Architects
Over the years of his professional career, Arch.Zahariev has built up great design experience on the local market and excellent network among the local and international professionals. As a leader of the A&A Architects' design team Arch.Zahariev has been responsible for the design of some of the most recognizable projects in recent times in Bulgaria, such as: Business Park Sofia, Capital Fort, Muzeiko and many others.
Guest Speaker – Tihomir Kazakov (BULGARIA) – Regional Director at Stephen George International
Tihomir Kazakov is a specialist on local parameters and codes of practice and is the a Co-Chairman of the Architects Union in Bulgaria. Tihomir is involved in the coordination of our Moscow projects and is jointly responsible for management and development of Sofia office and is responsible for seeking and delivering opportunities locally and coordinating practice policy including: Creative Co-Director for steering practice design policy/staff education and development.