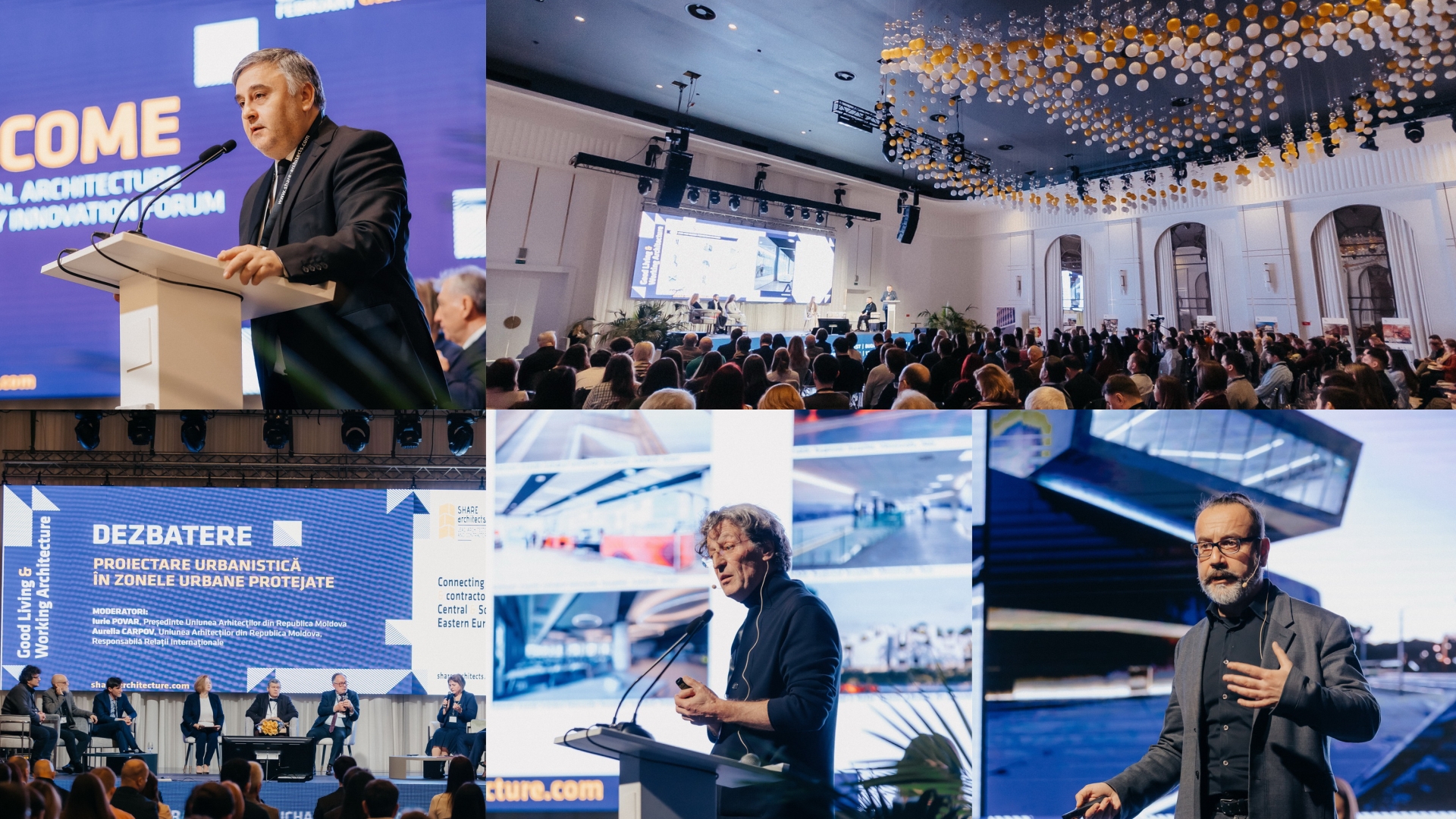 We started our series of conferences | Remembering SHARE Chisinau 2023
The first edition of the International Architecture and Technology Innovation Forum, SHARE Chisinau 20223, took place on 28th of February 2023, emphasizing the theme "Living and Working Architecture". More than 300 participants attended the event.
The SHARE Chisinau 2023 Forum was organised by SHARE Architects, the largest network dedicated to architecture and construction professionals in Central and South Eastern Europe, together with  the Union of Architects from the Republic of Moldova, with the support of Zumtobel Lighting, Proud partner of SHARE Architects Community and event partners Uniunea Arhitecților din Republica Moldova, Aluprof – Romania (Main Partner), Alukönigstahl Moldova, Knauf Ceiling Solutions, AgrobBuchtal, Bose Professional, Plastregal, Sanotechnik Romania (Partners), Zumtobel Lighting , Comsales Grup, Newton House, FineLiving (Sponsors).
Official Opening
SHARE Chisinau 2023's official opening started with a warm welcoming message offered by our event organizers and distinguished guests.
Speakers:
Florin MINDIRIGIU, Fondator SHARE Architects, România
Iurie Povar, Președinte Uniunea Arhitecților din Republica Moldova
Aurelia Carpov, Uniunea Arhitecților din Republica Moldova, Responsabilă relații internaționale
Opera OMNIA Award Ceremony
Gheorghe Telipiz's dedication to architecture was awarded with the SHARE OPERA OMNIA AWARD in honor of his lifelong contribution to the field of architecture and urban planning, continuous and persistent architectural research, and for his outstanding achievements in the transformation and evolution of architecture in the Republic of Moldova.
The award was handed out by arch. Iurie Povar, President of the Union of Architects from Republic of Moldova, arch. Aurelia Carpov, Responsible for international relations within the Union of Architects from the Republic of Moldova, and Florin Mindirigiu, Founder of SHARE Architects.
Debate: "Urban planning in protected areas"
The event will includes an engaging debate on the topic of "Urban planning in protected areas". Our esteemed panel of architects and urban planners discussed about how to balance preservation and development in historic neighborhoods, and explore innovative solutions for creating livable, sustainable communities while respecting the unique character of the protected areas.
The guests of the debate were:      
Svetlana Dogotaru, Chief-Architect Chisinau, Republic Of Moldova
Alina Ostapov, Adviser to the Ministry of Culture, Republic of Moldova
Anatoli Izbanda, Director IMP Chisinau project, Republic Of Moldova
Diana Morari-Corotchi, Founder Architip Project, Republic Of Moldova
Mihai Codreanu, Urban Regeneration PUZ Coordinator Iasi, Smart City PUZ Coordinator Iasi, Founder Redgraph, Romania
Alin Hoblea, President Of The Order Of Architects Of Romania, Iasi – Vaslui Branch, Romania
Dragos Ciolacu, President Of The Union Of Architects Of Romania, Iasi – Vaslui Branch, Romania"
The debate was moderated by Iurie Povar, President Union of Architects Republica Moldova and Aurelia Carpov, Member Union of Architects Republica Moldova, International Relations.
Plenary Session #1
Great Speaker Presentations
VASILE STRATU, Chief Architect Arhistrat-Deco, Republic of Moldova | "DECONSTRUCTIVIST ARCHITECTURE"
Case studies: Deconstructivist house, Vlaicu Cafe & Pub, Vlaicu Pircalab street, New International Airport Terminal, Conluxart, Poiana Winery
During his presentation, Vasile Stratu emphasized the importance of adding value to spaces through architectural intervention. He highlighted the need for contemporary architecture to create dynamic, original, and functional spaces using high-quality materials and modern technologies. Vasile's approach focused on designing buildings with a sustainable and efficient micro-climate, achieved through the use of ventilated facade systems and Schüco stained glass windows.
ADRIANA GHEORGHIESCU, Co-owner MIOLK, Romania | "When do architects feel at home?"
Case studies: The house towards the south, the House for slow living, House with a porch
Miolk had accumulated experience in various project types and scales, but after experiencing both interior design and construction sites, he realized he felt most at home working on specific projects. Adriana explained how Miolk discovered a structural design team and working material that he felt most comfortable with. She then went on to present three examples that showcased the special ingredient that fueled the design team's enthusiasm. Despite dedicating around 1500 hours to make 120m2 come into execution, the team was able to create exceptional results, and Adriana highlighted the key elements that contributed to their success.
BOGDAN CURELARIU, Founder Apunct, Romania | "Living, people and experiences"
Case Studies: Two houses; The kitchen in the garden; House RD
Bogdan Curelariu presented on the topic of housing projects and their perception by the people who use them. The presentation focused on the importance of reporting housing projects, especially those in the housing program, to the needs and possibilities of the people who will live in them. Curelariu emphasized the importance of looking at architecture through the eyes and experiences of people, in order to create spaces that are not only functional but also comfortable and welcoming. By taking this approach, Curelariu argued that housing projects can be more successful in meeting the needs and expectations of their residents.
RALUCA ȘOAITĂ, Founder TESSERACT ARCHITECTURE, Romania | "HUMANIZING HOSPITALS – STUDY CASE ON MARIE CURIE HOSPITAL"
Case Studies: Marie Curie Children Hospital – Bucharest
During her presentation, Raluca Soaita discussed the Marie Curie Children's Hospital Extension as an example of community architecture. The project collected 30 million euros through a foundation and active participation of interested citizens. Soaita emphasized the child-centered approach to the design, taking into consideration the unique needs of the patients in different areas of the hospital. Attention to details, such as the use of friendly shapes, light and bright colors, and special built-in furniture, created a comfortable and welcoming environment for both children and parents. Raluca emphasized the importance of overcoming the gap between practitioners, institutions, and end users, and proposed new ways of thinking and designing hospitals for children. The success of the Marie Curie Children's Hospital Extension serves as an inspiring example of community involvement and innovative design in the healthcare field.
Technical presentations in the first session
Standing ovations for our partners and supporters have innovative technical presentations, arousing the interest and curiosity of the public.
EMIL SERB,  Sales Director Aluprof | "ALUPROF- Let's Build a Better Future!"
ROLAND SANDOR, Business Development and Marketing Manager Zumtobel | "Spectrum – lumina care conteaza"
CĂTĂLIN NEAMȚU, National Sales Manager Romania & Moldavia Knauf Ceiling Solutions | "KCS – Soluții creative cu plafoane din fibra de lemn"
"Actuality of Tradition" Exhibition
Curator: Dr. Dragoș Emil Ciolacu Miron, President of the Union of Romanian Architects, Iași – Vaslui Branch, Romania
Dr. Arh. Dragos Emil Ciolacu Miron, President of UAR Iasi-Vaslui, presented at the SHARE Chisinau 2023 Forum the exhibition "The Actuality of Tradition". The exhibition included sections such as "The Story of My House – Contemporary Regional Architecture, Köllő Miklós" and "Cultural PORT – Portfolio of innovative tools for the sustainable development of rural communities with tourism potential by exploiting elements of heritage and cultural identity". The exhibition, which was presented through text and illustrations, was intended to be a useful tool for planners, authorities, investors, researchers, students, and the general public to promote sustainable development of rural localities.
Plenary Session #2
Great Speaker Presentations
ALEXANDRIN BURAGA, Founder AB+Partners, Republic of Moldova | "TORO CENTER – O NOUĂ REALITATE URBANĂ"
Case Studies: Toro Center – Multifunctional Hybrid Complex
Alexandrin Buraga presented the Toro Center project with a focus on designing the complex in harmony with the surrounding area in the city of Chisinau. The goal was to rehabilitate the area with a new vision, creating communication links between the place and the city, and establishing a connection between the local and urban contexts.   One of the innovative features of the complex was its hybridity, which was part of the company's philosophy. This feature ensured that the Toro Center would remain up-to-date for a long time. The design of the complex allowed for the reconfiguration of spaces and changing their destinations over time. As a result, the project gained the ability to adapt to the city, regardless of the context that had formed.
GEORGE CRISTESCU, Founder DECO ARCHITECTS, Romania | "Trends in office buildings"
Case Studies: Silk District Iasi – Prime Kapital, U Center Bucharest – Forte Partners, Arghezi 4 Bucharest – Strabag Real Estate
George Cristescu presented three projects that represented the main trends in office building design by his company. The presentation aimed to highlight the major directions of office buildings in the years to come. Some of the topics of interest included NZEB and energy performances, mixed-use hubs, hybrid post-pandemic working modes, and more greenery inside.
ANOUK LEGENDRE, Partner XTU Architects, France | "Bio Inspirations"
Case Studies: Cité du Vin – Pavillon Français de l'expo universelle de Milan – ALGUESENS
Anouk Legendre presented a conception process that was evolving from organic and parametric architectures to biotechnologic innovative experiences. The presentation aimed to engage new solutions for climate change by associating life, vegetation, high-tech, and low-tech technologies for future cities. The principal topics included architecture inspired by nature, bio-inspired parametric and organic architectures, and wooden-inspired architecture. Legendre highlighted the importance of refreshing cities with vegetation and biodiversity, biotechnologic architecture, and biofacades to grow microalgae.
The presentation also emphasized the idea of architecture as an organism, recycling effluents with nature, designed by nature, lighted by algae, and including the circle of life. To support these ideas, Legendre presented case studies the Cité du Vin, the French Pavilion at the Milan Universal Exposition, and ALGUESENS. These projects demonstrated how sustainable architecture and biotechnologies could be integrated into buildings and environments.
KEREM YAZGAN, Co-Founder Yazgan Design Studio, Turkey | "Event Spaces"
Case Studies: Chisinau Arena, Volkswagen Arena, Dakar Arena, Ankara Arena, Lagos Arena
Kerem Yazgan presented a selection of projects with specific typology – sports and multi-functional venues. Each project had a unique facade and interior design to host different events. The presentation included the Chisinau Arena, Volkswagen Arena, Dakar Arena, Ankara Arena, and Lagos Arena, each presented with their design ideas. Yazgan explained how he approached the facades in different projects and diverse contexts, elaborating on the knowledge behind designing multipurpose venues.   Additionally, the presentation highlighted the flexible approaches used in the interiors to host diverse events in different layouts. To support these ideas, Yazgan presented case studies of the Chisinau Arena, Volkswagen Arena, Dakar Arena, Ankara Arena, and Lagos Arena. These projects demonstrated how specific typology, flexible design, and unique facades could be integrated into real-world sports and multi-functional venues.
Technical presentations in the second session
Standing ovations for our partners and supporters have innovative technical presentations, arousing the interest and curiosity of the public.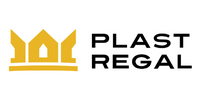 IGOR BLAJ, Administrator PlastRegal | "Authentic and sustainable architecture – the role of door, window and facade manufacturers"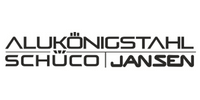 ATTILA BEER, Administrator Alukönigstahl Romania and Republica Moldova | "Constructii premium by Schüco"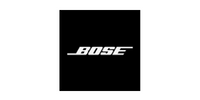 FLORIN GEORGESCU, Technical Director Bose in Romania (All Audio) | "Better living and working with sound"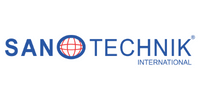 SORIN TOMESCU, Administrator Sanotechnik com Rumanien | "Sanotechnik – Furnizor de solutii moderne"
The attendees had the opportunity to network with the technical representatives at their networking spaces: Zumtobel, Rio Kompani, Hansgrohe, CIC Engineering, Delight Office.
Plenary Session #3
Great Speaker Presentations
MAXIM CALUJAC, Founder CALUJAC architecture, Republic of Moldova | "Shape as an aspect of architecture"
Case Studies: Villa Domes, Loft Green Apartments
Maxim Calujac presented his architecture projects at the event. He explained that each of the selected projects was created with specific design principles, with the architectural shape being an integral part. He elaborated on the different aspects of architecture creation, emphasizing on sculptural concrete, cor-ten, and author furniture design. During the presentation, two of his impressive projects were showcased as case studies: Villa Domes and Loft Green Apartments, which is an apartment complex. Both projects were presented with their unique design ideas and architectural features, showcasing Calujac's expertise and creativity.
LILIAN CAPTARI, Owner URBAN OFFICE, Romania | "RESIDENTIAL / versus / OFFICES ?"
Case Studies: Expo IT_Office – Bucharest; 27 Popa Petre str.Bucharest; Pechea – Bucharest
During Lilian Captari's presentation, it was explained that a fully integrated design solution requires the collaboration of structural and HVAC engineers, as well as other specialized design teams. Each project starts with a unique approach, customized to the specific site and owner's needs. Captari emphasized the importance of continuity in a project, with a closely related team overseeing it from start to finish. The presentation highlighted the team's approach to the built environment as a whole, with responsible and truly integrated design solutions.
DAVIDE MACULLO, Founder Davide Macullo Architects, Switzerland | "FEELING SPACES"
Case Studies: Rossarte Foundation Territorial Project, Chenot Palace Hotel Weggis, Wapartspace Seoul
Davide Macullo  focused on Rossarte Foundation Territorial Project, the Chenot Palace Hotel Weggis, and the Wapartspace Seoul. These projects showcased how Macullo's studio applied their philosophy to real-world projects. Davide Macullo's presentation highlighted the importance of psychology and technology in the final period of the industrial era and how architects can use these tools to prepare for the organic era.
MAURIZIO MEOSSI, Associate Director ZAHA HADID, UK | "Zaha Hadid Architects – Recent Projects"
Case Studies: New Science Centre in Singapore
Maurizio Meossi's presentation emphasized the importance of public projects, innovation, and sustainability in contemporary architecture. Maurizio highlighted the innovative design of the New Science Centre, which integrates sustainability principles to create a modern and functional public space. Appearing to float above the surrounding parkland, the architectural configuration comprises five interlocking rectangular volumes integrated with the natural landscape of Singapore's Jurong Lake Gardens. The design defines a series of courtyards and gardens offering a strategic view of the lake and leading from the adjacent metro station toward the pagoda within the Chinese Garden. The new Science Centre will feature a new observatory for budding astronomers to learn about the universe, as well as a Digital Fabrication Lab with incubator programs to nurture entrepreneurial aspirations and a Makerspace for young inventors to explore and test. Moreover, the complex will house a variety of exhibition galleries, interactive labs, and event spaces in addition to facilities for visitors, administrative offices, archives, and service areas.
Technical presentations in the third session
IGOR BLAJ, Administrator PlastRegal | "Arhitectură autentică și durabilă-rolul producatorilor de uși, ferestre și fațade"
SABIN MAGHIAR , Sales Manager Roumania Agrob Buchtal | "Agrob Buchtal – fatade inteligente"
We want to thank and to give a special round of applause to the amazing moderators of the SHARE Chisinau 2023 Forum, Loredana Melnic and Mihaela Carpov!
SHARE Architects Network – Connecting architects and contractors in Central and South Eastern Europe
SHARE Architects Forums have become, over the past 25 years, an essential networking platform for architects and contractors in Central and South Eastern Europe. SHARE creates an effective platform for knowledge and understanding of the diversity of the architectural phenomenon of the contemporary architecture. Currently, SHARE Architects events take place in 16 countries in Central and Eastern Europe, and the SHARE Architects community counts more than 50,000 members from all over the world.
For additional information, please contact us via:
share@share-architects.com
+40 740 117 599