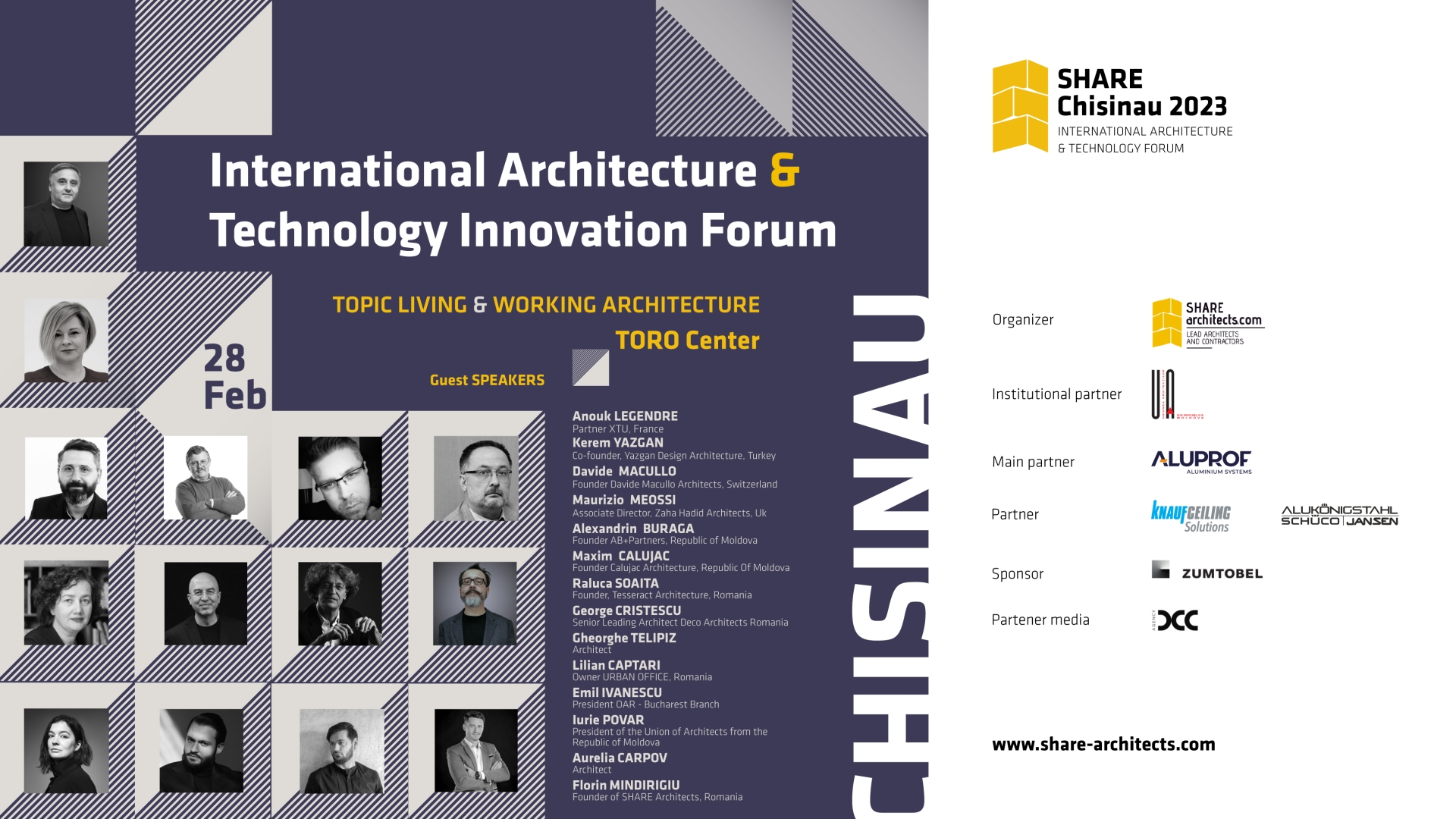 SHARE Chișinău 2023: International Architecture and Technology Innovation Forum
Arhitecți cu proiecte remarcabile și lideri internaționali în inovare și tehnologii de construcție;

Speakeri din Republica Moldova, România, Marea Britanie, Elveția. Franța și Turcia;

Networking profesional la cel mai înalt nivel;
SHARE Architects în parteneriat cu Uniunea arhitecților din Republica Moldova  organizează, în data de 28 februarie 2023, la TORO Center, International Architecture and Technology Innovation Forum – SHARE Chisinau 2023 cu tema "Living and Working Architecture".
SHARE Architects este platforma de evenimente recunoscută ca cea mai activă rețea de networking a profesioniștilor din arhitectură și construcții din Europa Centrală și de Sud – Est. Comunitatea SHARE Architecs s-a format în România și s-a extins în 15 țări din regiune. Beneficiind de cunoașterea profundă a provocărilor cu care se confruntă țările balcanice și din Europa de est în materie de dezvoltare urbană și calitatea spațiului construit, SHARE Architects prezintă pe scena conferințelor sale studii de caz și exemple de succes, la nivel național și internațional, pentru a aduce inspirație, informații de ultimă oră și contacte necesare dezvoltării profesionale a specialiștilor din construcții și investitorilor.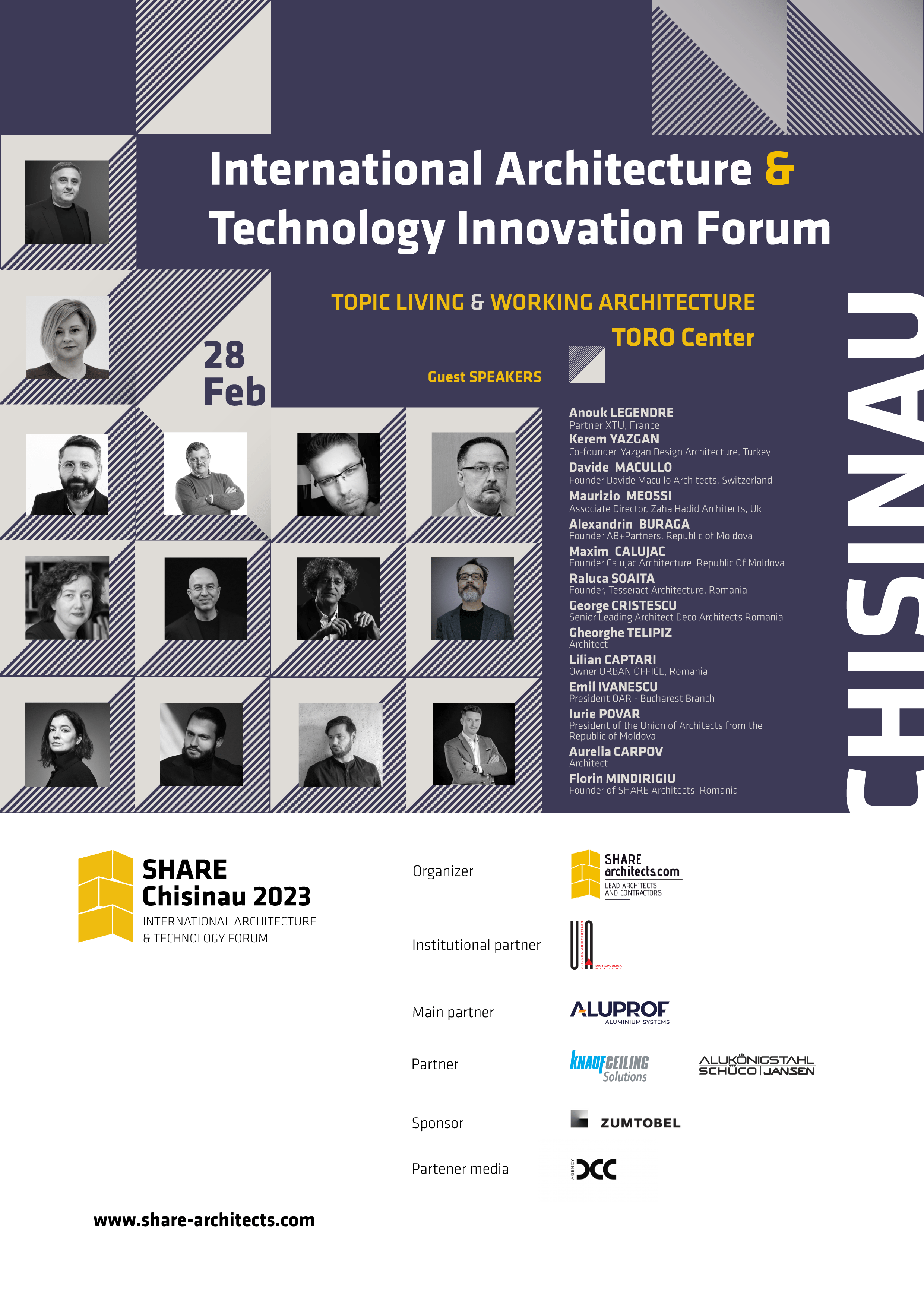 SHARE Chisinau 2023 are ca invitați personalități recunoscute ale arhitecturii și lideri ai profesiei: Maurizio Meossi, Associate Director, Zaha Hadid Architects, UK; Anouk Legendre, Partener XTU, Franța; Kerem Yazgan, Co-fondator Yazgan Design Architecture, Turcia; Davide Macullo, Fondator Davide Macullo Architects, Elveția; Raluca Șoaită, Fondator Tesseract Architecture, România; George Cristescu, Senior Leading Architect Deco Architects, România; Lilian Captari, Owner URBAN OFFICE, Romania, Emil Ivănescu, Președinte Ordinul Arhitecților din România, filiala București.
Din Republica Moldova, primii speakeri anunțați sunt Gheorghe Telipiz, Fondator al grupului companiilor de arhitectură ARD și Frachia, Maxim Calujac, Fondator Calujac Studio, Alexandrin Buraga, Fondator AB + Partners.
Comitetul de organizare al conferinței este alcătuit din Florin Mindirigiu – fondator SHARE Architects,  Conf. Univ., Dr. arh. Aurelia Carpov – Membră a Uniunii Arhitectilor, responsabilă relații internaționale, Administrator birou de arhitectură "Axis mundi" SRL și Iurie Povar– Președinte Uniunea Arhitecților din Republica Moldova.
Invitați internaționali
Anouk Legendre, partner XTU Architects, Franța, arhitectul proiectului Cite du Vin din Bordeaux
Activă din 2000, agenția XTU are multe proiecte inovatoare, adesea premiate, care caută o inscripție puternică în teritoriu. Printre realizările sale remarcabile se numără Muzeul de Preistorie Jeongok din Coreea de Sud (premiul Academiei Coreene de Arhitectură), pavilionul francez de la Milano 2015 World Fair (Best Architecture Pavilion), Cite du Vin din Bordeaux (2016). Convinși că arhitectura trebuie să anticipeze viitorul, arhitecții XTU au investit masiv în agricultura urbană și cercetarea experimentală la răscrucea dintre științele vieții, ecologie, arhitectură și urbanism. Deținători trei brevete tehnologice în 2011, XTU a inventat și dezvoltat în special împreună cu consorțiul SymBIO2, sistemul de "biofațade" (fațade active care integrează culturi de microalge).
Maurizio Meossi, Associate Director ZAHA HADID Architects, UK, coordonatorul proiectului rezidential CityLife din Milano
Maurizio a lucrat la unele dintre cele mai mari proiecte rezidențiale ale ZAHA HADID din întreaga lume, inclusiv Italia, Australia, Mexic și Turcia. În Italia, a condus cu succes echipa de proiectare pentru un grup de clădiri care formează noul complex CityLife din Milano.
Kerem Yazgan – Fondator Partener Yazgan Design Architecture, Turcia, arhitectul proiectului Chișinău Arena.
În ultimii 16 ani, Yazgan Design Architecture a fost publicată în 19 țări și a fost distinsă cu 89 de premii naționale și internaționale de design. Cu peste 8.000.000 de metri pătrați în total proiecte situate atât în Turcia, cât și în alte țări, portofoliul Yazgan Design Architecture conține clădiri cu utilizare mixtă, retail, hotel, rezidențial, birouri, clădiri de învățământ, spitale, centre culturale, aeroporturi și complexe sportive.
Davide Macullo, Fondator Davide Macullo Architects, Elveția
Timp de 20 de ani, Davide Macullo a fost arhitect de proiect în atelierul lui Mario Botta, fiind responsabil pentru peste 200 de proiecte internaționale din întreaga lume.
În anul 2000 și-a deschis propriul atelier. Ethosul studioului Davide Macullo Architects s-a transformat într-unul al "experiențelor încrucișate" și promovează un schimb deschis și cultural cu arhitecți și colaboratori care provin din medii diferite.
Lucrările studioului au primit premii, au fost publicate și expuse pe scară largă atât în țară, cât și în străinătate; în Elveția, Italia, Franța, Grecia, Germania, Austria, Ungaria, Slovenia, Turcia, Rusia, China, Coreea, Australia, Argentina, Irlanda, Regatul Unit și în SUA.
Inregistrare
Taxele de participare la conferință se pot cumpăra online la adresa membership.share-architects.com/Events. Taxa de participare pentru arhitecți, ingineri și urbaniști este de 15 euro.
Mai multe informații pe siteul www.share-architects.com.
Conferința SHARE Chisinau 2023 este organizată cu susținerea companiilor: Alukönigstahl, Aluprof (parteneri principali), Knauf Ceiling Solutions (partener), Zumtobel (sponsor), DCC Agency (partener media).
Contact