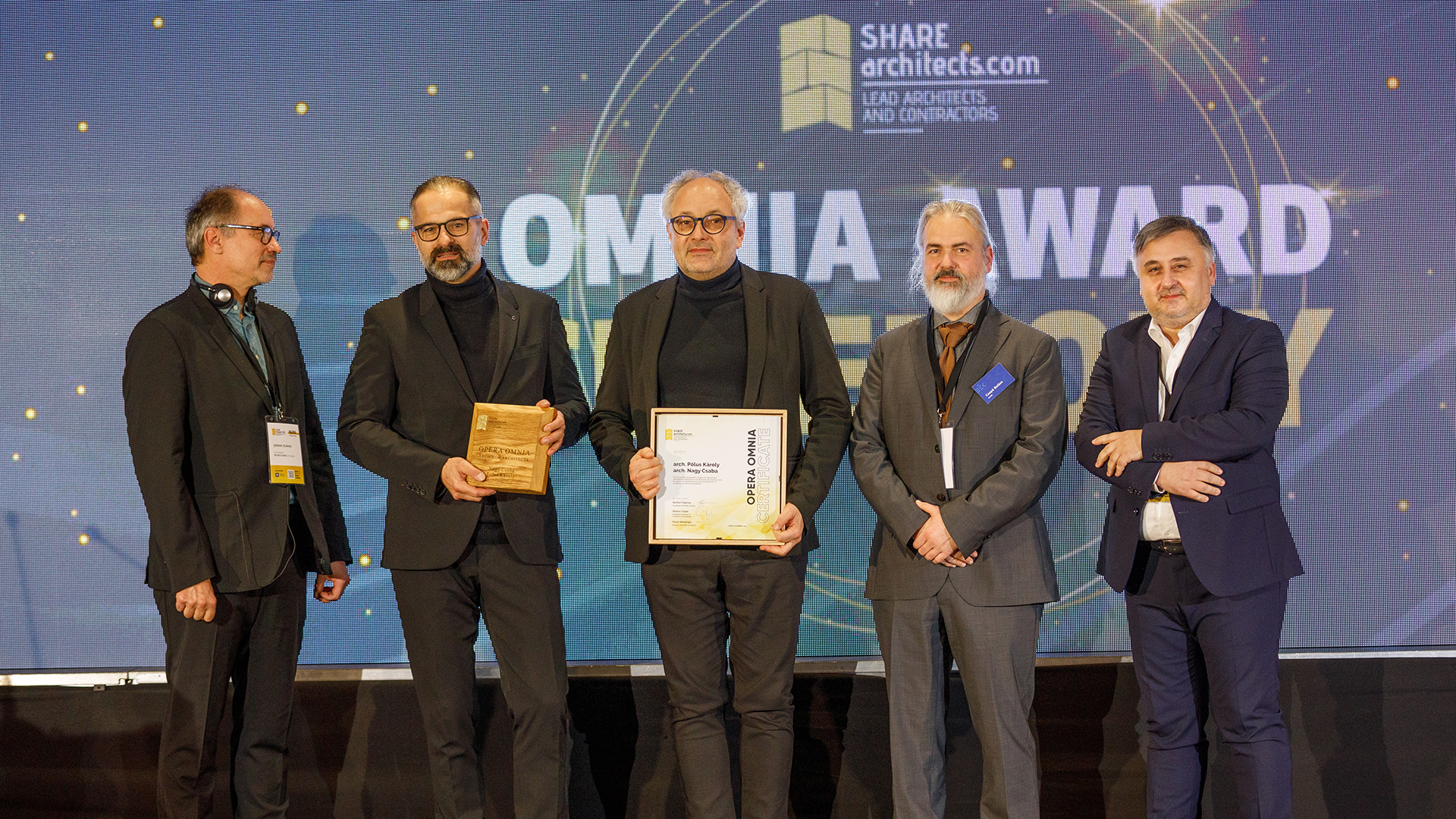 SHARE Budapest 2022 | Opera Omnia Distinction for Arch. Csaba Nagy and Arch. Károly Pólus
ARCHIKON Architects is one of the most significant studios in Hungary, which has built an outstanding portfolio regarding both quantity and quality since its foundation in 1989. 
They always consider the architectural task in terms of the uniqueness of the given program and the complexity of the relevant aspects. 
Their works include revitalization work with historical monuments, residential, cultural and industrial buildings, a few of which we are going to mention now.
Hotel Moments is an example of an attic expansion and a complete change of function in a tenement house with a closed courtyard. The building breaks with the architectural means that embody the contrast of the old and the new, yet it does not go the way of a complete rewriting. Somewhere in between the two it finds a junction where the historical and the contemporary, though distinct, are more alike than separate. The airy glass roof covering the courtyard first appeared on the Il Bacio di Stile store, later it became a feature of style: besides Hotel Moments, the Budai Vigadó has a similar solution.
As regards sustainable architecture, the designers were among the first in Hungary to implement a large-scale passive house with their 100-apartment building, which is also distinguished by its social function and architectural aesthetics. Meséskert Óvoda/Meséskert Kindergarten, where Le Corbusier's influence can be seen in action, was also built as a passive house, and the studio received several similar requests following its success.
Vizafogó Tagóvoda/Vizafogó Kindergarten points out that the demolition of a deteriorated building is not the only way to go. The building, which has been remodeled along the new needs, has also been architecturally transmuted. In this sense, the Láng Művelődési Központ/Láng Cultural Center is an important antecedent, where the harmony of completely new materials, structures modified but retained in their material, and character elements preserved unchanged can be seen.
ARCHIKON's work has won numerous national and international awards, most recently Vizafogó Tagóvoda was shortlisted for the 2022 MIES VAN DER ROHE AWARD. Due to the significance and richness of their work, Csaba Nagy and Károly Pólus are worthy winners of the SHARE OPERA OMNIA AWARD this year.