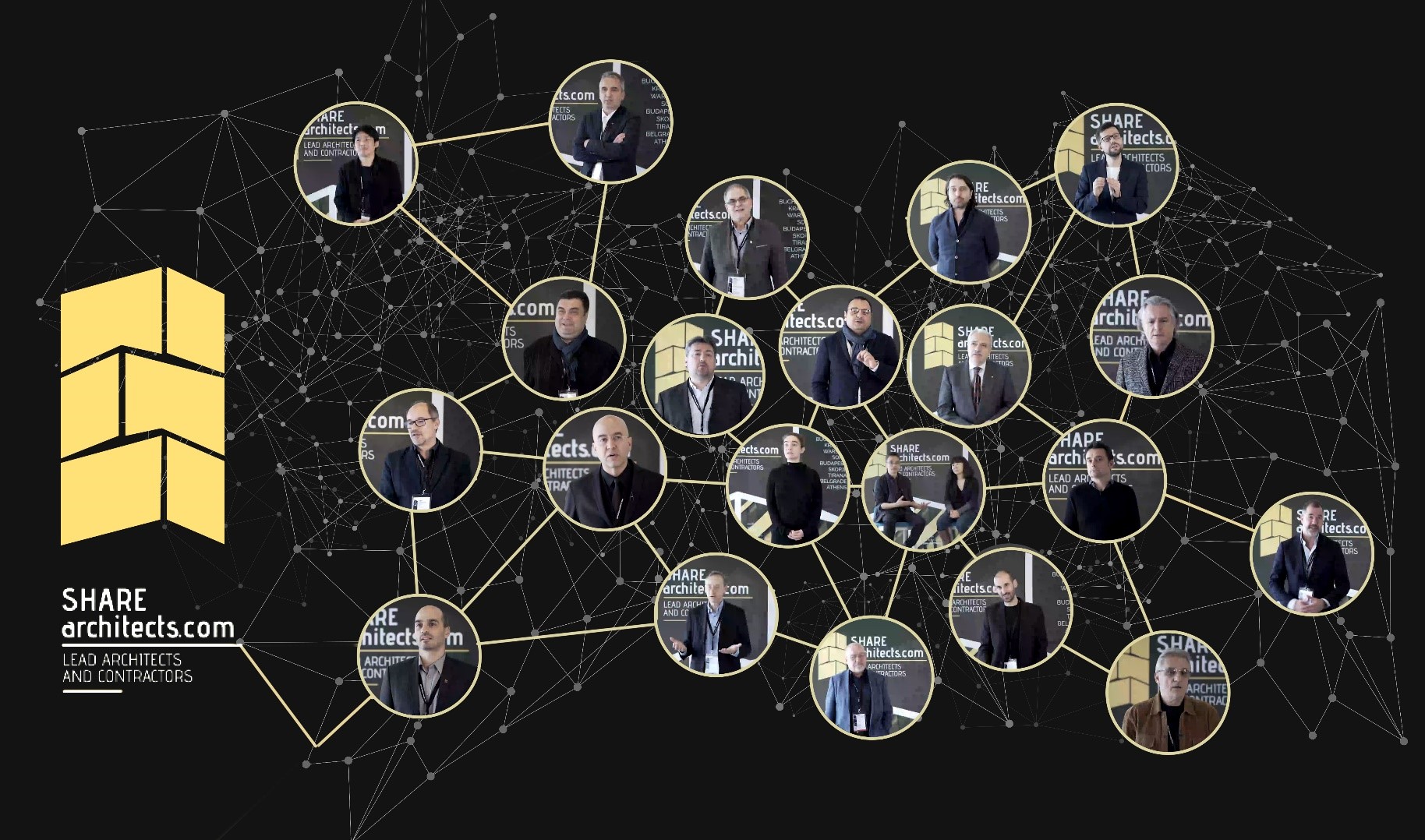 "Reflecting briefly on the present, devoting all your energies to the future" – A resume of our talks at SHARE Bucharest, March 2018 on the subject of "Designing The Profile Of The Future Architect"
Over 100 Contributions. One Year. One Book
"Reflecting briefly and rapidly on the present, devoting all your energies to the future" is how Massimiliano Fuksas signed his contribution to our editorial project which will refer to a book that will sum up the year-long talks on the topic "Designing the Profile of the Future Architect"  in all 10 locations from Europe where ABplus organizes conferences.
"I think that there are elements that are fundamental in order to be an architect, today and in the future. You need to have ideas and you need to have the ability to defend these ideas in such an obstinate and determined way that they will lose their original form as little as possible." he added,  considering that if you love the human beings and the nature, then of course, you will be in quest for innovations, research and experiment. But -"the most important thing that an architect must do, after having guaranteed the functions, is to give emotions". Massimiliano Fuksas believes in a careful observation of everything around, from "small stories to big histories" as they can eventually become an appropriate inspiration for the journey of finding: "the soul of the things" .
For Patrick Meijers from Orange Architects the profile of the future does not differ that much from the profile of the present or the past. We should "start small…stat with observing yourself, this is the most obvious thing to do" then have a continuous endeavor for maximizing this profile in the realm of the field.
Maximize PERSONALITY, as "the ideal architect integrates several personal skills into an effective and charismatic personality. Besides the professional skills taught by education, the emotional skills are at least equally important".
Maximize CREATIVITY, because "our strength is in the power of combining, cross linking, integrating and bringing things together we never thought of."
Maximize ENGAGEMENT "that it also means that you have to look at the social impact and that you have to restore the natural relation of the individual person within the collective group".
Maximize EMPOWERMENT because "your ideas should be understood and embraced by all partners and stakeholders in the process, during the whole process and beyond."
About excellence in architecture I talked with Augustin Ioan who appreciate that embracing excellence means humbleness, as acknowledging that you are responsible for the position you are invested: " For me, being there is a form of humbleness… A grain of light has been given to you, God has light a candle in you … everyone has one … but what do you do with the light? Did you realize what you got? Do you make a chandelier from it or you silence it, cover it? In this sense I perceive the humbleness. Amplify it as giving to others. Give light …"  Within this impetus,  Astrit Nixha offered an incentive for sincerity and originality  – "I do not teach because I don't know how to, otherwise I would advise the young architects to be themselves. I mean if you see the fashion…this is the same in architecture. If you try to combine the clothes that fit you and only to you than you have found yourself…and if you do that, than that's the way forward". Once you have mirrored the true self, the best architecture might not emerge starting with architecture as a building, but starts with architecture as a programme, continuously questioning how people live, how they interact, what is the daily routine, how it will change in the future because "buildings are a result of it or catalyst for this.  And it's not a goal in itself to make 4 walls and a roof it should be a result of the thoughts behind". (Patrick Meijers)
Complimenting this idea as architecture as a thinking process Radu Teaca sees it also as a cultural act, standing up that architecture must transcend certain purely functionalist spaces into their connotations. "If the architect is internally furnished, it can express many more nuances. After you master a certain level of knowledge…from that point on, only your internal furniture will make the difference between a valuable architect and one who just does his job at a basis level." This is also what Adrian Spirescu advises his student: ,,I keep suggesting to my architecture students to get involved in the cultural points of view of the society." , the same way Kerem Yazgan recommends to his students to concentrate on an idea… to go deeper and to "know the reference of the idea to architectural history…as it must to be rated to architectural culture."
So… What is Architecture for You?
For Marian Moiceanu architecture is a form of language that can be translated and as each language, it has its own neologisms or sometimes its trivialities, but it is a way for people to communicate. This view is acknowledged by Francoise Pamfil too, for whom "Architecture is in the same time a profession, a belief, a way of communication and it is something I am still very stubborn to discover. My experience within architecture means design. Teach, talk, criticize, communicate, and above all, belief". Augustin Ioan regards architecture as an open profession at the intersection of many other domains, having permeable and very fragile boundaries. All these domains that architecture is bordering are now active which continuously modifies the boundaries of the field itself, thus making it so dynamic today.
Perparim Rama defines architecture "as the choreography of space…or the choreography of energy what is more about the movement flow, the energy in the space, and in the end the building fabric is like a cover". About its non-quantifiable substance Vlad Gaivoronschi deems that architecture has to do with atmosphere, has to do with time and music (and the feeling that arises inside it) with its metaphoric function, but with a more sustainable approach,  he draws attention that ,,Architecture has to become like a noble instrument…like an old violin. I don't believe in fresh images…I am interested in how architecture gets older…like a beautiful human being".
We talked with Pan Yi Chang, a young architect established in Singapore for whom architecture is about framing the human existence because sometimes through this framework we question existence itself, why/how we do exist, whether as a self or in community and also from a political point of view… because political environment dictates the relationship of different people in the community. Consequently, "we are framing the preservation of the self against the environment we are in".
Mark Sutton Vane presented the importance  of selling a story through architecture: ,, I am a lighting designer and I design lightings for buildings …it's all about selling the story to people and to make sure they enjoy the space spiritually and with their heart.  That's what lighting can do…it can sell and amplify the story of the building taking the architectural narrative and reinforcing it."
What was the best piece of advice you have received during tour career?
"I got a lot of pieces of advice during my career but I recall this one…as an architect, whatever new project you do…do it better than the previous one and then you will just climb up and up." told us Serban Tiganas. He is also the coordinator of this editorial project, the one who suggested this topic about the profile of the future architect to be discussed this year during our conferences. He admits that he is very interested in the study of the future. "What is your personal utopia?" I asked him. "I think architects are utopians by nature. My utopia is a social utopia, not an architectural one but is related because society is our major client." Similarly, Giovanni Benedetti shared with us a view of optimism: "try to have fun, try to enjoy this profession… and always do more than what it was asked from you" he added.
"Architects should always experiment and have confidence to make mistakes, because only by mistakes you learn" Perparim Rama opine, as Augustin Ioan who thinks that "The young architect should learn the culture of experimenting, and to be always in action, or even more, in crisis. As soon as you put yourself into a confort zone you anesthetise your senses and the creativity. Therefore you should continously invest in yourself and part of relates with your family and your life, your social group, your political group, your hobbies.". Curiosity is a main value for an experimental approach of architecture : "so I think the quality of curiosity is still the key quality that architects needs to have, you have to be curious about everything as an architect and then the architect of the future I think will need to question existence a bit more deeply because now we have virtual reality and there are actually projects that exists only virtually and you can experience project only virtually. This is so because our concept of existence is constantly been challenged and evolving throughout history."( Pan Yi Cheng)
In addition to the idea of being always a prying and fine observer of the environment, Francoise Pamfil believes that another valuable quality is reaction : ,,being able to react is as much as important as being able to design: you cannot design without being reactive, and finally, another quality is to be generous, to have  always something to offer". Victor Grosu encourages the young to accept challenges, because the beneficiary entrusts the architect a dream, money or a history – to create something,  but there are times when you should educate the beneficiary to reach your desired outcome. In this regard a young architect should firstly learn the ability to communicate. Secondly: "marketing – because if you do not promote your work and your ideas, you cannot generate other recipients to listen to what you might have to offer…These two elements of self-education and marketing you do not learn at the school, therefore I recommend taking  courses".
There are aspects of the personal development that can be drawn from the outside-in. The profile of the future architect take shape both by internal wraps and by the relationships we establish with others and the surrounding environment.  For Augustin Ioan finding a mentor is a very important aspect of one's evolution: "becoming friend with someone who is older than you, that it can be a specialist but not necessarily in your profession, just for getting his opinion on different stuffs. It is crucial at the very instable moment in your life to have somebody who tells you…listen, it is not that hard actually."
………
This was synthesis of our talks at SHARE Bucharest, March  2018 on the subject of "Designing The Profile Of The Future Architect" , a book to be launched in March 2019 including over 100 contributions from our international speakers, collected in one year. The radiography of SHARE Bucharest 2017 can be followed here http://share-architects.com/which-are-the-directions-young-architects-should-invest-the-most/ and SHARE Tirana 2018 talks can be read here http://share-architects.com/tirana-2018-the-second-chapter-of-our/ .
Follow us further in our journey of outlining the profile of the future architect!