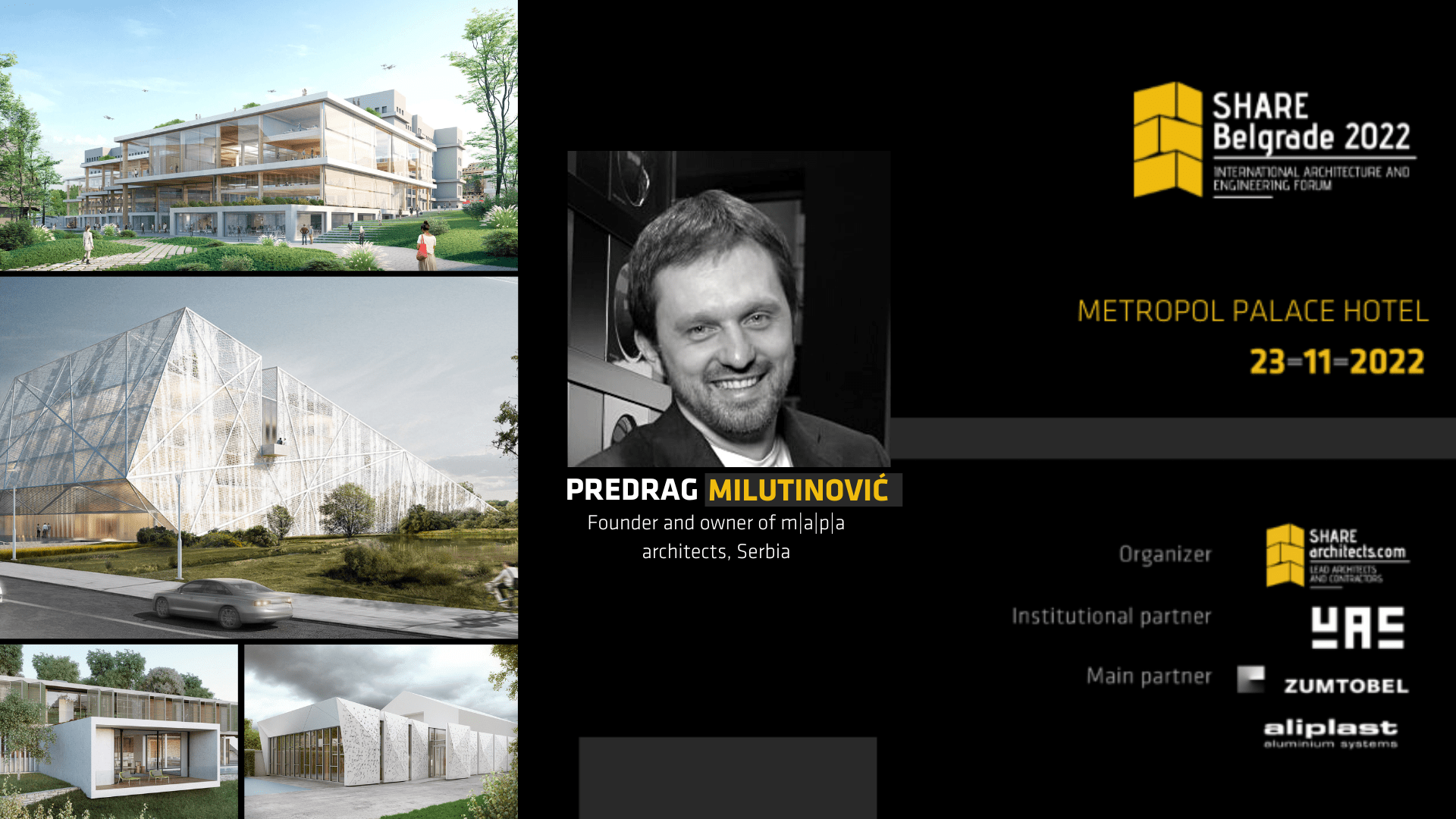 Predrag Milutinović, founder and owner of m|a|p|a architects will lecture at SHARE Belgrade 2022 Forum
Predrag Milutinović graduated from the Faculty of Architecture of the University of Belgrade in 2002. He is continuously engaged in architectural design. He is the author of the architecture of several public buildings, individual, residential and collective residential buildings, industrial buildings, special purpose buildings, interiors of public, business and residential buildings. He has won significant awards and recognition for his projects. Participant of public and invitational competitions, where he achieved notable results.
Predrag has more than 15 years of real estate development/design management/architectural industry/construction industry, experience across multiple market sectors and project types. Responsible for designing processes and building engineering project management. Has dynamic career with leading regional designing and civil construction companies throughout Ex YU – Serbia,Croatia,Makedonia,Montenegro,Bosnia,Slovenia,and Bulgaria,Albania. He has started as a PM – participated and led all the phases of the design and construction processes, and also designed '​'know how'​'​ concepts for many different types of objects/ projects. Was responsible for design and delivery of projects such as hotels,shopping malls,office buildings, car showroom, supermarkets industry, micro facilities,car showrooms, major retail, mixed use, residential, children's institutions.
He has extensive experience of the delivery of projects under framework agreements for clients such as IHG, BMW, Zumtobel Group,HONDA,Delhaize, Generali, H&M, BAUHAUS,NIKE.
MOST SIGNIFICANT RECOGNITIONS:
●"City of BELGRADE" Award for the best realized work for Architecture and Urbanism (2012);
●"NOVOSTI" company award for the best realized architectural work (2012);
●First prize of the company "Saint Gobain Rigips" for the most beautiful interior in Serbia and Montenegro (2009);
●Special recognition of DaNS for Architectural realization (2010);
●10 best architectural achievements in 2012; expert jury of NIN.