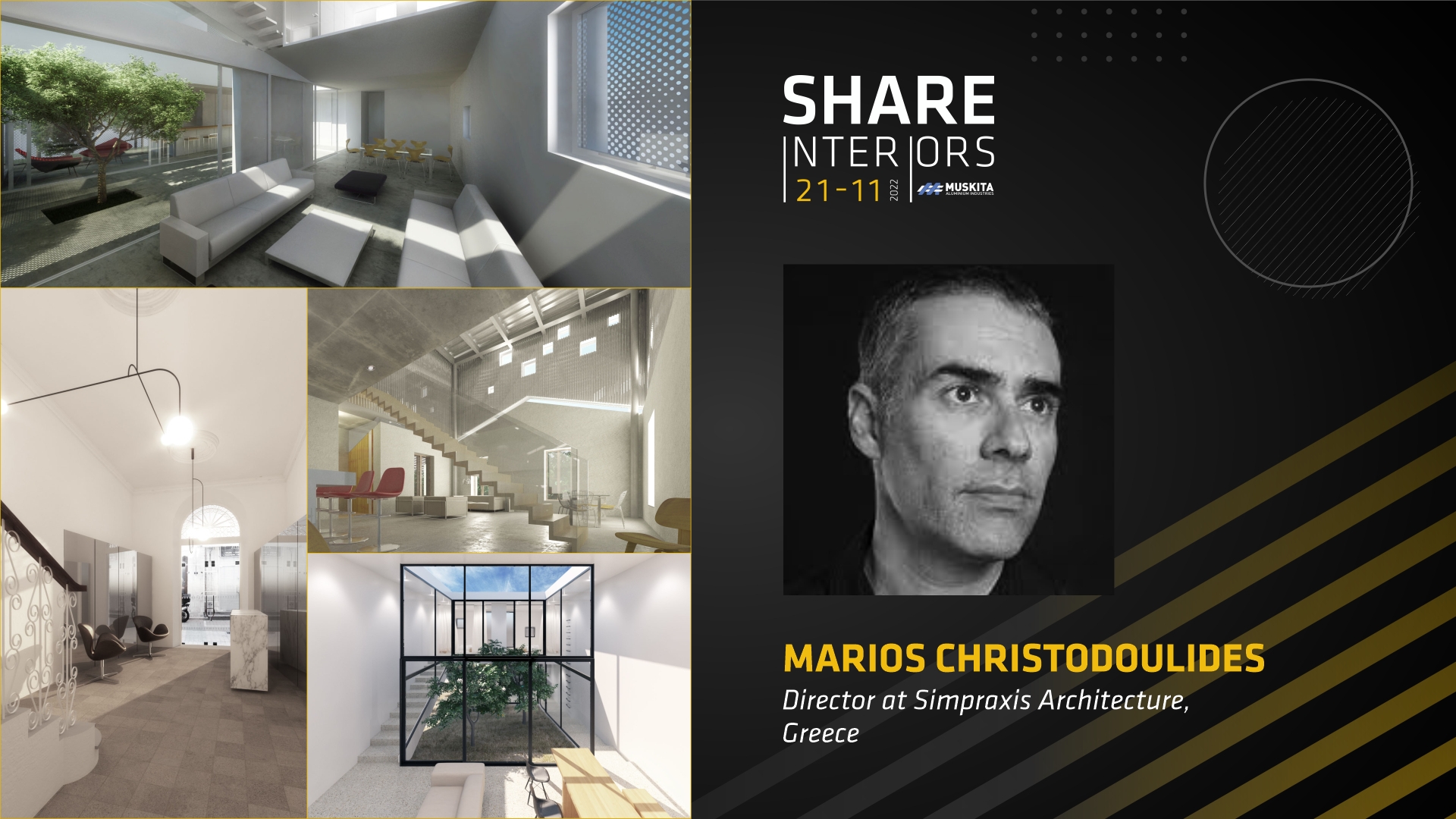 Marios Christodoulides will lecture at SHARE Interiors 2022 Forum – Cyprus
Marios Christodoulides studied at the Massachusetts Institute of Technology where his research investigated the design process in studios and the development of computational design tools.
He earned his BArch from  California State University, SLO where he was the recipient of the AIA student gold medal award. His collaborative research work has been published in journals such as Architectural Design and was exhibited at the museum of modern art in Tokyo among others. After the completion of his graduate studies he was employed in Boston, first as a junior designer and subsequently as Project Architect. 
He has worked on projects ranging from housing, urban redevelopment, and university campus projects. Group work has been published in journals such as Architectural Record, Business week, and International Design, and also exhibited at MIT and the Rhode Island School of Design. In 2003 he returned to Cyprus where he set up an independent practice.
He was an adjunct faculty at the University of Cyprus from 2005 to 2009 and 2020. His Architecture studios have focused on ephemeral urban interventions. His work was exhibited at the Venice Architecture Biennale in 2006 and was an associate curator with Peter Cook for the Cyprus Pavilion in 2008. Build and theoretical work has been awarded in competitions and published in the local media as well as abroad.   
State Architecture Awards 
Markideio Municipal Theater, 2019 Award
Mies van de Rohe European Architecture Award
House 1304, 2022 Nomination 

House 1607, 2022 Nomination

Markideio Municipal Theater, 2019 Nomination (2)

Art school & Residence 1306, 2017 Nomination (2)

Residential Block 0704, 2015 Nomination

House 1203, 2015 Nomination

First Prize in European Architecture Competitions

Markideio Municipal Theater, Paphos | 2015

Archaeological Sites, Paphos | 2014

Morfou Cultural Center | 2013

Eptagonia Agriculture Museum and Park | 2012
Awards & Honorable Mentions in European Architecture Competitions
CFA Athletic Center, Honorable mention | 2021

Cyprus Institute of Neurology & Genetics, Honorable Mention | 2018

Cyprus News Agency, Honorable Mention | 2010

Limassol City Hall, Distinction | 2010

Deryneia Municipality Hall, Distinction | 2009

Eleftheria Square Nicosia, Third prize | 2004

AUB Business School, Beirut, Runner up (in collaboration with Charles Rose Architects) | 2002



Exhibitions
East Centric Architecture Triennale in Bucharest | 2016

DOMES Cypriot Architecture Panorama at Benaki Museum | 2012

Venice Architecture Biennale, Curatorial Team, Cyprus Pavilion, Relax | 2008

Venice Architecture Biennale, Cyprus Pavilion, The mobile buffer zone | 2006