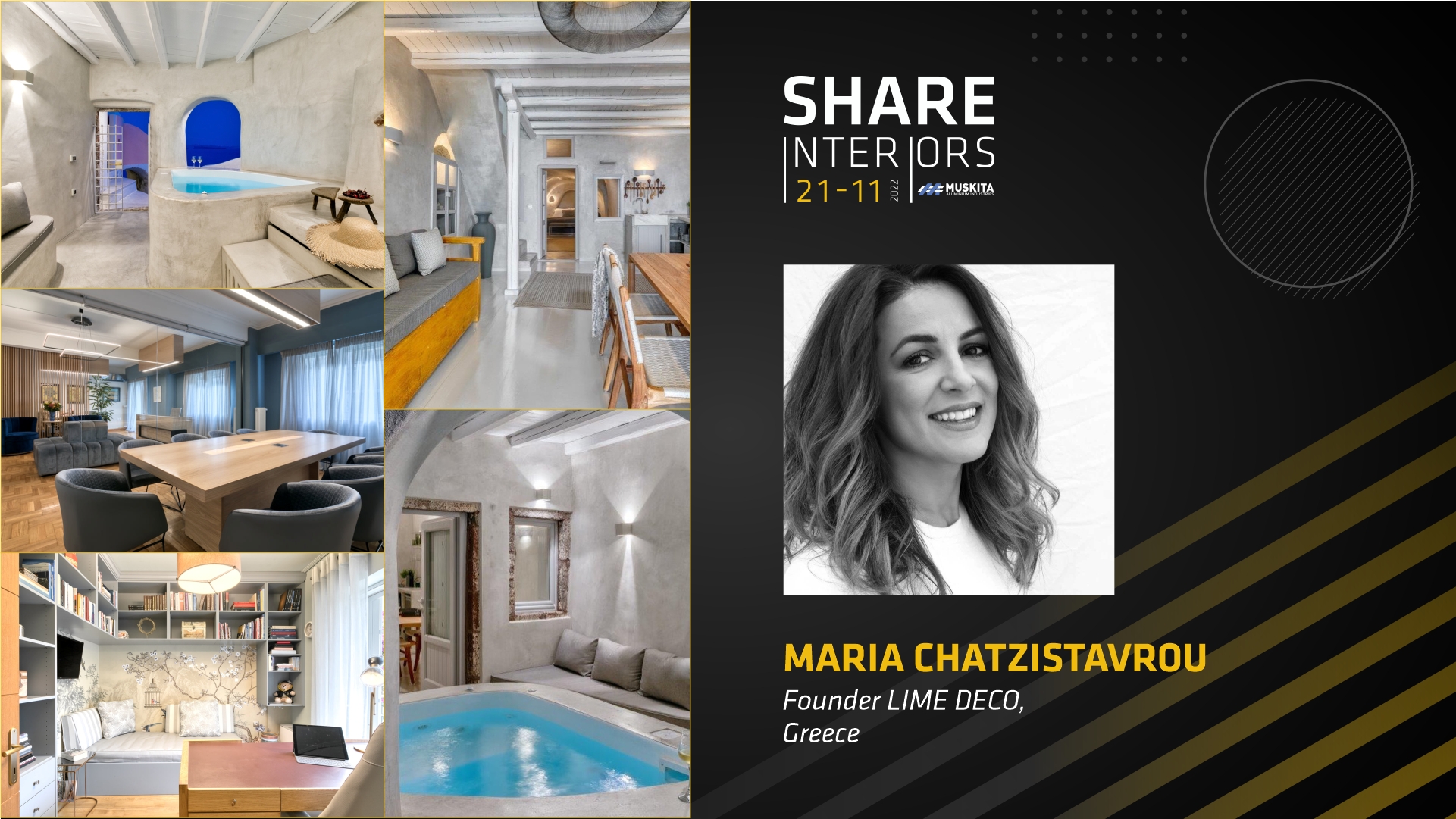 Maria Chatzistavrou, Greece, will lecture at SHARE Interiors 2022 Forum – Cyprus
The Architectural and Interior Design Company Lime Deco was founded by Maria Chatzistavrou in 2007 and its office is based in Kolonaki, Athens, Greece. It specializes in the interior architecture of Hotels, touristic lodgings, private villas and residences, professional and commercial spaces. 
Maria's Chatzistavrou philosophy is to improve the quality of life of her clients by creating exceptional interior spaces that combine a spectacular and a functional result. She works with her clients and partners to achieve a wonderful result that connects people with their space. Each project is composed of a unique and sensitive approach to space, location, architecture and of course the client's vision. For each project, she tries to fully comprehend her client's needs and to apply design solutions to ensure that the final result justifies the deepest wishes and strengthens the stigma of her client. She creates exceptional spaces that correspond to modern design solutions and challenges.
Awards: 
"Seven Stars Luxury Hospitality and Lifestyle Awards" 2019

"International Property Awards" 2019-2020, "Best Hotel Interior Greece"

"International Property Awards" 2019-2020, Honorary Nomination

"Luxury Lifestyle Awards" 2020, Honorary Nomination

"Big See Interior Design Awards" 2019, "Interior Design for Hospitality"

"Hotel Design Awards" by "100% Hotel Show" 2018, "Best Luxury Apartment"

"Hotel Design Awards" by "100% Hotel Show" 2019, "Special Audience Award" 2019″