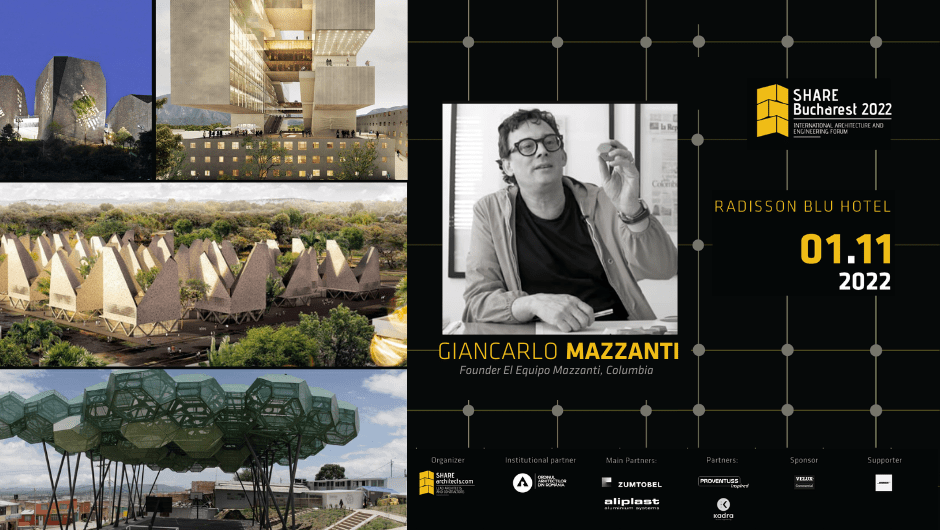 Giancarlo MAZZANTI for the first time in Romania, at SHARE Bucharest 2022 Forum
The renown Colombian architect has relevant international projects such as Convention Center, Biblioteca España and the Southamerican Games Coliseums in Medellín, Colombia. Porvenir Kindergarten in Bogota and Timayui in Santa Marta.
He has been teacher in several Colombian Universities. He has also taught at some of the most prestigious American Universities such as Princeton University in 2012 and Harvard Graduate School of Design in 2014.
He has been the distinguished winner of the Ibero-American Biennial in the category of Best Architectonic Work in 2008 (Lisbon, Portugal), winner of the Panamerican Architecture Biennial in the category of Architectonic Design in 2008 (Quito, Ecuador), winner of the Global Award for Sustainable Architecture (Paris France ) in 2010, chosen by the MoMA (New York, 2010) and the Museum Georges Pompidou (Paris, 2015) to exhibit his work in their permanent collection.
Book your spot now for SHARE Bucharest 2022 Forum