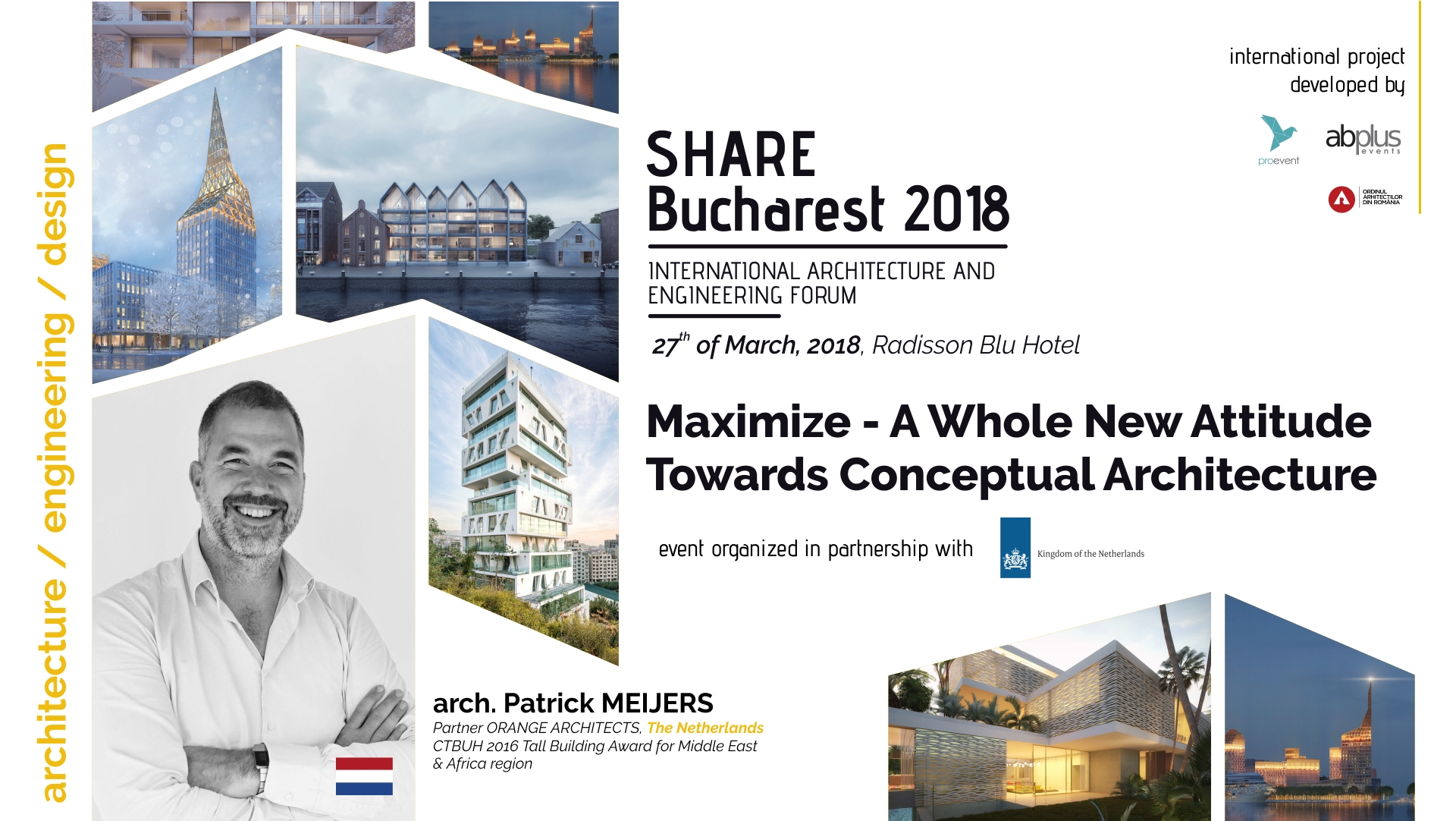 Dutch Architecture, Design and Innovation Showcased Each Year at SHARE Forum Architecture and Engineering Expo-conferences
Each year, SHARE Forum has been in pursuit of excellence in the fields of architecture and construction, improving the quality and the complexity of its dynamic events with every edition. This couldn't have happened without having by our side some of the most relevant figures for the built environment – hundreds of practicing architects and contractors from Europe, Asia and the United States of America – turning SHARE Forum into one of the most important networking platforms for the construction-related fields in Central and Eastern Europe.
This year we expanded in three more European locations, so that we are delighted to be now present in Warsaw and Krakow (Poland), Budapest (Hungary), Bucharest (Romania), Sofia (Bulgaria), Belgrade (Serbia), Athens (Greece), Albania (Tirana) and Skopje (Macedonia).
On this occasion PRO Event Association and AB Plus Events would like to mention the Embassy of The Netherlands in Romania for the constant support offered to us in the past 5 years, for the sincere partnership and efforts made to accompany us during this period with some of the most outstanding representatives of Dutch contemporary architecture. We are sure that our annual events wouldn't have gathered so much momentum without the opportunities made available in this networking environment.
The speakers panel of the 2018 spring edition of SHARE Bucharest is completed by the presence of arch. Patrick Meijers, co-founder of ORANGE ARCHITECTS from The Netherlands.
The Embassy of The Netherlands in Romania has been supporting for many years this emergent creative sector: architecture. The Dutch expertise in architecture, innovation, spatial planning has an international reputation. We, therefore, believe that Mr. Patrick Meijers, the representative of the Dutch architecture at this conference, will be a source of inspiration, and a good opportunity to exchange ideas.
Arthur den Hartog, Deputy Head of Mission Embassy of The Netherlands
Dutch architecture is known to be leading the profession through innovation, perseverence and coherence of goals, means, and outstanding results, being too often in the avantguarde of the education, practice and theory of architecture in the world. We are honored that together with the Representatives of the Embassy of The Netherlands we have brought to our audiences throughout the years such a great panel of Dutch architects and we are proud to have them in our SHARE international community of professionals.
Ron VAN DER VLIET (Owner RVD), Joost ECTOR (Design Principal ECTOR HOOGSTAD Architects), Mick EEKHOUT (Founder MICK EEKHOUT Architect), Marianne LOOF (Founding Architect LEVS ARCHITECTEN), Michel TOMBAL (Founder ROCHA TOMBAL ARCHITECTEN), Joke VAN HENGSTUM, the President of the EUROPEAN COUNCIL OF INTERIOR ARCHITECTS, Yvonne VAN WILDEREN (Partner BIERMAN HENKET ARCHITECTEN), Jana CREPON (Partner INSIDE OUTSIDE), Fokke MOEREL (Project Manager MVRDV), Peter van der Toorn VRIJTHOFF (Partner ALL DESIGN), Elena STASKUTE (Junior Architect ORANGE ARCHITECTS), Gijs RIKKEN (Projekt Leader, Architect MVRDV), Fidra OIKONOMOPOULOU (Researcher TU DELFT UNIVERSITY), Marco VERMEULEN (Director STUDIO MARCO VERMEULEN), Niek ROOZEN (Founder NIEK ROOZEN BV GARDEN AND LANDSCAPE ARCHITECTS), Dorte KRISTENSEN (Director ATELIER PRO ARCHITEKTEN), Stan BOSHOWERS (Founding Partner TINKER IMAGINEERS), Bart DIJK (Architect OKRA LANDSCAPE ARCHITECTS), Adriaan MOUT (Partner NOVASCAPES), and last, but not least, Xander Vermeulen WINDSANT (Director XVW ARCHITECTUUR)…
… we want to mention them all – our present or past Dutch SHARE guests and to send out a sincere sign our appreciation. All of us are a part of SHARE Forum and we hope that together we make a difference towards a better future of our built environment.