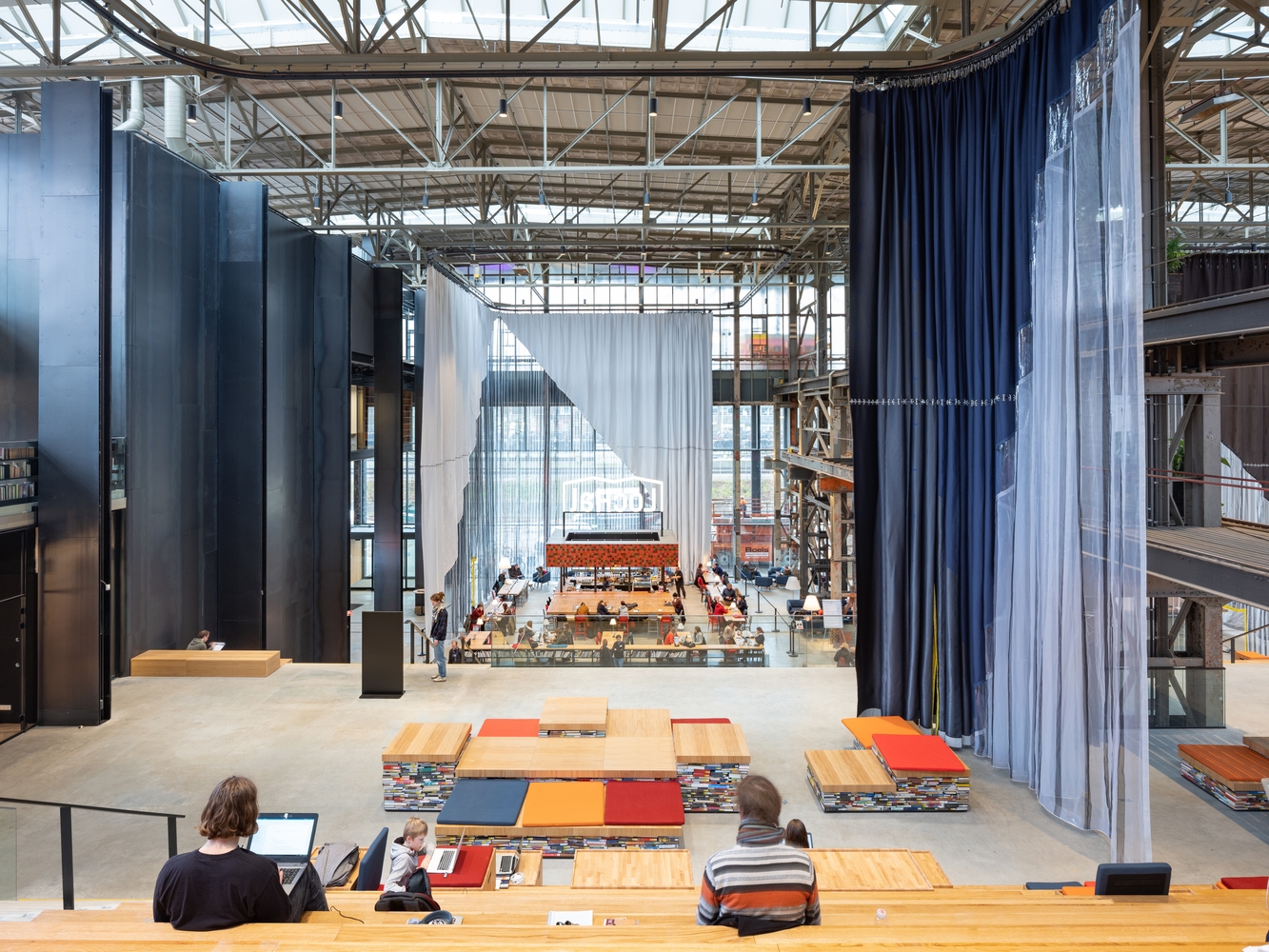 CIVIC Public Architecture will give the keynote lecture about the extraordinary Tilburg public library project
Keynote speaker: Ingrid van der Heijden, Partner / Architect
Good design solves problems, great design combines this with the sublime, sensual, delirious, beautiful, brobdingnagian or thought provoking. Occasionally we are lucky enough to create something exceptional.
Lochal public library Tilburg "the next big thing in public libraries"
A former locomotive hangar has been transformed into a public meeting place that turns 'the wrong side of the tracks' into a vibrant mixed-use district.
The LocHal redefines the library typology. While keeping traditional 'book consumer' facilities, the new library also provides ample opportunity for the creation of new knowledge. The growing importance of 'Curatorship' is facilitated by the architecture. The interaction with experts and other visitors offers a deeper, richer way to acquire knowledge and information. That's why the building acts as a covered public space, housing amenities shared by the library, arts organisations and co-working facilities. In addition to areas for lectures and public events, the building has a number of 'labs' where visitors can learn new skills.
Awards:
Winner Gubbio prize European section – LocHal Public Library Tilburg, Winner International Urban Project Award, Special Prize – LocHal Public Library Tilburg, Winner AIT Award – LocHal Public Library Tilburg, Winner European Heritage Awards/Europa Nostra Awards – LocHal Public Library Tilburg
2019 Winner World Building of the Year 2019, World Architecture Festival WAF – LocHal Public Library Tilburg Winner Completed Building Culture 2019, World Architecture Festival WAF – LocHal Public Library Tilburg Winner Gulden Feniks – LocHal Public Library Tilburg Winner BNA Building of the year, Publieksprijs – LocHal Public Library Tilburg Winner BNA Building of the year, Leefbaarheid & Sociale Cohesie – LocHal Public Library Tilburg Winner Dutch Design Award – LocHal Public Library Tilburg Winner Dezeen Awards, Rebirth Project – LocHal Public Library Tilburg Finalist Azure Award, Adaptive Re-Use – LocHal Public Library Tilburg Finalist Architizer A+ Awards, Architecture + Renovation – LocHal Public Library Tilburg Nomination Public Biulding of the year, Architectenweb awards – LocHal Public Library Tilburg